Lingerie is one of life's everyday luxuries. While brands like La Perla and Agent Provocateur are household names, you don't have to spend hundreds of dollars on lingerie.
Affordable lingerie brands make you feel like a supermodel in lace and leather without needing a Kardashian budget.
You can use affordable lingerie brands to build your everyday closet. Lingerie is the foundation of every outfit, giving you an instant confidence boost.
You can feel like a supermodel with affordable lingerie (Credit: Deman / Shutterstock)
Don't hide your lingerie away for a special occasion. Lingerie isn't just for your partner, it's also for you. Sexy lingerie is for 365 days a year, not just Valentine's Day.
Affordable lingerie brands don't just design sexy underwear. These brands provide high-quality fabric at an attainable price point to create lingerie that's soft against your skin.
We're sharing the best affordable lingerie brands for women that should be on your radar. It's time to refresh your underwear drawer!
1. AND/OR – John Lewis in-house lifestyle brand
AND/OR is an affordable lingerie brand available exclusively at John Lewis. The brand focuses on everyday lingerie with matching sets and a size-inclusive range. John Lewis ships internationally, making it an accessible and affordable underwear brand.
We love the supportive designs of the AND/OR lingerie with feminine silhouettes and seductive detailing. This lingerie will lift and support you with intricate detailing that adds a luxurious feel.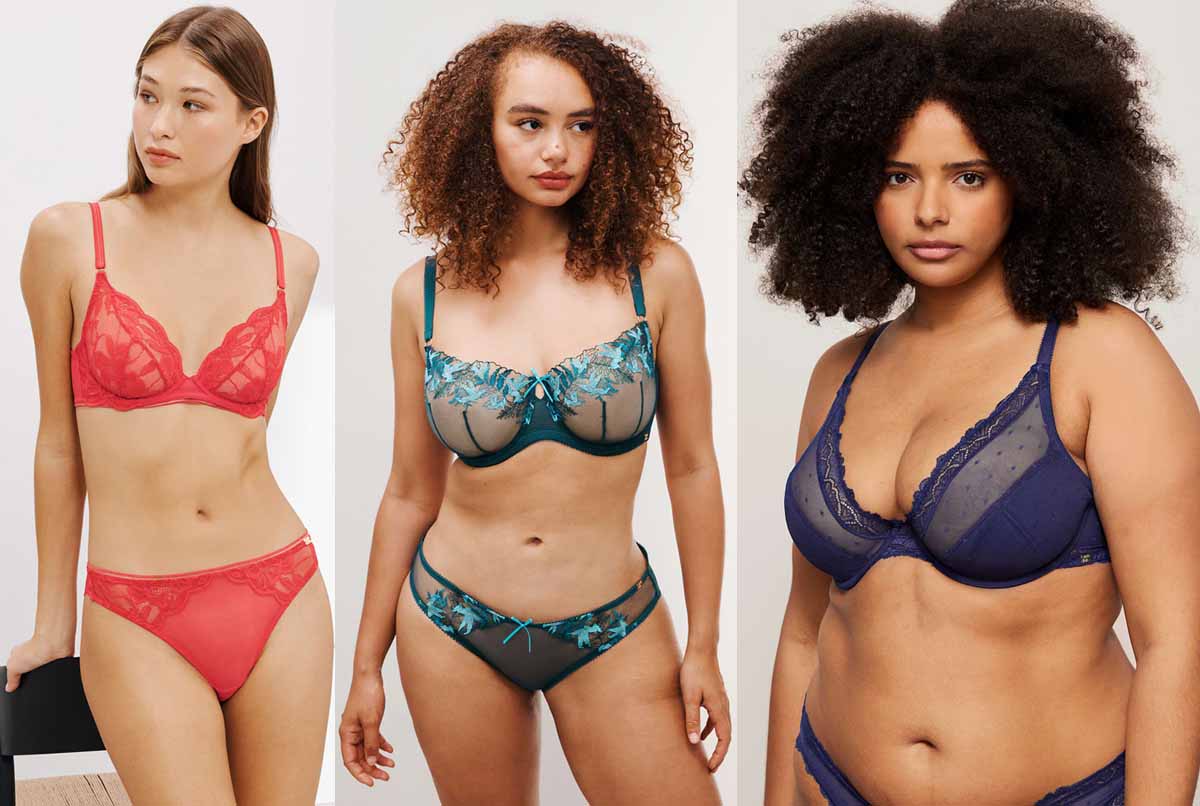 And/Or offers affordable, size-inclusive lingerie with luxurious intricate detailing
AND/OR lingerie is typically available in a B-DD and E-G cup size. The brand is an ideal place to start when building your lingerie collection with transitional pieces that work with almost any outfit.
While AND/OR recommends only handwashing their lingerie, you can also stick them into a washing machine at a low temperature in a laundry bag.
2. Gooseberry Intimates – Effortlessly sexy lingerie & swimwear
Make your Bali dreams a reality with Gooseberry Intimates. Bali is all over our Instagram feed, with celebrities and influencers wearing jaw-dropping lingerie.
Gooseberry Intimates captures the spirit of Bali with delicate lace and soft silhouettes brought together for a feminine look.
Gooseberry Intimates is a family-owned lingerie company that offers timeless, elegant pieces crafted by local artisans using Indonesian lace
Launched in 2012, Gooseberry Intimates is available internationally through the brand's official website. These timeless lingerie sets are made using Indonesian lace and crafted by local artisans. Every Gooseberry Intimates piece is hand dyed, cut, and sewed to order.
As a Bali brand, Gooseberry Intimates focuses on fair trade and sustainability through its production line. This lingerie brand can give you the Victoria's Secret or Agent Provocateur look without a three-figure price tag.
3. Savage x Fenty – Rihanna's lingerie brand
When we think about affordable lingerie brands, Savage x Fenty is one that instantly springs to mind. It's all over our social media feeds and is one of Rihanna's most successful ventures.
Not sure what lingerie is best for you? Start with Savage x Fenty. The website offers a personal styling quiz with hundreds of styles to suit each body type and aesthetic. Savage x Fenty offers underwear from size XS to 4XL and bras from 32A to 46E.
Savage x Fenty celebrates fearlessness, confidence, and inclusivity, offering a wide range of styles for every mood, vibe, and body
While Savage x Fenty doesn't share any information about its ethical practices, it is co-owned by LVMH. There is no confirmation of where Savage x Fenty manufactures their lingerie.
It's worth remembering that Savage x Fenty operates primarily as a subscription service. Most special offers that are advertised are exclusive to new Xtra VIP customers. We recommend Savage x Fenty for affordable lingerie if you're purchasing every month and want to save up to 25% off styles.
4. Calvin Klein Underwear – Versatile styles of lingerie
When you hear the name Calvin Klein, it's easy to see dollar signs. Yet Calvin Klein's diffusion underwear brand sits at a more affordable price point – especially on sale!
Although Calvin Klein is known for its elevated basics, the brand also offers irresistibly feminine underwear
It's worth noting that Calvin Klein Underwear focuses more on elevated basics than sexy lingerie. This brand is perfect for those who want to flash a few logos in their underwear drawer. You can find the Calvin Klein Underwear brand in most department stores and Urban Outfitters.
Calvin Klein underwear is made in Bangladesh, China, and Kenya. This high-quality underwear is ideal for curating an underwear drawer of elevated basics.
5. Pour Moi – Luxurious lingerie and supportive swimwear
Pour Moi is an affordable lingerie brand based in the UK. It's been building a name within the industry for almost 20 years.
If you're a lingerie fan, you probably have a Pour Moi bra in your underwear drawer. They sell one bra every 30 seconds. That's almost 3000 a day.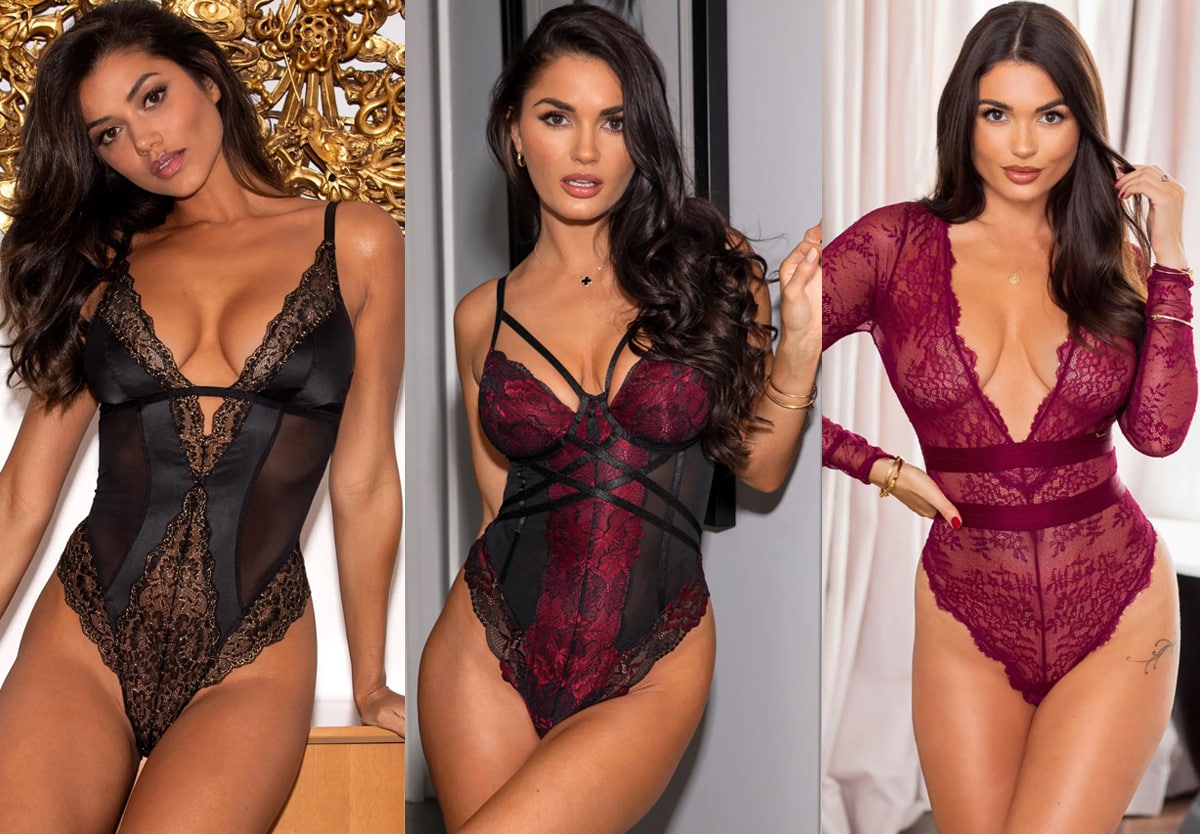 One of the UK's favorite lingerie brands, Pour Moi offers affordable lingerie with sizes A to J cups
The brand offers affordable lingerie with sizes A to J cups, making it one of the most size-inclusive on this list.
We love Pour Moi for its size and body inclusivity. You'll find lingerie designed to suit every body size and shape at an affordable price point. Can't get enough of Pour Moi's lingerie? The brand also sells bikinis, activewear, and nightwear.
6. Marks and Spencer – Sleek, flattering and comfortable
If you're from the UK, you've heard of Marks and Spencer. The store's clothing department is seeing a major overhaul with a pivot towards a younger audience. Marks and Spencer offers quality without breaking the bank.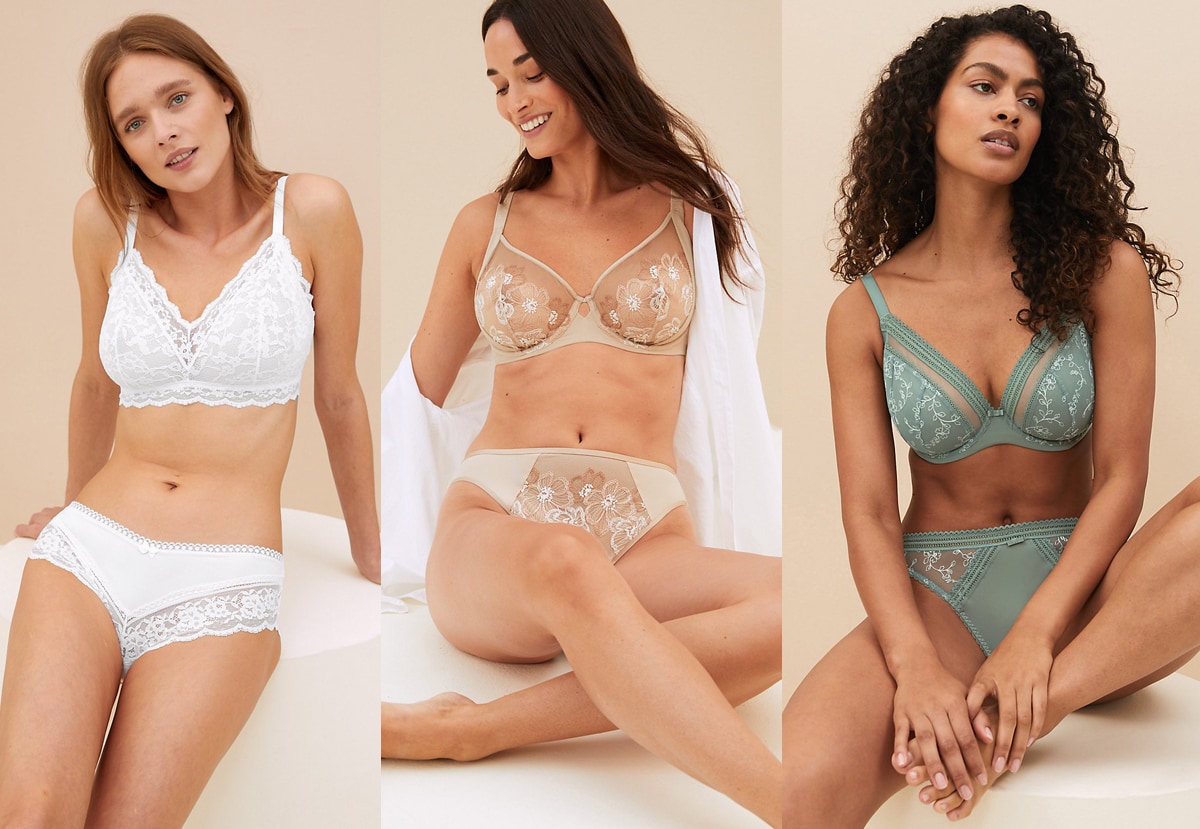 Marks and Spencer has a wide selection of lingerie, from luxury bridal and vintage-inspired camis to shapewear, slips, bras, bralettes, and more
The brand's lingerie has long been one of its best-sellers, whether you're looking for sexy plunging bras or everyday underwear. Marks and Spencer has been selling lingerie since 1926 and calls itself the "ultimate underwear destination."
M&S' lingerie is made in Sri Lanka by a company that claims to be the first carbon-neutral clothes factory.
7. Bluebella – Fashion-led luxurious lingerie and sleepwear
Most affordable lingerie brands stick to classic silhouettes and the most popular color schemes. Bluebella does things differently. The affordable lingerie brand focuses on contemporary silhouettes that give you the latest lingerie trends without spending a fortune.
Bluebella curates a luxury experience from its packaging to its size-inclusive lingerie. The latest Bluebella range feature pops of color with jewel-tone hues and neon shades. You can shop up to a size F-cup in Bluebella's bras and a size 26 in underwear and pajama bottoms.
Bluebella champions innovation, inclusivity, and exceptional style, redefining sensuality with every collection
Every woman deserves to have lingerie that makes them feel like their sexiest self. This list of the best affordable lingerie brands shows that you don't need to spend hundreds of dollars to curate a collection of luxury bras and underwear.