Allison Williams turned heads at the 2023 Met Gala in a custom-made orange asymmetrical gown by Patou that exuded timeless charm.
The standout feature of the dress was an elegant oversized bow cascading gracefully into a trailing train, creating a captivating visual.
Emphasizing her figure, the gown was tastefully cinched at the waist with a belt. Williams opted for black silk gloves to enhance her ensemble further, adding a touch of sophistication and refinement to her overall look.
Completing her ensemble, she adorned her hair with a black headband, accentuating her features with a subtle yet alluring flair.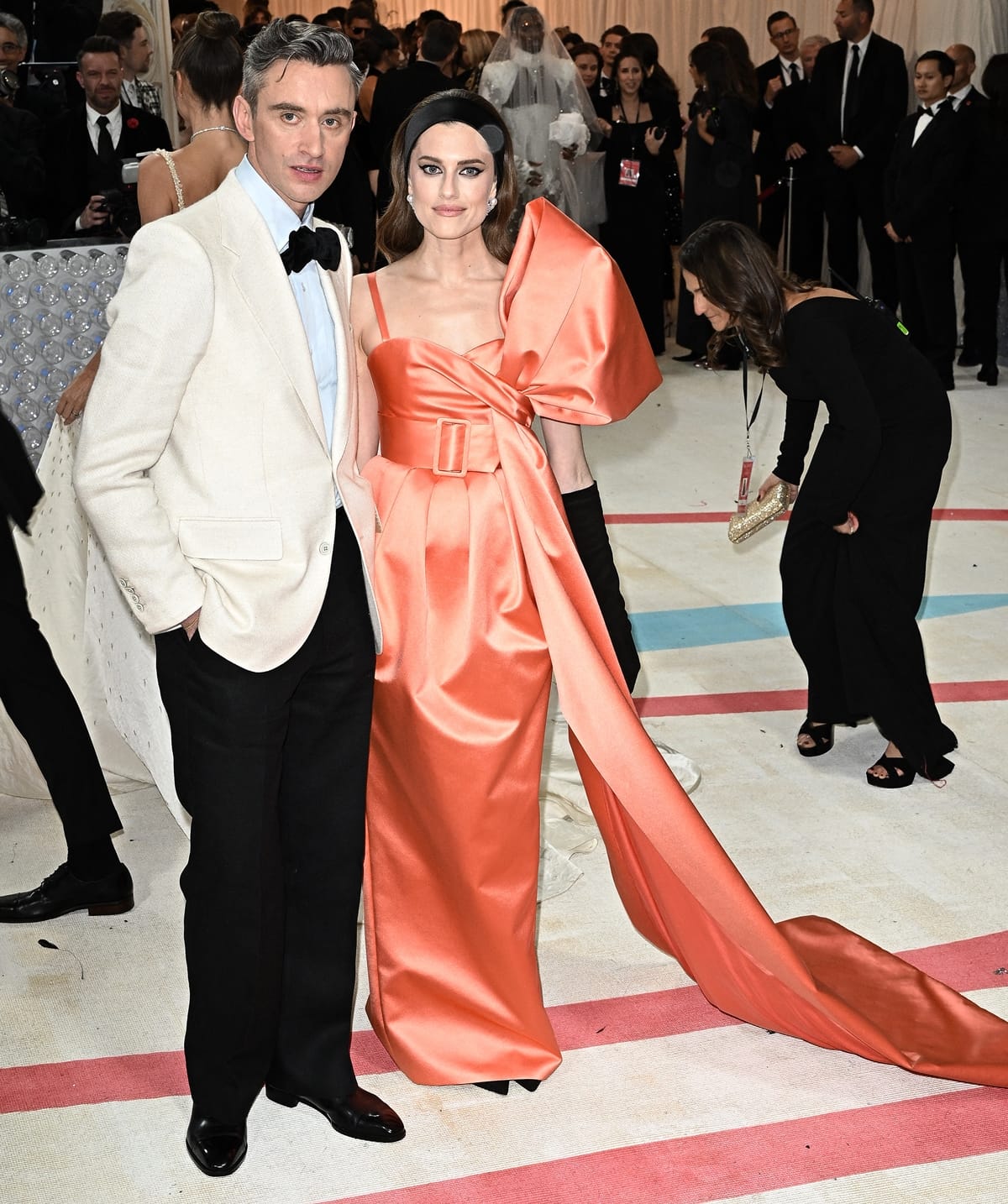 Guillaume Henry and Allison Williams attend The 2023 Met Gala Celebrating "Karl Lagerfeld: A Line Of Beauty" at The Metropolitan Museum of Art on May 1, 2023, in New York City (Credit: Abaca Press / INSTARimages)
The dress was inspired by the work of Karl Lagerfeld, who was the creative director of Patou from 1958 to 1963. Lagerfeld was known for his bold and playful designs, and Williams's gown was a perfect example of his work.
Joined by Patou's current creative director, Guillaume Henry, she styled her custom Patou dress inspired by Karl Lagerfeld's collections as the brand's creative director (1958-1963) with Mikimoto jewelry and Roger Vivier shoes.
Allison Williams wore an asymmetrical gown featuring an oversized bow and a belted waist and accessorized with black silk gloves and a black headband (Credit: Jennifer Graylock / INSTARimages)
Williams's Met Gala look was a hit with fashion critics and fans alike. She was praised for her bold choice of color and her elegant style. The dress was also a commercial success, with Patou reporting a surge in sales following the event.
Williams's Met Gala appearance was a reminder of her status as a fashion icon. She is known for her impeccable taste and her willingness to take risks. With this latest look, she has once again proven that she is one of the most stylish women in Hollywood.
Allison Williams Stuns in Christian Louboutin Lace Booties at Apple Store Event
During her "Meet the Actor" segment at the SoHo Apple Store in New York City, Allison Williams admitted she was "shaking like a leaf … near urinating on the red carpet" at her first awards show.
But we've seen nothing but confidence from the "Girls" actress, and we can't get enough of her shoe picks — from Jimmy Choo to Dior.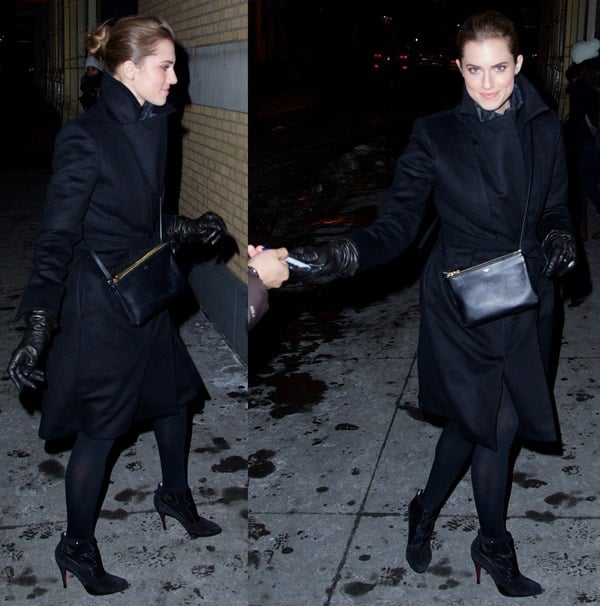 Allison Williams arrived wearing a black coat paired with thick black tights, chic Christian Louboutin booties, and tasteful jewelry by Jennifer Fisher (Credit: Alberto Reyes / WENN)
Allison caught our eye again while she charmed the Apple Store audience in a pair of lovely Christian Louboutin lace booties.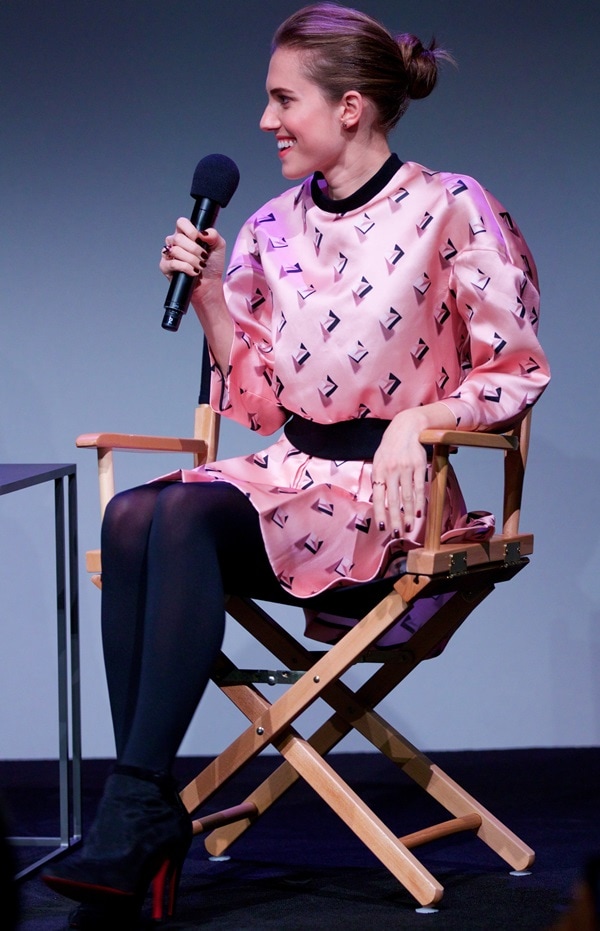 Allison Williams showcased her style in an ensemble by John Galliano's Spring 2014 collection (Credit: Alberto Reyes / WENN)
She paired the booties with black tights and pink patterned separates from John Galliano.
The boxy top seemed to swallow the then-26-year-old's thin frame, but she wore the funky number proudly. Allison proves that winter weather doesn't have to equate to drab clothing.
Allison Williams, known for her role as Marnie in the critically acclaimed HBO series "Girls," made an appearance in New York City on January 23, 2014, where she engaged in a compelling conversation about her portrayal of the character in Season 3 (Credit: Alberto Reyes / WENN)
We've previously featured Katy Perry and Hailee Steinfeld wearing the same booties. Unfortunately, Allison's chic Christian Louboutin 'Resillissima' fishnet & suede booties from the Fall 2013 collection are already sold out online.