Isla Fisher has acted up a storm in both serious roles and comedies, and the multitalented madam looks to be taking on yet another challenge: writing children's books about a mischievous babysitter with rainbow-colored hair named Marge.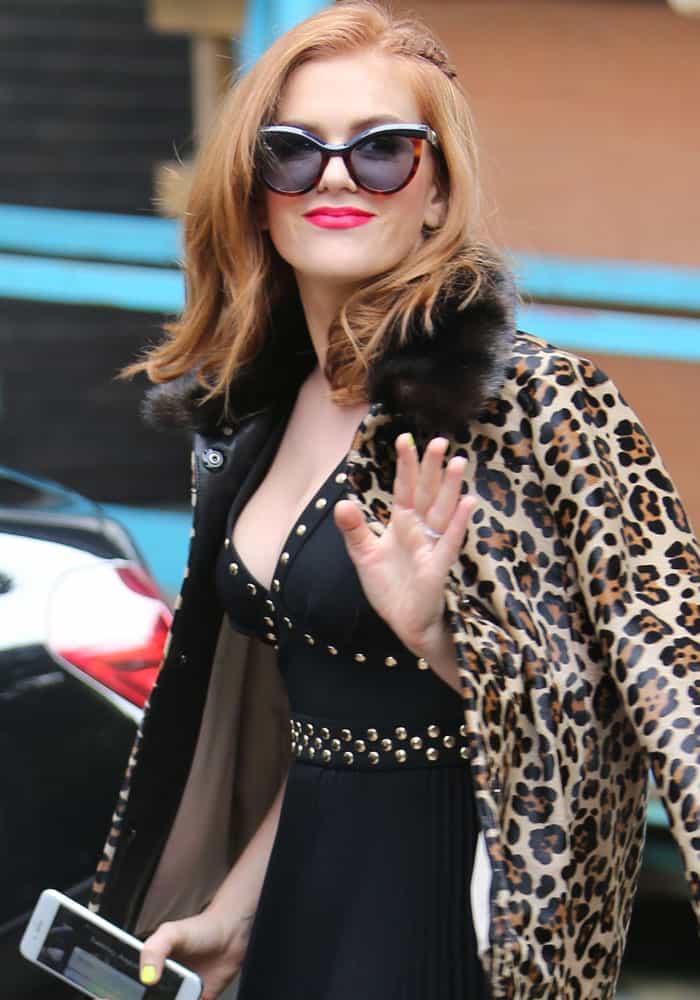 Isla Fisher arrives to promote Marge and the Great Train Rescue at ITV Studios in London on August 22, 2017 (Credit: Rocky / WENN)
The actress said that she moved around so often as a child that books sort of became her constant companion. To this day, she said, she remains a bookworm.
Her first children's novel, Marge in Charge, was published in 2016. Earlier in 2017, she also published Marge and the Pirate Baby.
Isla recently busied herself with promoting her self-penned children's book "Marge and the Great Train Rescue" around London. Released on July 26, 2017, it is available on Amazon.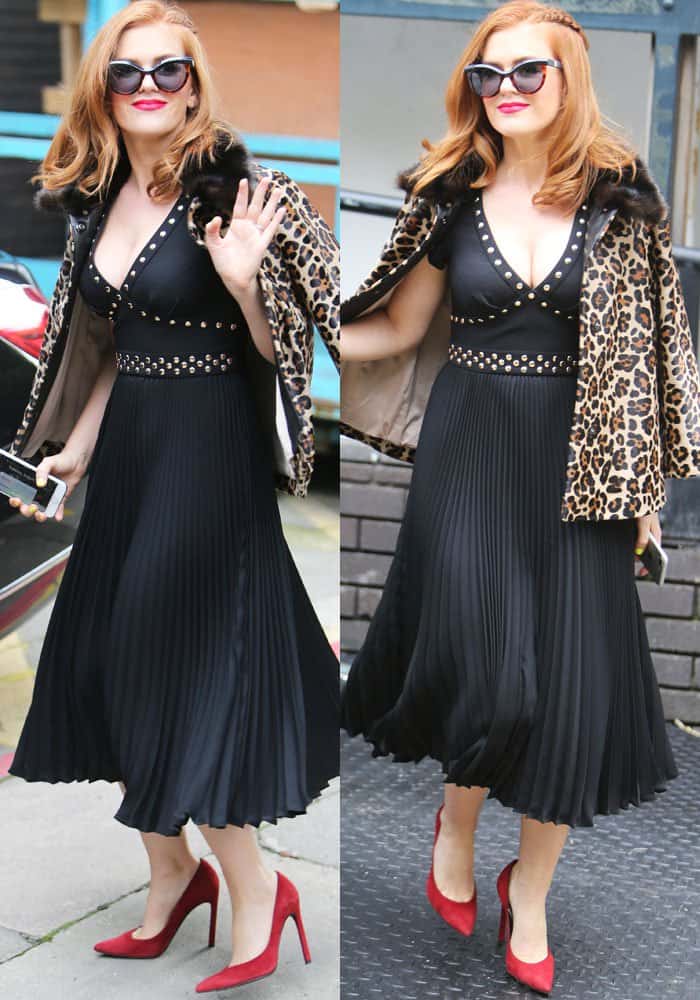 Isla Fisher turned heads in a studded Kate Spade dress and leopard jacket (Credit: Rocky / WENN)
In an interview with Barnes & Noble, Isla opened up about how she was inspired to write about the hilarious character Marge.
"If my two best friends had a lovechild it would be Marge. One of them is the eternal Peter Pan who is in total denial about reality and the other tells magical amazing stories. The Marge stories are a bit like The Cat in The Hat meets My Naughty Little Sister. I find kids are used to other kids misbehaving but when grownups do it they find it hilarious," she revealed.
"When Marge misbehaves it's not in an intentional or mean-spirited way, but rather in a way that unlocks the other characters' creativity. Marge does all the silly things that kids would secretly like to do, such as eating nine slices of cake at a birthday party or cooking the kids chocolate soup for dinner," Isla added.
"All the little problems that come up for the characters are grounded the reality and readers will take away morals from each tale. The books are split into three separate stories which makes them easily digestible for kids, while also leaving more material for parents to tell the following night. I look at it like a Netflix box series—you can binge read all the stories at once or save some for later," the Australian actress concluded.
Isla Fisher shows off her feet in red suede pointy-toe high heels (Credit: Rocky / WENN)
The Kate Spade-sponsored actress stepped out in an interesting combination of studs and animal print, opting for an embellished LBD with a flowing pleated skirt worn underneath a leopard print fur jacket.
Isla added pops of color into her look with a bold lip and a pair of Saint Laurent "Paris" pumps in suede leather.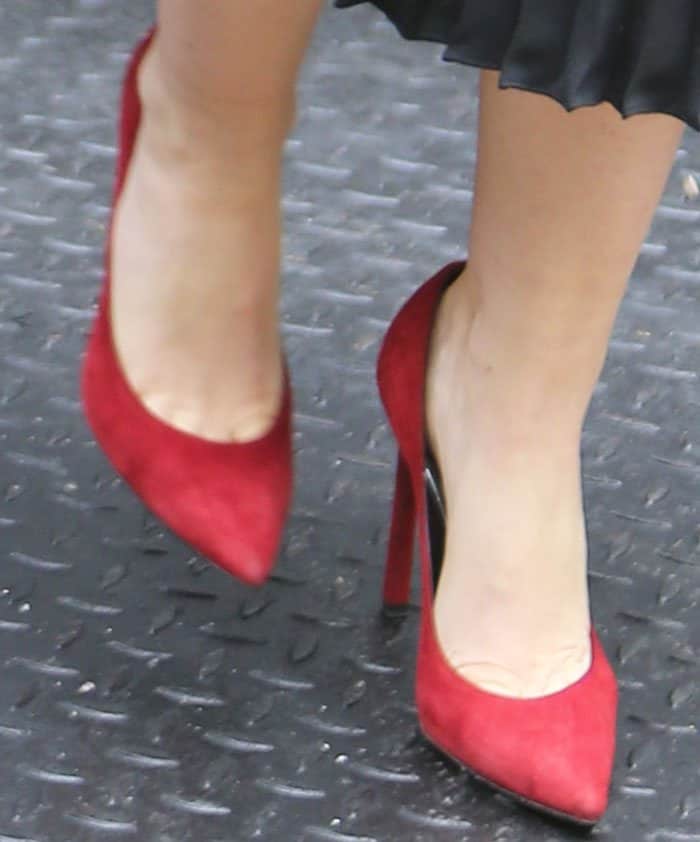 Isla Fisher added a pop of red to her look with Saint Laurent "Paris" pumps in suede leather (Credit: Rocky / WENN)
The newly-minted author finished her ensemble with cat-eye sunglasses. Isla also sported an adorable braid on one side of her hair part.
Isla Fisher shows off an interesting leopard, studs, and pink lipstick combination for her "Loose Women" guesting (Credit: Rocky / WENN)
Isla was spotted outside ITV Studios as she prepared to sit down with the hosts of "Loose Women." The actress went through a rapid-fire question-and-answer session with the hosts.
The 41-year-old also shared that it was her husband Sacha Baron Cohen who taught her to connect with her "inner idiot."
You can buy the classic Saint Laurent "Paris" pumps from Isla's first look at Farfetch and Nordstrom.
Saint Laurent "Paris" Pumps, $645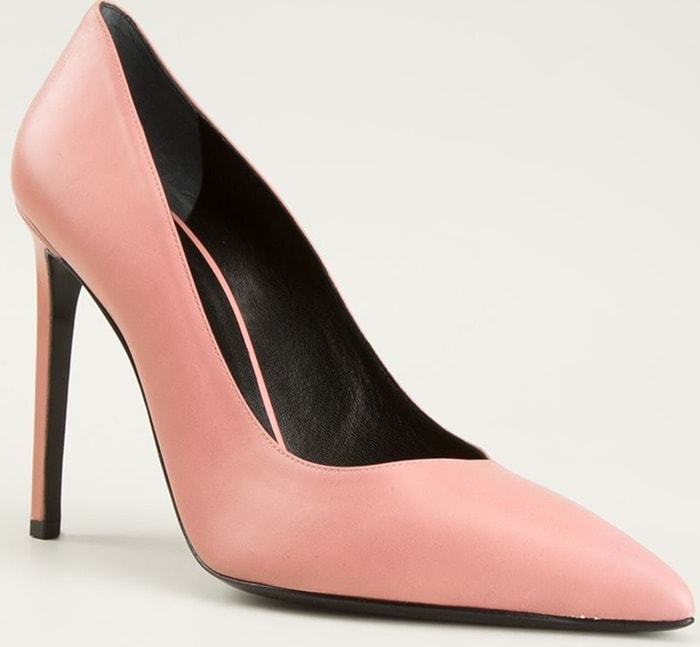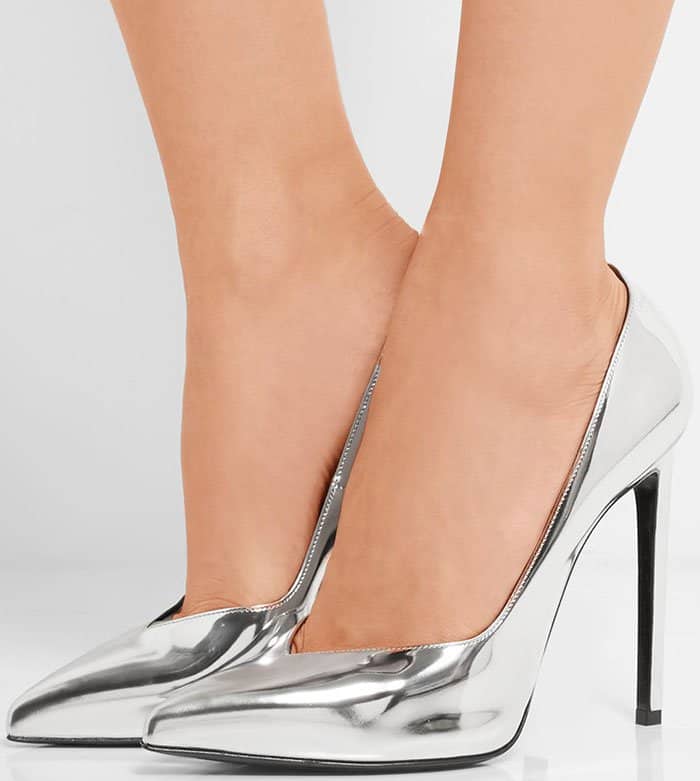 Later that day, Isla emerged for the paparazzi in a different outfit as she left the ITV Studios to continue her London book tour.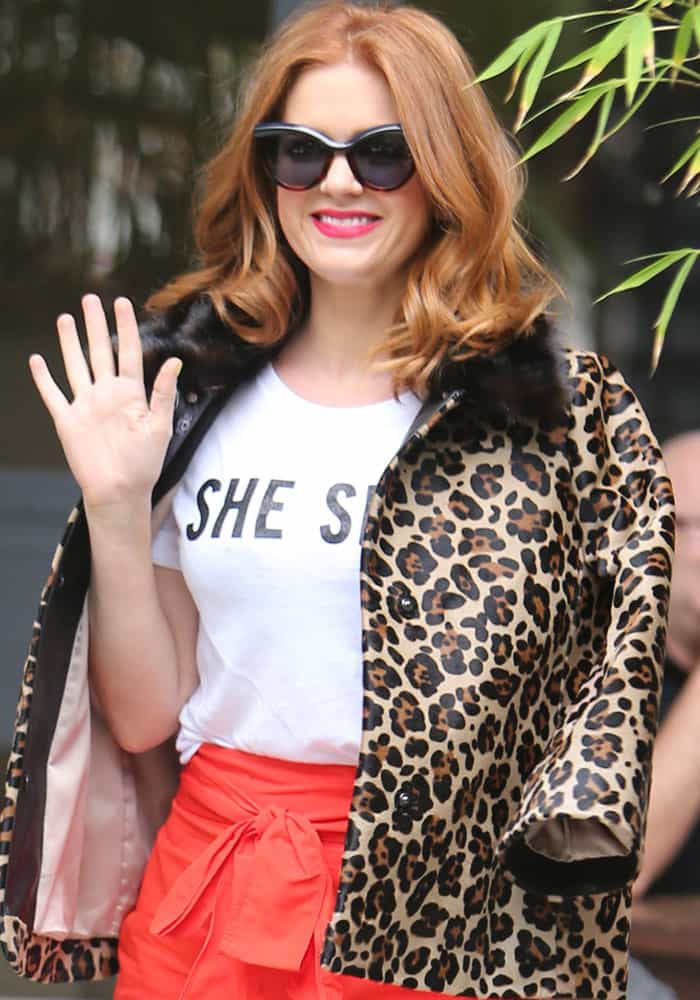 Isla Fisher switches out of her LBD and into a more casual look on the same day (Credit: Rocky / WENN)
The actress changed into a tee with the words "She She" printed on it, tucked into pair of red culottes. Isla wore the same leopard print jacket from the previous ensemble. All three pieces are from American fashion designer Kate Spade.
Isla Fisher emerged in a Kate Spade top that said "She She" (Credit: Rocky / WENN)
Isla switched out her classic suede YSL pumps for a pair of Nicholas Kirkwood "Lola" sock boots.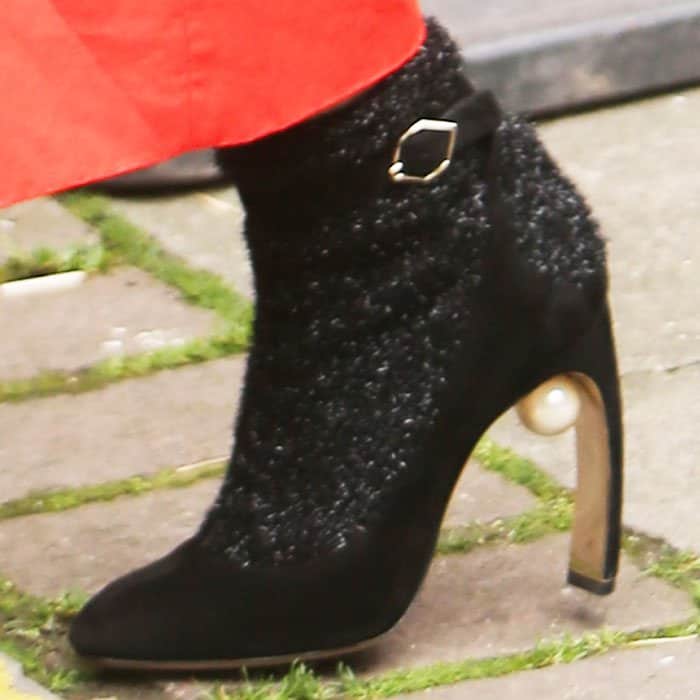 The Nicholas Kirkwood "Lola" boots fuse an ankle strap pump with glitter "socks" (Credit: Rocky / WENN)
The "Lola" boots are interesting due to the unique design. These shoes feature an ankle strap cut fused to glitter "socks." A curved heel houses the signature Nicholas Kirkwood pearl underneath.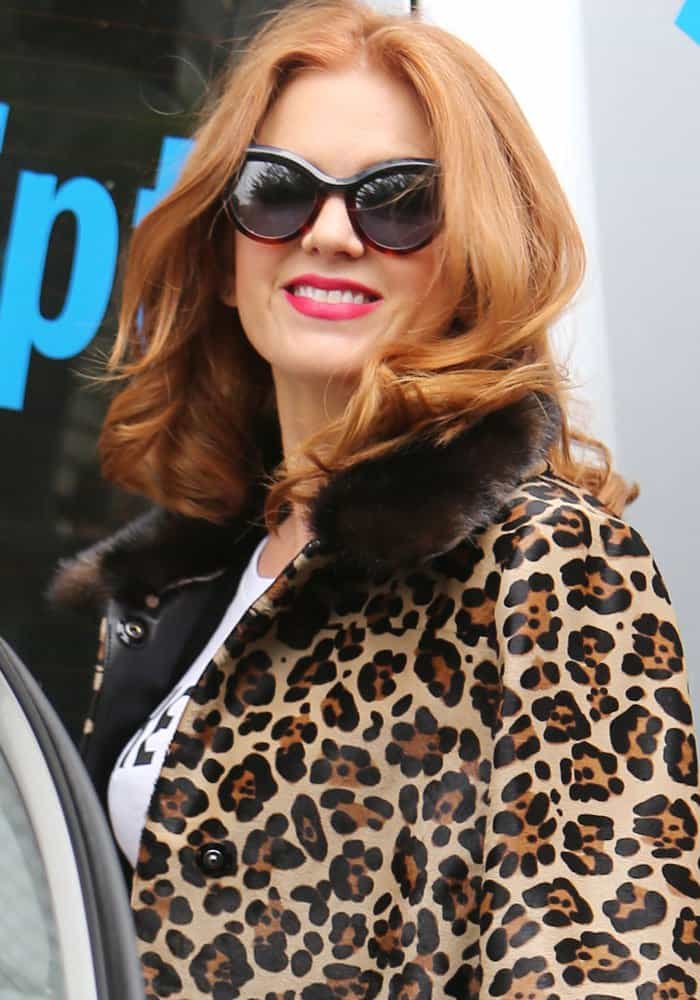 Isla Fisher gives the cameras one last smile before disappearing into her car (Credit: Rocky / WENN)
Isla said children today are so used to their tablets and phones that visual saturation affects their attention span.
Her desire to write a children's book stemmed from a burden to bring back the beautiful drudgery of reading.
Isla Fisher poses with her book "Marge and the Great Train Rescue" (Credit: Isla Fisher's Instagram)
Grab Isla's Nicholas Kirkwood "Lola" boots at Net-A-Porter and Matches Fashion.
Nicholas Kirkwood "Lola" Sock Boots, $1,195