It's pretty hard to ignore a man swinging from a vine, wearing a loincloth- especially if he has piercing blue eyes and a chiseled physique like Brendan Fraser.
Disney released George of the Jungle in 1997, and Brendan Fraser captured our attention and our hearts from that moment.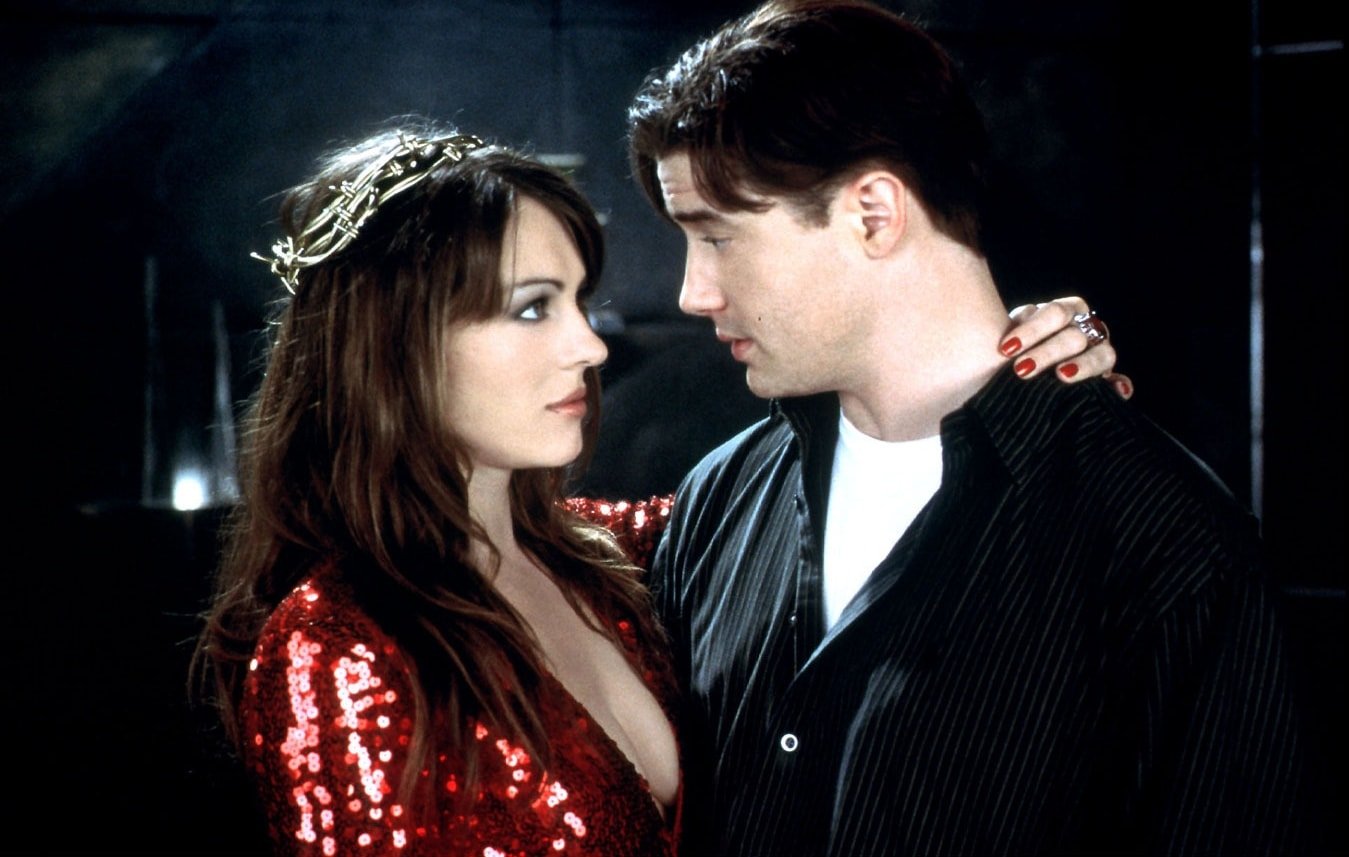 Brendan Fraser as Elliot Richards / Jefe / "Mary" / Abraham Lincoln and Elizabeth Hurley as The Devil in the 2000 American comedy film Bedazzled (Credit: 20th Century Fox / WENN)
"He was so delightful and funny in the movie. I was supposed to fall in love with him so I fell in love with him in real life," Leslie Mann said about her co-star while making an appearance on the American late-night talk show Busy Tonight in May 2019.
"And I was like 'Judd [Apatow], I love Brendan' and he was like 'I know, stop it.'"
Brendan Fraser as George and Leslie Mann as Ursula Stanhope in the 1997 American comedy film George of the Jungle (Credit: Walt Disney Pictures / WENN)
He actually got his start in Hollywood years before, but this breakout role led to a string of feature films, including the blockbuster hit, The Mummy (1999).
As so many stars find, the entertainment industry has just as many dips as peaks sometimes, and Fraser's experience is no exception.
Brendan Fraser as Rick O'Connell in the 1999 American film The Mummy (Credit: Universal Pictures / WENN)
Over the course of his career, he encountered countless setbacks, including a messy divorce and sexual assault allegations involving an industry journalism executive.
Most recently, he has made a comeback in a big way – winning the best actor Oscar for Darren Aronofsky's The Whale at the 95th Academy Awards in Los Angeles in March 2023. Fraser is the first Canadian to win this category.
Where is Brendan Fraser from?
Brendan Fraser was born in Indianapolis, Indiana; however, he traveled for much of his childhood. He and his family moved about frequently, as his Canadian father was part of the Canadian foreign service.
Eureka, California; the Netherlands; Seattle, Washington, Switzerland; and Ontario, Canada, are among a few of his childhood homes.
How did Brendan Fraser get his start in Hollywood?
Fraser studied acting in Seattle, Washington, and New York City, but he favored Hollywood to jumpstart his career in acting.
His first film, Dogfight, cast him as a sailor in 1991. During a fight scene in the film, Fraser claims to have bruised a rib; however, he was more than thrilled at the fifty-dollar pay adjustment for performing the stunt himself.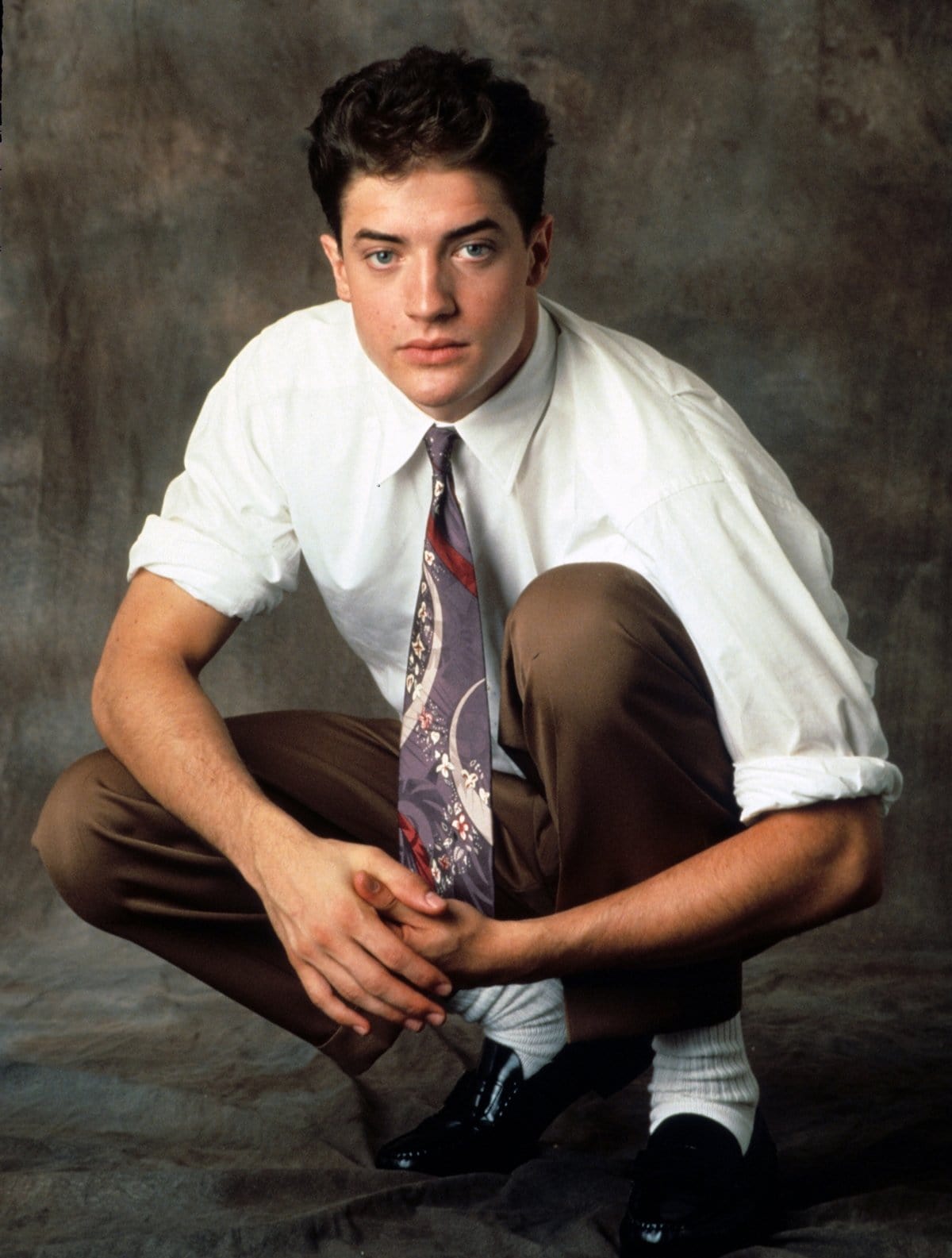 Brendan Fraser as David Greene in the 1992 American sports-drama film School Ties (Credit: Paramount Pictures / WENN)
Shortly after, we would see Brendan in Encino Man in 1992, opposite fellow actor and comedian Pauly Shore.
Adam Sandler recently revealed that he had threatened to quit if director Michael Lehmann didn't cast Fraser opposite him in the film Airheads (1994).
"[Lehmann] was like, 'I don't get it. I don't see the caveman being in this movie.' And I just said, 'He can do other shit, man.' I eventually went to his house, like four in the morning, woke him up. I said… 'Just know Adam Sandler ain't going to be in Airheads unless old Fraser is in it," Sandler said on Variety's Actors on Actors.
Fraser continued to pick up film credits over the years before landing his breakthrough role as "George" in George of the Jungle (1997).
The Canadian-American actor went on to tackle multiple projects each year leading up to the success of The Mummy (1999) and its sequels, The Mummy Returns (2001) and The Mummy: Tomb of the Dragon Emperor (2008).
Brendan Fraser, Afton Smith, and… Winona Ryder?
Brendan Fraser and Afton Smith met at a barbeque for the Fourth of July in 1993 at the home of mutual friend Winona Ryder.
Soon after, the two starred in the 1997 American comedy blockbuster George of the Jungle. Afton Smith had a small role in the movie as a friend of Ursula Stanhop (Leslie Mann). The couple wed in 1998 after dating for four years.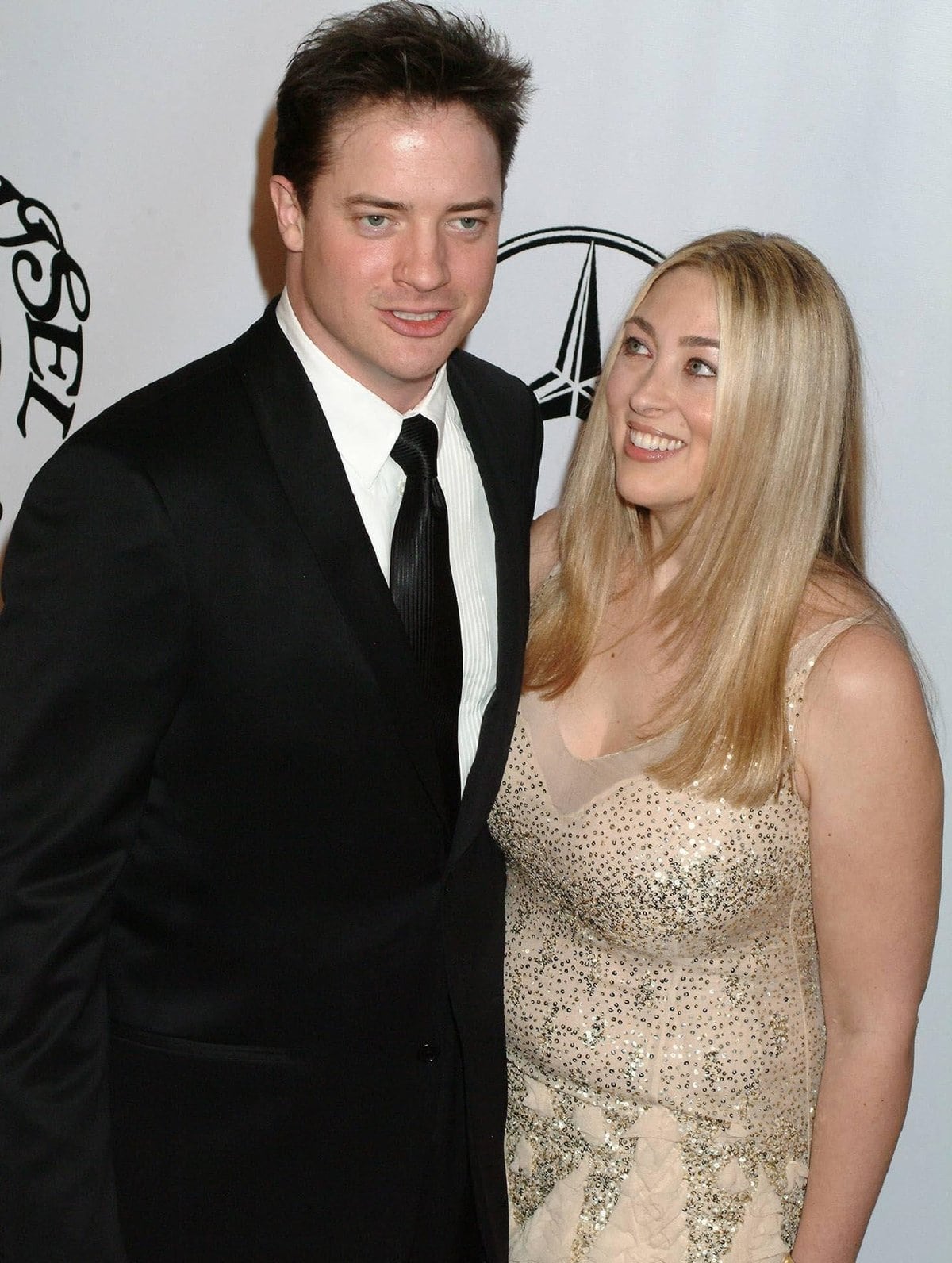 Brendan Fraser met his wife, Afton Smith, at Winona Ryder's 1993 Fourth of July celebration (Credit: Jody Cortes / WENN)
Before long, Afton and Brendan were blessed with three beautiful boys, each around two years apart: Griffin Arthur (born in 2002), Holden Fletcher (born in 2004), and Leland Francis (born in 2006).
Leland and Holden joined Brendan on the red carpet at this year's Academy Awards. Speaking to Laverne Cox on the E! red carpet, the two boys expressed their feelings about their dad's Oscar nomination.
"We are unbelievably proud. Over the moon," Holden said, and Leland shared the sentiment.
The three boys also surprised their father with cake and balloons when he first heard the news about his nomination.
"They sneaked into the house, they had a plan," he revealed to Extra. "That and the feeling that sharing that moment with my loved ones is now a core memory of mine."
Who is Afton Smith?
Smith is an American actress, who starred in movies like Less Than Zero (1987), Fried Green Tomatoes (1991), and Reality Bites (1994), which co-starred Winona Ryder.
Brendan Fraser with his wife Afton Smith and their sons Griffin Arthur Fraser and Holden Fletcher Fraser at Camp Ronald McDonald for Good Times Halloween Carnival, Universal Studios Back Lot, Los Angeles, October 23, 2005 (Credit: Nikki Nelson / WENN)
Afton has seemingly retired from screen work and has authored several books, including "Hollywood Picks the Classics: A Guide for the Beginner and Aficionado," released in 2004, and "The Tiger: Class of January 1922," released in 2018.
Afton has spent most of her time raising and caring for her three sons.
Brendan Fraser and Afton Smith: A Long and Complicated Divorce
After nine years of marriage, Brendan and Afton announced their divorce in 2007, although it was going to be a long and bumpy road for Fraser until it was finalized in 2009.
Fraser was ordered to pay $50,000 per month in alimony and $25,000 per month in child support to Afton for ten years- costs that added up to $900,000 per year, totaling around $9 million.
When the actor claimed to be unable to pay the ordered amount, he revealed that a lack of job prospects and extensive medical bills had drained his income.
Pictured at the 2005 Vanity Fair Oscar Party, Brendan Fraser and Afton Smith filed for divorce in 2007 (Credit: Nikki Nelson / WENN)
Smith was outraged at the actor's appeal and claimed that Fraser had concealed nearly $9 million in movie contracts from her during the divorce proceedings.
The accusations were found to be unsupported. Despite the mudslinging, Smith was still awarded generous alimony, child support for their children, and joint custody of the boys.
The boys are now in their teens, and they spend time between the homes of Fraser in New York and Smith in Connecticut. Brendan still speaks very highly of the boys' mother, and things seem to be generally peaceful between them.
"It takes a great mother to make a boy into a good man," he says.
Why did Brendan Fraser disappear from Hollywood?
After riding the wave of publicity surrounding The Mummy franchise, Brendan seemingly disappeared.
After experiencing so much success, we would understand if Fraser wanted to take some time between projects, but this hiatus may not have been his choice.
One afternoon in 2003, Fraser attended a luncheon at the Beverly Hills Hotel for the Hollywood Foreign Press, the presenter of the Golden Globe awards.
When he went to shake the hand of the then-president of the FPA, Philip Berk, Berk sexually assaulted Brendan by aggressively groping his backside.
Of the incident, Brendan told GQ in February 2018, "I felt ill. I felt like a little kid." He later went on to say, "It felt like there was a ball in my throat. I thought I was going to cry."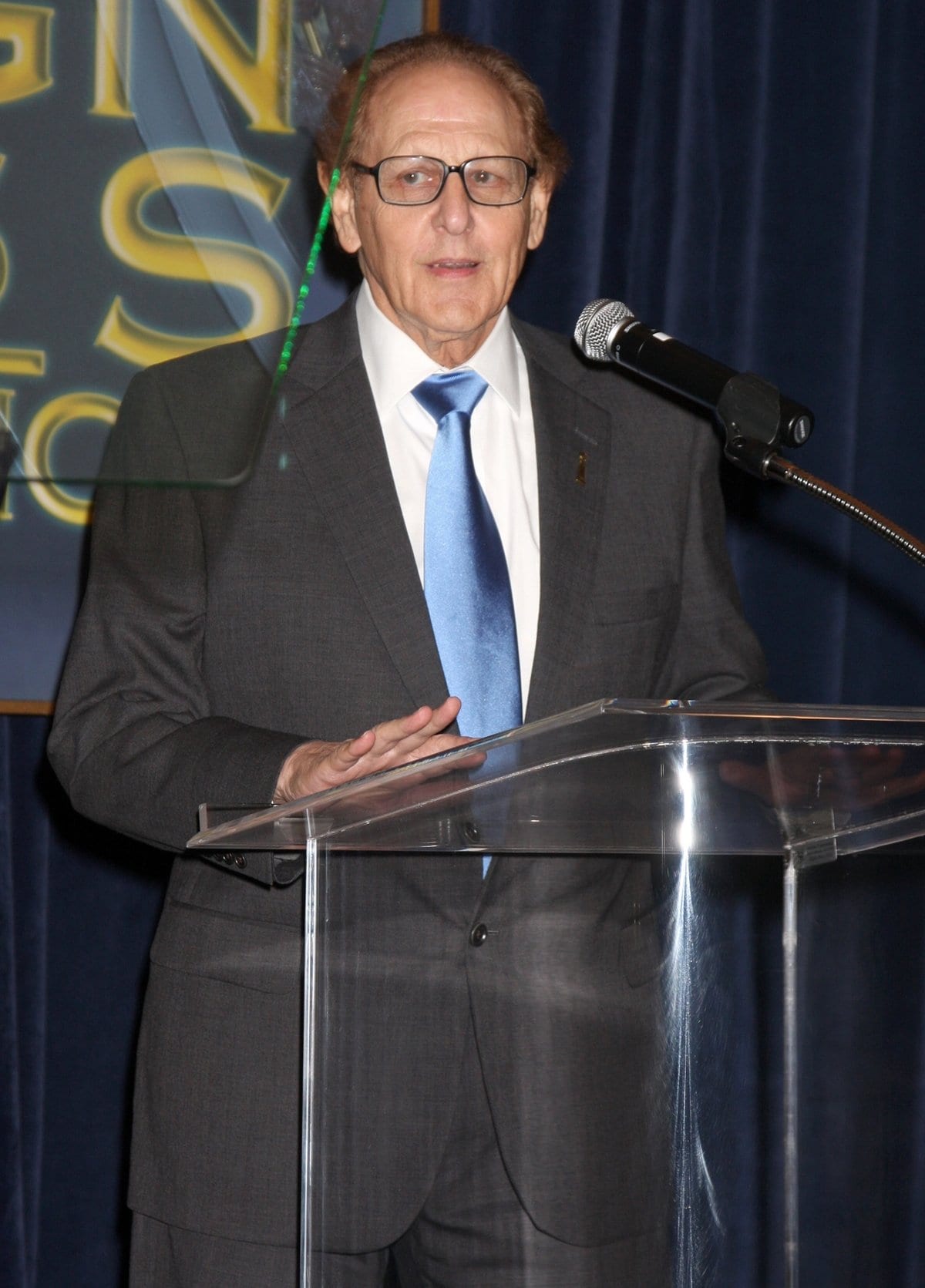 Brendan Fraser claims HFPA ex-president Philip Berk sexually assaulted him (Credit: Nikki Nelson / WENN)
In today's age, stars are afforded certain protection or support when they come forward with sexual assault allegations. However, too many have suffered retaliation for their sharing their truth.
Unfortunately, in 2003, individuals were not always afforded the same protections – especially not men.
Fraser decided to come forward and request a formal apology from Philip Berk; however, he was met with the same denial and gaslighting that many sexual assault victims face.
It's believed Brendan Fraser was blackballed after he spoke openly about HFPA's Philip Berk sexually assaulting him at the Beverly Hills Hotel in the summer of 2003 (Credit: Arnold Wells / WENN)
Berk dismissed the allegations, saying it was merely a pinch and intended as a joke. By rejecting Berk's advances, Brendan landed on Hollywood's blacklist.
The flow of employment opportunities slowed to a trickle, and he was rarely invited to functions for the Golden Globes moving forward.
"I blamed myself," he said.
Years later, Brendan addressed the lack of offers, attributing some of the hiatus to the seasonality of his career. Still, when asked if he believed it was due to the incident with Philip Berk, he said, "There are many reasons, but was this one of them? I think it was."
Pictured with Katharine "Kat" Kramer and Karen Kay Sharpe in 2013, longtime member Philip Berk was expelled from the Hollywood Foreign Press Association after forwarding a politically incorrect email (Credit: Tai Urban / WENN)
In later years, when asked about the accusation, former HFP president Philip Berk described Brendan's account as "a total fabrication."
In August 2021, Philip Berk was expelled from the Hollywood Foreign Press Association after he emailed his fellow members an article describing Black Lives Matter as a "racist hate movement."
The email reportedly criticized Patrisse Marie Khan-Cullors Brignac for buying several luxury properties with money raised for the Black Lives Matter movement. Philip Berk had been a Hollywood Foreign Press Association member for 44 years.
Life Continues to Strike at the Actor
Fraser has spoken in interviews about how he seemed to have a busy and somewhat tragic decade that kept him away from the set.
In addition to the sexual assault allegations, Brendan rode out an expensive and messy divorce. IHe also experienced the loss of his beloved mother in 2016, with whom he had a very close relationship.
The punches kept landing when Fraser underwent several surgeries to correct injuries sustained while performing his own stunts. He also required surgery on his back after sustaining an injury at his home during the aftermath of Hurricane Sandy.
Brendan Fraser suffered from depression after his divorce and the death of his mother (Credit: Brian To / WENN)
He describes his state of physical decline as "building an exoskeleton," every day using a combination of ice packs and protective sporting equipment to keep his body operational during filming.
These exorbitant medical costs, very public personal struggles with Afton, and lack of job prospects due to negative publicity led Fraser to seek refuge in his home.
As a result of so many traumatic events, Fraser struggled to escape the cloud of depression. Fortunately, as a silver lining of the isolation, he found solace in caring for his boys and investing in his mental health.
Brendan Fraser Rescued… a Horse?
Part of his recovery, Brendan has revealed, is due to a horse. Pecas, as the horse is called, was rescued by Fraser from the set of Texas Rising, which he filmed in Mexico.
The dappled equine had absorbed kicks and bites from other horses without reaction. Maybe the mistreatment seemed all too familiar to Fraser.
View this post on Instagram

Once filming had wrapped, Brendan imported Pecas to the United States, finally arriving at his home in New York. He says that riding Pecas makes him feel better.
He also has revealed that his oldest son, Griffin, is on the autism spectrum and finds great comfort in the repetitive nature of grooming and caring for Pecas.
Brendan Fraser Mounts a Return to Hollywood
When the #MeToo movement started gaining traction in 2018, Brendan Fraser spoke up about his experience with Philip Berk from 15 years prior. The secret that he had been carrying close to the vest was met with overwhelming support.
Even White Chicks actor Terry Crews supported Brendan, calling him "courageous" and adding, "One man's 'horseplay' is another man's humiliation."
In recent years, Fraser is making more public appearances and currently has several movies in post-production. He also just released a season of DC Comics Doom Patrol, where he voices the disembodied persona of Cliff Steele in Robotman and also plays his human form.
His role as Charlie, a 600-pound loner, has not only won him an Oscar but also the Toronto International Film Festival's Tribute Award and the best actor at the Screen Actors Guild and Critics' Choice Awards. He also received best actor nominations at the British Academy Film Awards (Baftas) and Golden Globes.
Fraser shared his nominee for best actor at the Academy Awards with four other first-time nominees. These included Austin Butler (Elvis), Paul Mescal (Aftersun), Colin Farrell (The Banshees of Inisherin), and Bill Nighy (Living). The last time that all five nominees were first-timers was in 1935.
The actor will also be the honoree of the Inspiration Award at the Greenwich International Film Festival (GIFF) on May 3, 2023.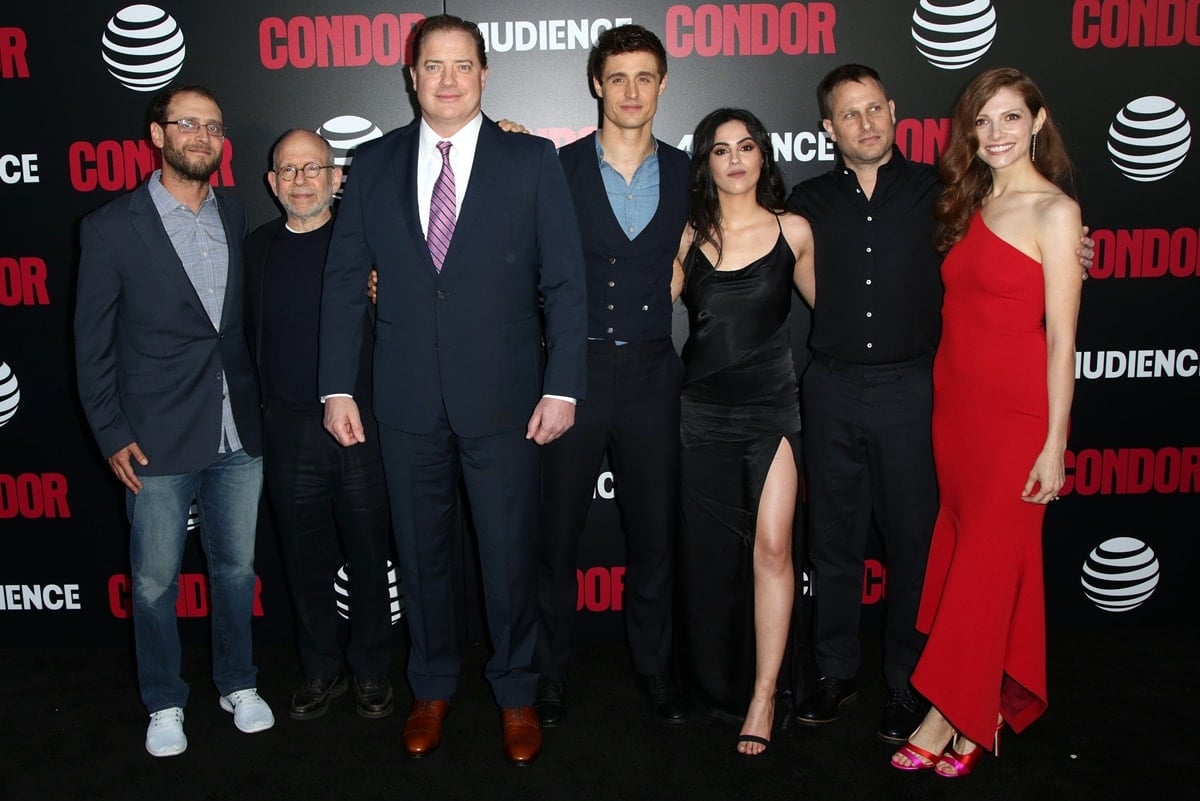 Todd Katzberg, Bob Balaban, Brendan Fraser, Max Irons, Leem Lubany, Jason Smilovic, and Katherine Cunningham attend the premiere of AT&T Audience Network's 'Condor' at NeueHouse Hollywood on June 6, 2018, in Los Angeles, California (Credit: Brian To / WENN)
The Whale isn't the only film that brought Fraser back in a big way. In 2021 he starred as Doug Jones, a gangster, in the period heist thriller, No Sudden Move. Oscar-winning director Steven Soderbergh once again allowed the star-studded cast to portray roles different from their norm in this crime thriller.
Fraser has also found love again with makeup artist Jeanne Moore. The two are very private about their relationship but stepped into the spotlight on the red carpet at the 79th Venice Film Festival in September 2022.
Although little is known about how they met, it's assumed that it was through the entertainment industry as she is a makeup and hair artist for TV, film, and events.
According to her profile, she was the Lead Makeup Artist at the Martino Cartier's High Fashion Show in 2019. She has also worked with celebrities such as Paula Abdul and martial artist Billy Blanks Junior.
Moore pursued a degree in marketing at Cal State Fullerton before attending the April Love Pro Makeup Academy to develop her makeup talent.
Brendan Fraser and his girlfriend, Jeanne Moore, at the 76th EE British Academy Film Awards (BAFTAs) at Royal Festival Hall. (Credit: Dutch Press Photo/Cover Images)
In recent months, Fraser appeared in a viral TikTok video, where an interviewer professed the web's support and admiration for his body of work.
Brendan takes a drink, tips his cowboy hat, and with the biggest Brendan Fraser smile, says, "Shucks, Ma'am." Maybe he really is as pure as we had always hoped he was.
It seems Brendan Fraser has turned a sharp corner following perhaps the roughest decade in his life, and we can only hope to see more of this kind-hearted star in the years to come.