Kaia Gerber's Sexy Feet and Nude Legs in Hot High Heels
Please subscribe to
our newsletter
to receive updates from Your Next Shoes. This post may contain affiliate links. Please see our
disclosure
for more details.
Scroll down to see pictures of Kaia Gerber showing off her nude feet and bare legs in sexy high heels, boots, sandals, pumps, and hot shoes.
How Old and Tall Is Kaia Gerber?
According to IMG Models, Kaia's height is approximately 5'9.5" (176.53cm) and her weight is estimated to be around 45 kg (99 lb).
She was born on September 3, 2001, in Los Angeles, California. Kaia Jordan Gerber turned 17 in 2018.
Being underage, she has not posed nude but has been modeling from the age of 10. Her first modeling gig was with Versace's junior line, Young Versace.
Kaia was named Model of the Year at the British Fashion Awards on December 10, 2018.
He may be a well-known comedian with a net worth of $6 million, but Pete Davidson seems more famous for…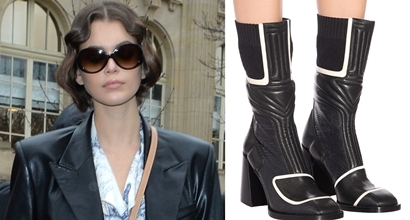 Kaia Gerber took to the catwalk with Gigi Hadid and other supermodels for Chloé's Autumn/ Winter 2020/ 2021 showcase on…
Jimmy Choo's creative director, Sandra Choi, wants you to feel bold and empowered for Spring '19. Jimmy Choo's Annabell pumps…
Kaia Gerber was named Model of the Year at the Britsh Fashion Awards on Monday at Royal Albert Hall in London,…
To go backstage at Alexander Wang's Spring '18 show held at an industrial lot deep in Bushwick, Brooklyn, you had…
The Vogue Paris Foundation's annual gala, held at the Palais Galliera, should have been a star-studded night filled with fashion…
Kaia Gerber was all legs at the Omega Trésor watch launch held in Kraftwerk in Berlin, Germany on Wednesday. Kaia Gerber wearing…
Kaia Gerber turned heads on the red carpet at the 2017 Fashion Awards on Monday night at Royal Albert Hall…
Move over, Cindy Crawford, your baby girl is about to break all your modeling records. At 16-years-old, Kaia Gerber is…
Something major just went down in fashion history, and we refuse to miss out on this monumental moment. Donatella Versace…
The apple doesn't fall far from the tree. Cindy Crawford's 15-year-old daughter Kaia Gerber has her eyes set on Hollywood…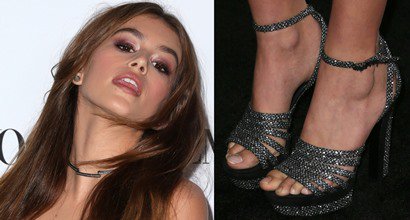 Cindy Crawford's children, 14-year-old Kaia and 16-year-old Presley Gerber, walked the carpet together at the Teen Vogue Young Hollywood Party…
Cindy Crawford brought her family to support her friend George Clooney and his new movie 'Tomorrowland' at AMC Downtown Disney…