Who travels in heels? Celebrities. Who always looks good when she travels? Oh that's easy – Charlize Theron.
Just the other day, the statuesque beauty was spotted looking oh-so snazzy while arriving in Paris via Eurostar. She paired her dark trench with knock-out heels you've probably never seen before. The shoes had the look that was part futuristic, part vintage, part sporty, yet 100% sleek – a pointy pair with large buckles and striking white platforms.
You could say it was a tad adventurous for the coat, but she looked smashing nonetheless. And honestly, no one else could have worn it any better than she did. She simply looked effortless.
If you're dying to know about the heels, it's a new style from Stella McCartney's Fall 2012 Collection. Yes, that means it'll take a while before those pointies hit the stores.
Now although we tried, we had a difficult time finding a less expensive stand-in. We also didnt' want to settle for loose renditions because you simply cannot do that with this kind of shoe; it's too distinct. And so we decided to give you something that would be just as showstopping (and expensive) instead.
Have a look at this metal plated loafer pump from YSL. This one is definitely one of a kind, wouldn't you say? It's retro, it's glam, and quite luxe. If you like it better than Charlize's Stella McCartney loafers, simply head over to SAKS and grab it in your size.
YSL Suede Metal Plated Loafer Pump, $1,695 at SAKS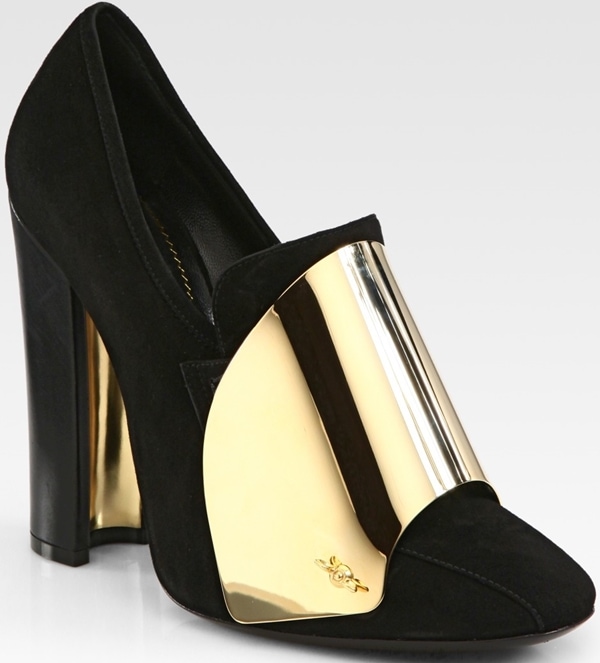 We have another treat for you, namely these gorgeous Giuseppe Zanotti flats that Charlize Theron wore a few years back. She paired them with a Christian Dior wrap dress. How do you rate her outfit on a scale from 1-10?
Charlize Theron and Stuart Townsend at the 2009 AFI Fest screening of 'The Road' held at Grauman's Chinese Theatre in Los Angeles on November 4, 2009
Charlize Theron's Christian Dior wrap dress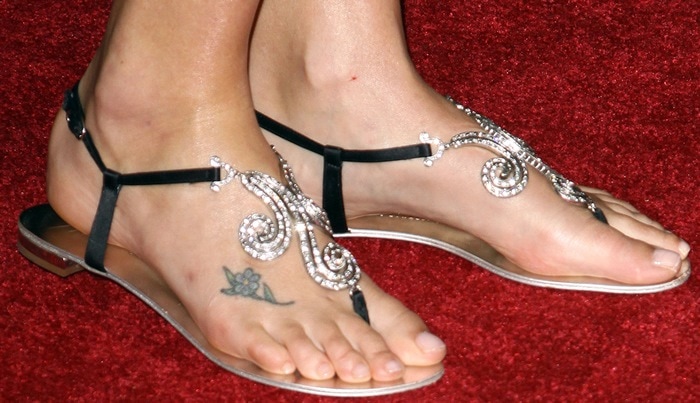 Charlize Theron's feet in gorgeous Giuseppe Zanotti flats
Credit: FayesVision / WENN