Emma Watson took up an interest in sustainable fashion when she participated in the Green Carpet Challenge in 2015, and it looks like the concept stuck. The actress recently stopped by the Jimmy Kimmel Live! studios to promote her upcoming film "Beauty and the Beast" in yet another entirely sustainable look.
The 26-year-old actress and activist arrived wearing a slouchy vintage suit from Yves Saint Laurent, which was buttoned up, but still low-cut enough to show off a glimpse of a black lace bra underneath.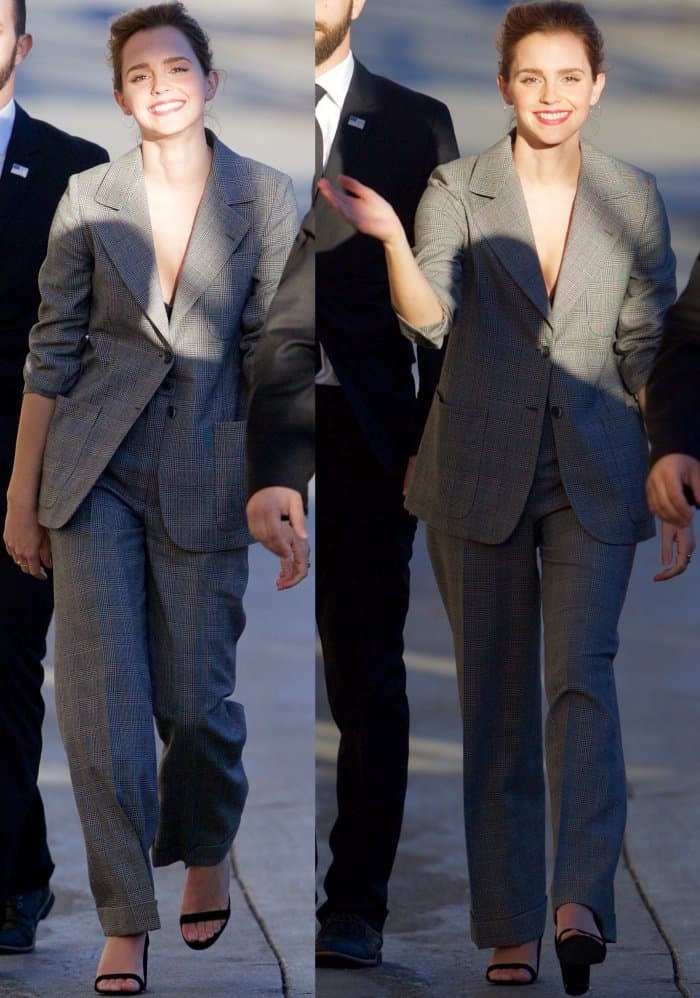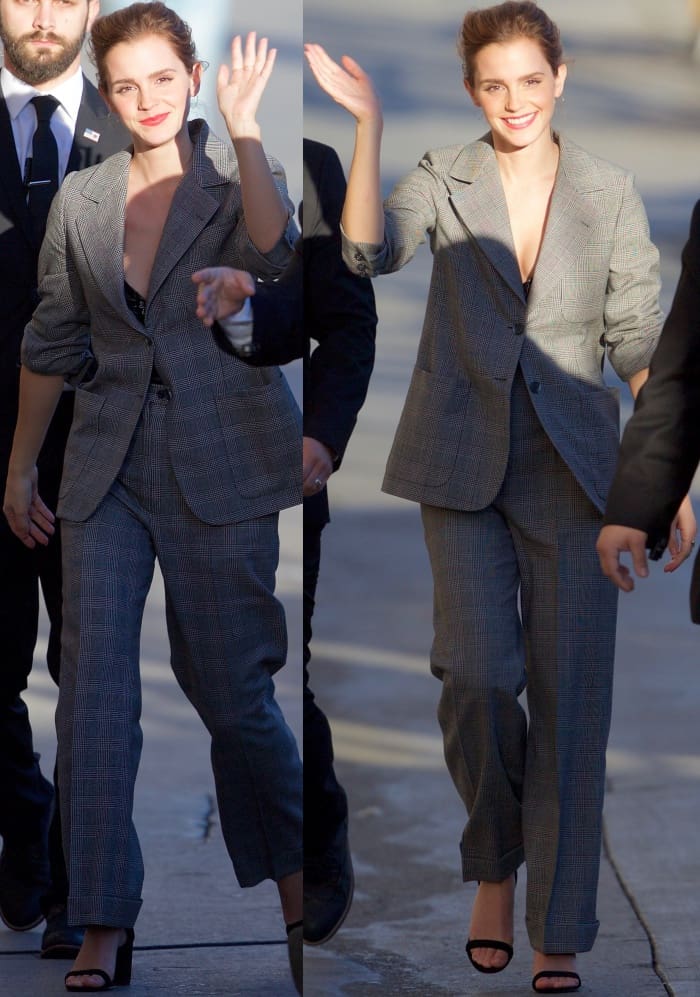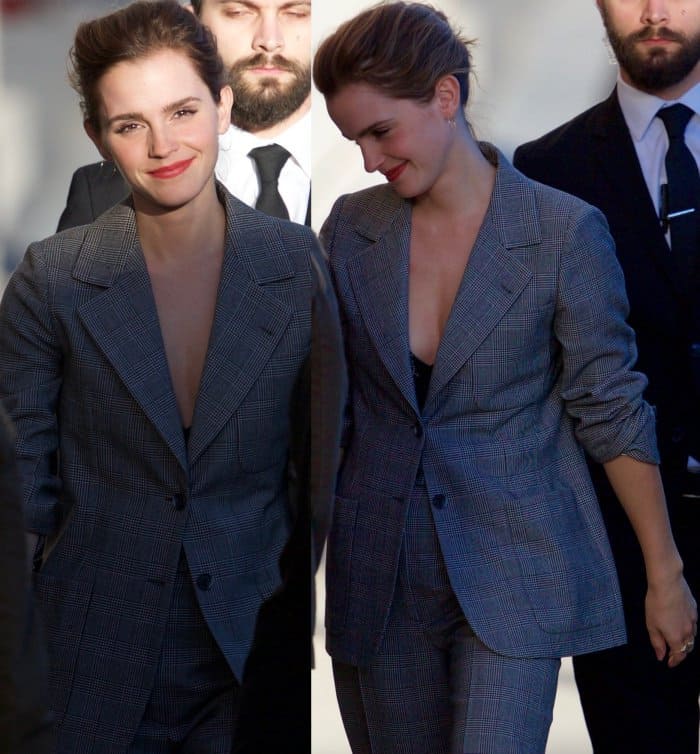 Emma Watson arriving at the ABC studios for an appearance on 'Jimmy Kimmel Live!' in Los Angeles, California, on March 7, 2017
For her guest stint, Emma changed into a bespoke jumpsuit from Galvan. The "Beauty and the Beast" star talked about her film and a famous "Harry Potter" outtake with host Jimmy Kimmel. She also discussed meeting Celine Dion and leaving books for commuters in her spare time.
Emma styled her outfit with red lips and a loose updo, and completed it with a pair of black ankle-strap sandals from vegan footwear brand SUSI Studio. She wore the "Hey Simone" heels, which she also wore at a press junket in Los Angeles.
If you want more sustainable fashion by Emma, you can follow along with her "Beauty and the Beast" tour Instagram account. The handle — The Press Tour — highlights each and every look she wears during promotions. Emma shares more information about the designers, creative process and materials for every look. She enlists the help of Exo-Age in order to verify every detail of every outfit.
So far, she's worn outfits from Elie Saab, Phillip Lim, Cienne, Oscar de la Renta and Roland Mouret. One of our personal favorite looks was a bespoke Emilia Wickstead gown she wore for a London screening, and she even inspired a 3-year-old fan to recreate a custom Louis Vuitton look she wore for a Paris photo call.
The next day, Emma strolled through the Los Angeles International Airport in a white shirt and a green-and-black checkered miniskirt. Emma styled her casual-cool outfit with a black leather jacket from Stella McCartney and sunglasses from Krewe, and finished everything off with a pair of black leather lace-up boots from Dr. Martens.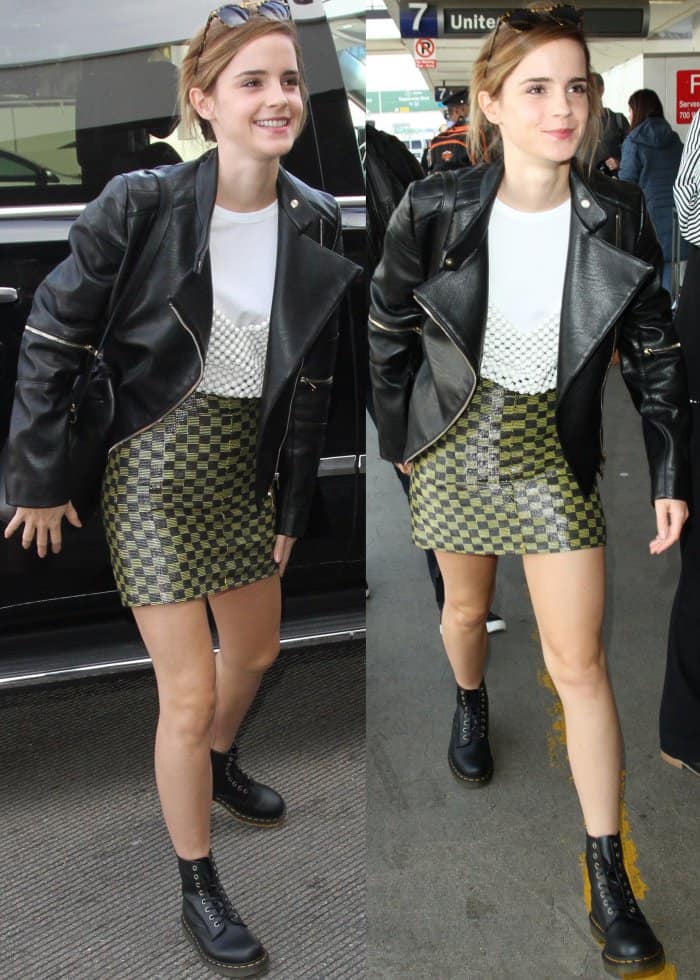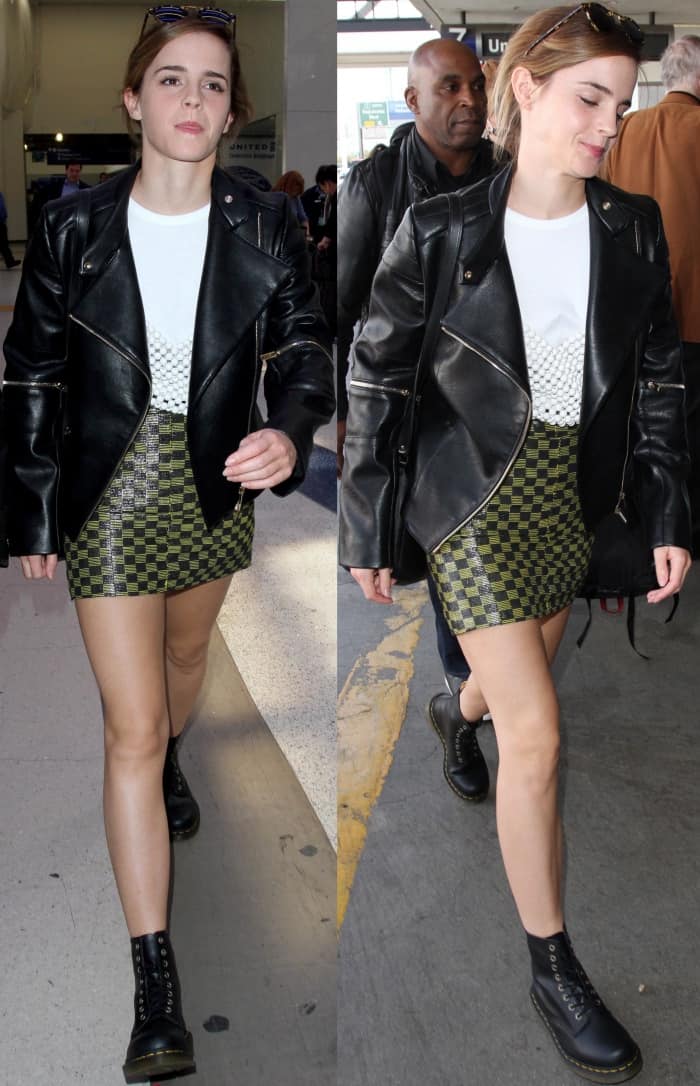 Emma Watson at the Los Angeles International Airport in Los Angeles, California, on March 8, 2017
Emma wore the "1460" boots from Dr. Martens. These shoes featured smooth black leather, Goodyear welt construction and the brand's signature yellow stitching. You can purchase them for $135 over at Dr. Martens. These boots are also available in green, cherry red, white and navy.
Dr. Martens "1460" Boots, $135
Credit: WENN/Michael Wright