They are often pictured in coordinating outfits, and Thursday was no different when Sophie Turner and Joe Jonas hit the Paris streets during Paris Fashion Week.
Sophie Turner and Joe Jonas hit the streets of Paris during Paris Fashion Week on July 8, 2021 (Credit: Mega / WENN)
Joe looked handsome in his dark brown suit blazer and matching pants paired with a plain white tee underneath.
A pearl necklace and bracelet set as well as a pair of yellow-tinted sunglasses and white platform brogues added style to his rather relaxed formal wear.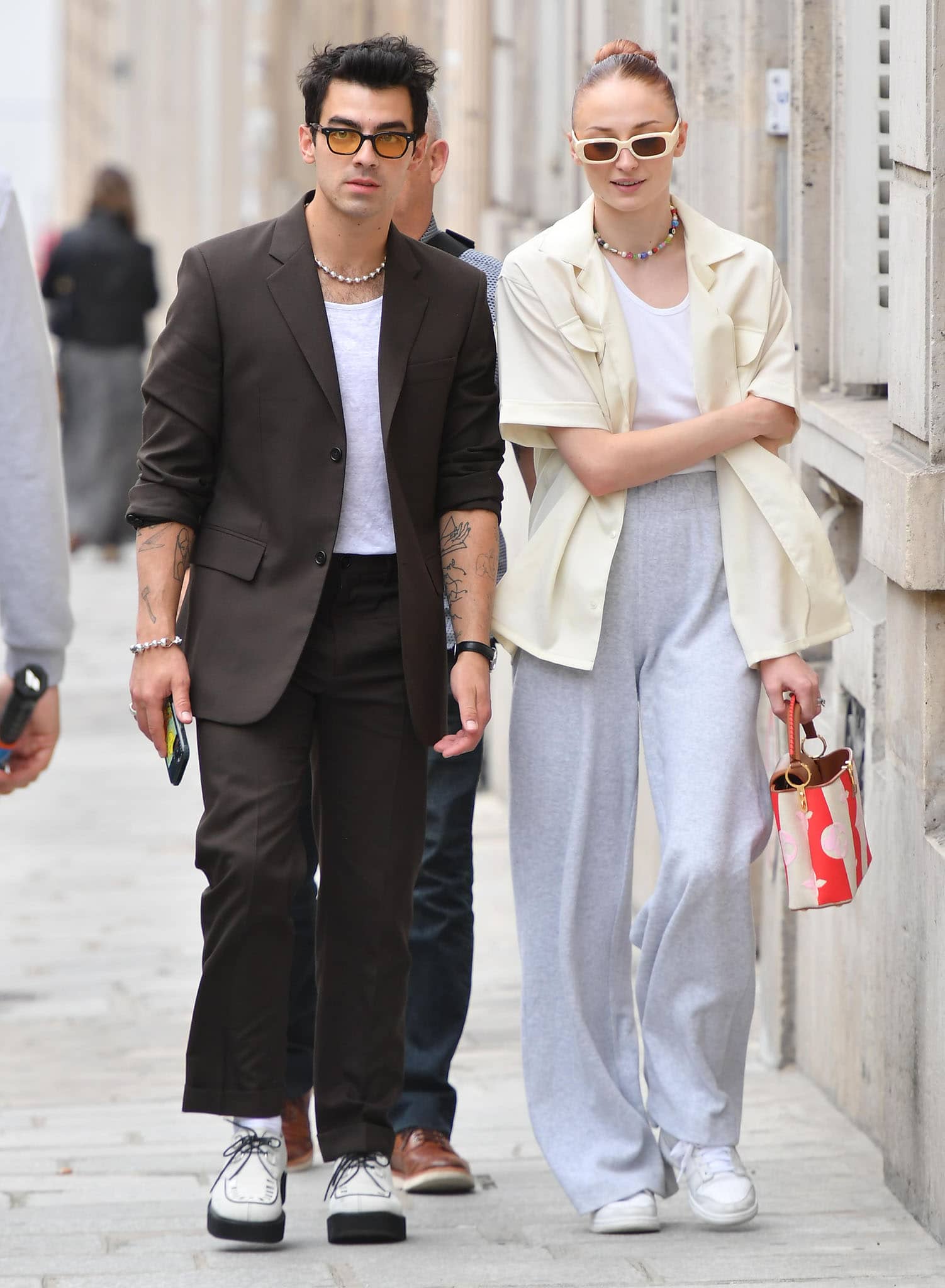 Joe Jonas looks handsome in his brown pantsuit with a white tee, brogues, and yellow-tinted sunglasses (Credit: Mega / WENN)
Meanwhile, the Game of Thrones star coordinated her husband in her menswear-inspired outfit, keeping her curves under wraps.
She looked cool and chic in an oversized cream short-sleeved shirt layered over a $55 The Frankie Shop "Lenne" white tank top, which she tucked into a pair of gray sweatpants.
Sophie Turner coordinates her husband in a menswear-inspired outfit with a cream shirt, Frankie Shop tank top, and sweatpants (Credit: Mega / WENN)
Like her singer husband, her accessories included a pair of $98 Reality Eyewear x POSSE x Xray stoned specs and a colorful beaded necklace from Ian Charms in addition to her solitaire pear-cut diamond engagement ring.
She pulled her newly dyed copper tresses back into a tight bun while highlighting her natural features with minimal makeup.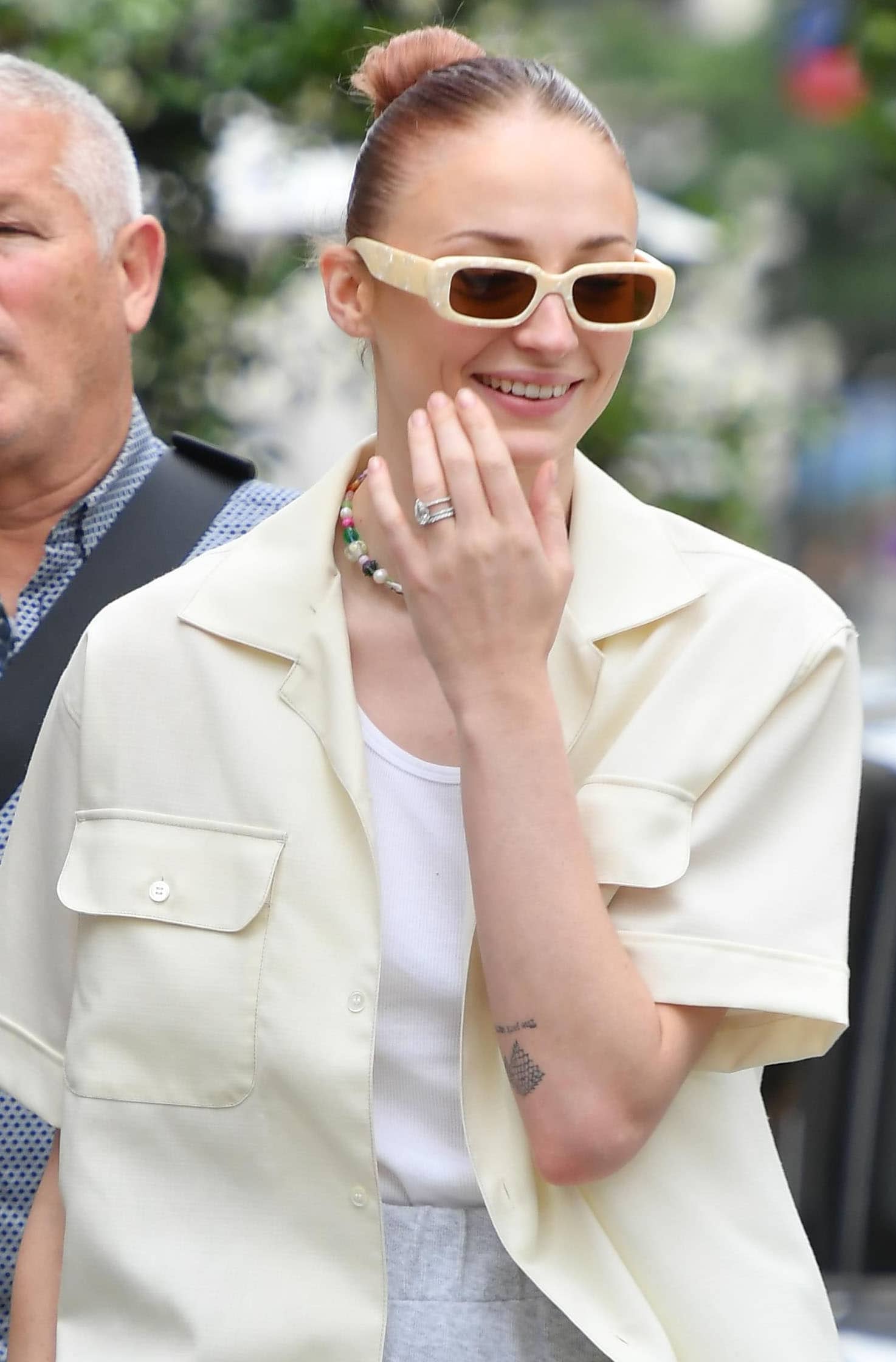 Sophia Turner pulls her newly dyed copper hair into a tight bun and wears minimal makeup with Reality Eyewear sunglasses (Credit: Mega / WENN)
Adding a bold element to her ensemble, the mom-of-one carried a $5,350 Louis Vuitton Capucines BB handbag featuring red and cream stripes with pale pink Monogram logo details, gold-tone hardware, and natural leather trims.
Sophie Turner adds a bold element to her look with Louis Vuitton Capucines BB bag (Credit: Mega / WENN)
Taller than her husband, Sophie chose the Nike Dunk Low sneakers in Photon Dust colorway to complete her effortless off-duty style.
Released just last May, this now sold-out pair has white leather uppers with light gray overlays, a perforated toe box, and a ridged rubber sole.
It was originally priced at $100, but you can find them on secondary markets like Goat and StockX for around $200 – $300.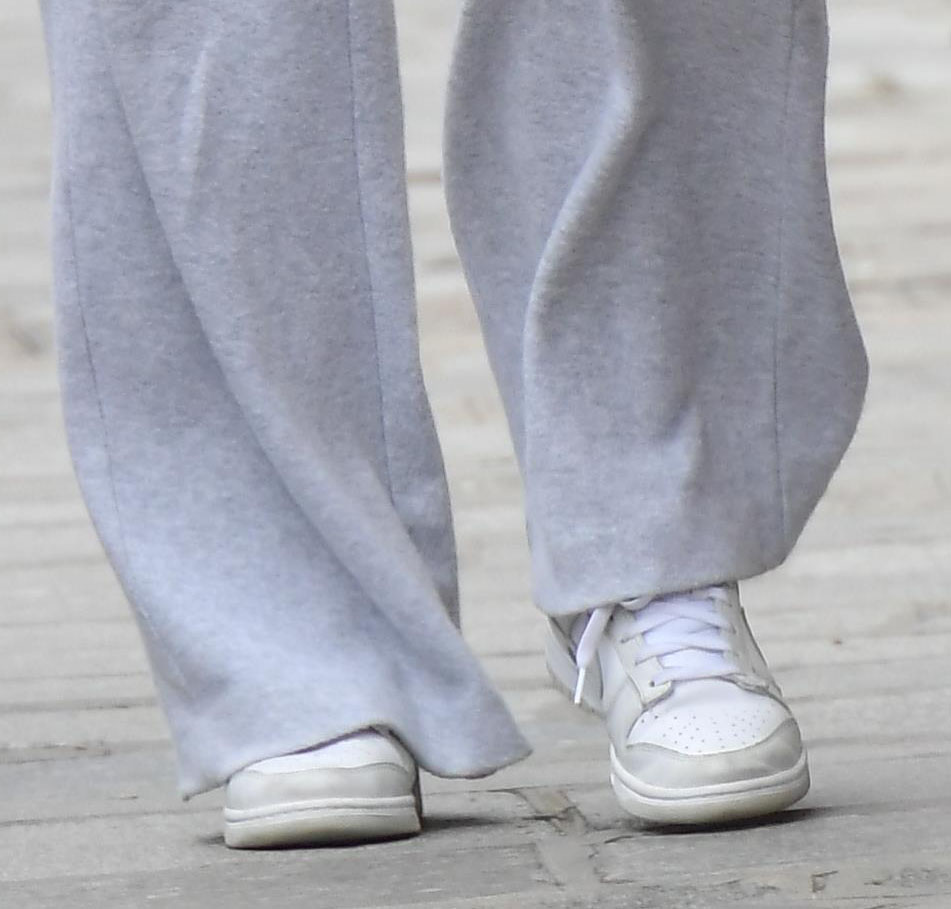 Sophie Turner completes her off-duty look with Nike Dunk Low Photon Dust shoes (Credit: Mega / WENN)