For decades, the Disney Channel has garnered prestige as a television channel that acts as somewhat of an incubator for rising young talent.
The casting directors of Disney Channel have always seemingly had a penchant for noticing the potential of bright, young stars and placing them within roles where said talents shine.
Bella Thorne, Zendaya, Stefanie Scott, Nick Robinson, Mary Mouser in the 2012 teen comedy-drama television film Frenemies (Credit: Disney-ABC Domestic Television)
Current megastars like Zac Efron, Kat Dennings, Brie Larson, and the Jonas brothers all got their start in Hollywood through Disney Channel productions.
In the case of superstars Zendaya and Nick Robinson, the 2013 Disney Channel film Frenemies provided the opportunity to break through to Hollywood and kickstart their wildly successful careers.
How Did Zendaya Get Cast in Frenemies?
Born in Oakland, California in 1996, Zendaya was introduced to acting and the theatre through her mother's summer job role as the house manager for the California Shakespeare Theater, located in Orinda, California, where she helped to seat patrons.
In an interview with W magazine, Zendaya revealed her first audition for an acting role was for her school play's production of James and the Giant Peach, where she auditioned for a lead role but instead was cast as a silkworm.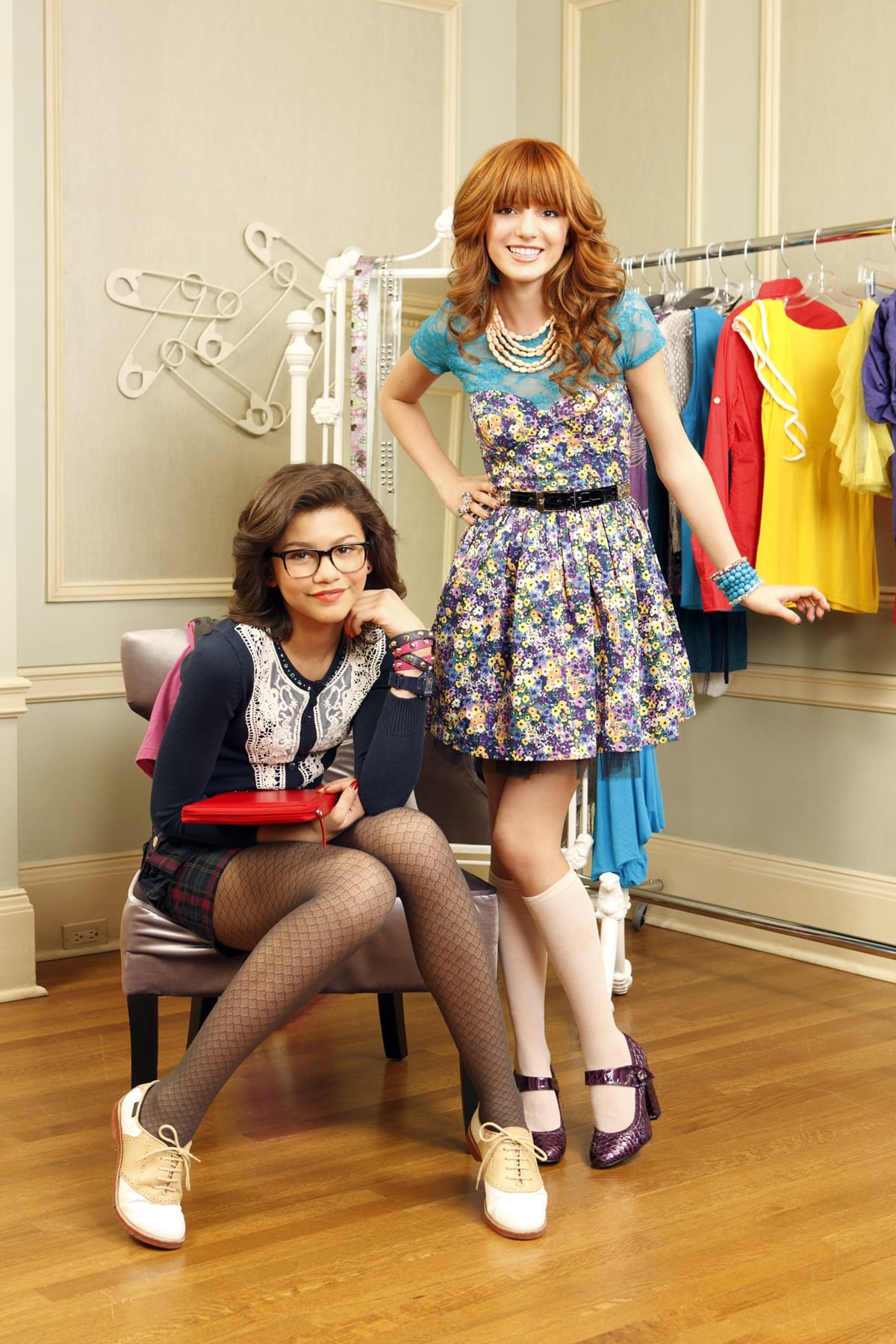 Bella Thorne as Avalon Greene and Zendaya as Halley Brandon in the 2012 teen comedy-drama television film Frenemies (Credit: Disney-ABC Domestic Television)
Zendaya eventually attended Oakland School for the Arts, where she was cast in a variety of different roles. She even had a chance to act in multiple Shakespearean plays, including playing Lady Anne in Richard III, and Celia in As You Like It.
Eventually, Zendaya's trademark stunning beauty would lead her to a career in modeling, where she worked with brands such as Macy's and Old Navy. A lifelong dancer, she also participated as the youngest contestant on Dancing With the Stars, at the age of 16.
Zendaya at the premiere of Phineas And Ferb: Across The 2nd Dimension held at the El Capitan Theater on August 3, 2011, n Hollywood (Credit: Joe Seer / Shutterstock)
Zendaya would also co-star with Bella Thorne (who also appears in Frenemies) in Shake it Up!, a television series that lasted for three seasons.
Zendaya's superb acting skills (coupled with her other variety of talents) would catch the eye of Disney's casting directors again, who would cast her in the role of Halley Brandon in Frenemies.
How did Nick Robinson Get Cast in Frenemies?
Similarly to Zendaya, Nick Robinson's journey to becoming a professional actor started at a young age.
While originally hailing from the Seattle area, Robinson's family would relocate to Los Angeles and at the age of 11, Nick landed a role in a stage adaptation of Charles Dickin's A Christmas Carol. This role would grant him the opportunity to be signed to an agency.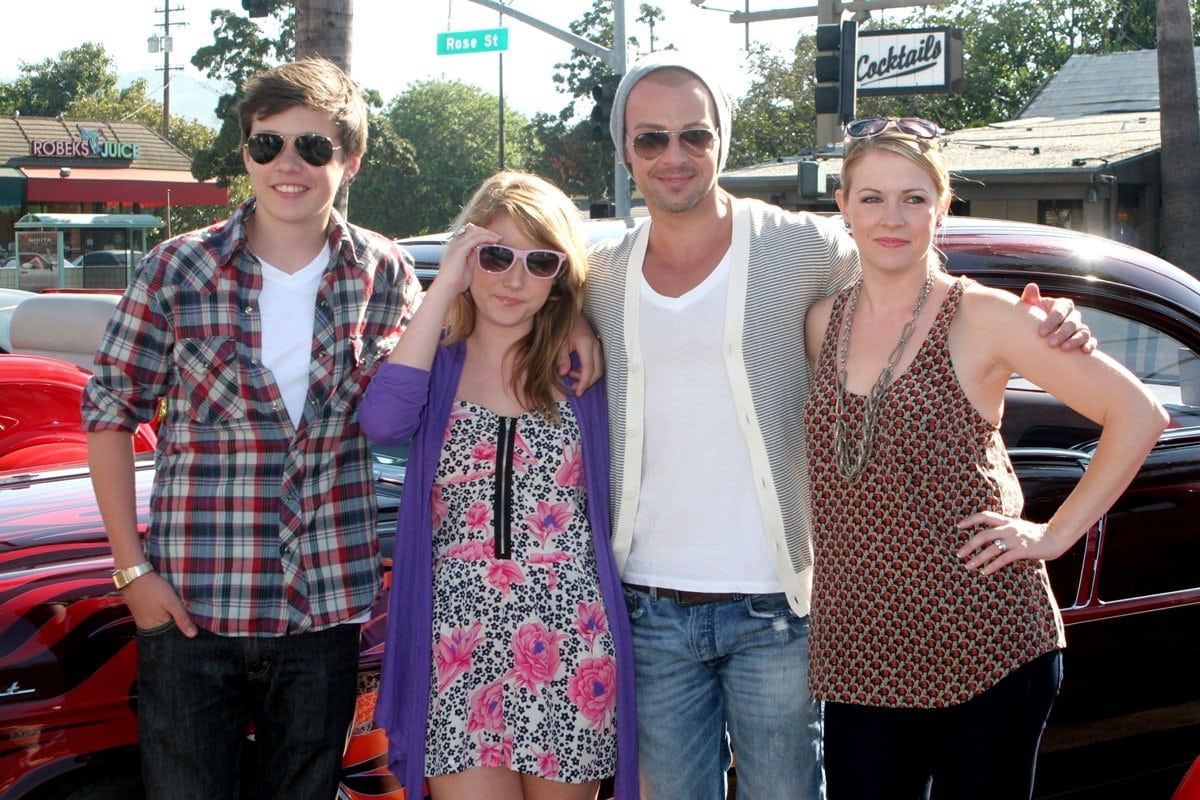 Nick Robinson with his "Melissa & Joey" co-stars Taylor Spreitler, Joey Lawrence, and Melissa Joan Hart at the launch of the "World Of Cars Online" at Bob's Big Boy on August 11, 2010, in Burbank, California (Credit: Kathy Hutchins / Shutterstock)
In 2010, Robinson would land his first major recurring TV role as Ryder Scanlon in Melissa & Joey, a character he would continue to portray until the show was canceled in 2015.
These roles definitely allowed Robinson to garner enough interest to land his role as Jake Logan in Frenemies, at the age of 18. Robinson already displayed an affinity for successful acting, which continues to this day.
Zendaya and Nick Robinson's Roles in Frenemies
Frenemies centers around a network narrative based around teenage classmates of a high school, and how multiple characters experience the relationship of a "frenemy", a friend who is also an enemy or rival.
As previously mentioned, Zendaya portrays the character of Halley Brandon, a book smart teen who is passionate about fashion and the latest trends. Together with her best friend Avalon Greene (played by Bella Thorne), she establishes a popular web magazine called GeeklyChic.
Bella Thorne and Zendaya play best friends who create a web magazine called GeeklyChic in the 2012 teen comedy-drama television film Frenemies (Credit: Disney-ABC Domestic Television)
The website's popularity attracts the attention of Burns Publications, a famous publishing house located in New York City. The house is run by Cherie St. Claire, who invites them to New York and expresses interest in purchasing the website from the starry-eyed teens.
However, St. Claire is insistent on only hiring one of the teens as the editor of the website, and tasks each of them with creating a cover story to prove which one should land the coveted role.
This causes them to become "frenemies", as they compete with one another over an interview involving Jean Frank, a French singer who has recently sold-out a concert in America.
Nick Robinson portrays a science whiz teenage boy at Waterbury High School named Jake Logan (Credit: Disney-ABC Domestic Television)
Throughout the film, Zendaya showcases her natural abilities as a young actress. It comes as no surprise that she would eventually go on to become one of the most popular actresses in Hollywood, as her innate ability to embody characters would become a hallmark trait of her skillset.
Conversely, Nick Robinson plays the character of Jake Logan, a genius teenage boy who is best friends with his dog, Murray. A popular girl named Julianne (Stefanie Scott) attempts to drive a wedge between Jake and Murray, as she is determined to use Jake to get another A in her class.
After his film debut in Frenemies, Nick Robinson has starred in films such as The Kings of Summer (2013), The 5th Wave (2016), Everything, Everything (2017), Love, Simon (2018), and Native Son (2019) (Credit: Kathy Hutchins / Shutterstock)
Through a clever ruse, Julianne successfully gets Jake to get frustrated with Murray, who runs away from home. Eventually, Jake comes to his senses and realizes Julianne's true motivations all along, and reconciles his relationship with his favorite furry friend.
Mary Mouser: The Other Young Starlet of Frenemies
We'd be remiss if we didn't also mention Mary Mouser's involvement in Frenemies as well. Mouser, who has built a successful acting resume in her own right (playing popular character Samantha LaRusso in Netflix's Cobra Kai), portrays two characters within the film: Savannah O'Neal and Emma Reynolds, two girls who look shockingly alike.
Mary Mouser as Savannah O'Neal and Emma Reynolds in Frenemies
They decide to switch places with another, thinking each others' lives are more interesting and glamorous than their own. They quickly realize that looks can be deceiving, and opt to return to the normalcy of their own lives.
Mouser's comedic style of acting is apparent even in her early work, such as Frenemies. Her continued success within the film and television industry is a testament to her abilities as an actress.
Frenemies: A Launching Pad
To summarize our thoughts here, Frenemies provided a solid launchpad for man young stars, including Zendaya, Nick Robinson, and even Mary Mouser.
Frenemies star Mary Mouser is best known for her role as Samantha LaRusso in the Netflix series Cobra Kai (Credit: Joe Seer / Shutterstock)
The film acts as proof that the casting directors of Disney Channel truly have a special ability to find diamonds throughout the rough and unpolished gems of young and rising Hollywood talent.
Despite being a made-for-TV film, we do recommend checking it out to see some of Hollywood's biggest stars in their initially feature film roles.
In March 2016, Zendaya attended the premiere of HBO's "Confirmation" in Los Angeles.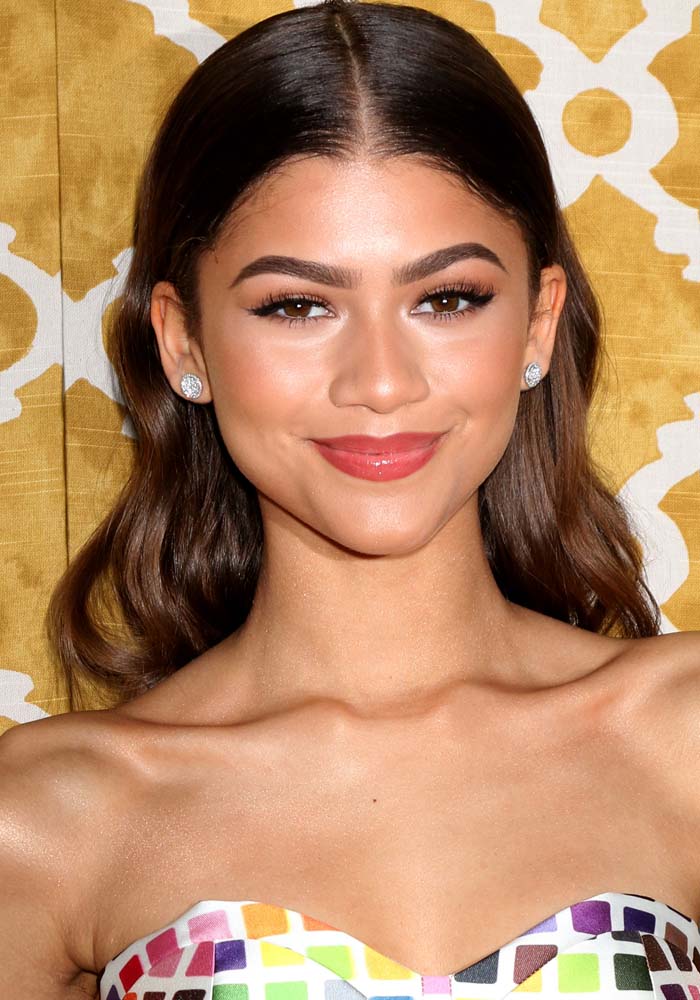 Zendaya curls her hair for the premiere of HBO's "Confirmation" held on March 31, 2016, at Paramount Theater in Los Angeles (Credit: WENN)
Sometimes, it was hard to remember that Zendaya was still only a teenager.
However, the former Disney star was still young enough to worry about things like boys and crushes.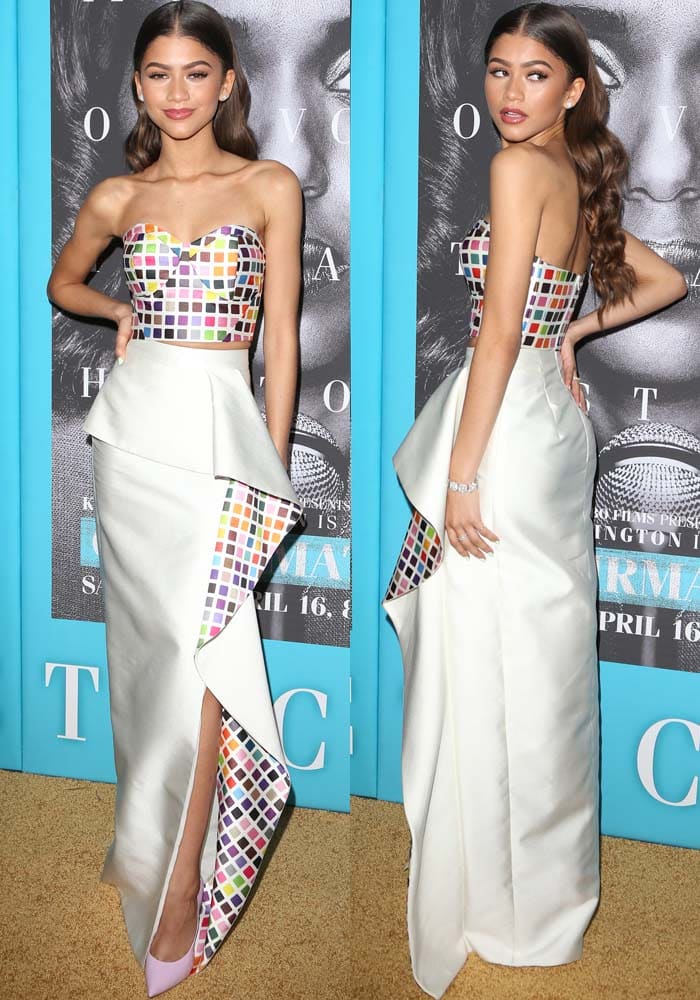 Zendaya shows off her midsection in a mosaic-print bustier and matching skirt from Rani Zakhem (Credit: WENN)
Zendaya wore a mosaic-print bustier with a matching ruffled skirt from designer Rani Zakhem.
The young K.C. Undercover actress kept her makeup simple and wore her hair in soft waves.
Zendaya keeps her makeup sultry and simple at the premiere of "Confirmation" (Credit: WENN)
She paired the colorful ensemble with a pair of soft pink patent "Blade" pumps from Casadei.
Zendaya's feet in pale pink Casadei pumps (Credit: WENN)
Zendaya seemed to like her look as well. She later uploaded a video of her sultry red carpet look, captioning it with, "When you hear your crush call your name lol 😂".
OK, so that's probably not the way she would respond to her crush in real life. Or is it?
You can order a pair of Zendaya's pink patent "Blade" pumps from Casadei at Casadei and Farfetch.
Pink Casadei "Blade" Pumps, $575.41
Pink Casadei "Blade" Pumps, $612.70