Hailey Bieber looked absolutely stunning in her latest fashion ensemble as she strutted her stuff in West Hollywood on March 28. The gorgeous blonde showed off her enviable toned legs in a bold, sophisticated outfit that would turn heads.
She displayed her casual fashion sense by pairing a crop top underneath an oversized black Fear of God Sob Rock leather bomber jacket with low-waist white shorts from Frankies Bikinis.
Hailey Bieber showing off her toned legs in a casual-cool outfit while out running errands in West Hollywood, California on March 28, 2023 (Credit: BauerGriffin / INSTARimages)
Hailey completed her look with must-have accessories, including gold hoop earrings and her go-to black Saint Laurent 557 sunglasses, and slipped into a pair of white ankle socks and silver Nike Air Max 95 sneakers.
The 26-year-old model looked like a boss as she was engrossed in a phone conversation while sipping her green drink.
Hailey Bieber keeping her cool as she talks on the phone while out and about in West Hollywood (Credit: BauerGriffin / INSTARimages)
Almost a week ago, Hailey put all feud rumors with Selena Gomez to rest, as Justin Bieber's ex-girlfriend publicly acknowledged the socialite's efforts to "reach out" to her after she received "death threats" and hate over their rumored conflict.
Selena took to her Instagram Story to speak against hate and bullying and urged her followers to stop spreading negativity.
On March 24, the Rare Beauty founder wrote, "Hailey Bieber reached out to me and let me know that she has been receiving death threats and such hateful negativity."
The 30-year-old former Disney star continued, "This isn't what I stand for. No one should have to experience hate or bullying. I've always advocated for kindness and really want this all to stop."
Selena Gomez as Mabel Mora in the American mystery comedy-drama television series Only Murders in the Building (Credit: Hulu)
Hailey, in turn, thanked the Only Murders in the Building star for speaking out and commended her for being a champion of kindness.
The Rhode founder wrote on her Instagram, "I want to thank Selena for speaking out, as her and I have been discussing the last few weeks how to move past this ongoing narrative between her and I. The last few weeks have been very hard for everyone involved and millions of people are seeing so much hate around this which is extremely harmful. While social media is an incredible way to connect and build community, moments like this only create extreme division instead of bringing people together."
Hailey continued, "Things can always be taken out of context or construed differently than they were intended. We all need to be more thoughtful about what we post and what we say, including myself."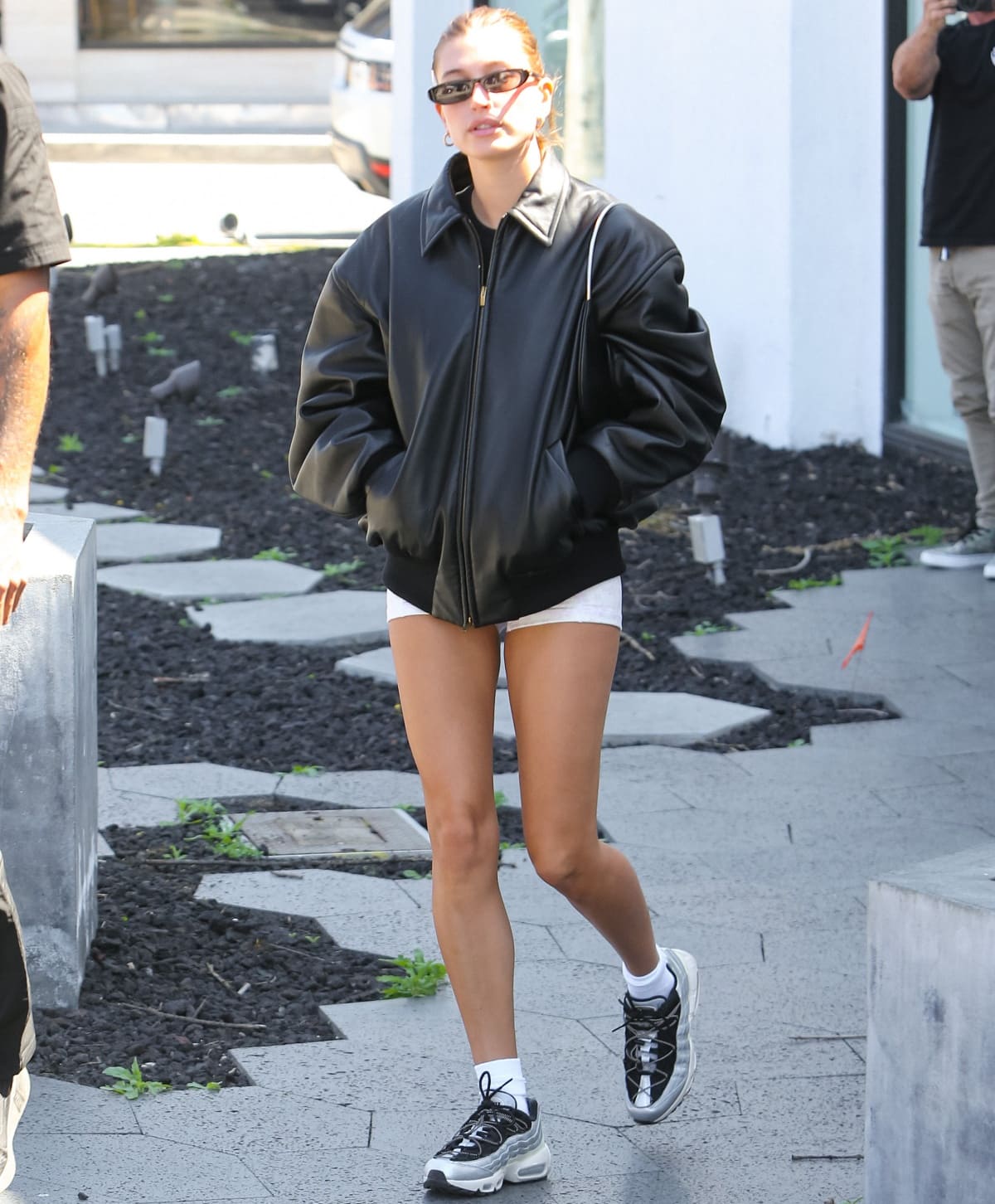 Hailey Bieber running errands in West Hollywood (Credit: BauerGriffin / INSTARimages)
Justin's wife concluded, "In the end, I believe love will always be bigger than hate and negativity, and there is always an opportunity to meet each other with more empathy and compassion."
To show that everything is well between them, Selena even started following Hailey on Instagram.
Stylish in Denim Miniskirt & Sports Jacket
On March 27, Hailey Bieber caused a stir as she graced the streets of West Hollywood, California, in a nostalgic ensemble that transported onlookers back to the early 2000s.
The former ballerina flaunted her well-toned legs in an outfit that exuded an edgy and sporty flair.
Hailey Bieber looking effortlessly cool and chic in West Hollywood, California on March 27, 2023 (Credit: thecelebrityfinder / BauerGriffin / INSTARimages)
Clad in an oversized Martine Rose sports jacket with a high-neck collar, reflective panels, piping, and front zip closure, Hailey complemented the ensemble with a frayed denim micro-mini skirt from Y/Project's Fall 2022 collection. The inside pocket lining was a unique feature that enhanced the ensemble's edge.
To add a touch of elegance, Hailey adorned herself with broad silver ribbed earrings and rectangular black Courreges sunglasses. She kept her makeup natural, opting for straight hair with a center part and light pink lips.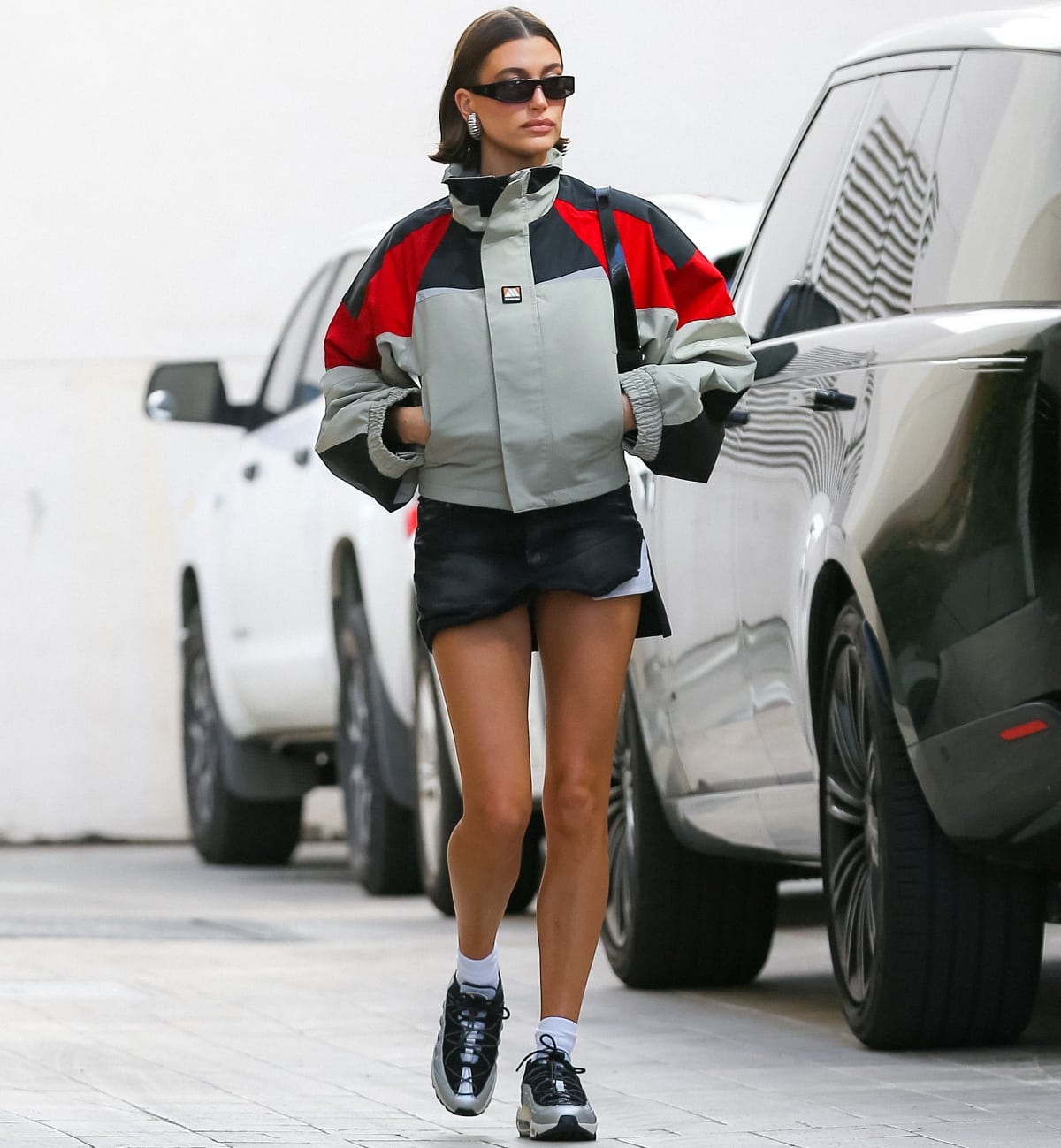 Hailey Bieber showing off her effortless style while out and about in West Hollywood (Credit: thecelebrityfinder / BauerGriffin / INSTARimages)
Hailey is known for her versatile fashion sense, and she proved it again by pairing white ankle-length socks with lace-up Nike Air Max 95 sneakers in black, white, and silver.
The sportier footwear choice added a casual and trendy touch to the overall look, flawlessly complementing the outfit's style.
Comfy in Slouchy Pants & Samba Sneakers
On March 23, the ultimate power couple, Justin and Hailey Bieber, graced the streets of Los Angeles in matching streetwear attire.
Justin and Hailey Bieber running errands together in Los Angeles, California on March 23, 2023 (Credit: BG020 / BauerGriffin / INSTARimages)
Hailey opted for an all-black look with an oversized black leather jacket effortlessly draped over her gray crop top. Her attire was perfectly punctuated with sleek Wardrobe NYC Hb track pants.
Though the bottom of Hailey's pants was difficult to spot, it was clear that her choice of footwear was on point. The black and gray Adidas Samba sneakers were undoubtedly the perfect match to her all-black attire, complete with the sports brand's trademark white stripes on each side.
To accessorize, the runway regular donned a pair of gold earrings, a stunning oval diamond engagement ring by Solow & Co., and a Loewe bracelet bag in nappa calfskin.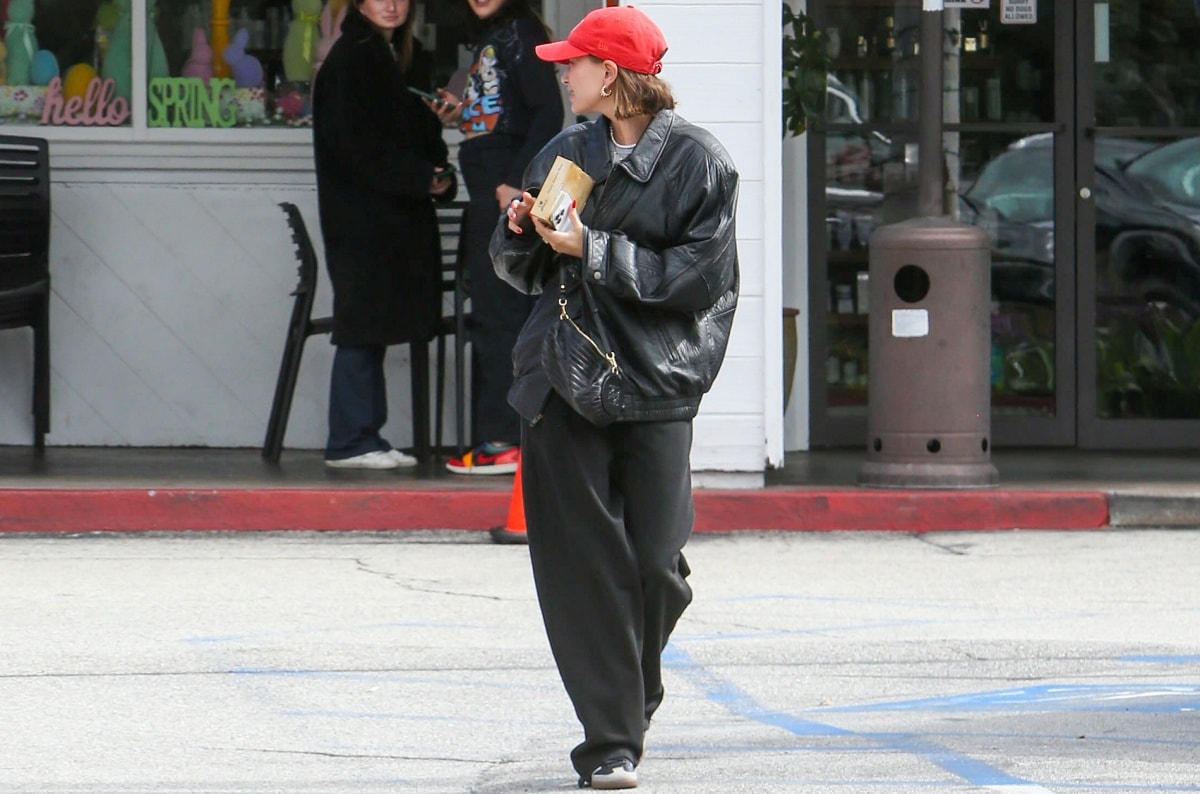 Hailey Biber dressed down in slouchy pants and an oversized leather jacket with Adidas sneakers (Credit: BG020 / BauerGriffin / INSTARimages)
Notably, her bright red Aime Leon Dore new-era Yankees baseball cap added the perfect pop of color to her ensemble.
On the other hand, Justin opted for a more casual look, sporting an oversized bright orange sweatshirt that complemented his gray T-shirt.
The 29-year-old Canadian singer paired his top with loose light-wash denim jeans and a pendant necklace. Justin's line, Drew House, provided the finishing touch to his outfit with a black baseball cap.
His hefty white low-top Reebok shoes completed the look, perfectly contrasting Hailey's sleek and stylish Adidas sneakers.
Justin Bieber was difficult to miss with his bright orange jacket, while Hailey Bieber accessorized with a red baseball cap to add a pop of color to her all-black ensemble (Credit: BG020 / BauerGriffin / INSTARimages)
Together, Justin and Hailey's outfits proved that fashion and function could go hand-in-hand, even when running errands in Los Angeles.