Hailey Bieber caused quite the stir with her viral interview on Call Her Daddy.
She sat down with Alex Cooper and shared a number of bombshells on the podcast. Hailey opened up about her mental health struggles, controversial moments, and her relationship with her husband Justin Bieber.
The Rhode founder did not hold back in the interview, and she even addressed burning questions relating to Selena Gomez. It was an hour-long conversation that had her clearing the air and showing her vulnerable side.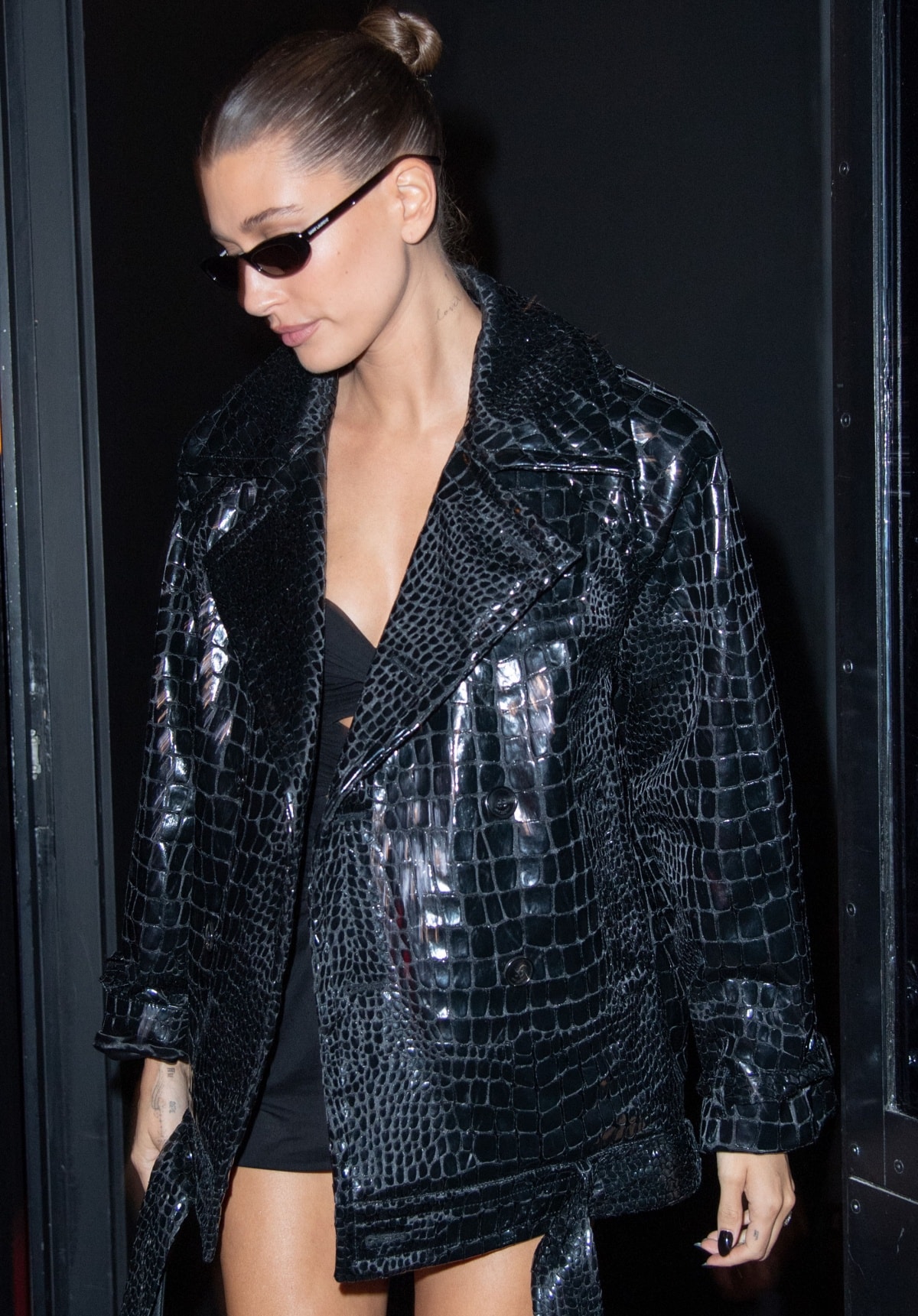 Hailey Bieber in a full Saint Laurent look during Paris Fashion Week on September 29, 2022 (Credit: Aurore Marechal / ABACA / INSTARimages / Cover Images)
For someone who insisted on doing no interviews about her marriage, Hailey gave insights into her dynamic with Justin, to whom she's been married for four years. She even went as far as delving into their sex life – from their turn-ons to her favorite sex position.
Here are nine truth bombs from Hailey Bieber's Call Her Daddy interview:
1. She did not steal Justin Bieber from Selena Gomez.
There have been rumors about her relationship timeline with Justin, with some people going as far as accusing her of stealing him from ex-girlfriend Selena Gomez.
But Hailey insisted that she did no such thing. "I can say, period, point blank, I was never with him when he was in a relationship with anybody – that's the end of it."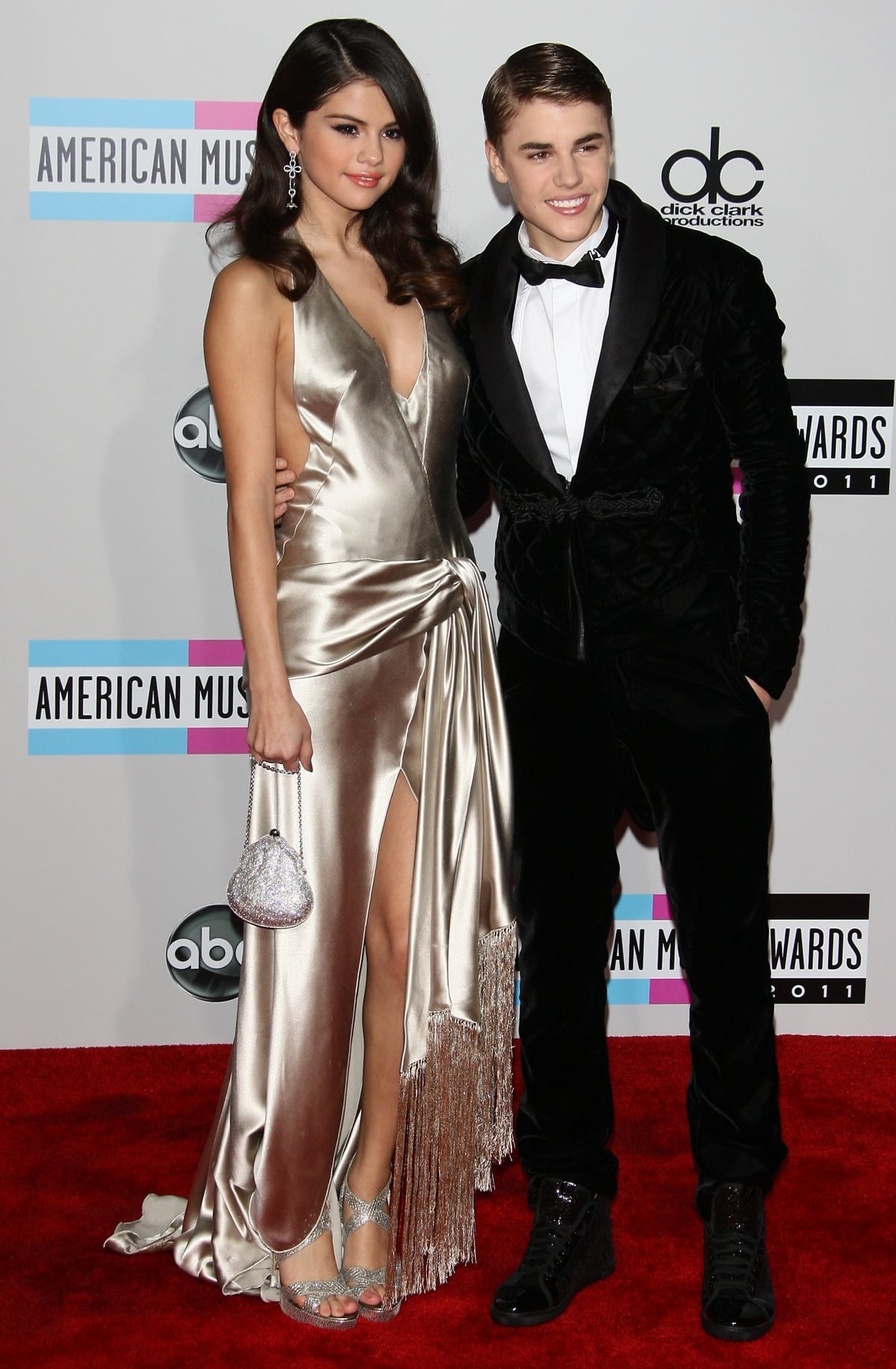 Selena Gomez and Justin Bieber had an on-again, off-again relationship that lasted from 2010 to 2018 (Credit: INFevents)
She also added that she wouldn't "mess with someone's relationship" because it is "not [her] character."
2. She has spoken to Selena Gomez since her wedding to Justin Bieber.
Hailey shut down rumors of any drama between her and Selena Gomez, saying that "It's all respect, it's all love."
The relatively short model mentioned that they've spoken to each other since her wedding and that there is "no drama, personally."
Hailey Bieber insists that there is no beef between her and Selena Gomez (Credit: Faye's Vision / Cover Images)
"That's also why I feel like, well, if everybody on our side knows what happened and we're good and we could walk away from it with clarity and respect, then that's fine," Hailey added.
3. She receives nonstop hate from Selena Gomez fans.
It's sad to hear that Hailey still gets hate nonstop. But she has this to say to the internet trolls: "You're not obligated to like me, but I believe that no matter what, there can always be mutual respect between people."
"To me, that means, you don't have to say anything," she added. "You don't have to like me, but you don't have to say anything either."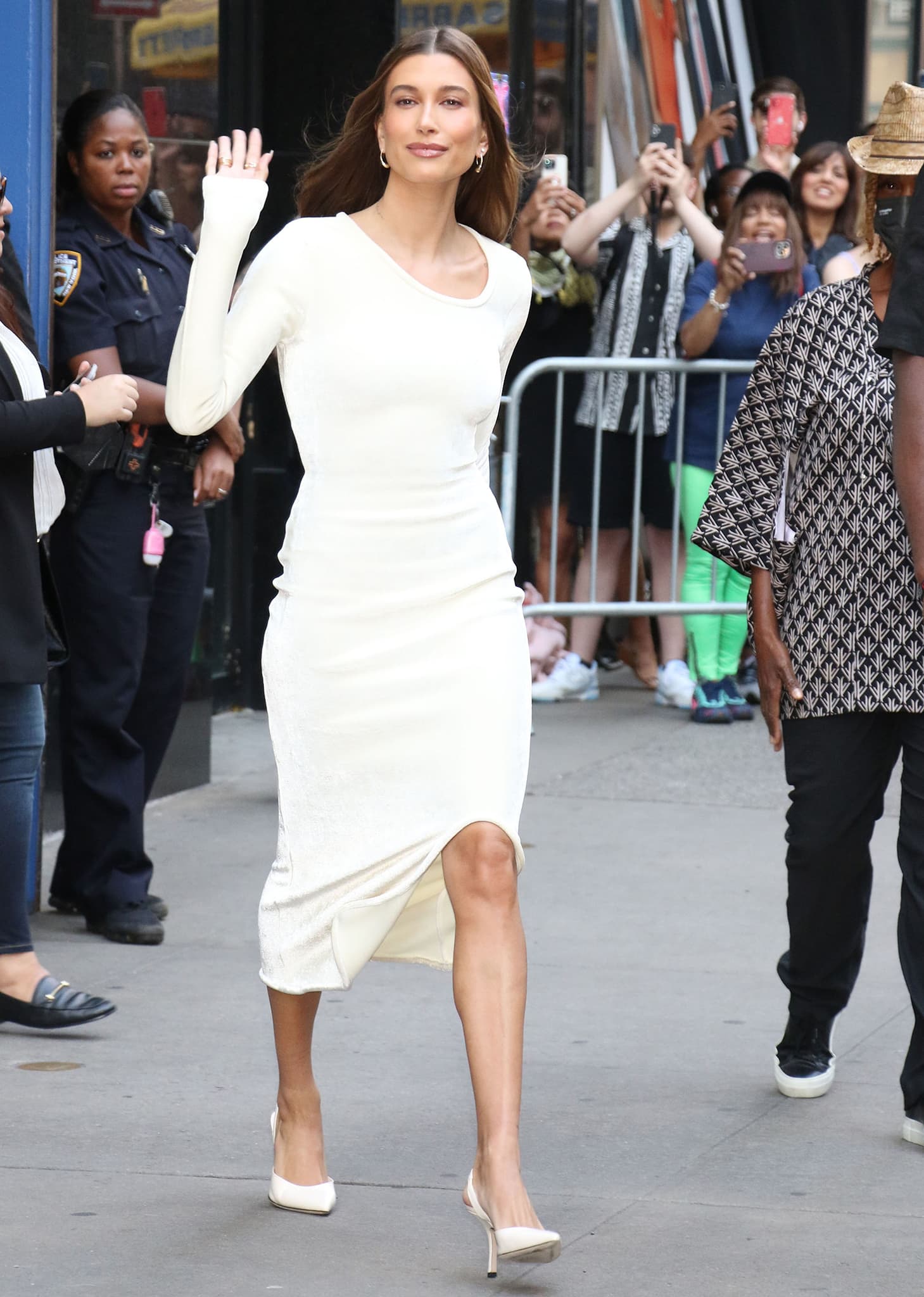 The 25-year-old model addresses her haters and internet trolls in her Call Her Daddy interview (Credit: Roger Wong / INSTARimages)
Hailey also admitted that neither Justin nor Selena have done anything to stop the constant bullying she gets online.
"What I will say is that she has been in this industry much longer than I have and maybe there's something that she knows about, like it wouldn't fix anything," Hailey explained. "She doesn't owe me anything. Neither of us owe anybody anything except respect. I respect her, a lot."
4. She thought Justin Bieber was a "f*ck boy."
They say that first impressions last. But not in this case.
"Obviously, he's gone through phases in his life where he was being, you know, a little out there," Hailey said.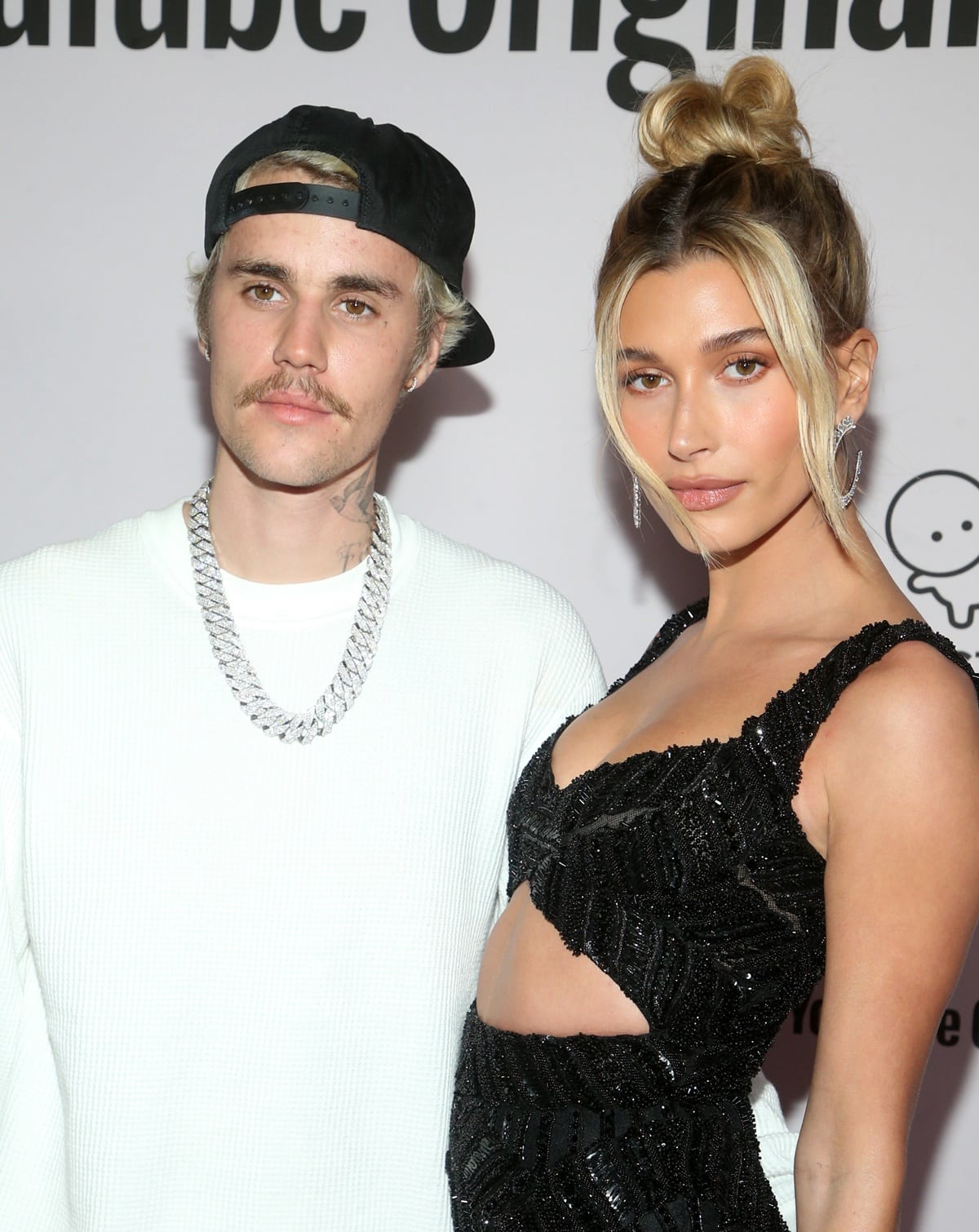 Hailey Bieber shared details about her sex life with Justin Bieber and said her favorite position is doggy style (Credit: Faye's Vision / Cover Images)
"I don't want to say f*ck boy, because it's not, but like, yes and no. I don't know," she added with a laugh. "I don't know how to describe it, but he was just in a different space in his life."
5. Marriage is hard work.
Hailey talked about how hard marriage life is in her February 2019 Vogue interview, which raised a few eyebrows.
"What I meant when I said 'hard work' is that there's compromise, there's sacrifice," Hailey explained in the podcast. "I feel that way in most relationships in my life. In friendships, in work relationships. They can be tough sometimes. I didn't mean, 'Overall it's hard and it sucks.'"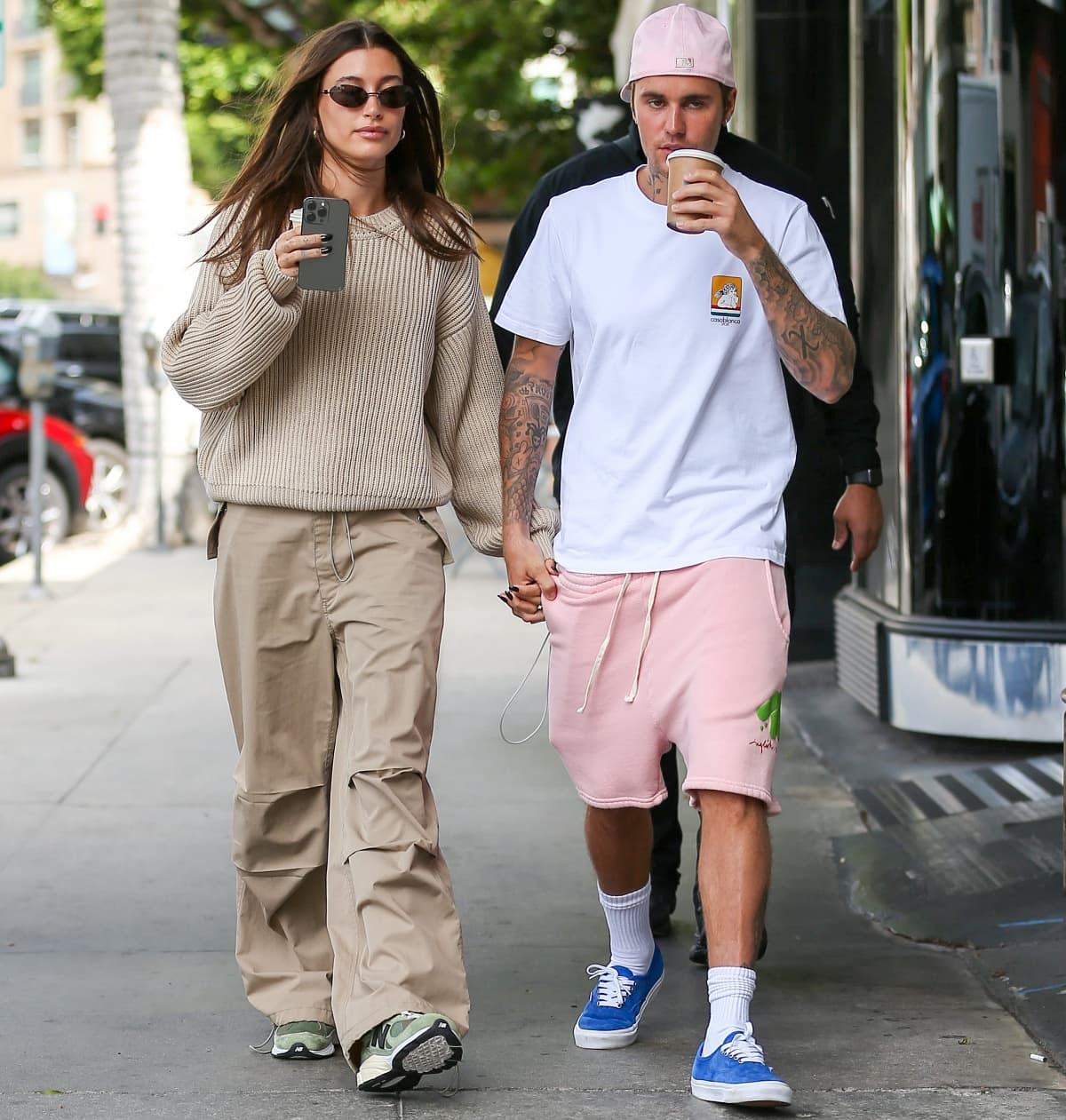 Hailey and Justin Bieber out on a coffee date in Los Angeles, California, on September 30, 2022 (Credit: BauerGriffin / INSTARimages / Cover Images)
She also mentioned that she and Justin are trying to find their balance and are fully committed to their marriage despite the hard work.
Hailey admitted that she considers Justin as her "best friend" and that their marriage is "literally the best thing ever."
6. "Kissing is a big deal."
As for her turn-ons, Hailey confessed that "kissing is a big deal" for her.
Hailey Bieber wearing a croc-embossed leather jacket over a cut-out mini dress with Saint Laurent Giqua Kiss snakeskin ankle-strap heels (Credit: Aurore Marechal / ABACA / INSTARimages / Cover Images)
Meanwhile, for Justin, she mentioned that "connection is very important to him." Hailey went on to explain that they "could literally just be laying down talking" and "having a really fun conversation" and that would be "really important for him."
7. Her favorite sex position and thoughts about a threesome
Hailey also opened up about what happens behind closed doors – from preferring night sex to morning sex and even her thoughts on a threesome.
"It's funny because I feel like those ideas can be really fun and sound really exciting," Hailey admitted.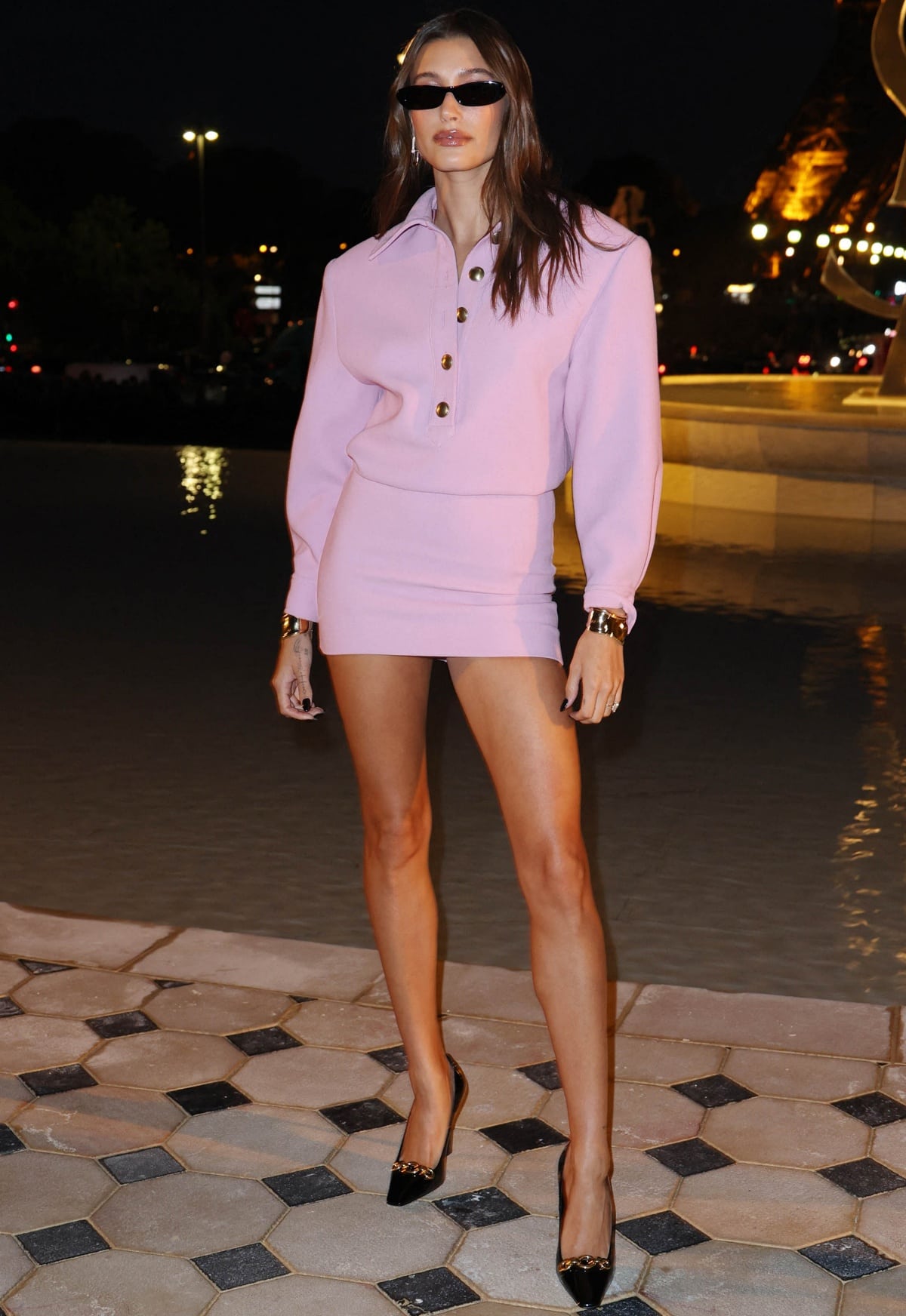 Hailey Bieber wearing a powder pink look with a micro miniskirt and a collared top with large shoulders and balloon sleeves styled with Saint Laurent Severine pumps (Credit: Jerome Domine / ABACA / INSTARimages / Cover Images)
But they've "worked very hard to be in this space that [they're] in now." Hailey also said that "there's such a beautiful trust and bond that I just don't think that's something I would be comfortable with. Or him, for that matter."
While talking about sex positions and after much cajoling, Hailey finally confessed that she really likes "doggy-style."
8. She encourages Justin Bieber to have "female friendships."
"He's really honest, like brutally honest," Hailey said about Justin Bieber. "I could ask him about any person, any past girl, anything… He doesn't have a problem being explicit, and I think that made me trust him a lot."
Coordinating in casual-cool clothes, Hailey Bieber is wearing a Wardrobe.NYC knit sweater and Dion Lee trousers in matching neutral tones with green New Balance sneakers, while Justin Bieber is wearing a white T-shirt with pink shorts, a pink snapback, white socks, and blue low-top sneakers (Credit: BauerGriffin / INSTARimages / Cover Images)
Hailey also mentioned that Justin often runs things by her, especially if it involves other girls. She admitted that her slightly taller husband would let her see his DMs on social media to ask for her opinion.
But while she knows that other women may be pushing past his boundaries, she also insisted that she "encourages female friendships."
9. There was a point in Hailey's life when she "didn't want to be here anymore."
Among the many bombshells that Hailey dropped during the interviews, the most heartbreaking one was about her struggles with her mental health.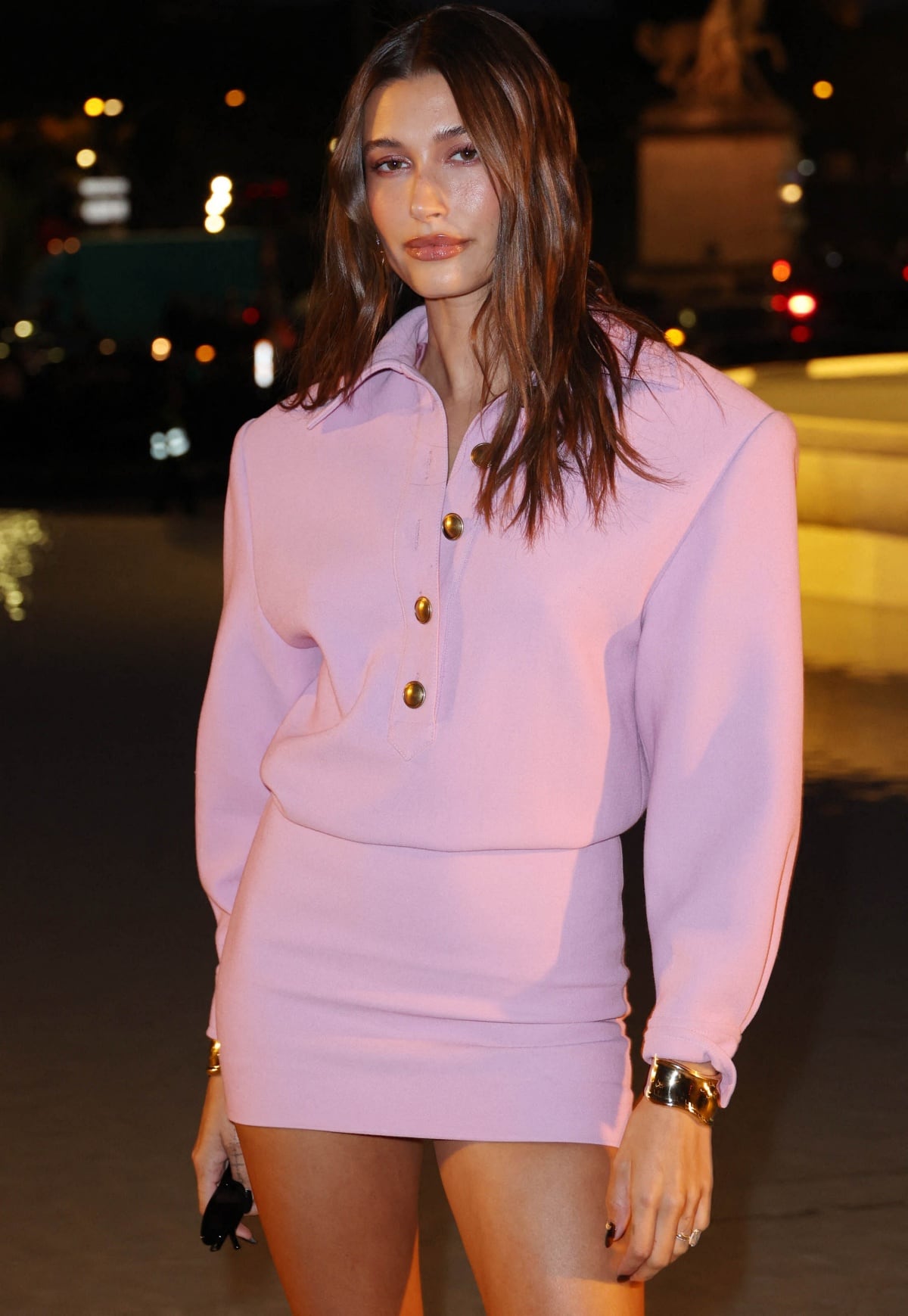 Hailey Bieber's simple beauty look during Paris Fashion Week consisted of glossy lips, tousled waves, and Tiffany & Co. gold jewels (Credit: Jerome Domine / ABACA / INSTARimages / Cover Images)
She recalled that in her darkest moment, she reached the point where she "didn't want to be here anymore."
"You can start having thoughts of it not being worth it anymore or not wanting to be here anymore, which I have had before in the past," she admitted.
Hailey continued, "Coming out of that, I think a support system is the most important thing, for sure. Sometimes I don't think we can comprehend [those thoughts] on our own."
The former ballerina also made it clear that everyone needs "to go to someone who is going to feel safe for you and support you in those thoughts, not make you feel like you're crazy or that you're wrong for feeling dark and deep and heavy."