Just a week after the launch of her beauty brand Rhode, which is a nod to her middle name, Hailey Bieber is now facing a trademark infringement lawsuit filed by Purna Khatau and Phoebe Vickers, founders of the Los Angeles-based fashion brand Rhode.
In the lawsuit filed in the U.S. District Court for the Southern District of New York on Tuesday, the Rhode fashion brand claims that the companies' use of the same name has created market confusion.
The suit also claims that the model tried to acquire the Rhode trademark in 2018, but the owners declined.
Hailey Bieber launches the Rhode beauty brand on June 15, 2022 (Credit: @haileybieber / Instagram)
Rhode fashion brand launched in May 2013 and is carried by retailers including Nordstrom and Matches Fashion.
The company also cited that its brand is worn by celebrities like Beyonce, Mindy Kaling, and Lupita Nyong'o.
"There is no doubt that Ms. Bieber and her companies know of Rhode's superior rights," said in the complaint.
"Indeed, [Ms. Bieber] previously sought to acquire the RHODE mark, appreciating that the brands could not co-exist without confusion. Given the sacrifices they had made to build the brand, Khatau and Vickers refused. The RHODE brand is their most important asset. But Ms. Bieber, who could surely leverage her fame into success with a different-branded beauty line, apparently does not care that the two other women entrepreneurs have been using RHODE brand name for years."
Purna Khatau and Phoebe Vickers, owners of Rhode fashion brand, filed a trademark lawsuit against Hailey Bieber's Rhode skincare brand (Credit: @shoprhode / Instagram)
In a separate statement, the fashion brand's lawyer Lisa T. Simpson said, "We, of course, understand that Hailey wants to use her middle name for her brand, but the law on this is clear: you can't create this kind of brand confusion just because you want to use your name. What Ms. Bieber is doing is harming a minority co-owned business that two women have painstakingly built into a growing global brand."
In addition to the lawsuit, which sought to block Bieber from using the "Rhode" brand name, the clothing brand shared a statement on Instagram, saying they were "forced" to take legal action against Hailey Bieber.
View this post on Instagram
The 25-year-old model has been busy making the rounds on the talk show circuit in support of her new beauty brand.
While promoting Rhode on Good Morning America last week, Hailey gave an update on her husband Justin Bieber, whose face had been partially paralyzed due to Ramsay Hunt Syndrome earlier this month.
Hailey, who suffered a mini stroke just last March, said that the Ghost singer is "getting better every single day." "He's feeling a lot better, and obviously it was just a very scary and random situation to happen, but he's going to be totally okay. I'm just grateful that he's fine."
For the interview, Stephen Baldwin's daughter opted for a white velvet dress that accentuated her toned model physique.
The Jil Sander Fall 2022 frock features an asymmetric neckline, long sleeves, and a midi hem with a knee-high split.
She kept the look effortlessly elegant by styling it with gold hoop earrings and several gold rings, selected by her stylist Dani Michelle.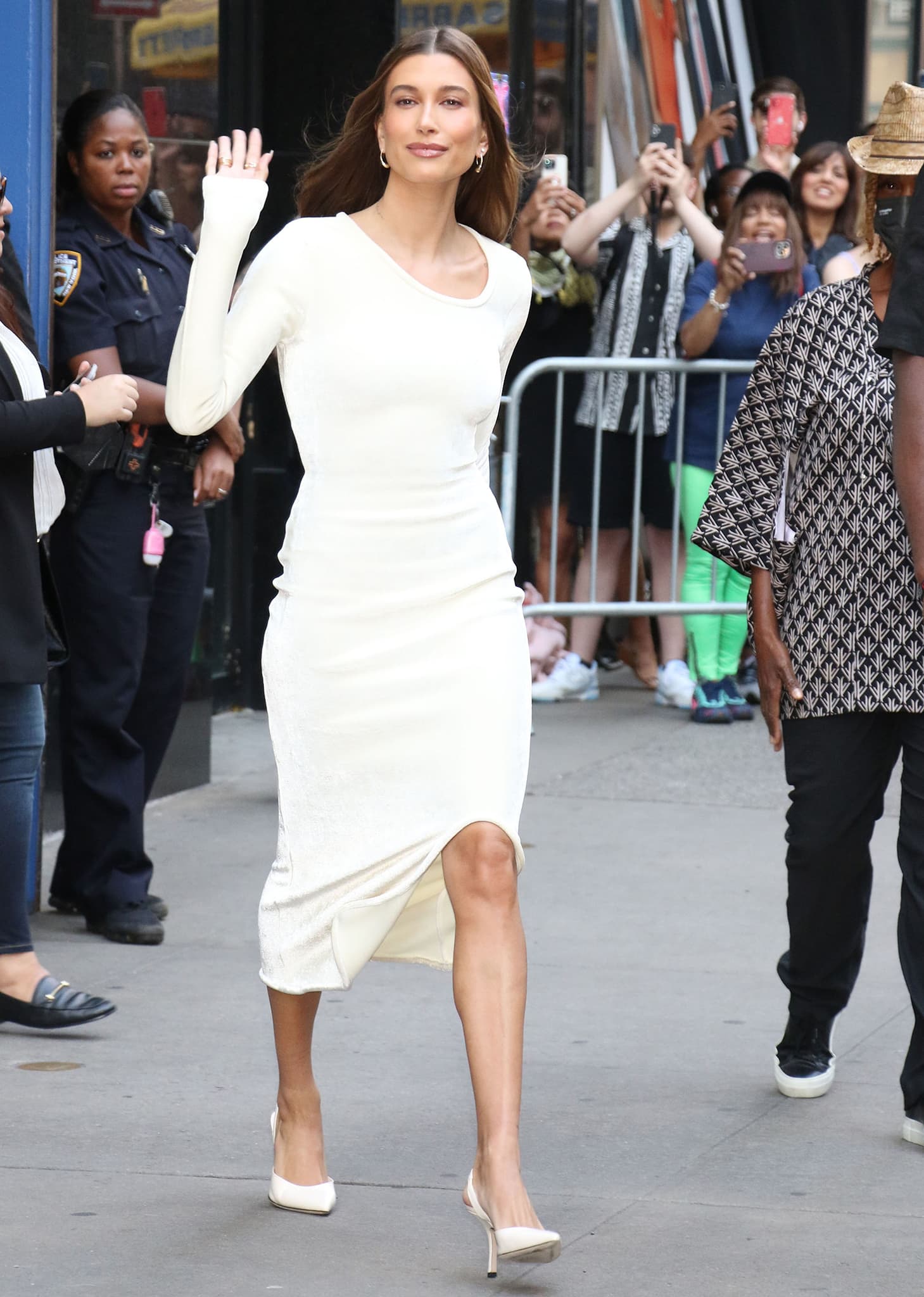 Hailey Bieber promotes Rhode at Good Morning America in Jill Sander Fall 2022 white dress on June 15, 2022 (Credit: ROGER WONG / INSTARimages)
Makeup artist Leah Darcy gave her a natural makeup look, while hairstylist Danielle Priano simply let the model's caramel tresses fall freely down her back in gentle waves.
To complete the contemporary aesthetic of her outfit, Hailey selected a pair of By Far x Mimi Cuttrell slingback pumps in sand color.
Hailey Bieber pairs her midi dress with matching white By Far slingback pumps (Credit: ROGER WONG / INSTARimages)
These pumps combine a refined slingback strap with an elegant pointed-toe silhouette set atop a 3.7-inch curved heel.
By Far x Mimi Cuttrell Slingback Pumps, $410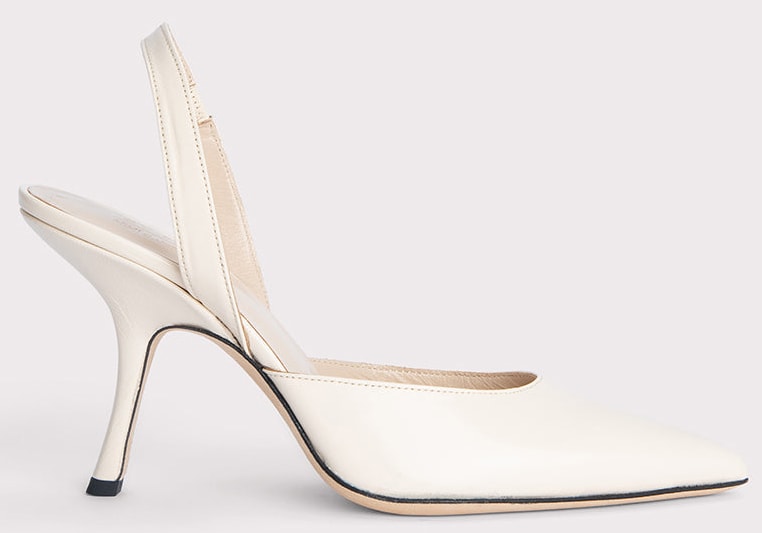 These By Far x Mimi Cuttrell pumps feature a slingback strap and a contemporary curved heel
Ahead of her interview, Hailey was pictured heading to the studio in a black micro mini skirt and a matching plunging blazer.
Mrs. Bieber turned the NYC street into her runway as she paraded her slim legs in the pantless-style outfit, which she got from the Polish luxury label, Aggi.
She wore a $499 "Isabella Designer" black twill blazer as a dress. It features low lapels, a single button fastening, and a feminine hip line.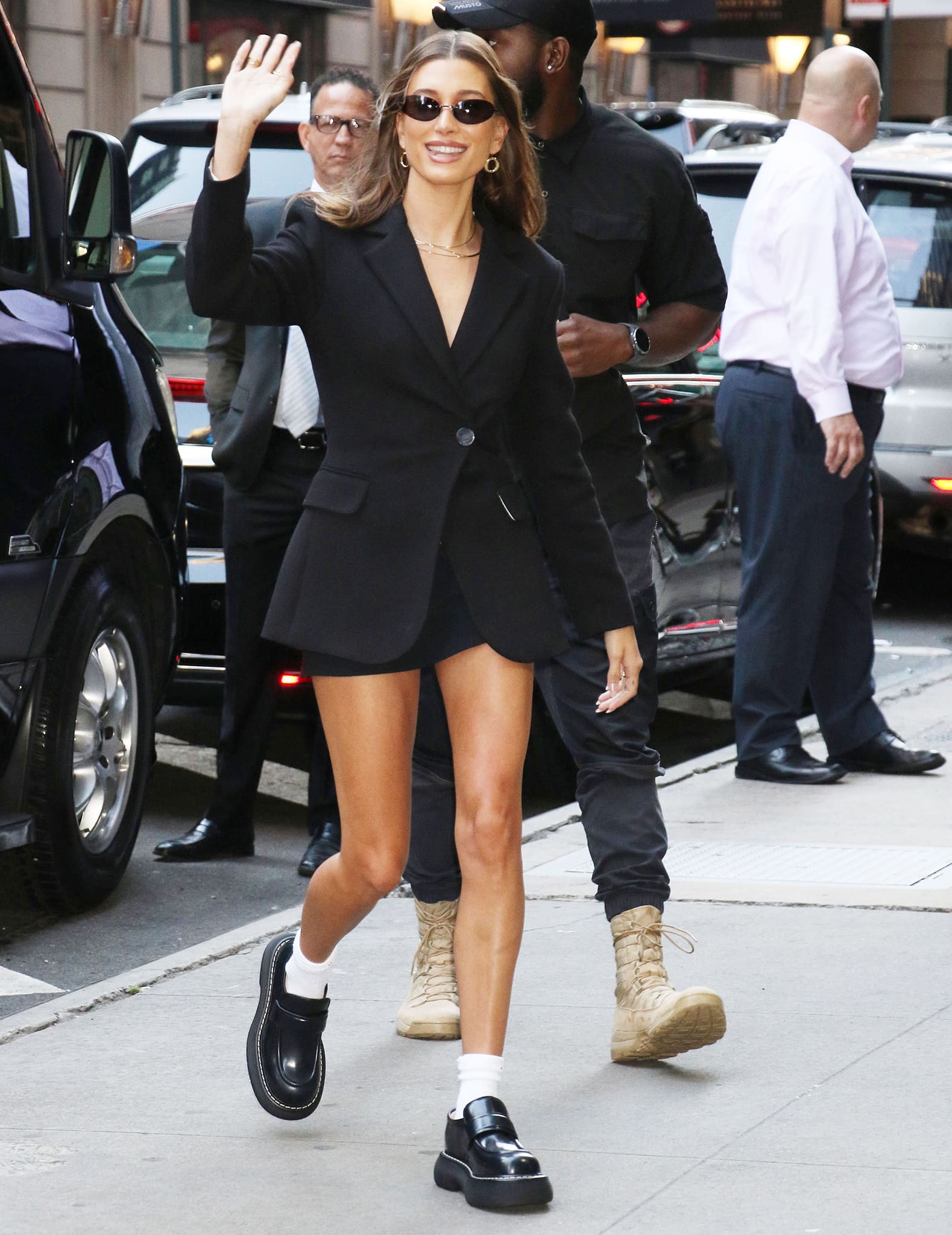 Hailey Bieber parades her slim legs in a black mini skirt with Aggi Isabella Designer blazer on June 15, 2022 (Credit: ROGER WONG / INSTARimages)
Wearing her tresses down, the Tiffany ambassador styled her chic look with $2,275 Tiffany & Co. Sevillana earrings, layers of gold necklaces, rings, and a pair of Balenciaga "Neo" oval metal sunglasses that you can buy for $450 at Matches Fashion.
Hailey paired the look with white crew-cut socks before slipping into Bottega Veneta's "Bounce" loafers that you can buy at Nordstrom.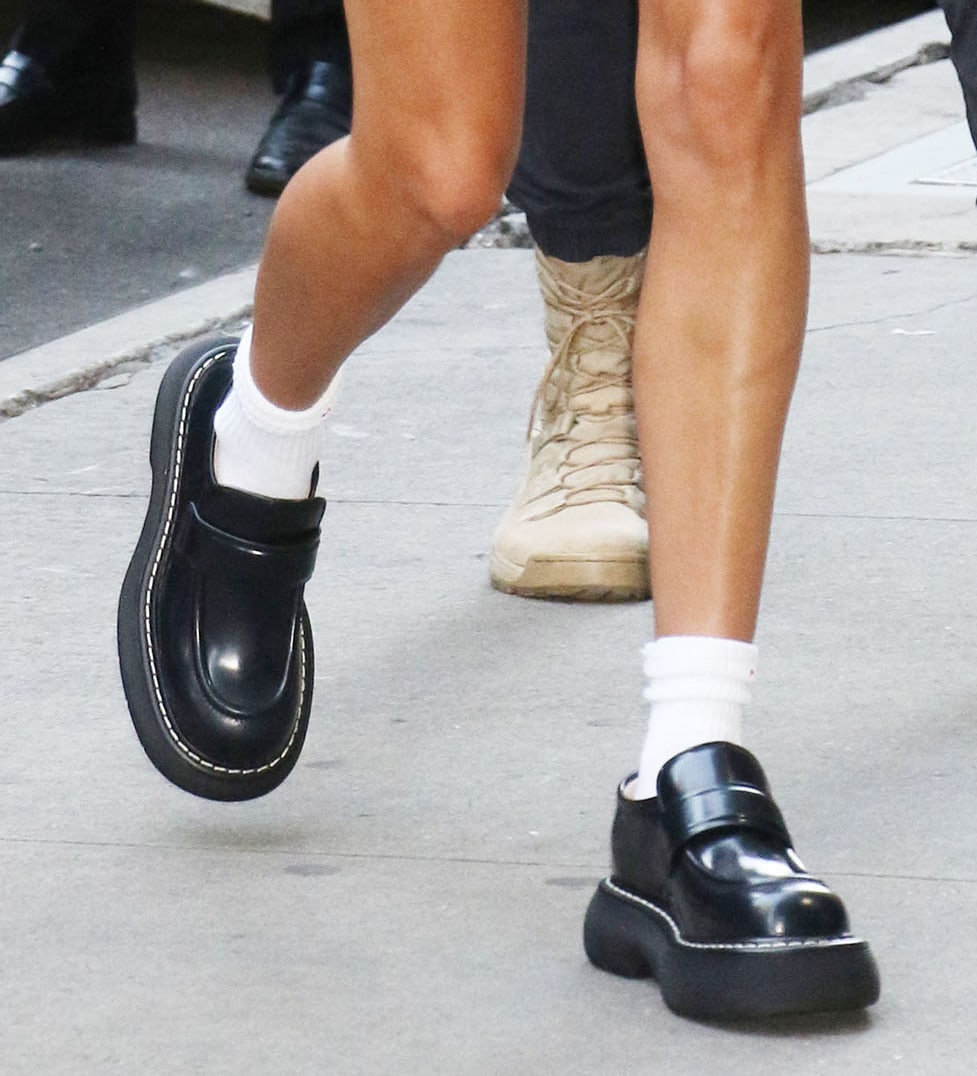 Hailey Bieber opts for a schoolgirl look as she pairs her micro mini skirt with white crew socks and Bottega Veneta loafers (Credit: ROGER WONG / INSTARimages)
They're made of polished calf leather and boast a chunky round toe silhouette, contrast white stitching, and a rubber sole.
Bottega Veneta 'Bounce' Calfskin Loafers, $1,150 at Farfetch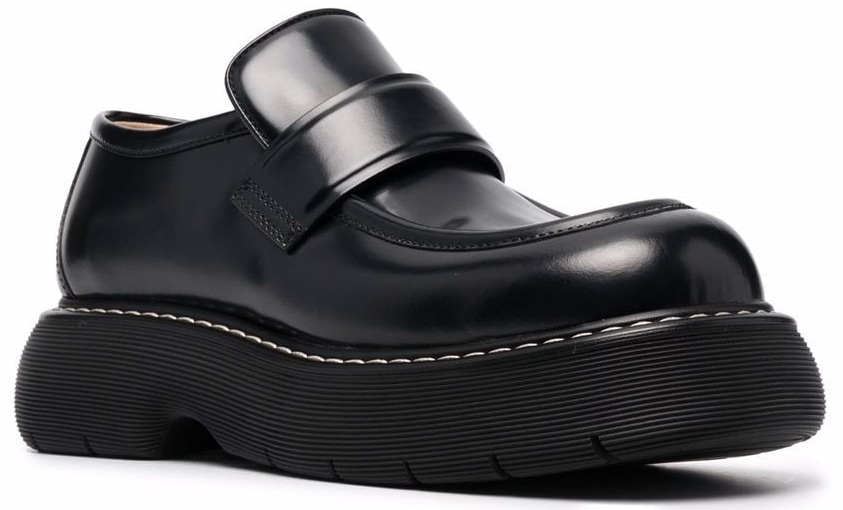 The Bounce loafers by Bottega Veneta boast a chunky silhouette with contrast white stitching
Hailey later visited Live with Kelly and Ryan in another monochromatic ensemble, this time a beige co-ord pantsuit from Max Mara's offshoot label Sportmax.
It's composed of a $1,350 "Odino" blazer with a corset-style ribbon pattern on the back, as well as flattering darts and tucks, and a pair of $575 "Antiope" high-waist slim-fit trousers.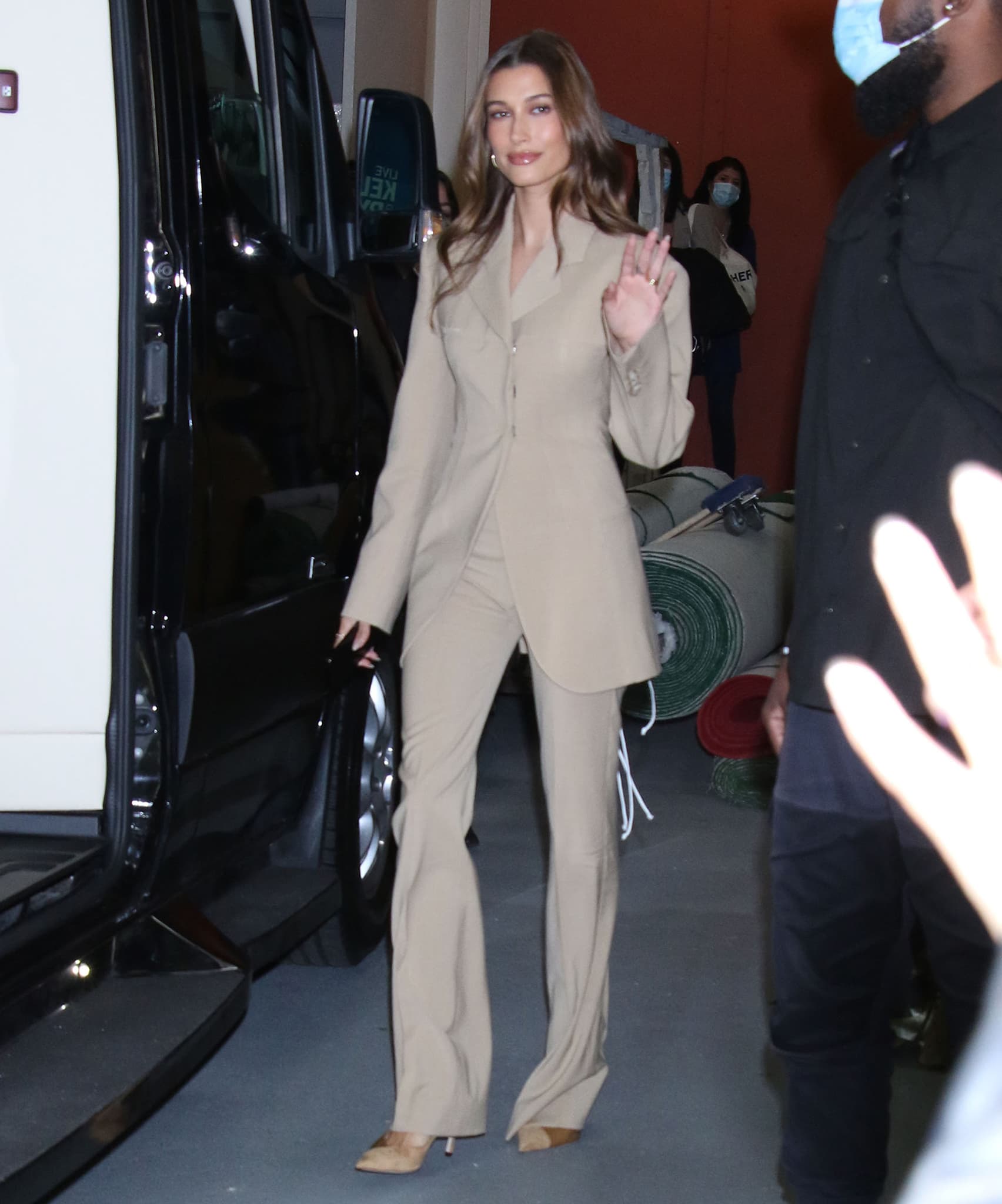 Hailey Bieber drops by Live with Kelly and Ryan in a beige Sportmax pantsuit on June 15, 2022 (Credit: ROGER WONG / INSTARimages)
She styled the rather simple yet elegant outfit with the $1,750 Tiffany & Co. x Elsa Peretti Wave three-row diamond ring and $2,275 teardrop earrings, reminiscent of a solitary raindrop.
Continuing with the theme of her look, Hailey slipped into a pair of Jimmy Choo "Cass" pumps in camel suede and patent pumps.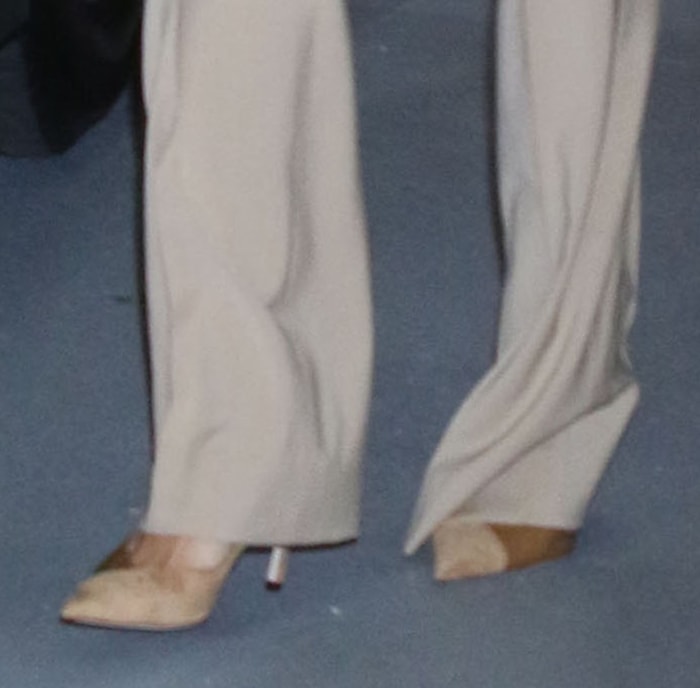 Hailey Bieber completes her monochromatic ensemble with Jimmy Choo beige pumps in suede and patent leather (Credit: ROGER WONG / INSTARimages)
These sleek and modern pumps feature sharp pointed toes and 3.7-inch slim heels.
Jimmy Choo Cass 95 Pumps, $750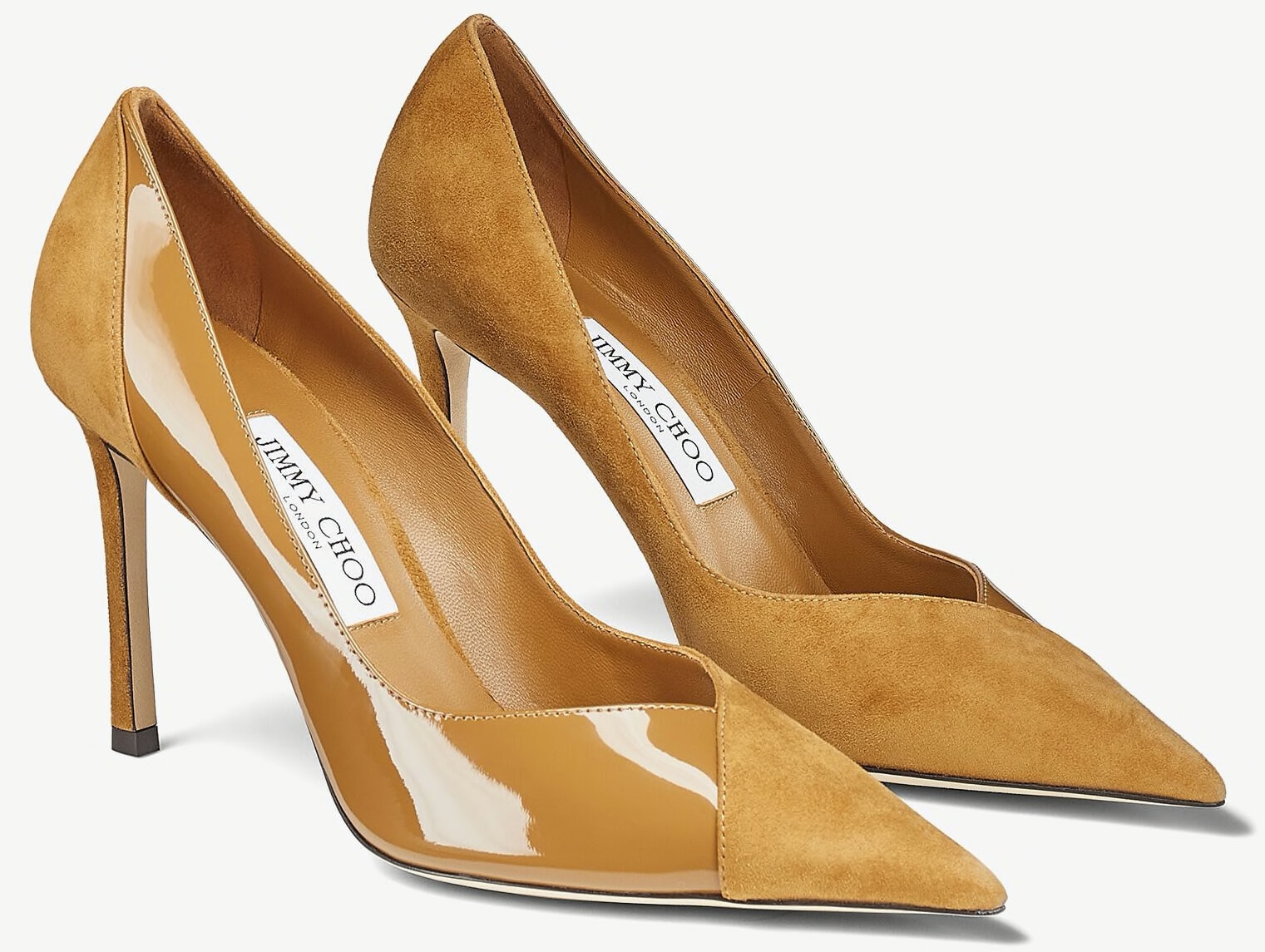 These Jimmy Choo pumps are done in an edgy combination of beige patent and suede materials
Hailey ended the busy day with a press meeting at Facebook.
Showing off her slender legs, the tattoo enthusiast swapped her suit for a black turtleneck dress from the Sportmax Fall 2022 collection.
The form-fitting number features a turtleneck, long sleeves, two front flaps, and a daring hem cut right below the hip.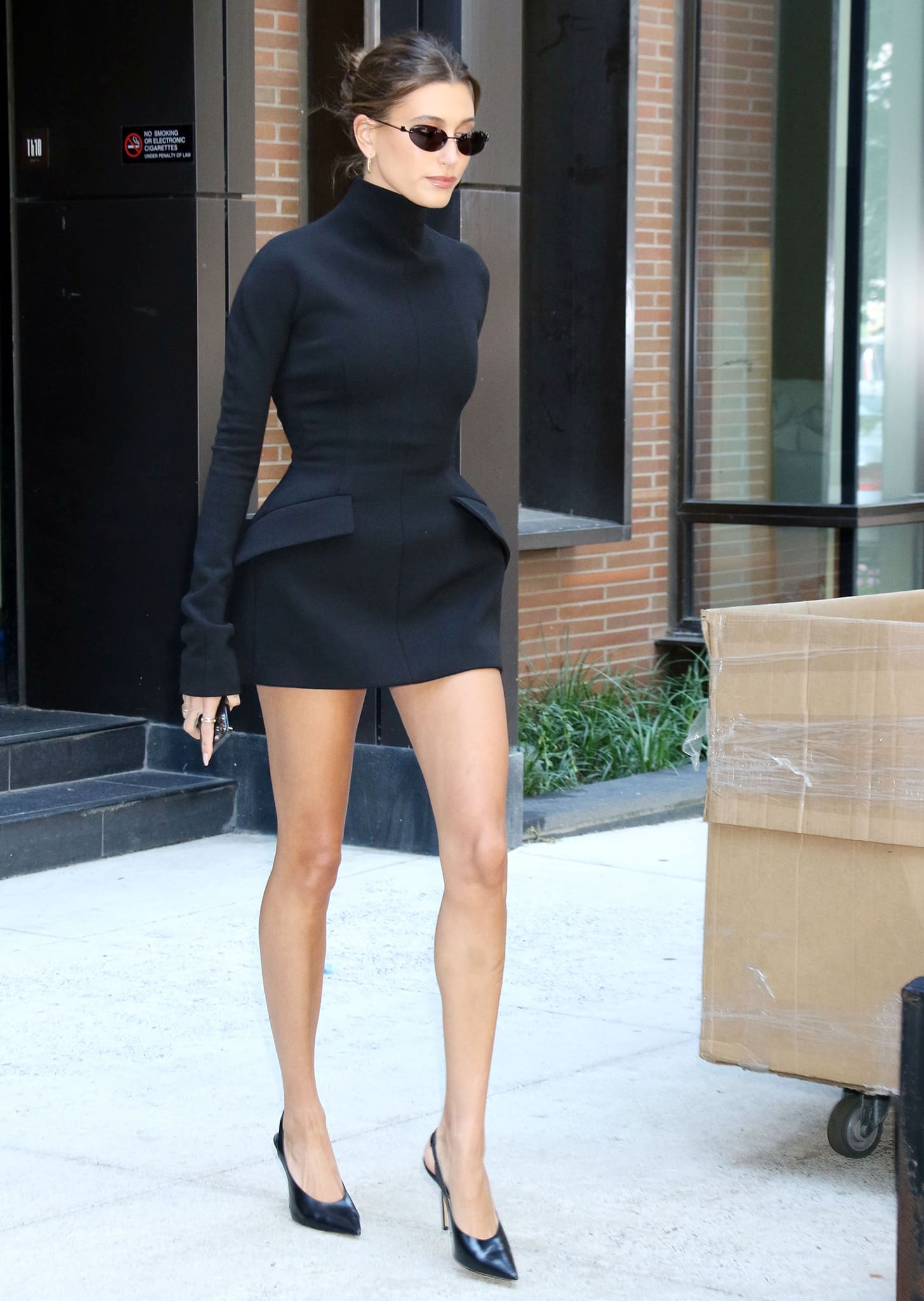 Hailey Bieber showcases her legs in a black Sportmax turtleneck micro mini dress for a meeting in New York City on June 15, 2022 (Credit: ROGER WONG / INSTARimages)
She pulled her tresses up into a messy bun and wore minimal makeup with Balenciaga oval-shaped sunglasses covering her hazel eyes.
A pair of Jimmy Choo "Erin" slingback pumps completed her all-black ensemble.
Hailey Bieber elevates the sexiness with a pair of Jimmy Choo slingback pumps (Credit: ROGER WONG / INSTARimages)