Before she played Rey in the Star Wars sequel film trilogy, Daisy Ridley was just a run-of-the-mill kid. Growing up, her favorite film was the 1996 fantasy comedy film adaptation of "Matilda" starring Mara Wilson.
Earlier this month, her Matilda knowledge came to good use when she guest-starred in Comedy Central's "Stir Crazy with Josh Horowitz."
While originally there to promote her upcoming film with Tom Holland, the dystopian action film "Chaos Walking," she became awestruck upon meeting Mara Wilson during the interview.
Daisy Ridley was excited to meet Matilda star Mara Wilson while appearing on Stir Crazy with Josh Horowitz
Keira Knightley's lookalike was asked by the Matilda star to complete quotes from the film. She finished strong, scoring correctly on 2 of them and coming to a close call with the other quotes.
However, putting this touching online encounter aside, Ridley has a long track record of being a massive geek. As a teenager, she was obsessed with the Harry Potter series.
Meeting Draco Malfoy
Daisy Ridley's love of Harry Potter was revealed by her Hamlet costar and former Draco Malfoy actor, Tom Felton.
An interview with Daily Mail has the actor speaking of his experience working with Ridley. Initially, he thought she did not like him at all because "she was a bit quiet with me, she didn't say too much."
The reason for that he thinks was "she's quite a big Harry Potter fan, so I think she was just freaking out that Draco was her brother!"
Daisy Ridley wears an emerald-green Oscar de la Renta gown at the 73rd BAFTAS After Party at Grosvenor House, London, England, on February 2, 2020
But eventually, the pair ended up getting along well. Felton even describes her as "furiously talented" and "fantastic."
"We got on very well, you know with a film like this you need someone who is fearless and is willing to sort of steer the ship, and she certainly did that," Tom Felton said about starring with Daisy Ridley.
Boarding School Fantasy
Much like The Boy Who Lived, the titular protagonist in J. K. Rowling's series of eponymous novels, Ridley also studied in a boarding school.
She was educated at the independent Tring School for the Performing Arts, an independent co-educational school specializing in dance.
There, she saw an opportunity to place herself in the Wizarding World — by trying to convince her peers that she played the prominent character Moaning Myrtle in the Harry Potter movies.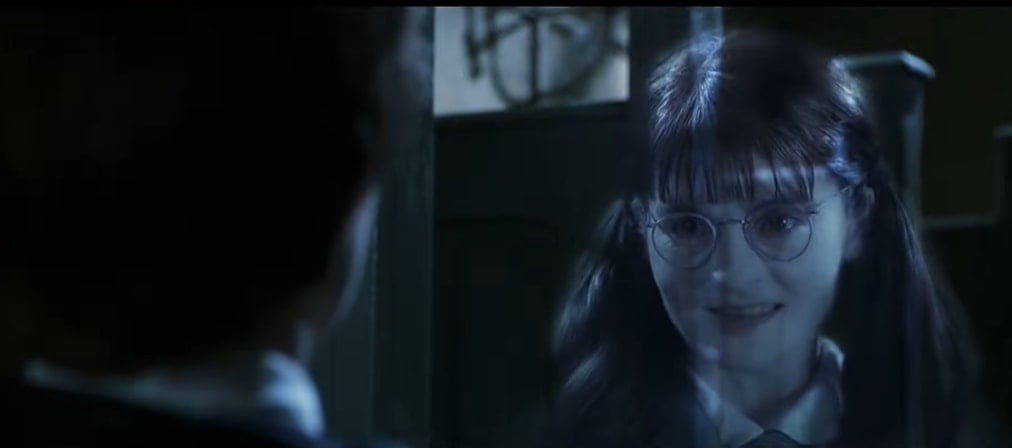 Daisy Ridley told her classmates she played the Harry Potter character Moaning Myrtle
Appearing on The Kelly Clarkson Show, Ridley described her teenage self's thought process.
"Few people know this story, and I'm not proud of myself," the Star Wars star told Kelly Clarkson on the pop star's U.S. daytime talk show, "but basically, when I was at school – this also makes me sound like a mental teenager – I thought, 'Wouldn't it be amazing if people thought I played Moaning Myrtle in Harry Potter?'"
"So I copy and pasted a picture of Moaning Myrtle into Microsoft Word, wrote 'Daisy Ridley' underneath it, and left it in the common room, like a psychopath," Daisy explained.
The endeavor was doomed to fail from the start. "As if anyone I went to school with would believe that I played Moaning Myrtle," she added.
The Real Moaning Myrtle
Moaning Myrtle is a 14-year-old ghost that haunts the second-floor girl's toilets in Hogwarts. On that account, it may come as a surprise that the actress playing her, Shirley Henderson, was 37 years old when she first played Moaning Myrtle.
Despite the 23-year age gap, Henderson captured Myrtle perfectly with her high-pitched voice and volatile demeanor. She was the oldest actor to play a student at the Hogwarts School of Witchcraft and Wizardry.
Prior to her stint in the Harry Potter films, the actress had supporting roles in several well-received movies. She played Gail, the girlfriend of Daniel "Spud" Murphy in "Trainspotting" as well as a best friend of Bridget Jones in "Bridget Jones' Diary."
Shirley Henderson played Moaning Myrtle in Harry Potter and the Chamber of Secrets (2002) and Harry Potter and the Goblet of Fire (2005)
Henderson's roles over the years have been many, showcasing her amazing range as an actress. One of her most recent ones in mainstream cinema links her with Daisy Ridley; her part as Babu Frik in Star Wars: The Rise of Skywalker.
Interviewed by Vanity Fair, Henderson voiced the challenges she faced playing the character. Learning how to create the voice took her months alone.
"I worked with the very brilliant [dialect coach] Jill McCullough on the voice. As with J.J., I would offer up vocal suggestions and sounds and ticks, and she would remind me of them and help me to hold onto them so that we could, on any filming day, source all these bits of Babu at a second's notice. His voice was just a feeling I looked for inside when trying to speak as him."
In the end, the actress once again managed to make a small role memorable.
Moaning Myrtle is a ghost who haunts the second-floor girls' bathroom and other bathroom facilities at Hogwarts
In December 2015, Hollywood rookie Daisy Ridley was taking no chances with her outfit choices.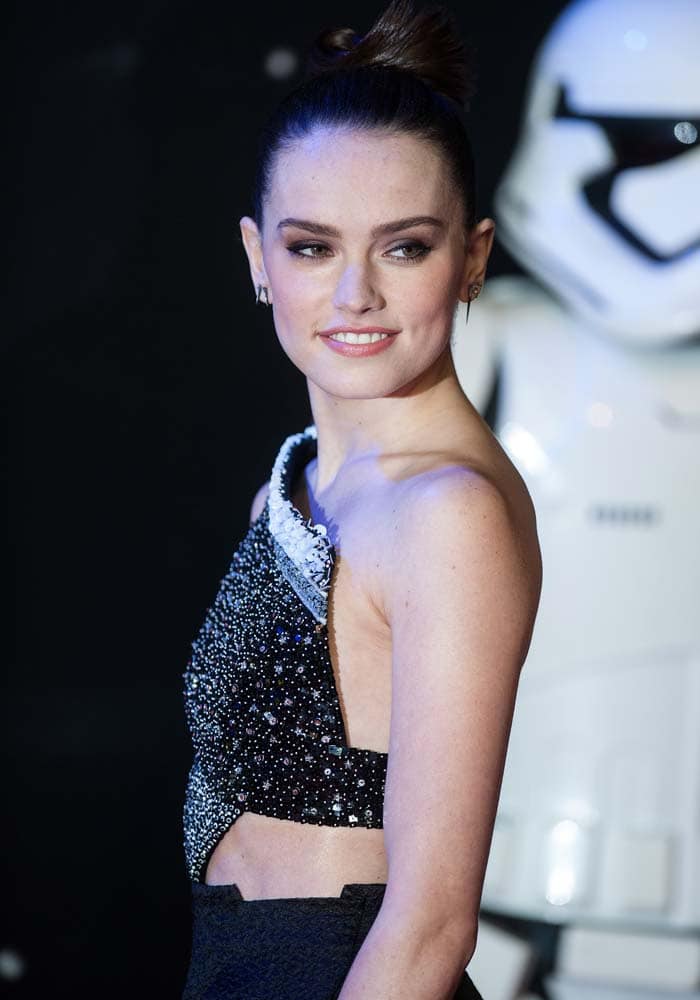 Daisy Ridley wears her hair up at the European premiere of "Star Wars: The Force Awakens" held on December 16, 2015, in London
The Silent Witness actress opted to bring a designer change of clothes with her as she jumped from the "Star Wars: The Force Awakens" London premiere to the after-party.
She opted to wear a bespoke Roland Mouret gown to the premiere.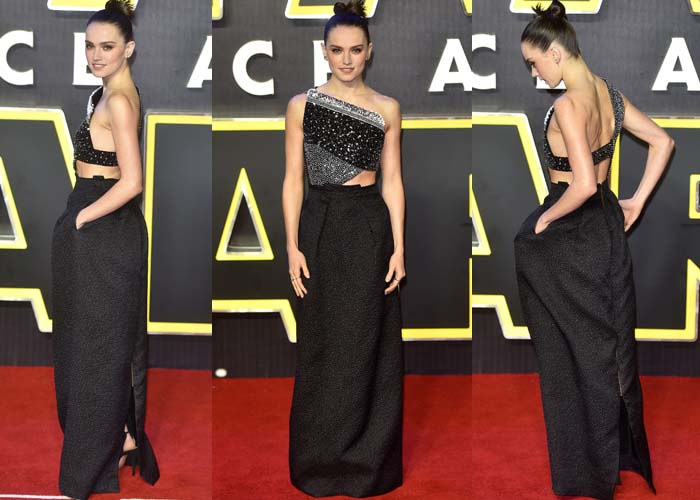 Daisy Ridley wears a bespoke Roland Mouret gown to the "Star Wars" premiere
The one-shouldered dress featured a cutout at the waist and was designed with a galaxy-like bodice pattern that paid homage to the "Star Wars" enterprise.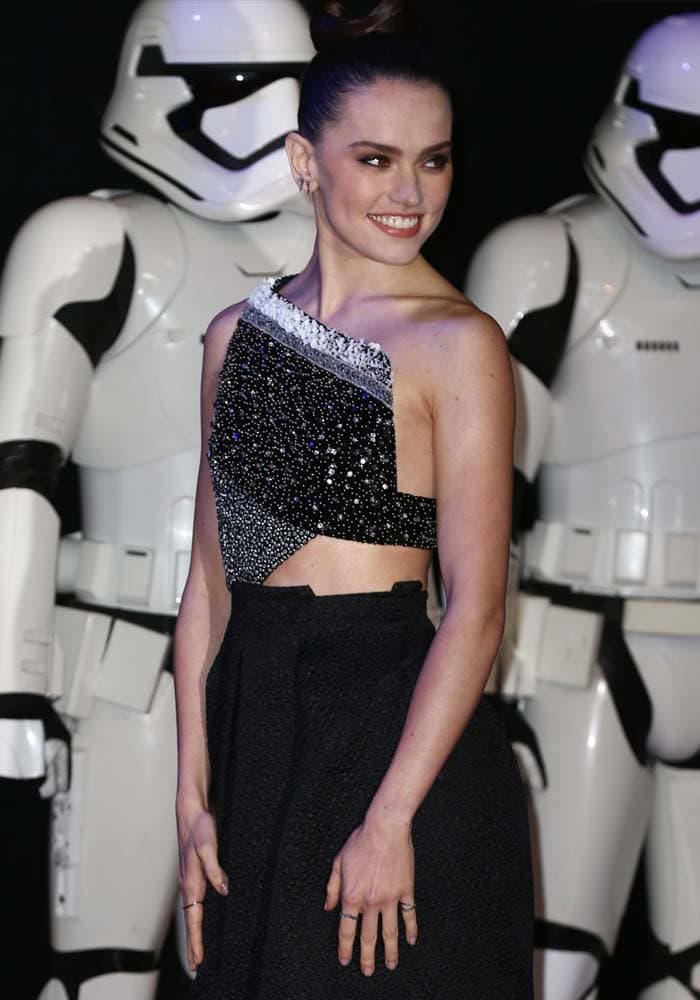 Daisy Ridley shows off the galaxy-inspired detailing on her bespoke Roland Mouret gown
Daisy's paired her bespoke gown with custom-made strappy heels by Neil J. Rodgers.
The actress later changed into a flirty see-through dress with a thigh-high slit — which she paired with a long coat — for the after-party.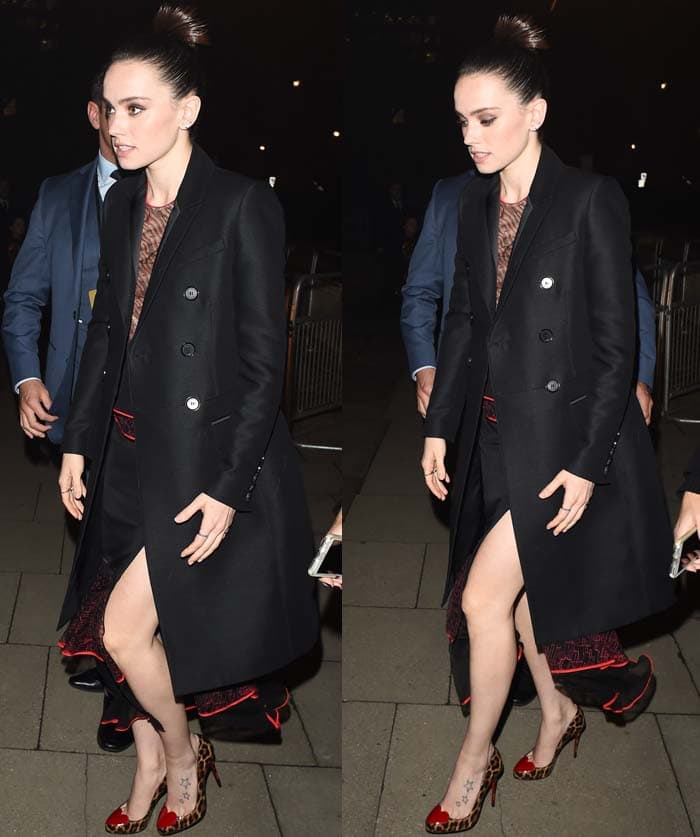 Daisy Ridley attends the "Star Wars: The Force Awakens" after-party held on December 16, 2015, in London
Daisy finished her look by showing off her feet in Christian Louboutin's quirky "Doracora" heart pumps in leopard patent.
Daisy Ridley's feet and star tattoos in Christian Louboutin heart-and-leopard-print pumps
Her after-party heels from Christian Louboutin are available online. You can order a pair of her "Doracora" pumps in different colors at Mytheresa and Nordstrom.
Christian Louboutin "Doracora" Leopard-Print Heart Red Sole Pump in Brown/Red, $795
Christian Louboutin "Doracora" Heart Red Sole Pump in Ballerina/Shocking Pink, $795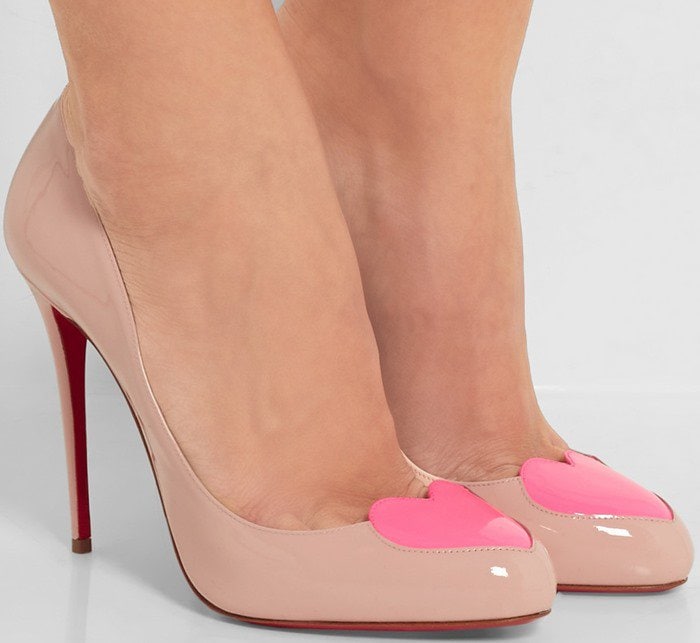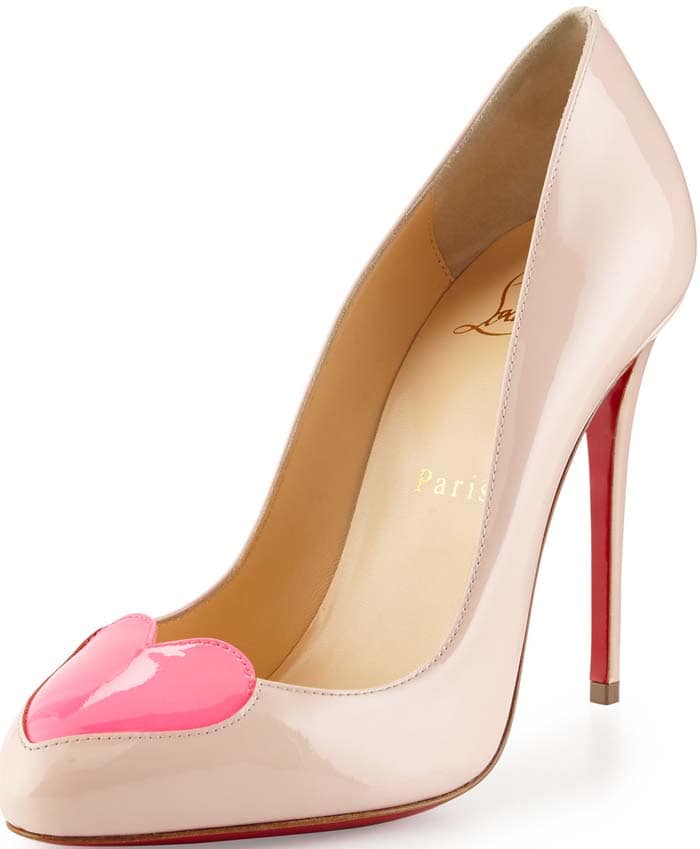 Christian Louboutin "Doracora" Heart Red Sole Pump in Patent Black, $795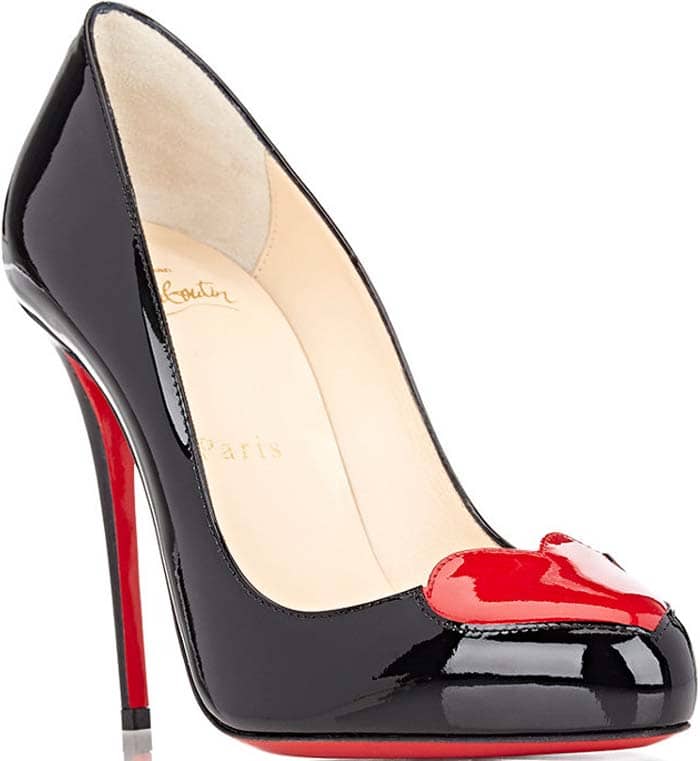 Credit: Daniel Deme / WENN / Avalon / David Mepham