She last starred in the comedy-action-crime TV series LA's Finest, which aired for two seasons on Spectrum Originals. Following the show's cancellation in October 2020, Jessica Alba has been busy with her second job as the founder and chairperson of The Honest Company.
In a recent interview with Romper, the 39-year-old actress opened up about her history of childhood illnesses that motivated her to live a healthy lifestyle and create her company.
"My mother had cancer at a really young age, in her early 20s. Many women in my family have passed from various different cancers, none of them genetic," she said.
She added: "I grew up with chronic illness. I had five surgeries before I was 11 years old. I had chronic allergies, and I was hospitalized a lot as a child."
When she gave birth to her first child, Honor, in 2008, she began focusing more on wellness than her acting career. Her daughter's birth inspired her to create The Honest Company, which began as a provider of non-toxic baby products and household goods.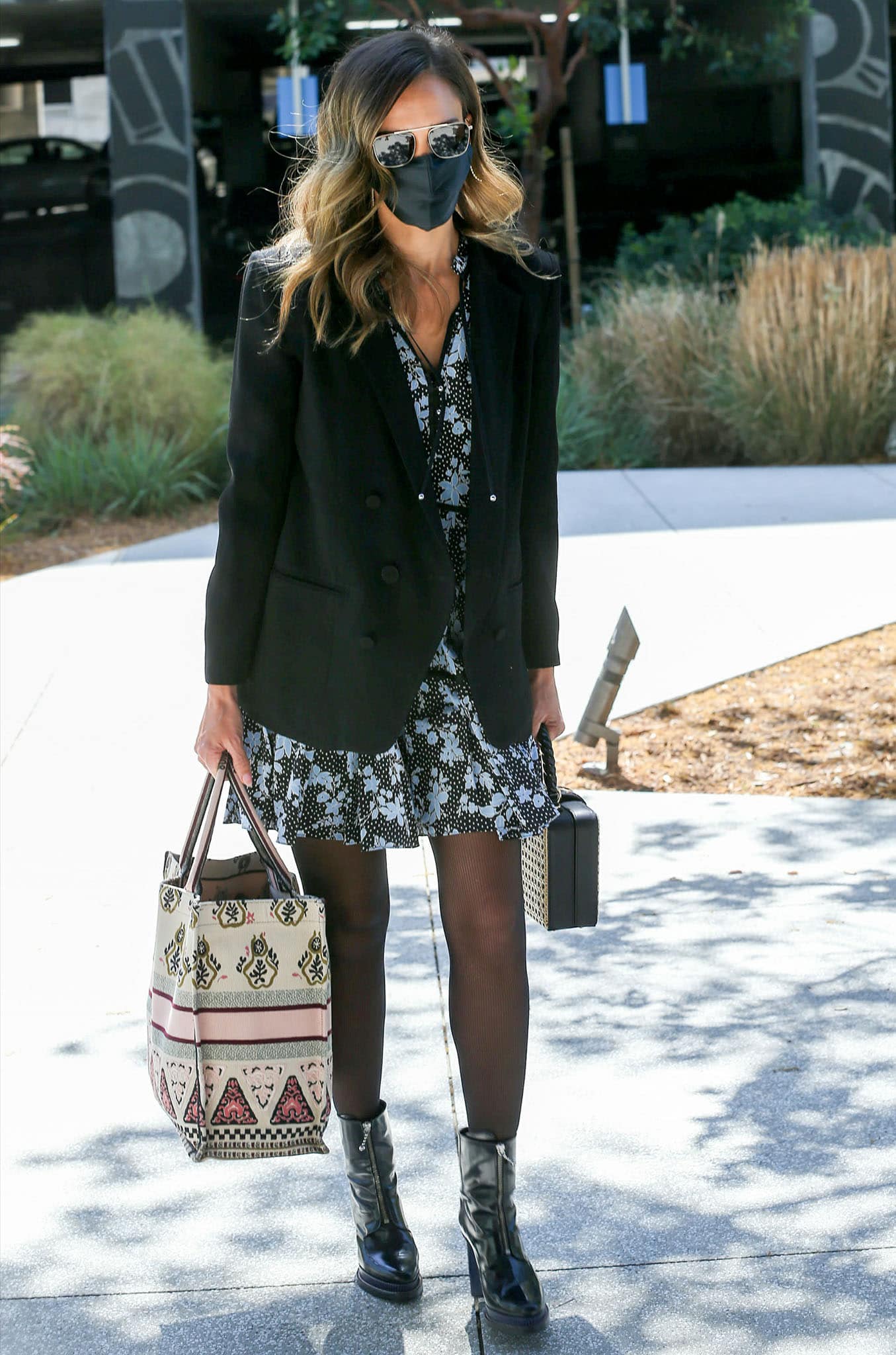 Jessica Alba drops by The Honest Company headquarters in Los Angeles on March 31, 2021
"I had this real moment of, I want to live and thrive, and spend as much time with this little person that I'm bringing into the world as possible and stay. So, my health matters. I want this little person to be healthy. And it's really freaking hard to be happy when you don't have your health."
Ten years later, The Honest Company has turned into a multimillion-dollar lifestyle brand with over 100 products, ranging from personal care products, household, cosmetics, supplements, and more.
Last week, the actress-turned-business mogul was spotted arriving at The Honest Company headquarters in Los Angeles.
Opting for a business chic outfit, Jessica donned a blue-and-black floral dress that features a V-neck and a ruffled hem. She teamed her spring-perfect frock with a loose-fit black blazer and a pair of sheer black tights.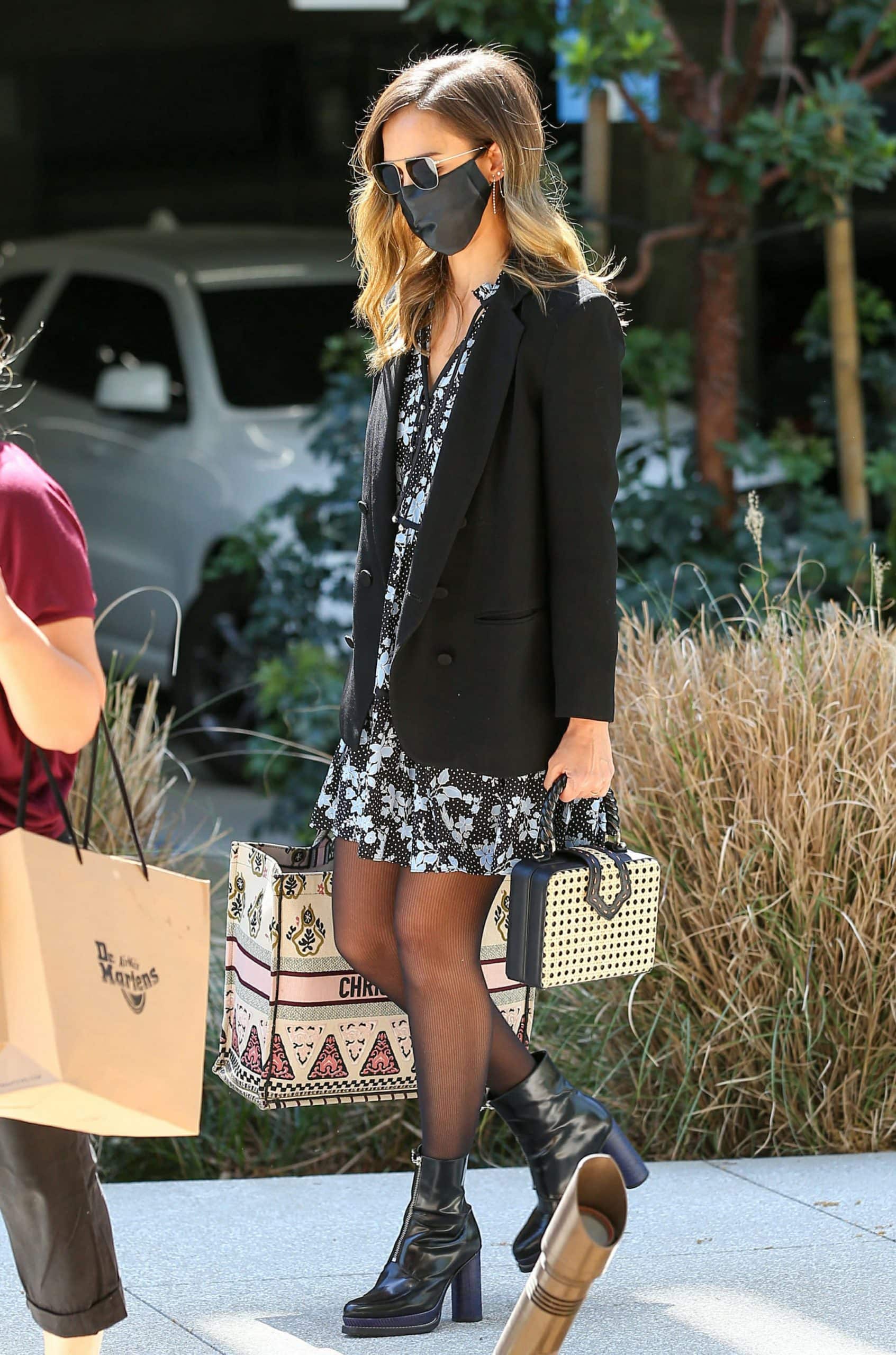 Jessica Alba wears a spring-ready office look with a black-and-blue floral dress, blazer, and sheer tights
The Fantastic Four star wore her hair in natural-looking loose waves over her shoulders. She shielded her eyes behind a pair of aviators and kept herself protected with a $55-skin-friendly black silk face mask from Discover Night.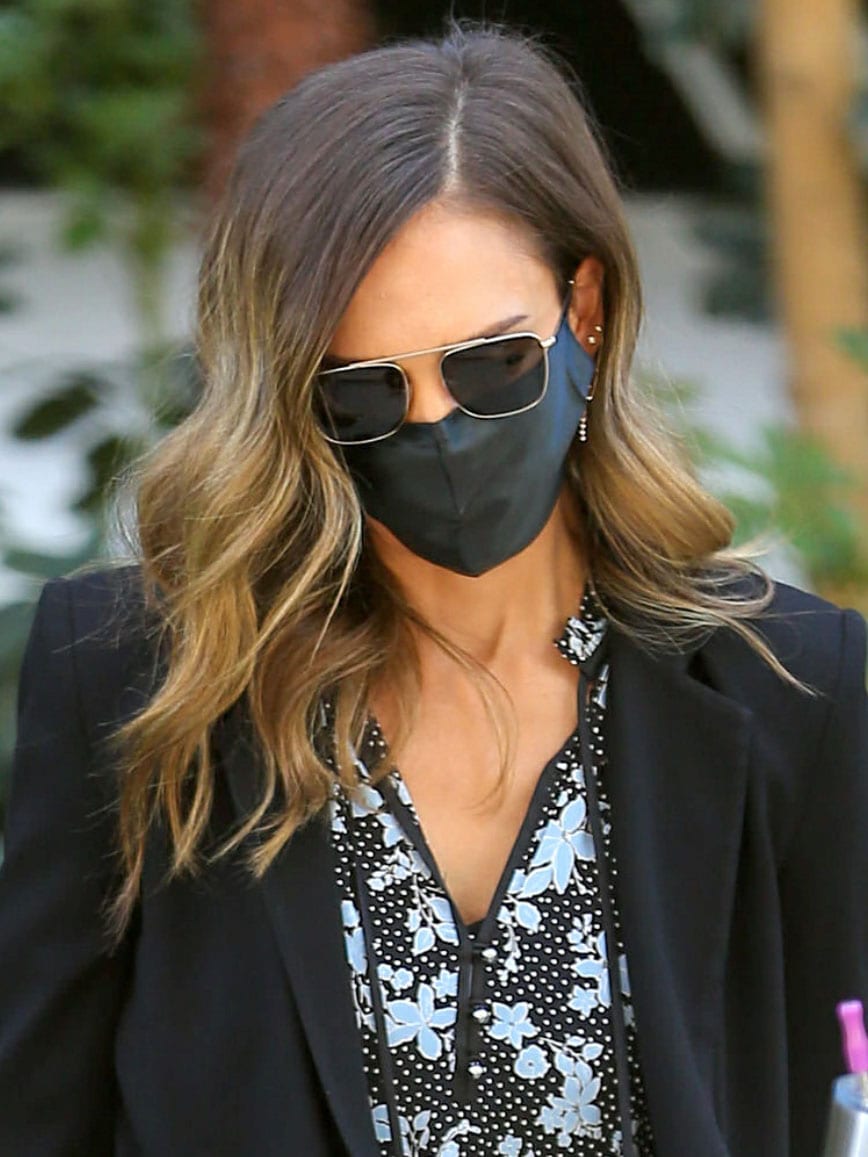 Jessica Alba wears her tresses in natural waves and stays safe with a skin-friendly Discover Night face mask
Looking all set for a meeting, Jessica carried a Dior Book tote and a $590-"Fey" mini-box rattan-and-leather bag from Turkey-based accessories label Mehry Mu.
For her footwear, Jessica chose the Opening Ceremony "Korinne" shiny platform zip boots. Giving her feminine look some edge, these moto boots feature zip-up uppers with thick platforms and rounded block heels in blue color.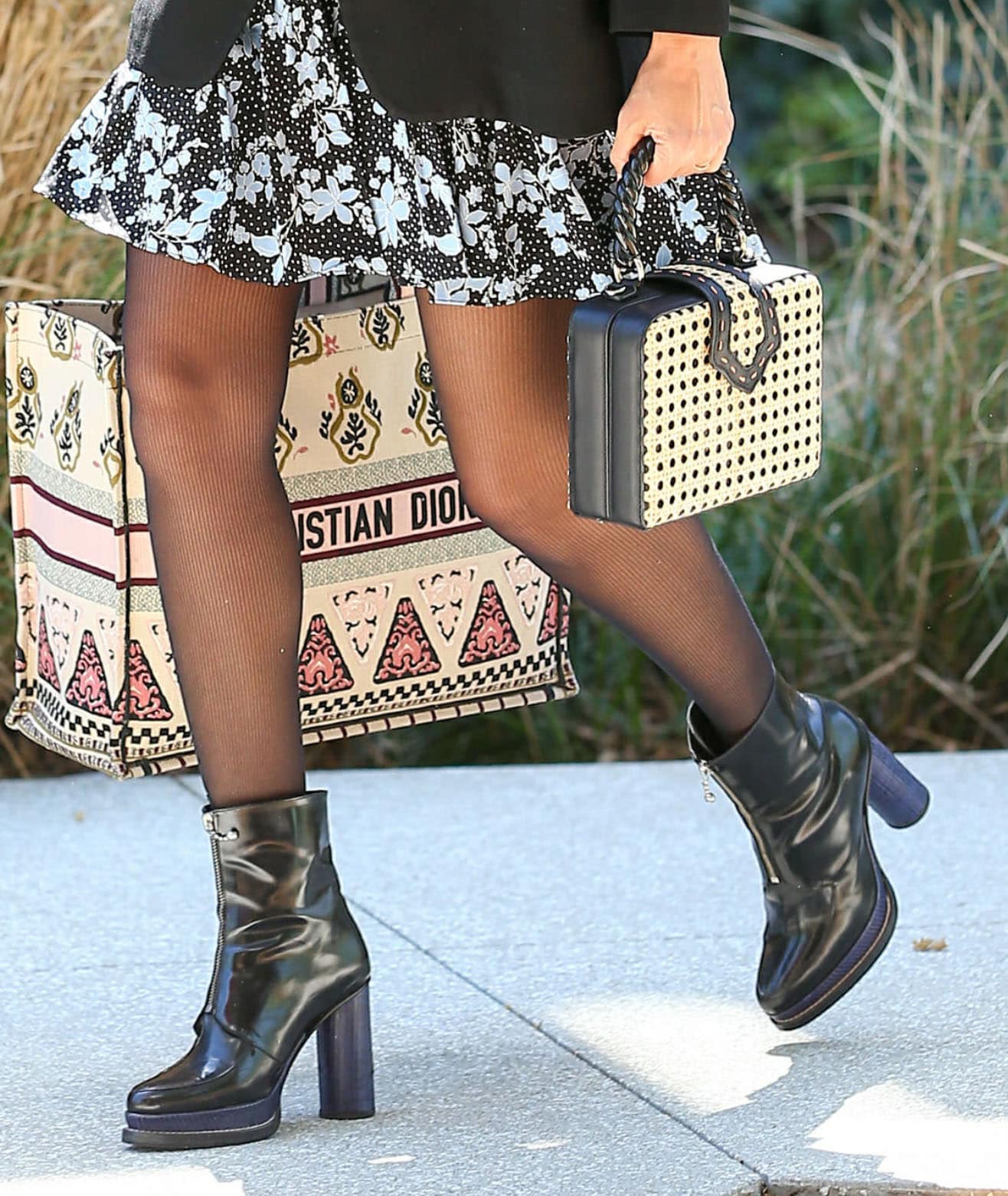 Jessica Alba slips into a pair of Opening Ceremony Korinne boots and carries a Christian Dior Book tote and a Mehry Mu Fey mini box bag
On Tuesday last week, the mom-of-three was spotted spending quality time with her eldest daughter, Honor Marie, who's turning 13 in June.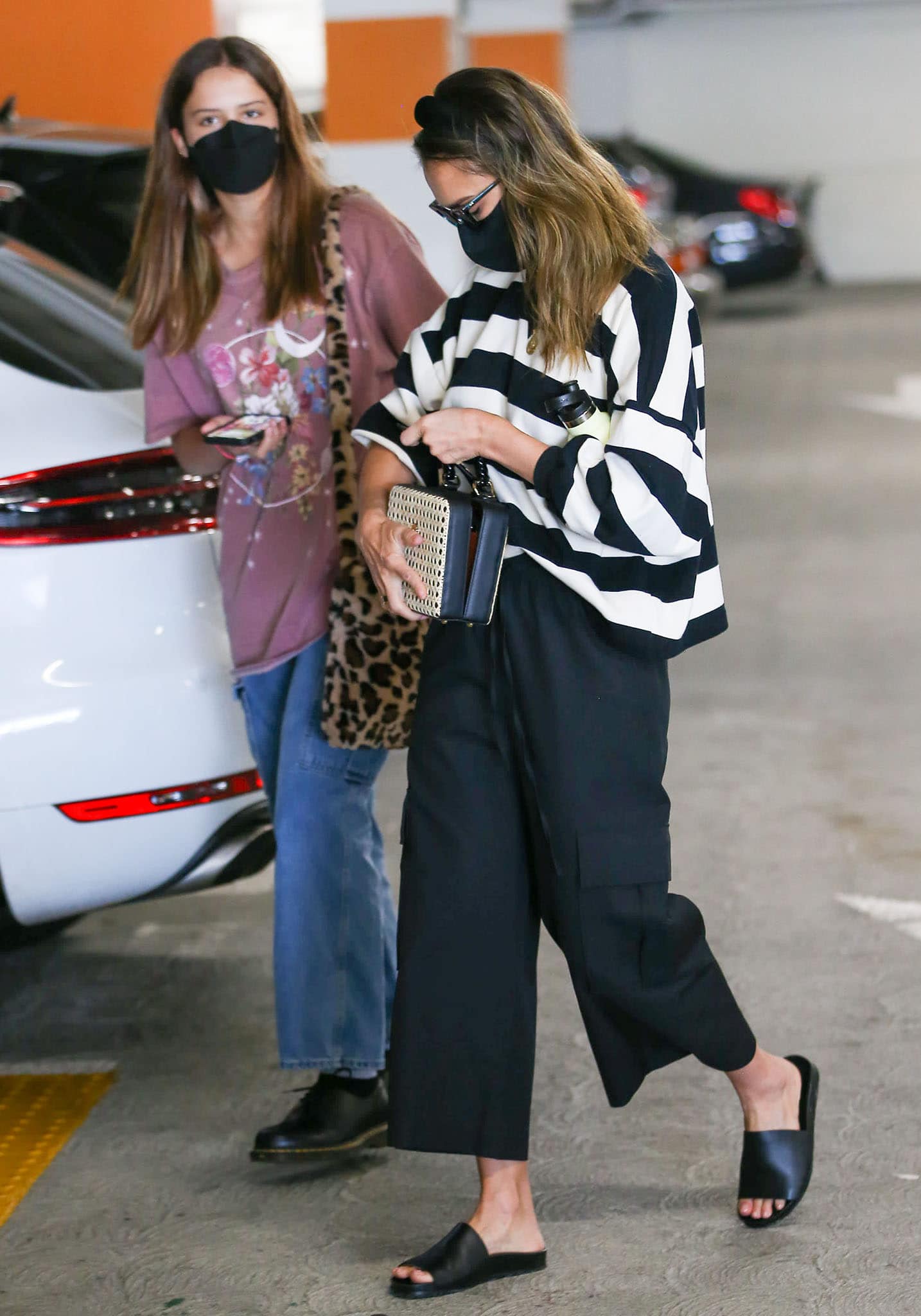 Jessica Alba and daughter Honor Marie step out for grocery shopping in Los Angeles on March 30, 2021
Taking her daughter to the grocery in Los Angeles, Jessica opted for a cool-mom look in a black-and-white stripe "Rosie" sweatshirt from Rebecca Minkoff. She paired it with wide-leg drawstring cargo pants cropped right above her ankles.
Honor, whom she shares with husband Cash Warren, also kept things casual in an oversized dusty pink tee paired with loose-fitting blue jeans and black Dr. Martens shoes.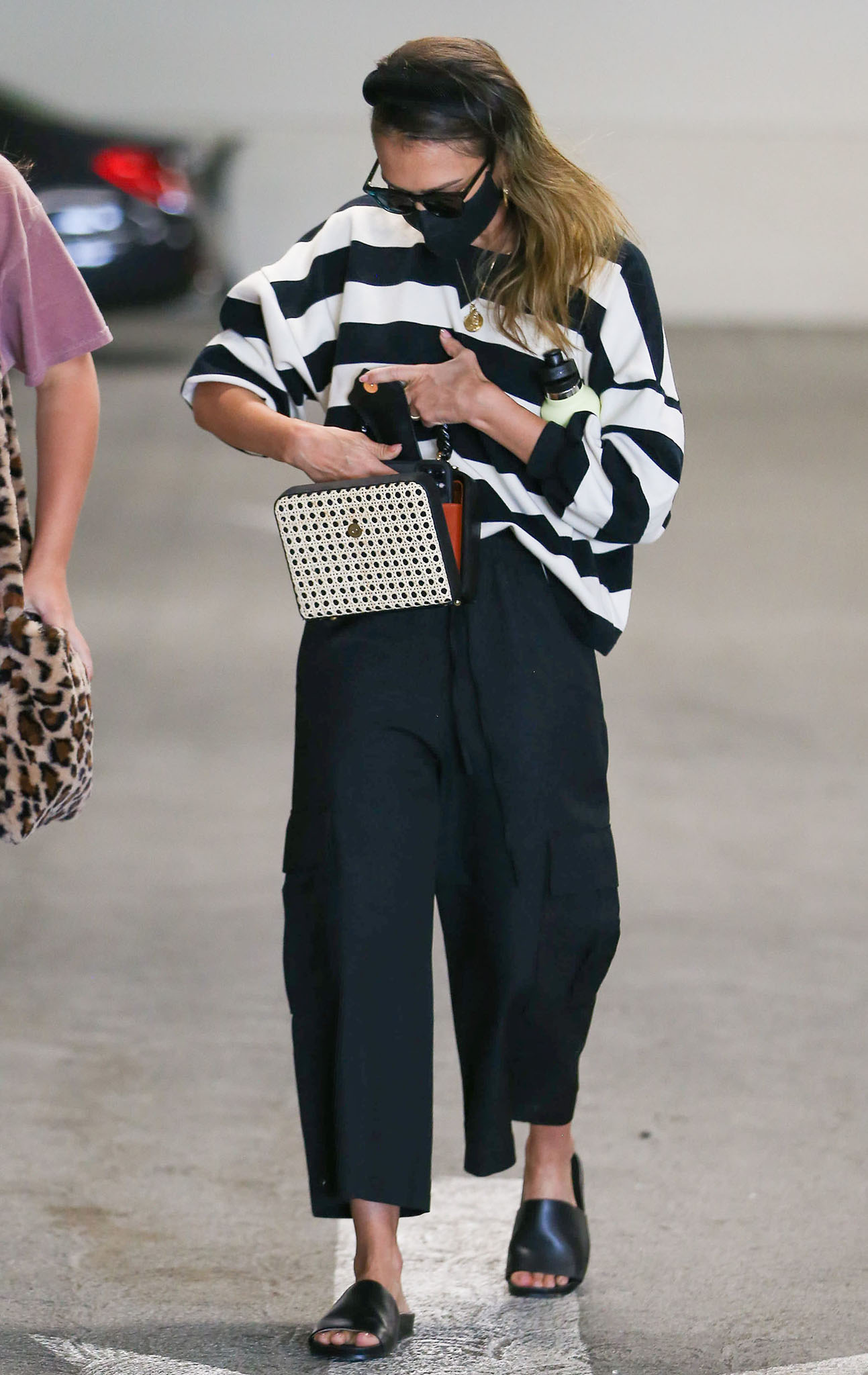 Jessica Alba goes for cool-mom style in Rebecca Minkoff Rosie striped sweatshirt and wide-leg cargo pants
Jessica elevated her casual look with an Idyl "Apollo" earring, a pair of gold hoop earrings, and a long pendant necklace.
Derek Jeter's ex-girlfriend carried her Mehry Mu "Fey" bag and covered her face with black sunglasses and a face mask.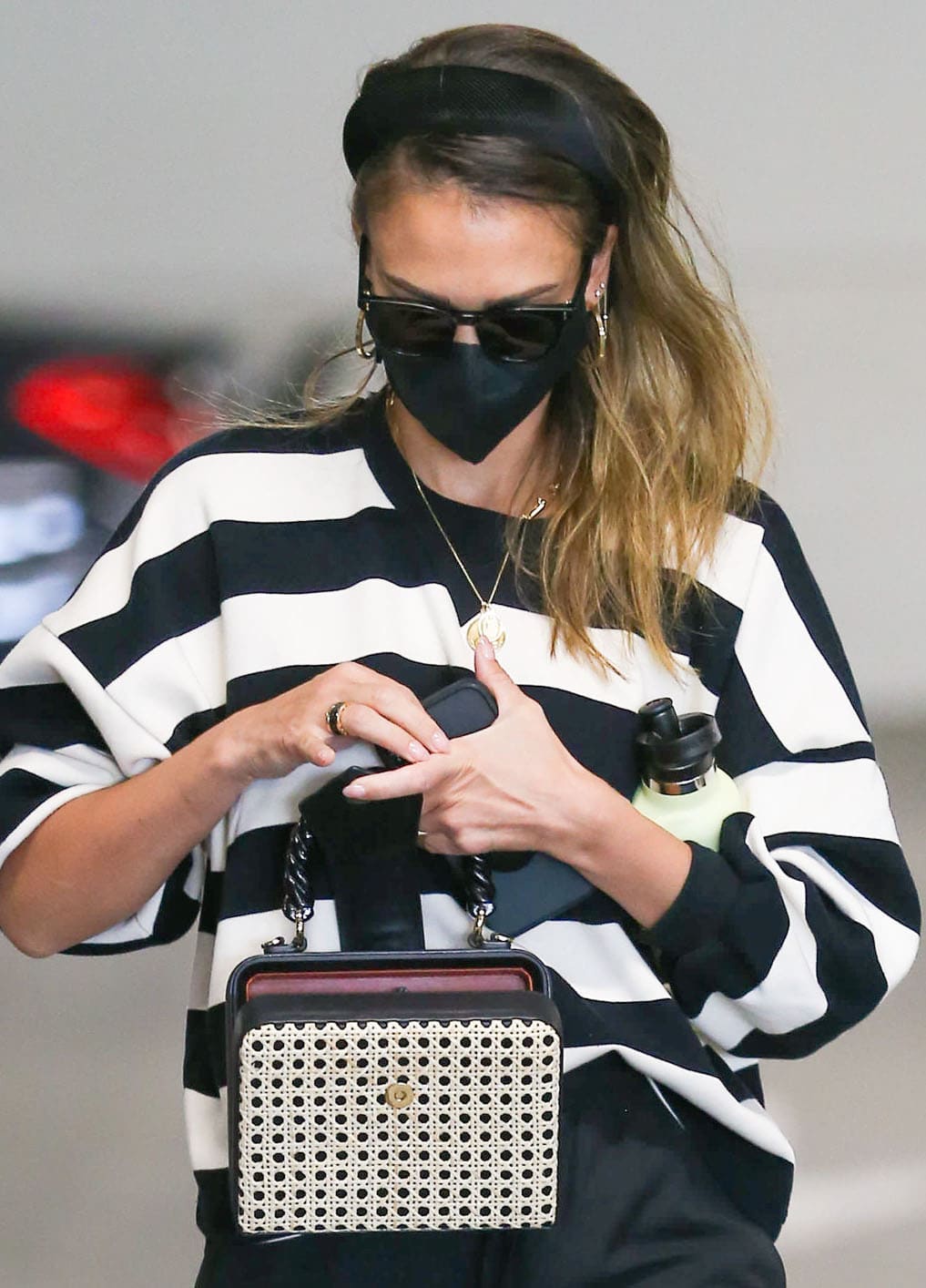 Jessica Alba elevates her casual look with gold jewelry and wears her hair down with a black headband
Wearing her hair down with a thick black headband, Jessica completed her monochrome casual look with a pair of leather slip-on slide sandals.
Jessica Alba completes her casual-chic outfit with black leather slip-on slide sandals
Credit: Instar / WENN