Eye-catching, edgy, and elegant – the chain shoe trend has taken the fashion world by storm in recent years. This intriguing shoe has already appeared in many different variations that cater to almost any aesthetic.
From feminine pumps with delicate chain ankle straps to badass chunky chain biker boots and refined chain loafers, there's a chain shoe out there for every occasion. Discover the allure of this captivating shoe trend below!
What Are Chain Shoes?
As the name suggests, chain shoes are any type of footwear embellished with metal chain detailing.
The chains are usually placed on top or in place of straps along the ankle, t-bar, or sandal upper. Sometimes they are also used as hanging embellishments to create a necklace-like effect.
Chain shoes incorporate metal chains on footwear as embellishments or in place of straps
Any type of chain can be used, from chunky curb chains to dainty cable chains. The style and placement of the chain will heavily influence the appearance of the shoe.
Chunky chains create edgy, urban vibes, while delicate chains create a more feminine feel. This versatile embellishment can be used to adorn almost any type of shoe: heel, boot, sandal, sneaker, loafer, or flat.
The History Of Chain Shoes
Chain shoes are a contemporary style that began gaining mainstream popularity during the FW2020 season.
Metal accents and adornments have been around for a while, such as Gucci's iconic horsebit detail, but prominent chains have only become a shoe feature in the past decade.
Daniel Lee of Bottega Veneta is believed to have pioneered the chain shoe trend with his Stretch heel design for Bottega Veneta's Pre-Fall 2019 collection
Many stylists and fashion editors believe that Daniel Lee of Bottega Veneta is the pioneer of the chain shoe trend. He first introduced chain embellishments on the brand's "Stretch" heels for the Pre-Fall 2019 collection.
Soon after, many other designers and fast fashion brands debuted their own versions. Fellow chain shoe enthusiasts included Saint Laurent, Altuzarra, Oscar de la Renta, Off White, Gianvito Rossi, Topshop, and Zara.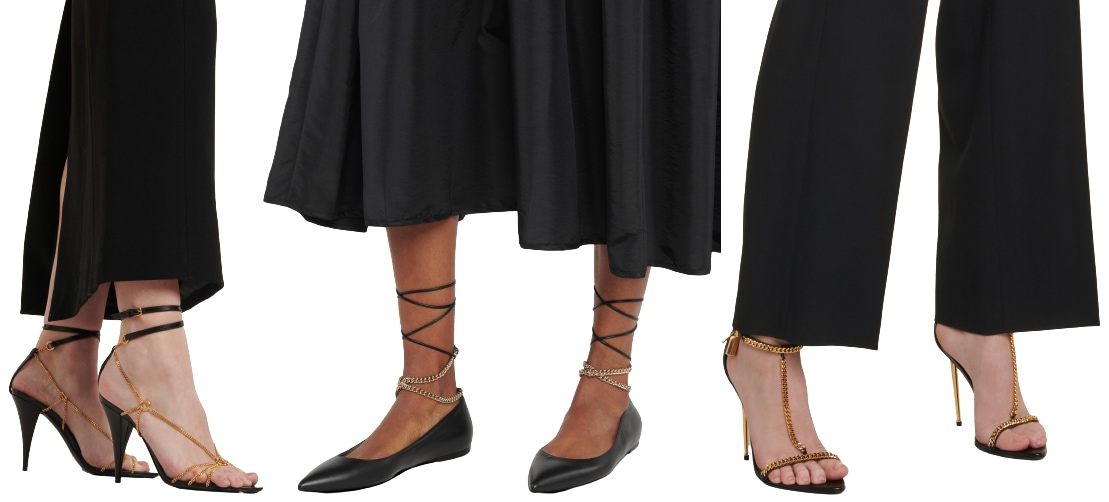 Saint Laurent Cristal Embellished Leather Sandals, $1,195; Gianvito Rossi Embellished Leather Ballet Flats, $845; Tom Ford Padlock Leather Sandals, $1,650
How To Style Chain Shoes
Chain shoes can be as subtle or bold as the wearer wants, depending on the style of the shoe and its corresponding chain. It's an excellent choice for a statement shoe any time of day.
Shoes with dainty chains are an excellent choice for those looking for a chic evening look without excessive amounts of bling. Chunky chains on casual shoes like sneakers, flat sandals, and boots are a great way to make everyday outfits more interesting.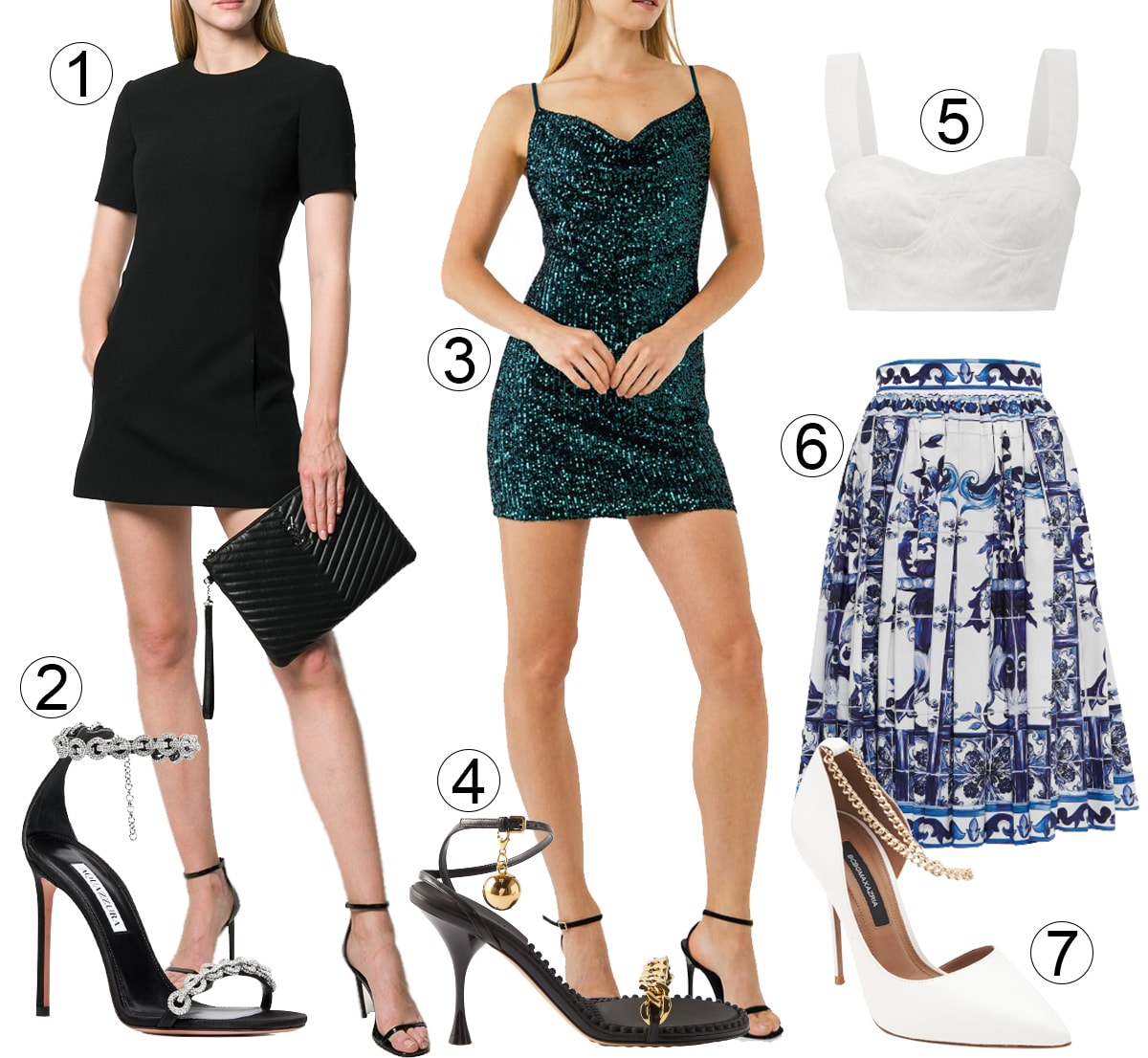 1. Saint Laurent Flared Mini Dress, $1,590 at Farfetch; 2. Aquazzura Love Link Ankle Strap Sandal, $1,250 at Shopbop; 3. Endless Rose Sequin Cowl Neck Minidress, $80 at Nordstrom; 4. Bottega Veneta Dot Chain-Strap Sandal, $1,500 at Matches Fashion; 5. Erdem Deidra Floral-cloqué Crop Top, $895 at Matches Fashion; 6. Dolce & Gabbana Printed Cotton Midi Skirt, $1,182 at Mytheresa; 7. BCBGMAXAZRIA Nexxa Chain Strap Pointed Toe Pump, $219 at Nordstrom
You can keep the rest of your look simple and let the chains be the standout feature of your outfit. Loud prints should be avoided, but rich textures can be used to enhance your look.
If you're a big lover of chains, you can show off your appreciation for the textured metals by coordinating your shoes with jewelry and accessories. Complete your look with chain necklaces and bracelets and/or bags with chain straps.
1. 4th & Reckless Cara Oversize T-Shirt, $30 at Nordstrom; 2. Hard Tail Flat Waist Cotton Spandex Bike Shorts, $51 at Zappos; 3. Jacquemus Les Creoles Logo Hoop Earrings, $290 at Mytheresa; 4. Twinset Chain-Strap Shoulder Bag, $142 at Farfetch; 5. Golden Goose Superstar Chain-Embellished Sneakers, $710 at Net-A-Porter; 6. Madewell Northside Vintage Tee, $16 at Zappos; 7. Re/Done '70s Floral-Print Straight-Leg Jeans, $495 at Matches Fashion; 8. Serena Uziyel Catena Jute Two-Strap Sandal, $695 at Saks Fifth Avenue
If you're interested in trying out the trend but don't want to commit to buying a new pair of shoes, you can DIY the look by wearing a chain bracelet or necklace around your ankle with heels or on top of your boots or sneakers.