Julissa Bermudez, best known for being a co-host on '106 & Park', shared photos on her Instagram account showing her footwear choices for the day (May 10).
Unfortunately, she only posted pictures of the shoes, so we have no idea how she styled them.
While she commented that she wore the gladiator sandals for a meeting, they look more appropriate for an on-stage performance. Either way, you're bound to get plenty of attention when wearing them.
Julissa Bermudez shows off her feet in Gianvito Rossi gladiator sandals (Credit: Julissa Bermudez's Instagram)
These gladiator sandals by Gianvito Rossi are hot right now. Anne Hathaway sported a pair of knee-high gladiator sandals at the red carpet premiere of 'Les Miserables,' Jennifer Lopez in a magazine feature, Rita Ora at an event in London, Selena Gomez on the Late Show with David Letterman, and Rihanna in a photo she shared through social media.
In terms of design, these Gianvito Rossi boots look relatively easy to wear compared to other tall gladiator heels. They're made of black leather, with straps wrapped around the leg.
Each boot has a buckle fastening strap at the top and a zipper fastening down the back for easy wear. Finishing these sandals are 4-inch heels for additional height.
Julissa Bermúdez, born on September 28, 1983, in Santo Domingo, Dominican Republic, is a multifaceted American television personality. In addition to her roles as an actress, dancer, model, and singer, she has a net worth of $600 thousand dollars.
Julissa is widely recognized for co-hosting shows like 106 & Park and Jersey Shore: After Hours.
She also made an appearance on the show Hunters. Though originally from the Dominican Republic, she was raised in Elmhurst, Queens, New York. Her rich ethnicity traces back to the Dominican Republic.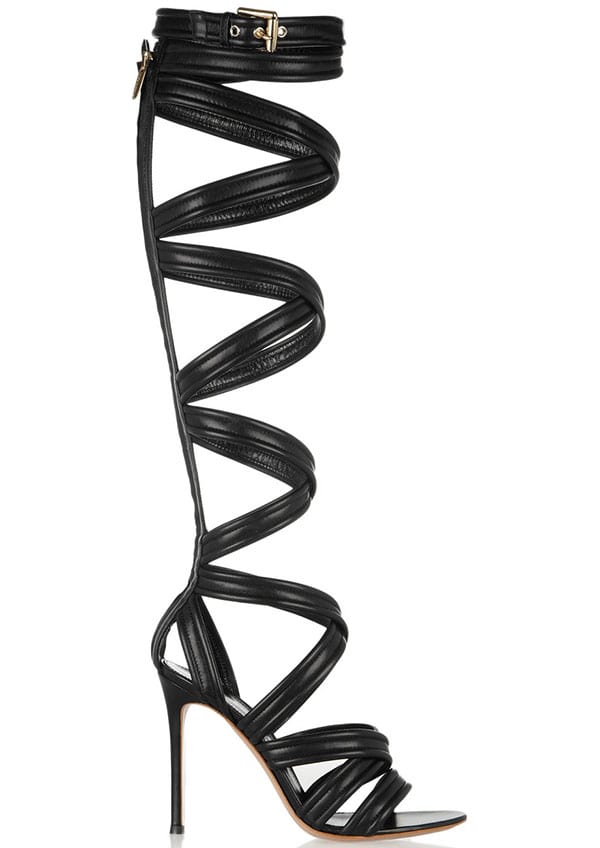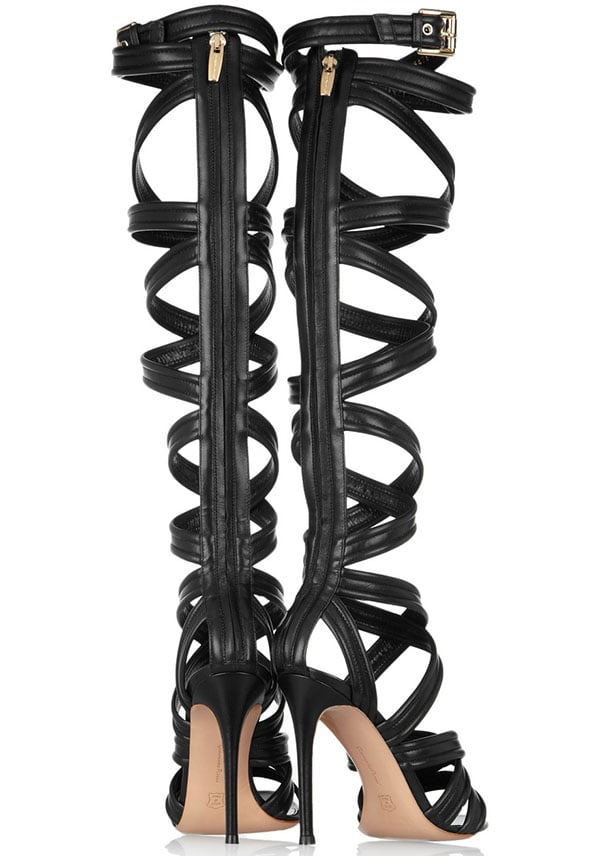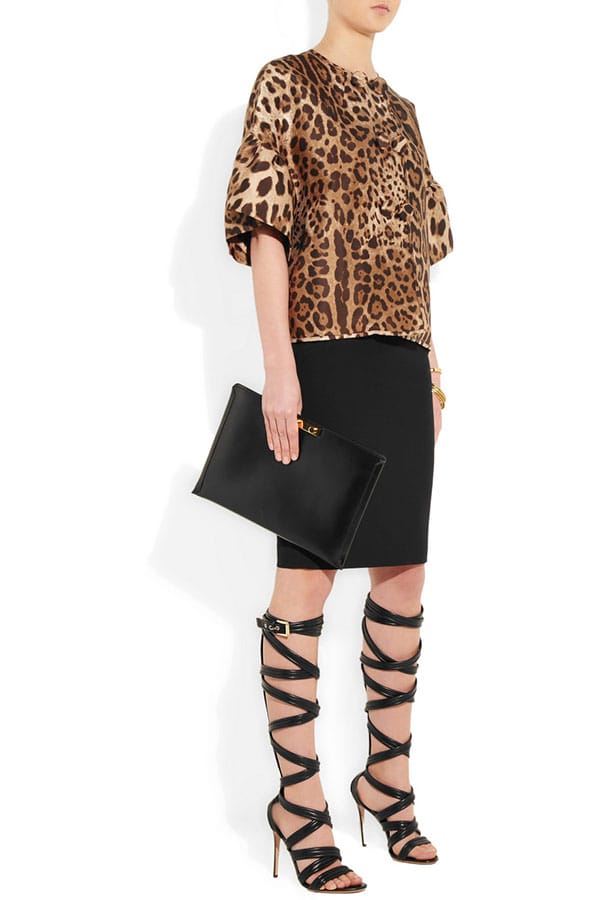 Gianvito Rossi Leather Gladiator Knee Sandals, $1,880
In case you don't prefer high heels, these gladiator sandals also come in flats. Plus, they cost less.
Gianvito Rossi Leather Gladiator Knee Sandals, $1,320
Here are the other shoes Julissa Bermudez posted on her Instagram.
Julissa Bermudez shows off her Balenciaga perforated derby shoes (Credit: Julissa Bermudez's Instagram)
This pair seems much more appropriate for a business meeting. Just like her knee-high gladiator sandals, they are pretty eye-catching with a unique perforated design that we rarely see.
The perforations are dominant as they cover the entire vamp. And, of course, like all derby shoes, they have eyelets and pretty ties. About 1/2 inch of stacked heels complete these shoes.
Would you wear this pair? They're edgy, so they'd be perfect for an androgynous look.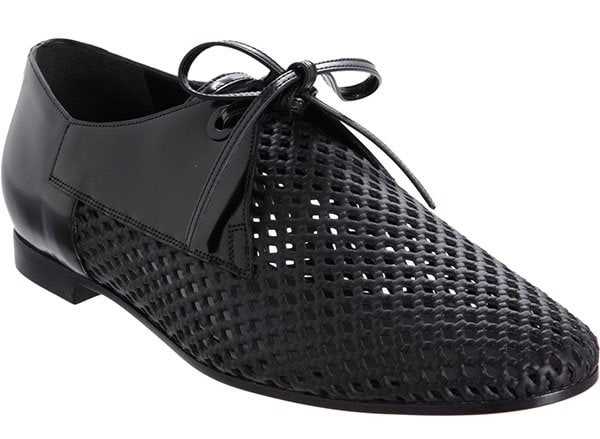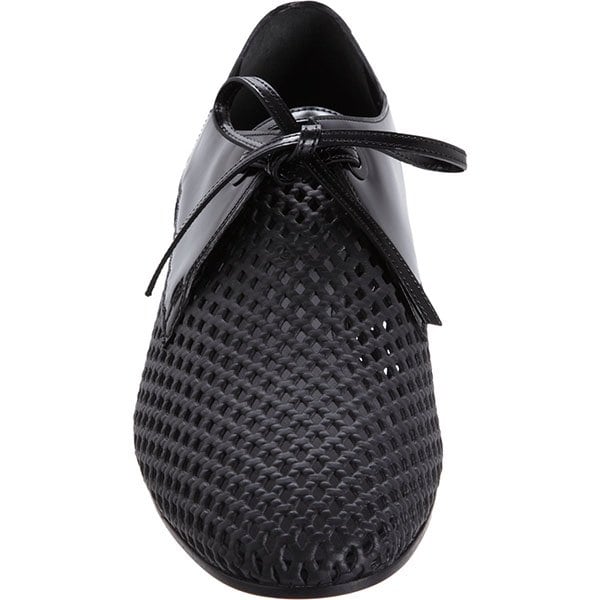 Balenciaga Perforated Derby Shoes in Black, $695
They're also available in cream: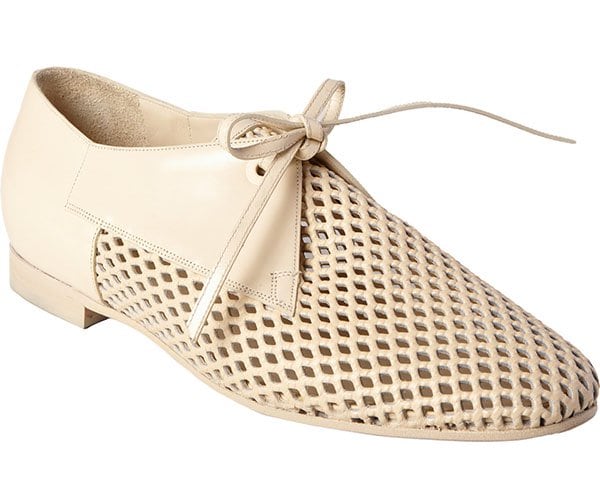 Balenciaga Perforated Derby Shoes, $695
Julissa Bermudez has had several notable relationships over the years. She dated Andre Lyon, though the dates of their relationship are unspecified.
From 2005 to 2008, she was in a relationship with Larry Johnson. Shortly after, from 2008 to 2009, she dated Charlie Villanueva. In 2009, she was linked with Quentin Richardson. Most recently, in 2014, she was in a relationship with Maxwell.
We also want to share this pair she was spotted wearing at a screening in March 2010.
Julissa Bermudez flaunts her legs at a special screening of 'Why Did I Get Married Too?' at the School of Visual Arts Theater in New York City on March 22, 2010 (Credit: PNP / WENN)
The Dominican American television personality, actress, dancer, model, and singer paired them with a little black dress. Are you a fan?
Julissa Bermudez's height is 5ft 6 ½ (168.9 cm). The average height for an adult American woman is approximately 5ft 4in (162.5 cm).
Given this, Julissa Bermudez is taller than the average American woman. So, compared to the average American woman, Julissa Bermudez is tall.
Julissa Bermudez's shoe size of 8 US for women is considered average. It's one of the most common shoe sizes for adult women in the US.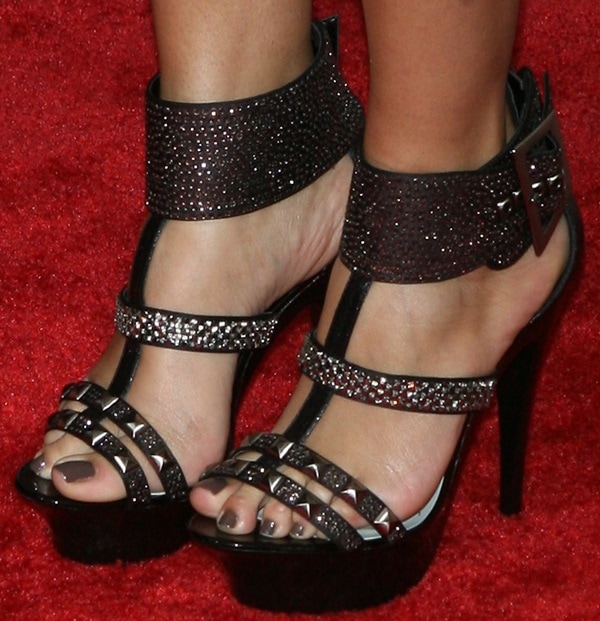 Julissa Bermudez shows off her feet in high heel sandals (Credit: PNP / WENN)