Kate Hudson posted a sweet Father's Day tribute to her "Pa" Kurt Russell that made the famous actor shed a few tears.
"Fun, adventurous, passionate, determined, honest, devoted, amazing father and the best head of hair in Los Angeles! Lucky us! Love you Pa! Happy Fathers Day💫."
The Tearjerker Post
The caption was sweet enough, but the image Hudson's posted was the tearjerker for Russell. The photo was a throwback picture of a young Kate, now 43, snuggling with her stepfather, an arm across his waist, and Russesl holding her head.
View this post on Instagram

The special Father's Day tribute had Russell producing a few tears, and her parents shared a special response via Instagram. Her mom, Goldie Hawn commented, "Honey this picture speaks volumes ❤️❤️❤️," on her daughter's post.
Russell, who doesn't have social media, sent a reply through Hawn. She continued in a follow-up comment on the post, "Honey, I showed this to daddy. Here's his message …"
"'Birdie, mommy just showed me this picture, this perfect Father's Day present. I've never seen it before. Wow … it's a killer. Lotta water under the bridge … it's kinda hard to see it though cause all that water seems to somehow have found its way into my eyes. Thanks for making me the luckiest father in the world sweetheart. I love you, Pa."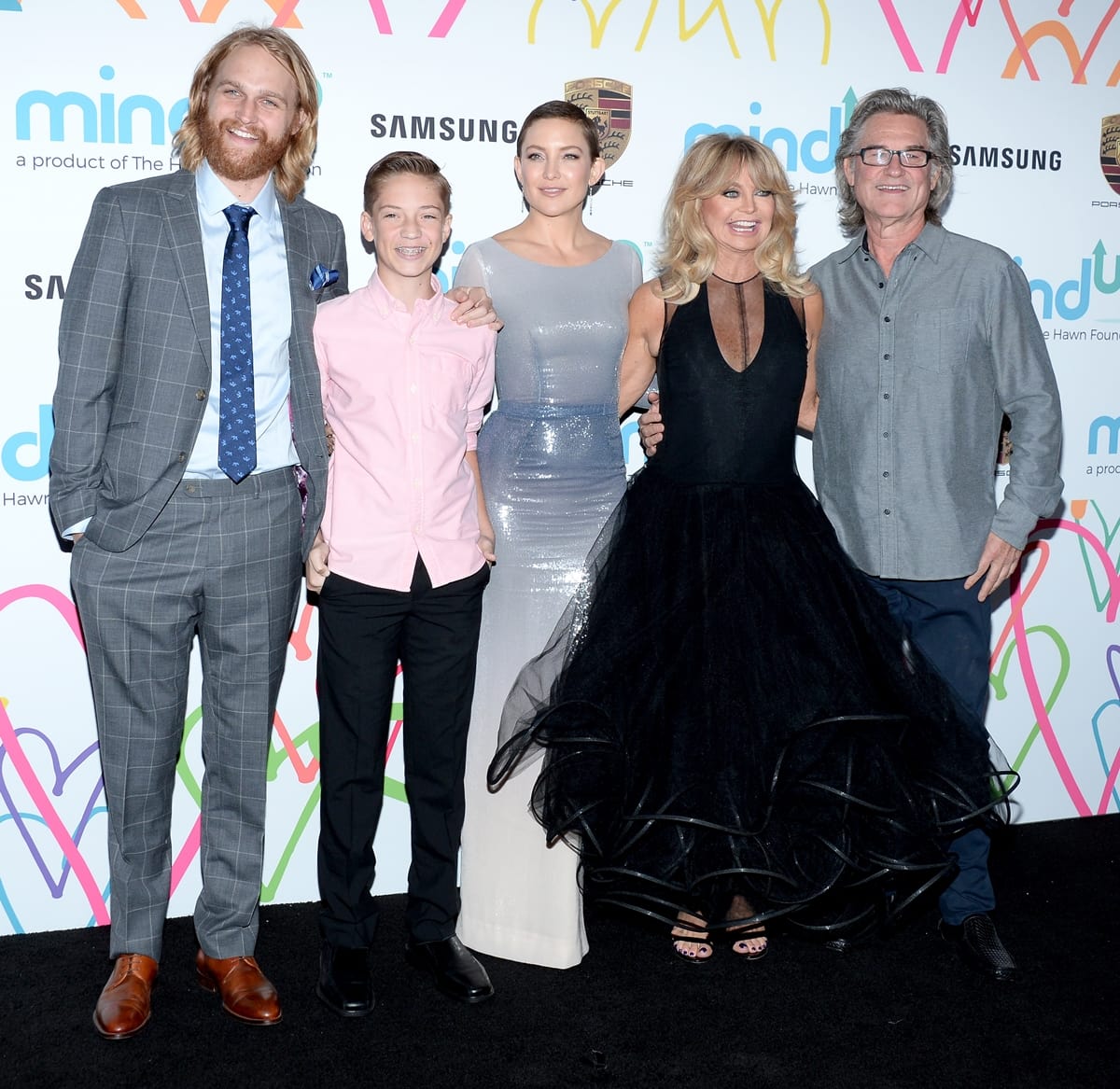 Wyatt Russell, Ryder Robinson, Kate Hudson, Goldie Hawn, and Kurt Russell attend Goldie's Love In For Kids at Ron Burkle's Green Acres Estate on November 3, 2017, in Beverly Hills, California (Credit: Hahn Lionel / Abaca / Instarimages)
Famous celebs like Liv Tyler, Rachel Zoe, and Drew Barrymore all commented on how sweet the post was.
Hawn shared her own Father's Day message to Russell, posting a picture of the pair sharing a smooch.
View this post on Instagram
"How can I explain the gratitude and love I feel for the greatest father who has given us all so much in this life 💕💋."
Kate Hudson's Amazing Relationship With Her Stepfather
Kate has had a lot to say about her stepfather's influence in her life and told Sunday Today With Willie Geist, "I have a great family. I have a beautiful mother. I have a stepfather who stepped in and played a huge, huge part in sharing what it is to have a dependable father figure in our life."
Actress mom Goldie Hawn (76) has been with Russell since 1983. If you didn't already know, Kate and her older brother Oliver Hudson (45) are estranged from their biological father, Bill Hudson.
Kurt Russell and Goldie Hawn have been together since Valentine's Day in 1983 when Kate Hudson was 4 years old (Credit: Sara De Boer / Startraksphoto)
Kate was one year old when her parents split up. Russell has been the sole father figure in the famous Hudson kids' lives. Goldie and Russell have never married but have been together for 40 years and share a son, Wyatt Russell (35).
This isn't the first time Hudson has taken to Instagram and shared a heartfelt message about her stepfather. She shared a special message for Kurt's 70th birthday in 2021, detailing how he had made her who she is today.
View this post on Instagram
"This is a man who made his family his number one priority his whole life," she wrote in a 2015 tribute. Hudson's eldest son, Ryder Robinson, has "Russell" as a middle name, a testament to her regard for her stepfather.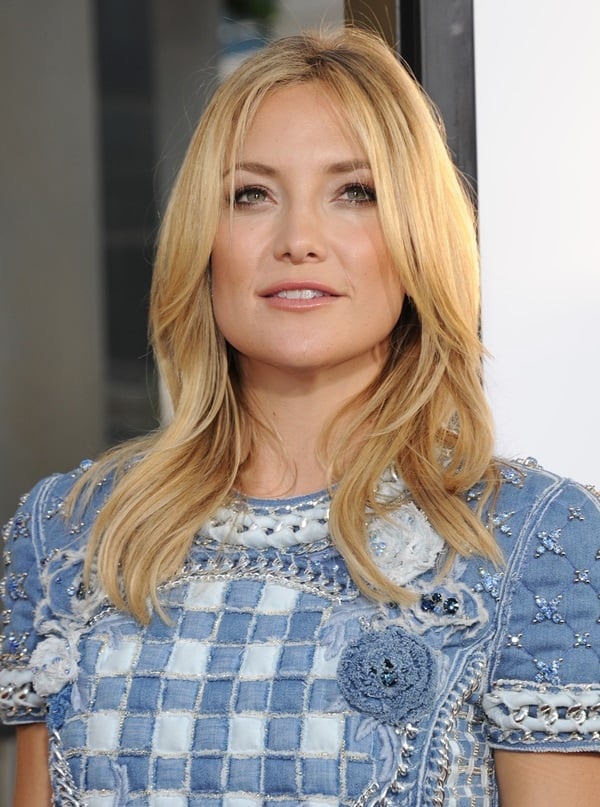 Kate Hudson wears a checkerboard patchwork dress with floral appliqués and chain accouterments (Credit: Apega / DVSIL / iPhotoLive)
One of our favorite actresses, the ever-so-charming Kate Hudson, showed off her gorgeous legs at the July 2013 premiere of HBO Films' 'Clear History' held in Hollywood.
Kate Hudson flaunts her legs in a denim Balmain Resort 2014 dress paired with gray suede pumps at the premiere of Clear History in Los Angeles on July 31, 2013 (Credit: Apega / DVSIL / iPhotoLive)
The then-34-year-old actress and Fabletics founder donned a dress from Balmain's Resort 2014 collection — a denim piece with a checkerboard patchwork, floral appliqués, and chain accouterments all over — and finished it with super-sky-high classic gray suede pumps.
Kate Hudson totes a black Jimmy Choo Carmen clutch (Credit: Apega / DVSIL / iPhotoLive)
Well, any thoughts? Did she score a hit, or was the outfit a miss?
We say it's a winner! Usually, we see Kate in more toned-down pieces that are elegant and sophisticated but don't really make the eyes pop.
This look, however, is more avant-garde and, perhaps, out of her comfort zone. She basically took a risk, and it paid off.
Kate also made the right decision by choosing to pair it with neutral heels. A heavily decorated dress like that requires minimal accessories.
Kate Hudson wearing super-sky-high classic gray suede pumps (Credit: Apega / DVSIL / iPhotoLive)
Now, speaking of Kate's shoes, those seriously high stilettos are from Casadei and are available at Farfetch.
They feature 1.5-inch-thick concealed platforms, classic almond toes at the front, and 5.5-inch-tall wrapped heels. Below are a few other versions of the pair, from studded to patent leather.
Pink Casadei Studded Platform Pumps, $1,300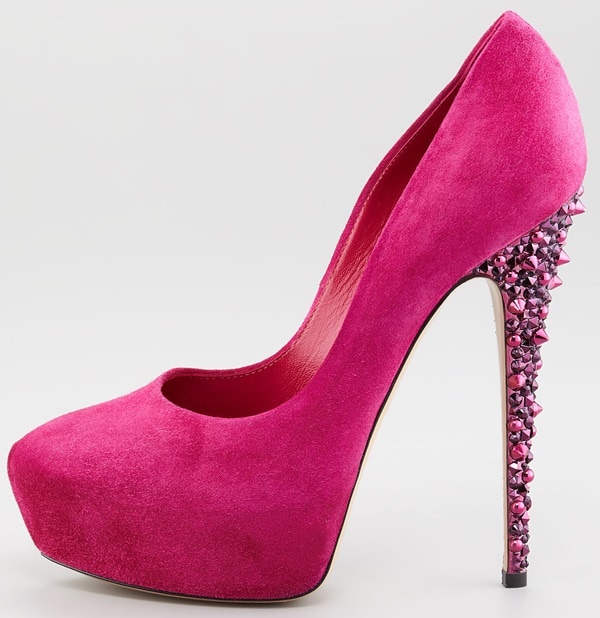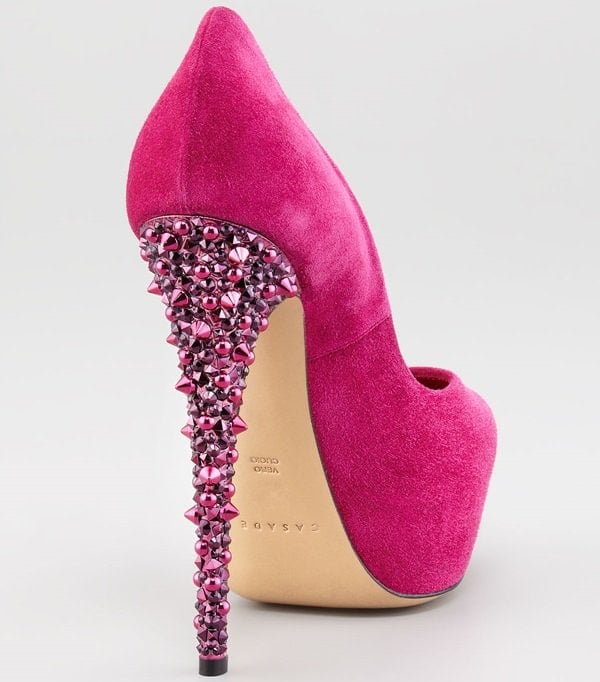 Which color do you fancy wearing? If you love designer footwear, these classic pumps from Casadei are a must-have. They come with a silhouette that is perennially seasonless.
Casadei Platform Pumps in Charcoal Gray, $799.72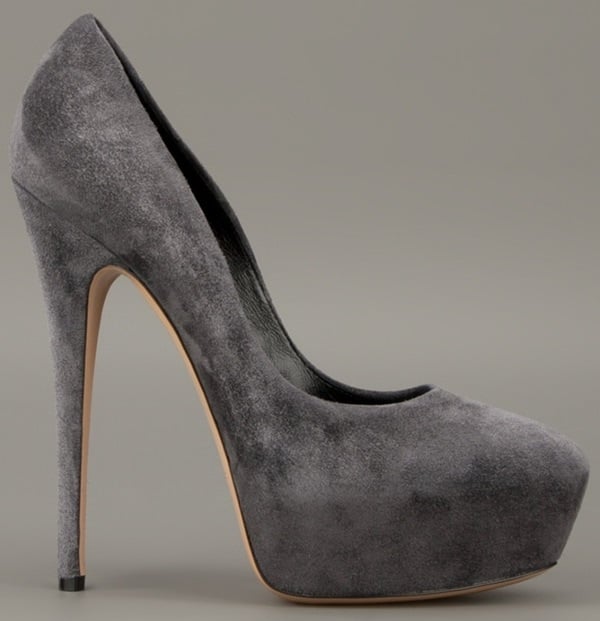 Otherwise, purchasing a similar pair with a more practical two-digit price tag will probably sound more appealing to your frugal sensibilities.
Casadei Platform Pumps in Patent Pink, $782
Casadei Platform Pumps in Patent Turquoise, $692