Kate Mara and Rooney Mara may be sisters, but the two are as different as night and day. If we had to assign each, we'd consider Rooney "night" and Kate "day."
Kate showed off her "day" style — sweet, enchanting, feminine, and sophisticated — while arriving at the Ed Sullivan Theater earlier this week to appear on "Late Show with David Letterman."
The heiress was there to promote her TV series House of Cards.
Kate Mara makes an appearance on "Late Show with David Letterman" on February 18, 2014, in New York City (Credit: CBS)
During her appearance on the Late Show with David Letterman last night, Kate Mara discussed the shocking twist in the season two premiere of House of Cards.
While not explicitly revealing what happened, Mara, who played journalist Zoe Barnes, hinted at the direction of her character's development.
Mara expressed relief at being alive and sitting on the show's set, jokingly commenting that she was glad she took a car instead of the subway.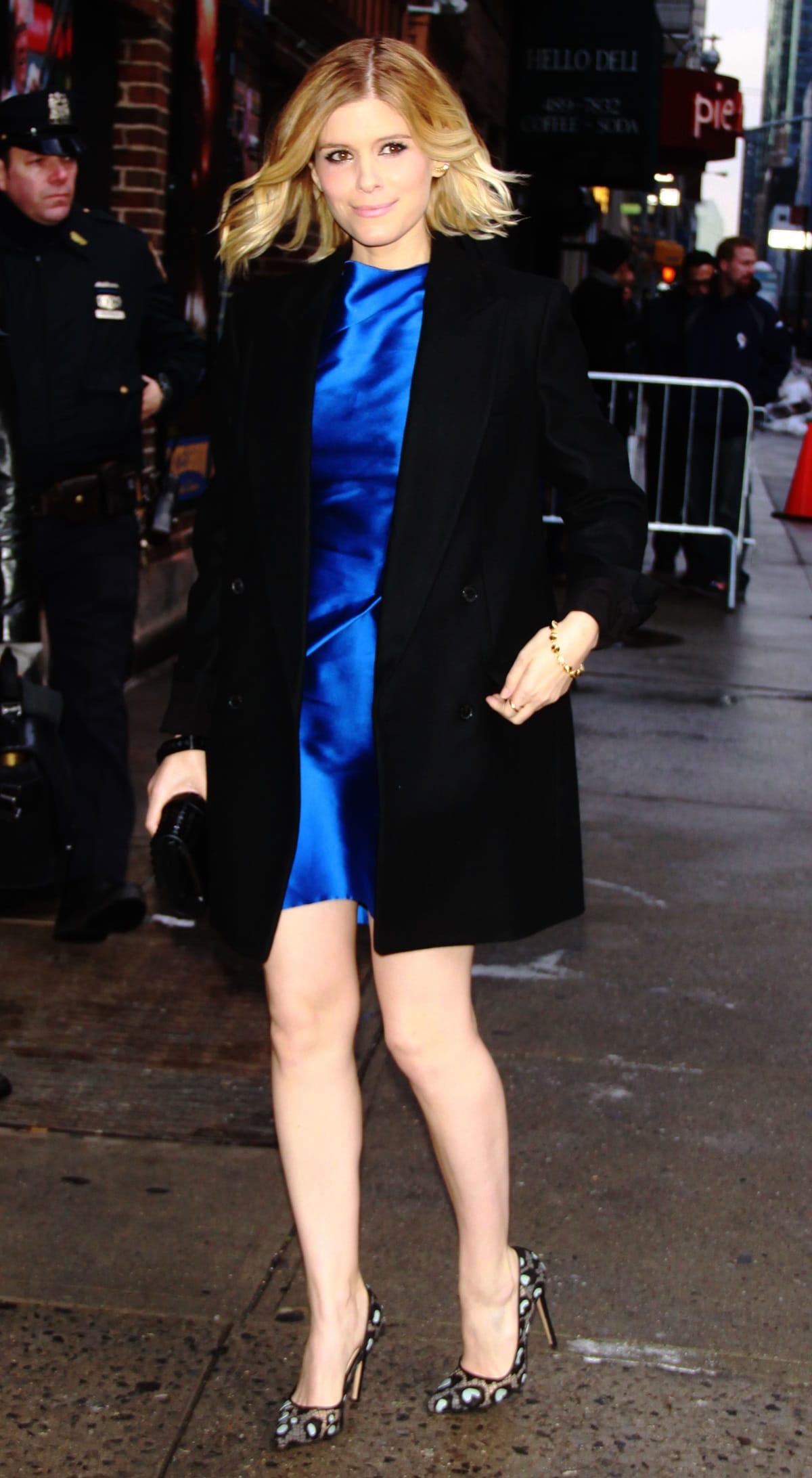 Kate Mara braved the cold and showed off her legs in a striking blue satin dress by Roland Mouret that was sculpted around her body for an architectural look with a cinched-in waist and pleats that created a flattering silhouette (Credit: INFphoto / Roger Wong)
The unexpected death of Barnes is just one of the many surprising plot twists in the show's latest season, with the cast careful to avoid spoiling any major developments.
Kate recalled the scene where her character is thrown in front of a train by Kevin Spacey's character, stating that there was no time for her to even scream. She compared it to being hit by a car while crossing the street, where the unexpectedness of the event leaves no time for any last thoughts.
Kate Mara's character in House of Cards, Zoe Barnes, is killed instantly when she is thrown in front of a train by Kevin Spacey's character, Frank Underwood, in a shocking and pivotal moment that sets the tone for the rest of the season (Credit: Netflix)
"It's completely out of the blue. If you're crossing the street, you see no cars are coming, and then you get hit by a car, you don't have time to – it just happens. It's like, over. Unfortunately, I had no last thoughts," Kate told EW in an interview.
"I don't think there has to be a message. And I don't know that there is one in season 2. But I'm not one of those people that watches movies or television in that way. I don't feel like I need to learn something from a character or from a story," Kate added. "I am cool with just watching something and sort of losing myself in this crazy world. I'm okay with that."
If you haven't finished season two yet, it's best to watch it soon to avoid any spoilers from future cast appearances on late night shows.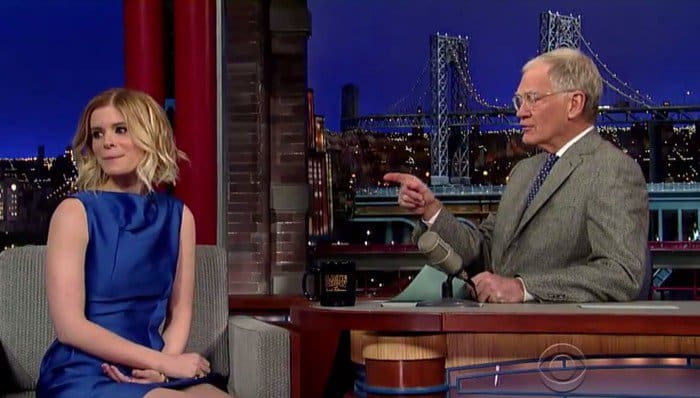 Kate Mara wears a high-necked blue dress for a TV appearance (Credit: CBS)
For the occasion, Kate wore a gorgeous blue satin dress from Roland Mouret, which she capped off with a black coat from Michael Kors for the walk into and out of the studio.
The Shooter actress paired the simple ensemble with playful pumps, adding more fun to the look.
Kate curled her shoulder-length blonde hair and wore heavy eye makeup for the filming.
On February 18, 2014, Kate Mara arrived at CBS studios in New York City for her appearance on the 'Late Show With David Letterman' to promote her Netflix series 'House Of Cards' (Credit: INFphoto / Roger Wong)
How do you like Kate's "day" look? It contrasts Rooney's "night" vibes — dark, mysterious, edgy, and sexy.
By the way, if the pumps look familiar, it's probably because we have featured them twice before. They're the Bionda Castana "Daphne Bis" pumps in black camou.
We first spotted them on Jessica Biel back in December. And recently, we did a piece on the brand's Spring 2014 collection, which the "Daphne Bis" style is a part of.
Here's a closer look at the pair: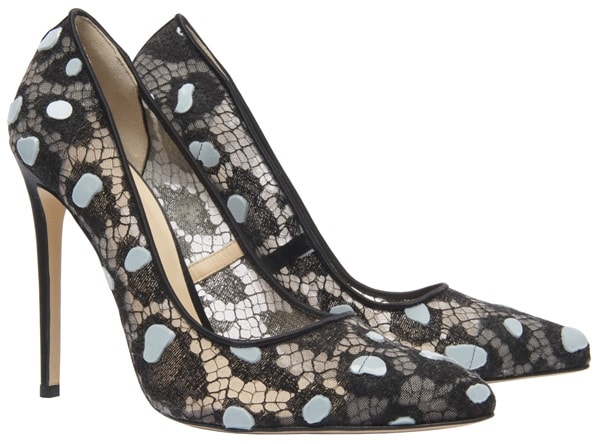 Bionda Castana "Daphne Bis" Camou Pumps, >£575
These shoes are crafted from black lace material and decorated with light blue leather appliques to achieve the spotted effect. They are also quite steep, with heels running 4.75 inches tall.
Interestingly, Kate didn't look like she had difficulty walking in her shoes. Despite the potential for difficulty, she handled them with ease and maintained her poise as she sauntered over to David.
For the frugalistas, we recommend you try the DIY suggested previously. Simply channel the look using some light blue leather cutouts and a pair of classic black lace pumps. Try the Ivanka Trump "Calla" below from Zappos for starters.
Ivanka Trump "Calla" Pumps in Black Lace, $135