Kate and Rooney Mara may be sisters, but the two are as different as night and day. Rooney looks dark and mysterious, while Kate is all sweet and enchanting. Rooney's style is edgy yet sexy, while Kate's is more feminine and sophisticated. It's hard to decide who to like more between the two because it would be like comparing apples to oranges.
Speaking of Kate, the actress was spotted arriving at the Ed Sullivan Theater early this week for her appearance on Late Show with David Letterman. She was there to promote her TV series, 'House of Cards'. For the occasion, Kate wore a gorgeous blue satin frock from Roland Mouret and capped off the outfit with a black coat from Michael Kors. Honestly, the outfit was nothing extraordinary, but she made it fancy by pairing the piece with playful printed pumps. Simply put, the shoes were hard to ignore. Check out the videos below to get a glimpse of Kate's shoes.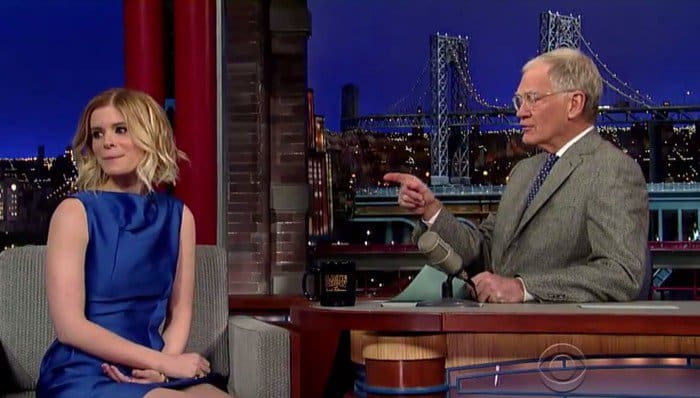 Kate Mara looked amazing while arriving for a taping of 'The Late Show with David Letterman' in New York City on February 18, 2014
Leave it to the heels to make or break an outfit, right? In Kate's case, she nailed the look with little effort, thanks to her statement-making shoes.
By the way, if the pumps look familiar to you, that's because we have featured them here before — twice. They're the Bionda Castana "Daphne Bis" pumps in black camou. We first spotted them on Jessica Biel back in December. And recently, we did a piece on the brand's Spring 2014 collection, which the "Daphne Bis" style is a part of. Here's a closer look at the pair: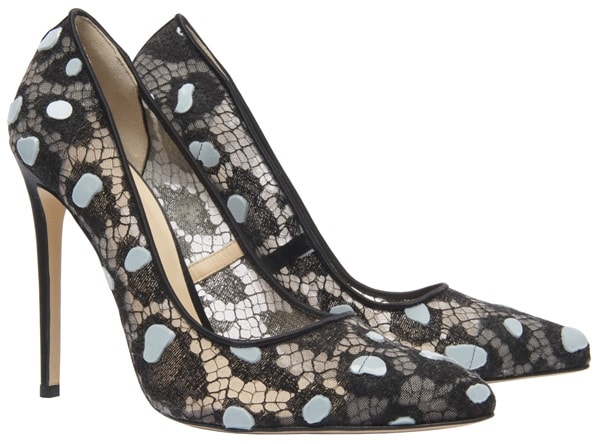 Bionda Castana "Daphne Bis" Camou Pumps, £575
These shoes are crafted from black lace material and decorated with light blue leather appliques all over to achieve the spotted effect. They are also quite steep, with heels running at 4.75 inches tall.
Interestingly, based on the video footage posted above, Kate didn't look like she was having a hard time walking in her shoes. She handled them really well and managed to saunter to David with her poise intact.
If you want Kate's pumps, they're available for pre-order at Bionda Castana. A pair will set you back about £575 (or roughly about $900).
For the frugalistas, we recommend you try the DIY suggested previously. Simply channel the look using some light blue leather cutouts and a pair of classic black lace pumps. Try the Ivanka Trump "Calla" (below) for starters.
Ivanka Trump "Calla" Pumps in Black Lace, $135 at Nordstrom