Kim Kardashian opted for sensual elegance with a braless look at the Time100 Gala.
She slipped into a bias-cut slip gown from John Galliano after donning a transparent suit from Rick Owens at the Time100 Summit, where she joked about giving up her stardom for life as a full-time attorney.
Kim Kardashian goes braless in a John Galliano gown at the Time100 Gala in New York City on April 26, 2023 (Credit: Abaca Press / INSTARimages)
The Time100 Gala honors the 100 Most Influential People of 2023, and Kim Kardashian was included in the list back in 2015. This time, she attended as the face of her SKIMS brand, named one of the most influential companies of 2022.
Kim Kardashian joined several A-list celebrities, including honorees Austin Butler and Ali Wong.
At the event, she wore a John Galliano creation, which featured a harlowesque style and a deco-inspired design. The gown is in eggshell white and embellished with tiny rhinestone squares in each spaghetti strap. It showed off her curves perfectly and flowed into a skirt with a floor-sweeping hem.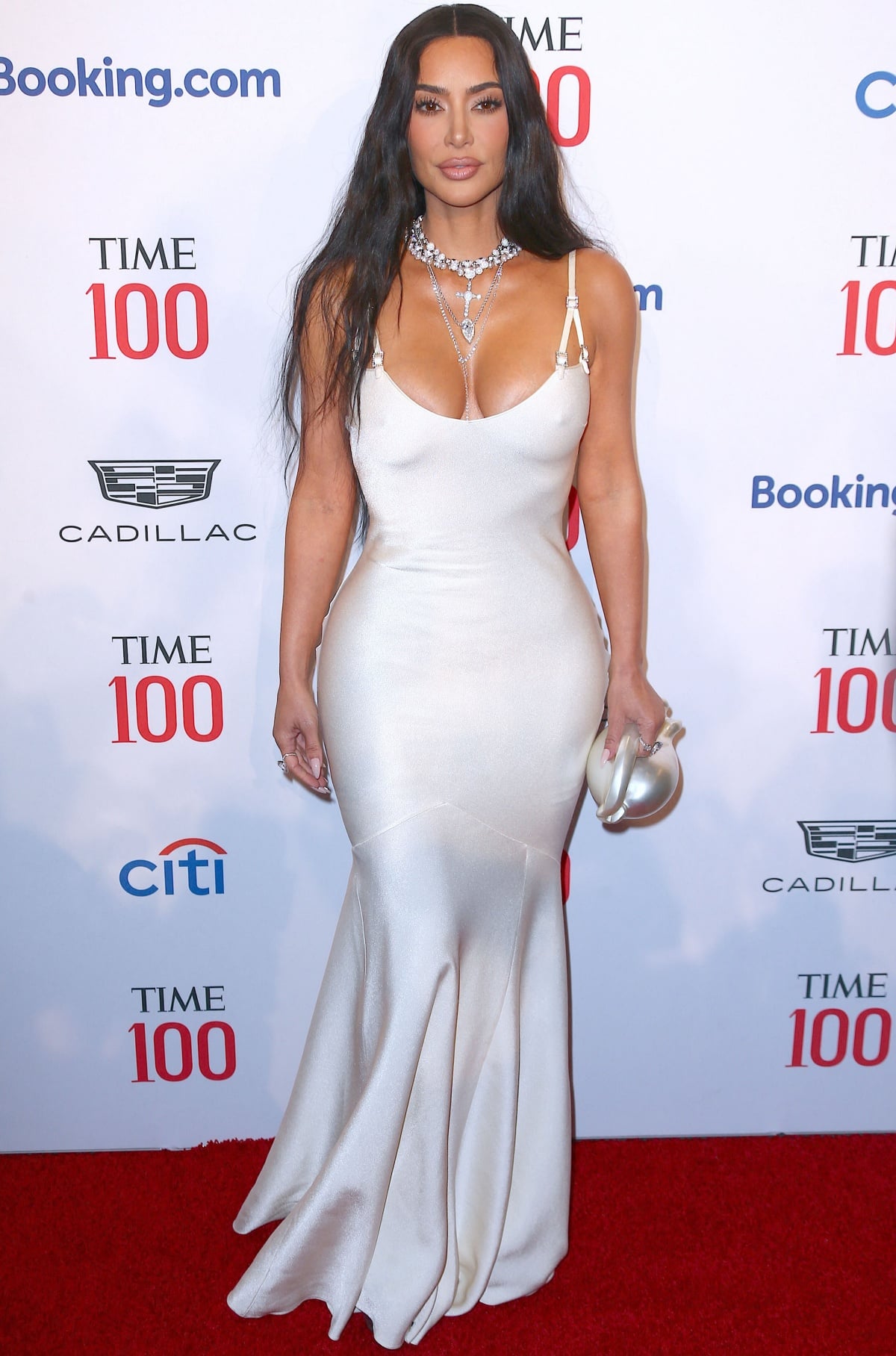 Kim Kardashian flaunting her assets in a John Galliano bias-cut slip gown at the 2023 Time100 Gala (Credit: Abaca Press / INSTARimages)
It's simple yet elegant, unlike the try-hard looks the reality star usually wears on the red carpet. Despite its understated nature, the outfit is perfectly tailored to accentuate her assets.
Her look was truly complete with the addition of some stunning accessories. The plunging neckline of her outfit perfectly showcased her exquisite Messika diamond necklace, adding a touch of luxury to her ensemble.
She also stayed on theme with a conch plexiglass clutch from Chanel, perfectly complementing her mermaid-inspired outfit.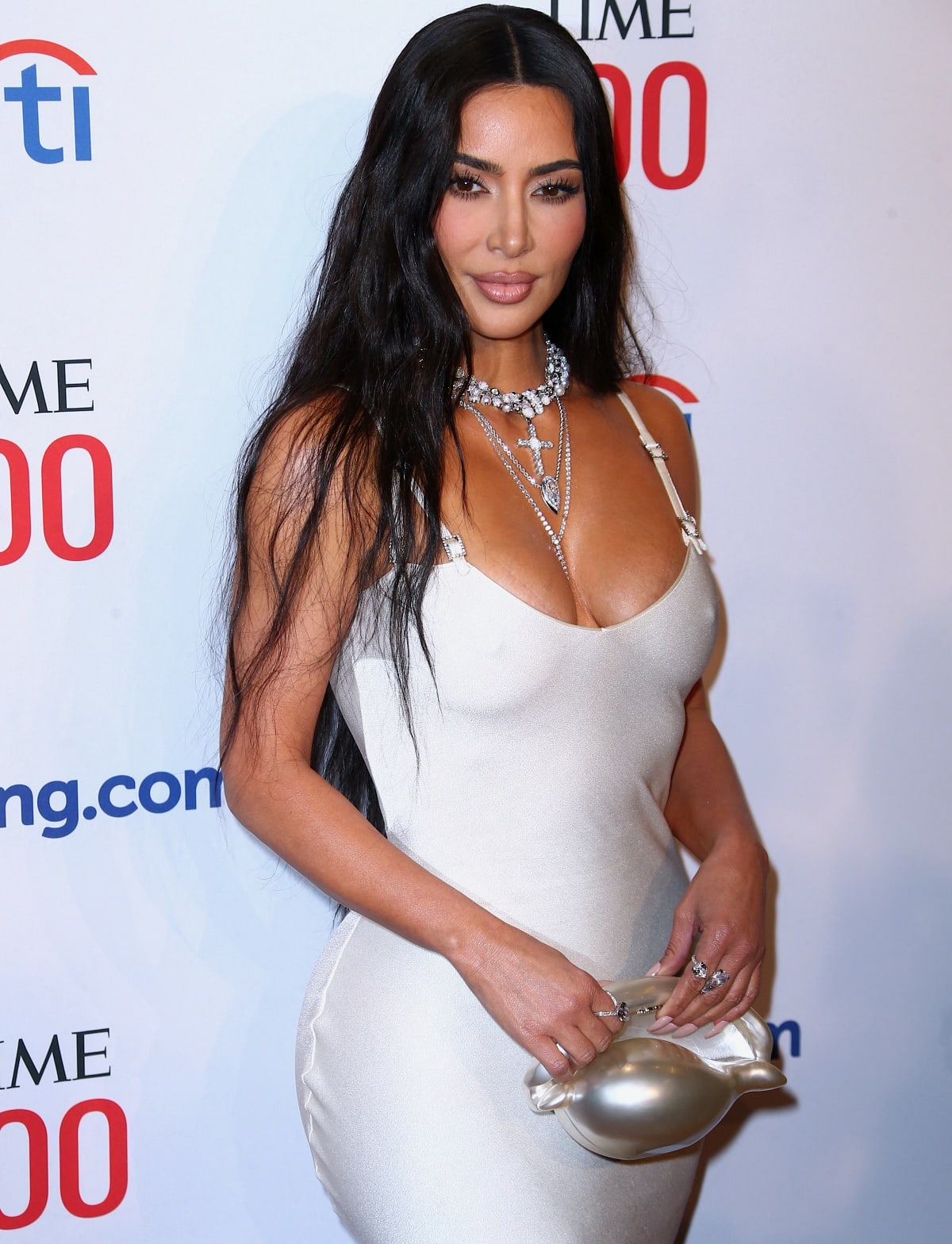 Kim Kardashian carrying a Chanel shell clutch and accessorizing with Messika diamond jewels (Credit: Abaca Press / INSTARimages)
Her hair was parted in the middle and cascaded down her shoulders in tousled waves. We can't see her choice of footwear due to the length of her dress, but it's likely that she wore strappy sandals or platform heels to give her a stylish boost.
The 42-year-old business mogul recently confirmed her attendance at this year's Met Gala, so we're all anticipating her look at the annual event. She's also been announced as part of the cast of American Horror Story's 12th season, much to the disapproval of Hollywood icons.
In addition, The Kardashians season 3 is also set to premiere on May 25, 2023, on Hulu.
Kim Kardashian posing for photographs on the red carpet (Credit: Roger Wong / INSTARimages)
As shown on the trailer, Kim broke down in sister Khloe Kardashian's arms when asked if she's okay. "No, I'm not okay," the mom of four said through her tears. "I'm having such a hard day today."
Momager Kris Jenner even told her daughter that she's got the "weight of the world" on her shoulders amid all the drama surrounding her divorce from ex-husband Kanye West.
"We stay silent through all the lies for my kids," Kim Kardashian said.
If the trailer is any indication, the new season of The Kardashians is going to be jam-packed with drama revolving around the Kardashian-Jenner clan. Watch the trailer below for a glimpse and look forward to season 3 of The Kardashians on May 25 on Hulu.