The film Labyrinth has been enchanting audiences since 1986. Thanks to the fantasy-inspired scenes, a mullet-wearing David Bowie, and an enchanting story, the film is a cult classic.
The musical fantasy film stars a young Jennifer Connelly in the role of Sarah Williams. Sarah wishes away her always-crying baby brother, Toby, to the Jareth the Goblin King, played by David Bowie.
"He was an everyday person–almost. Of course, I was a bit nervous at our first meeting, after listening to his music for so long. But he was so nice, so down to earth–friendly, funny, smart. He made everyone feel that we'd known him for a long time," she told Elle in 1986 about meeting the famous singer.
Jennifer Connelly as Sarah Williams, a 16-year-old girl searching for her baby brother, in the 1986 musical fantasy film Labyrinth (Credit: Tri-Star Pictures)
The petulant teenager ventures through an otherworldly maze to find her baby brother, learning many lessons along the way.
Selecting the Role of Sarah
Labyrinth was Connelly's fourth film appearance. When she played the iconic role, she was just about the same age as her character.
When the movie was released in U.S. theaters on June 27, 1986, she was 15 years old. Jennifer Connelly celebrated her 16th birthday on December 12, 1986.
The film producers had a specific idea of the right person for the role. They were looking for "a girl who looked and could act that kind of dawn-twilight time between childhood and womanhood." Connelly was the perfect fit.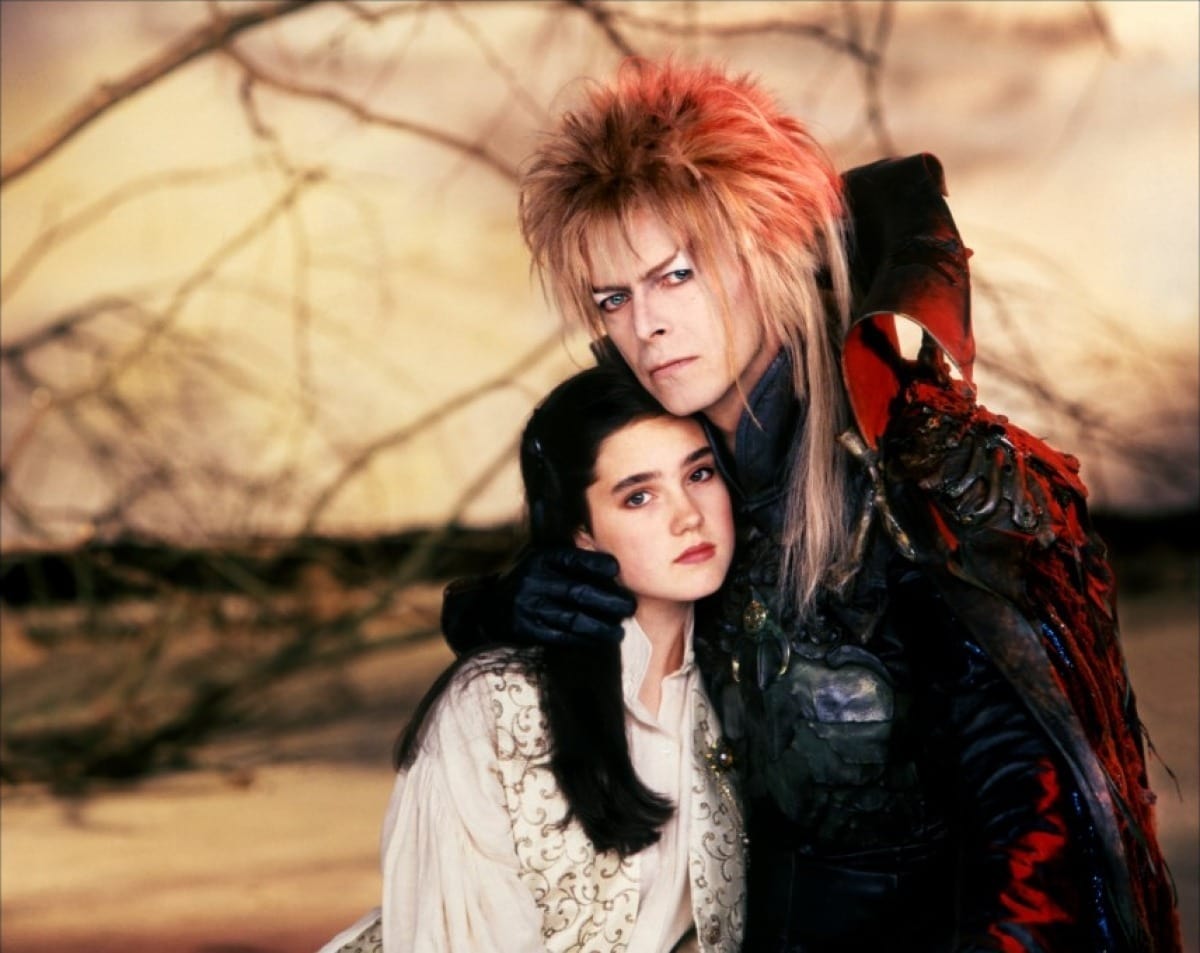 David Bowie starred with Jennifer Connelly in Jim Henson's 1986 musical fantasy film Labyrinth (Credit: Tri-Star Pictures)
Everyone remembers Connelly as Sarah, but several other actresses auditioned for the role, including Helena Bonham Carter, Yasmine Bleeth, Sarah Jessica Parker, Mary Stuart Masterson, Laura Dern, Kerri Green, Lili Taylor, Laura San Giacomo, Mia Sara, and Marisa Tomei.
After the auditions, director Jim Henson had three top candidates for the role, Jane Krakowski, Ally Sheedy, and Maddie Corman.
Best known as the creator of The Muppets and Fraggle Rock, director Jim Henson picked Jennifer Connelly for the role of Sarah Williams (Credit: Olga Popova / Shutterstock)
But Connelly won him over a year after the first audition call with a "terrific line-reading" and improvisation "that sent chills down" his spine. You can watch her audition below.
After a year of hunting for the right person, she was cast in the role of Sarah the next week. Jim Henson preferred to have an American actress play the role of Sarah.
"He's a very warm, gentle person, and very even-tempered. Labyrinth was a complicated project. There were a lot of technical things that could go wrong. But he was very much in control; he never lost it. I don't know what he was feeling inside, but he never even raised his voice once," Connelly told Elle about director Jim Henson.
Why Labyrinth is a Cult Classic
Labyrinth's dark children's tale is still a cult classic nearly 40 years later. David Bowie's portrayal of the singing, dancing, and mullet-wearing King of the Goblins was one of his most iconic roles, which he will always be remembered for.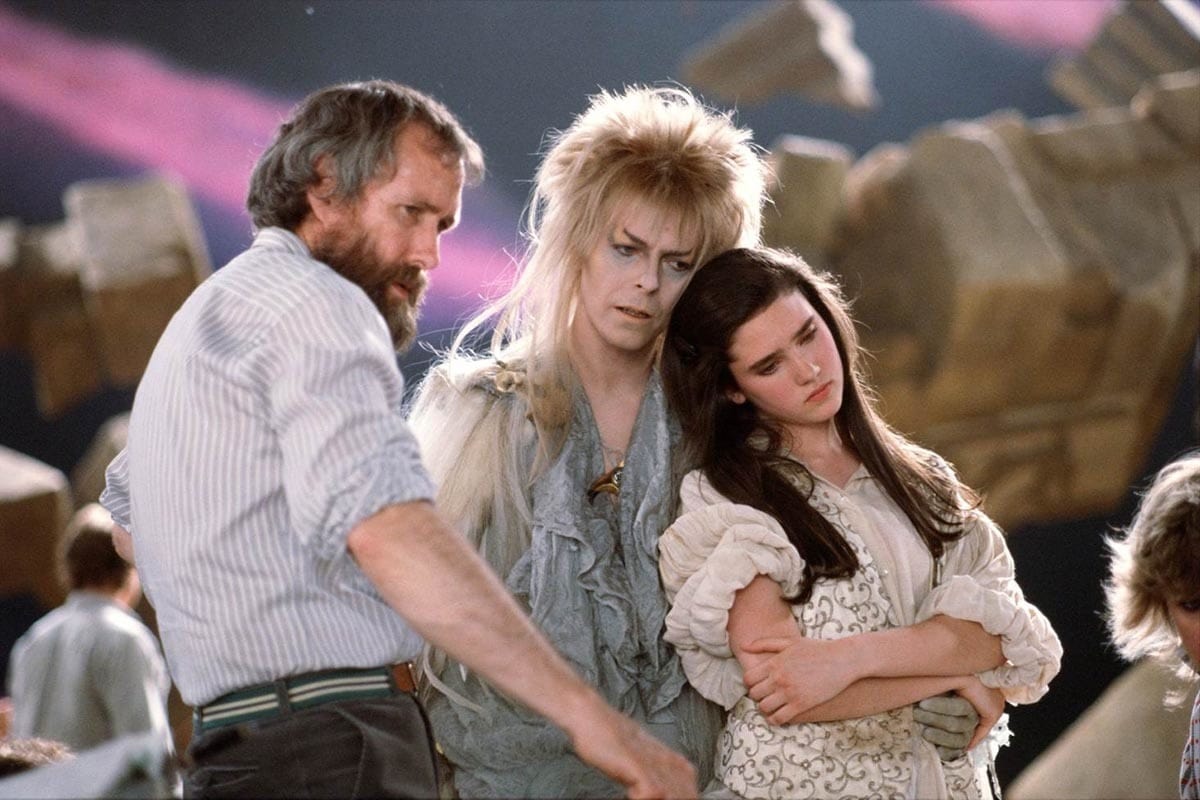 Director Jim Henson, David Bowie, and Jennifer Connelly on the set of the 1986 musical fantasy film Labyrinth (Credit: Tri-Star Pictures)
The film also launched Connelly into international stardom. The film is beloved for its campy songs interwoven around an intense psychological drama.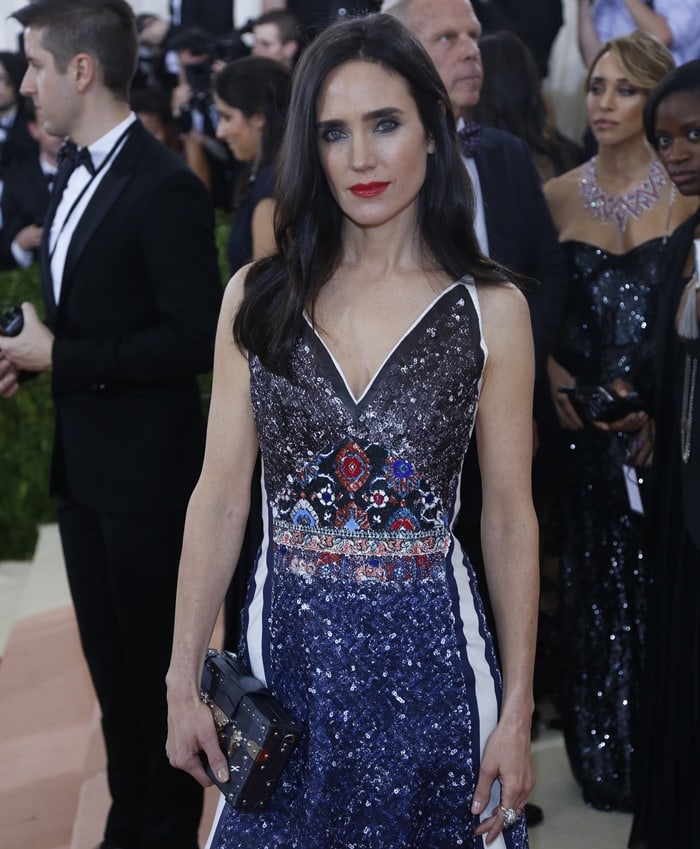 Jennifer Connelly wears her dark hair down at the 2016 Met Gala held May 2, 2016, at the Metropolitan Museum of Art in New York City (Credit: WENN)
Jennifer Connelly was joined by her husband Paul Bettany at the 2016 Met Gala held at the Metropolitan Museum of Art in New York City.
The then-45-year-old actress underwhelmed the fashion critics in a colorful leather and sequin Louis Vuitton dress.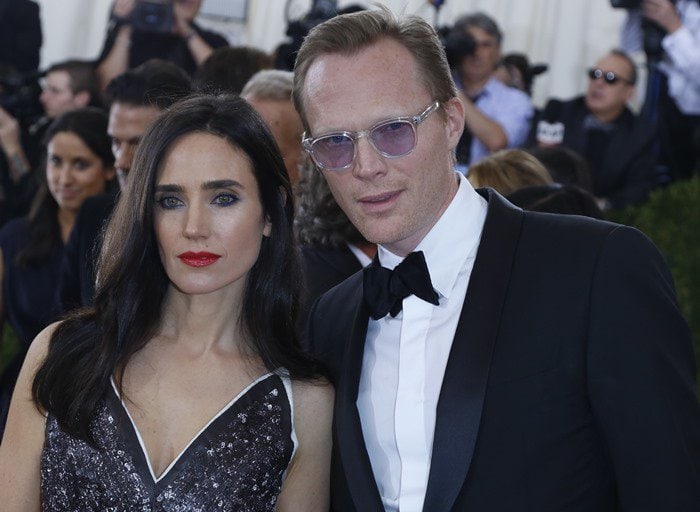 Jennifer Connelly and her husband Paul Bettany pose for photos at the Met Gala (Credit: WENN / Dennis Van Tine / Future Image)
The dress featured white leather panels along the sides and a sequined design that imitated embroidery in the center.
She styled the floral patterned number with a pair of unflattering lug-soled black combat boots from Louis Vuitton's latest runway collection.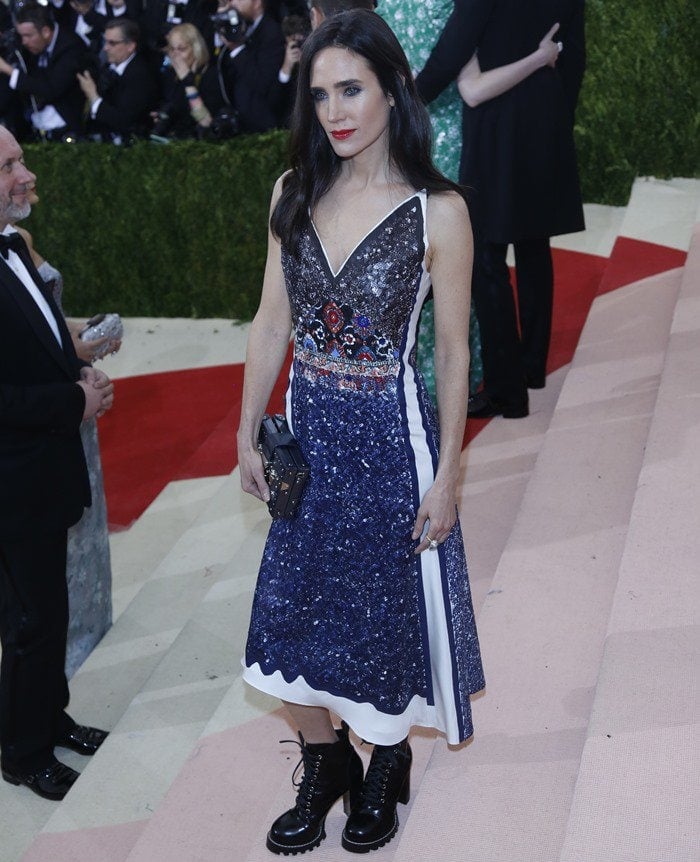 Jennifer Connelly styles her sequin-and-leather dress with chunky heeled lug-sole boots, all from Louis Vuitton (Credit: WENN)
Paul, on the other hand, looked dapper in a classic tuxedo styled with clear tinted sunglasses.
Jennifer Connelly and Paul Bettany pose for photos on the stairs at the Met Gala (Credit: WENN)
How do you like Jennifer's chunky platform lace-up boots? Would you wear them to a red carpet event?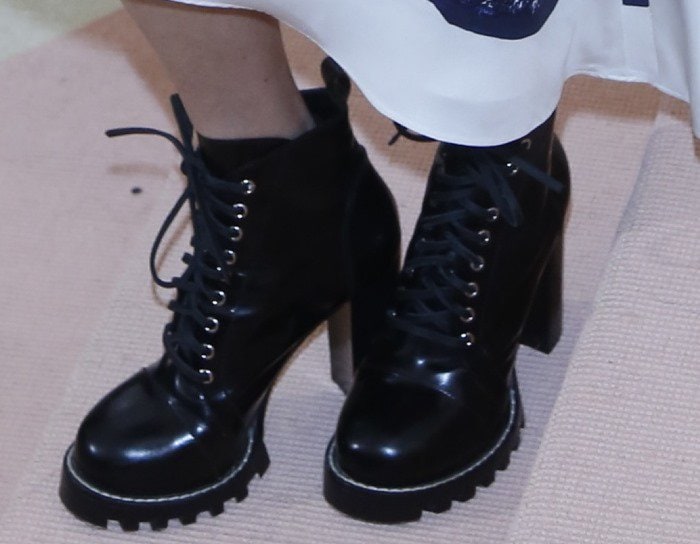 Jennifer Connelly wears chunky Louis Vuitton lug-sole boots to the Met Gala (Credit: WENN)
Selena Gomez and Alicia Vikander were also spotted in similar boots from the French fashion house at the annual fundraising gala held for the benefit of the Metropolitan Museum of Art's Costume Institute.