A Man Called Otto, an adaptation of Swedish author Fredrik Backman's 2012 novel, A Man Called Ove (available on Amazon), is a poignant tale of human connection and second chances.
This captivating comedy-drama revolves around Otto, a grieving widower who unexpectedly finds himself entangled in his neighbors' lives, all thanks to a chance encounter. He finds his way from despair to newfound joy through an unforeseen friendship.
The talented ensemble cast of A Man Called Otto during the film's special screening in New York City on January 10, 2023 (Credit: Dave Allocca / StarPix / Startraksphoto / Cover Images)
Despite not receiving extensive awards recognition, the film shines with its exceptional ensemble cast, breathing life into the story.
Get to know the actors who delivered heartfelt performances, infusing the characters with life and reminding us that our story can be rewritten even in the darkest moments.
1. Tom Hanks as Otto Anderson – 5ft 11 ½ (181.6 cm)
Otto Anderson, the grumpy but endearing widower, is portrayed by Tom Hanks. Despite his aloofness, his life takes an unexpected turn when he realizes the value of human connections and how his neighbors rely on him just as much as he needs them.
Renowned for his illustrious career, the 67-year-old Hollywood legend, who has an impressive height of 5ft 11 ½ (181.6 cm), has graced the big screen in various blockbusters, from The Green Mile to Apollo 13.
His current height is 5 feet 11 ½ inches (181.6 cm), slightly less than his peak height of 6 feet 0 inches (182.9 cm). This reduction in height is a common occurrence as people age due to factors like spinal compression and posture changes.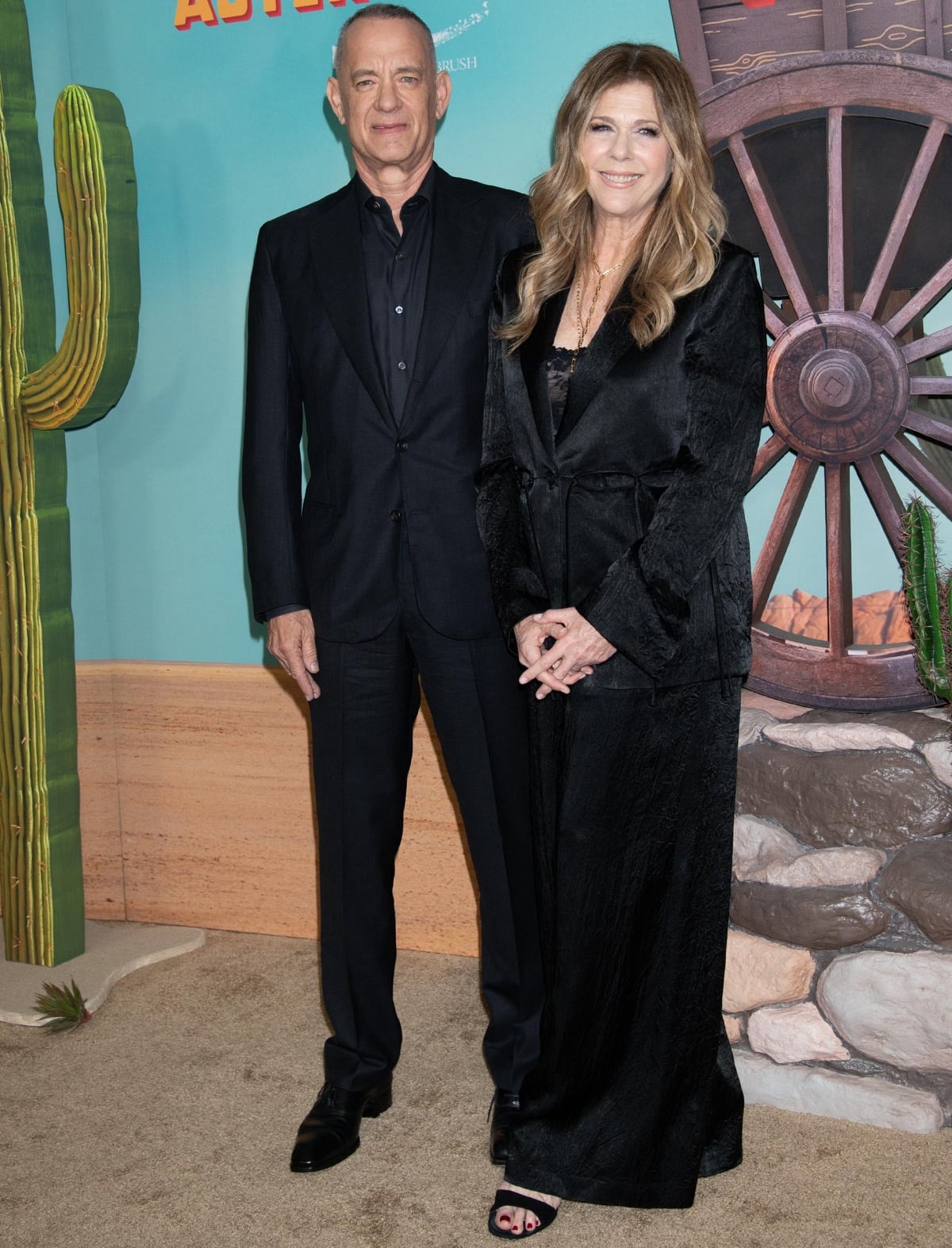 Tom Hanks has a height of 5 feet 11 ½ inches (181.6 cm), with his peak height being 6 feet 0 inches (182.9 cm), whereas Rita Wilson's height is 5 feet 7 inches (170.2 cm) (Credit: Janet Mayer / Startraksphoto)
With two Academy Awards for his Philadelphia and Forrest Gump roles, Hanks has etched his name as a top-tier actor.
His accolades extend to Oscar nominations for Big, Saving Private Ryan, Cast Away, and A Beautiful Day in the Neighborhood, where he portrayed the beloved Mr. Rogers.
From lending his voice to Woody in the Toy Story franchise to recent roles in Baz Luhrmann's Elvis and the highly anticipated Wes Anderson film Asteroid City, Tom Hanks continues to captivate audiences with his remarkable talent and magnetic presence on screen.
2. Mariana Treviño as Marisol – 5ft 6 in. (168 cm)
45-year-old Mexican actress Mariana Treviño, standing 5 feet and 6 inches (168 cm), gives life to Marisol, Otto's vibrant new neighbor and a devoted mother of two daughters. She is also anticipating the arrival of her third child.
Mariana Treviño, the Mexican actress, stands at 5 feet 6 inches (167.64 cm), which is considered taller than average for a Mexican woman (Credit: Dave Allocca / StarPix / Startraksphoto / Cover Images)
With her versatile talent, Treviño added depth and authenticity to the character of Marisol, making her a memorable part of the film's ensemble cast. Recognized for her remarkable work, she has graced the big and small screens with her gripping performances.
Treviño is mainly known for her domestic show Amor de Mis Amores. You might also have seen her in acclaimed TV series like Netflix's Club de Cuervos, The House of Flowers, 100 días para Enamorarnos, and the films Overboard and Polvo.
3. Manuel Garcia-Rulfo as Tommy – 6ft 2 ¼ in. (188.6 cm)
Tommy, a character full of comedic charm and endearing quirks, comes to life through the talents of 42-year-old Manuel Garcia-Rulfo. He is Marisol's clumsy husband and an IT consultant juggling childcare as his wife navigates pregnancy.
The Mexican actor, who towers at 6 feet and 2 ¼ inches (188.6 cm), started his acting career in 2012 with a noteworthy role as Uncle Pedro in Bless Me, Ultima. He then appeared in films like Widows, Murder on the Orient Express, and The Magnificent Seven.
Manuel Garcia-Rulfo's height of 6 feet 2 ¼ inches (188.6 cm) is considered tall for a Mexican male (Credit: Faye's Vision / Cover Images / INSTA)
Garcia-Rulfo also bagged the role of Three in the 2019 American vigilante action thriller film 6 Underground opposite Ryan Reynolds.
Television enthusiasts might recognize him from the Netflix legal drama series The Lincoln Lawyer and From Dusk Till Dawn: The Series. Aside from A Man Called Otto, he also starred alongside Tom Hanks in the Apple TV+ movie Greyhound.
4. Truman Hanks as Young Otto Anderson – 5ft 9 in. (175 cm)
Truman Hanks, the youngest son of Tom Hanks, who is 5 feet and 9 inches (175 cm) tall, portrays young Otto Anderson.
In flashback scenes, young Otto's character is depicted with a heartwarming connection to his father and an undeniable love for his wife, Sonya.
Truman Hanks is the youngest son of Tom Hanks and has a height of 5 feet and 9 inches (Credit: PA Images / INSTARimages / Cover Images)
While the 27-year-old's performance in A Man Called Otto marks his debut in the movie acting scene, he also appeared in his father's 2020 film, News of the World, with a minor role.
As Tom Hanks' third son to venture into acting, following in the footsteps of Colin, who starred in Jumanji: The Next Level, and Chet, who appeared in Empire and Shameless, Hanks adds his touch to the family's legacy.
5. Rachel Keller as Sonya – 5ft 5 in. (165.1 cm)
Sonya is pivotal in A Man Called Otto, and Rachel Keller portrays her younger version. Although she passed away before the film's events, her memory and impact on Otto's life linger as a driving force throughout the story.
At 30 years old and standing 5 feet and 5 inches (165.1 cm), Keller is recognized for her notable roles in the entertainment industry.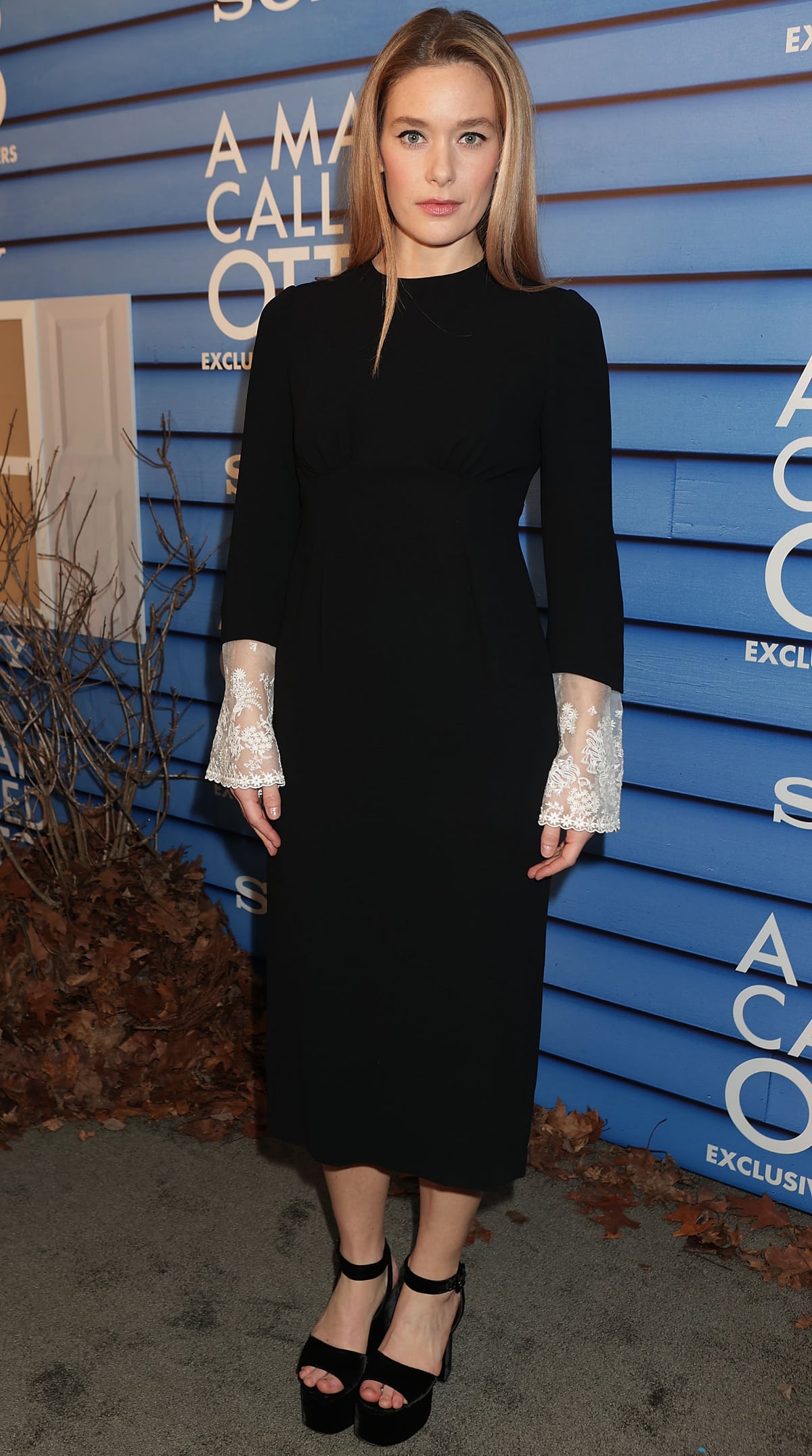 Rachel Keller stands at 5 feet and 5 inches (Credit: Dave Allocca / StarPix / Startraksphoto / Cover Images)
She garnered attention through her significant portrayal of Syd Barrett in the FX series Legion, alongside an appearance in the second season of Fargo as Simone Gerhardt, Jeffrey Donovan's daughter.
In 2019, Keller appeared in the second season of the true-crime series Dirty John. She also takes the spotlight as Samantha Porter, the Onyx Club's hostess, in Tokyo Vice.
6. Juanita Jennings as Anita – 5ft 4 in. (163 cm)
Accomplished actress Juanita Jennings is 5 feet and 4 inches (163 cm), and she steps into the shoes of Anita, a significant neighbor who had a close bond with Otto and his wife, Sonya.
The 70-year-old left her mark on the small screen, recognized for her work in the TV series Meet the Browns, where she portrayed Edna Barnes, and in the soap opera Star, playing Ruby.
With a height of 5 feet and 4 inches (162.56 cm), Juanita Jennings is not taller than the average woman but falls within the average height range (Credit: s_bukley / Shutterstock)
Jennings' presence extends to the big screen with appearances in movies like Runaway Jury and Side Effects. Fans might have noticed her in What Women Want, Basic Instinct, and The Bold and The Beautiful.
Her talents have also found a home in recurring roles, such as Lillian Cook in the Suits spinoff series Pearson and on OWN's David Makes Man.
7. Peter Lawson Jones as Reuben – 6ft (182.9 cm)
Portrayed by Peter Lawson Jones, Reuben is Anita's husband and was once close friends with Tom Hanks' character. However, a falling-out between the two led to Reuben's health decline, making him unable to care for himself.
View this post on Instagram
Standing tall at 6 feet (182.9 cm), Jones, who embarked on an acting career later in life, is a former politician and philanthropist associated with the Democratic party. Notably, he served as a county commissioner in Cuyahoga County.
While A Man Called Otto is one of his prominent roles, Jones bagged a voice-over role in Tyler Perry's Alex Cross in 2012. He has also graced the screen with appearances in crime drama films like the 2021 Judas and the Black Messiah and the 2018 movie White Boy Rick.
8. Cameron Britton as Jimmy – 6ft 4 ¾ in. (194.9 cm)
37-year-old Cameron Britton brings Jimmy to life, a significant figure in the lives of Otto and Sonya, who was once a close neighbor to the couple. However, the dynamics changed after Sonya's passing, leading to a drift between old friends.
With a towering height of 6 feet and 4 ¾ inches (194.9 cm), Britton has made his mark with notable roles, particularly as Agent Hazel in the first season of the Netflix series The Umbrella Academy.
Pictured with his wife, Calith Ferrante, Cameron Britton towers over the cast of A Man Called Otto at 6 feet and 4 ¾ inches (Credit: DFree / Shutterstock)
His versatile talent has also been showcased in TV series like Stitchers and the film The Girl in the Spider's Web, a sequel to The Girl with the Dragon Tattoo.
Britton's noteworthy performance in the acclaimed Netflix series Mindhunter garnered him a Primetime Emmy Award nomination for portraying real-life serial killer Edmund Kemper.
The Supporting Cast of A Man Called Otto
Portraying the role of Malcolm, a resilient transgender youth and neighbor of Otto, Mack Bayda brings depth to the character's journey.
Bayda, a relative newcomer, shines in this role, marking a significant step in his acting career. He is also known for his advocacy work in the LGBTQ+ community and has shared his journey on his YouTube channel.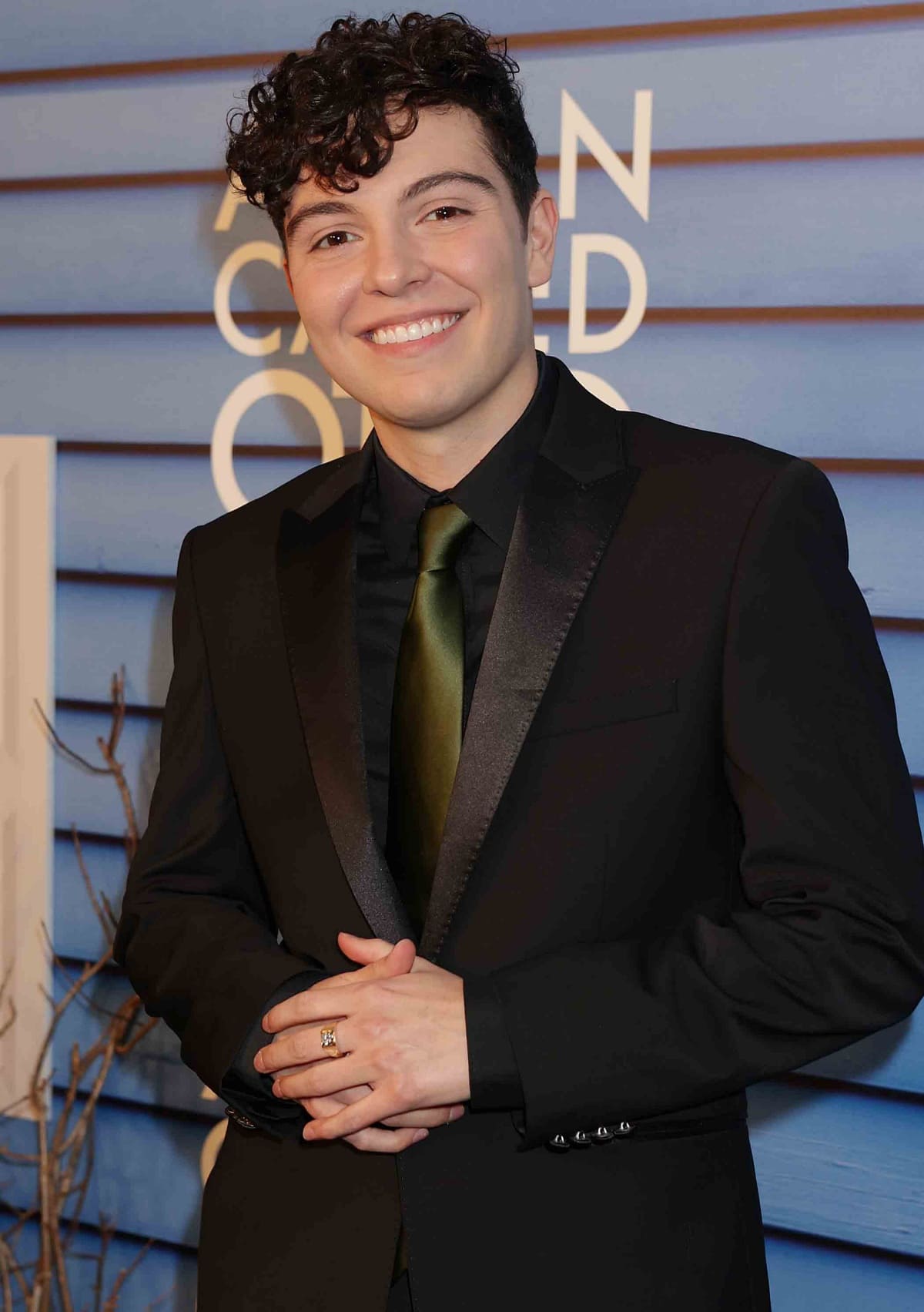 Mack Bayda plays Malcolm in A Man Called Otto (Credit: Dave Allocca / StarPix / Startraksphoto / Cover Images)
Shari is a social media journalist who plays a pivotal role in Otto's transformation. Portrayed by Kelly Lamor Wilson, she expertly reveals the dynamic between Otto and Shari as he learns to navigate the modern age.
Wilson is recognized for her roles in the horror flick Freaky and the 2022 Prime Video comedy Anything's Possible.
Kelly Lamor Wilson portrays social media journalist Shari (Credit: Dave Allocca / StarPix / Startraksphoto / Cover Images)
In the character of Luna, Marisol's youngest daughter, Christiana Montoya charms viewers with her heartwarming interactions with Otto, which profoundly impact his journey of self-discovery.
Montoya, who began acting at a young age, left a lasting impact in the 2021 Netflix movie The Guilty and has since continued to showcase her talent in various projects.
As Marisol's eldest daughter, Abbie, Alessandra Perez adds depth to the family dynamic. She has a background in voice roles, including Lucky in T.O.T.S. and various appearances in Spidey and His Amazing Friends.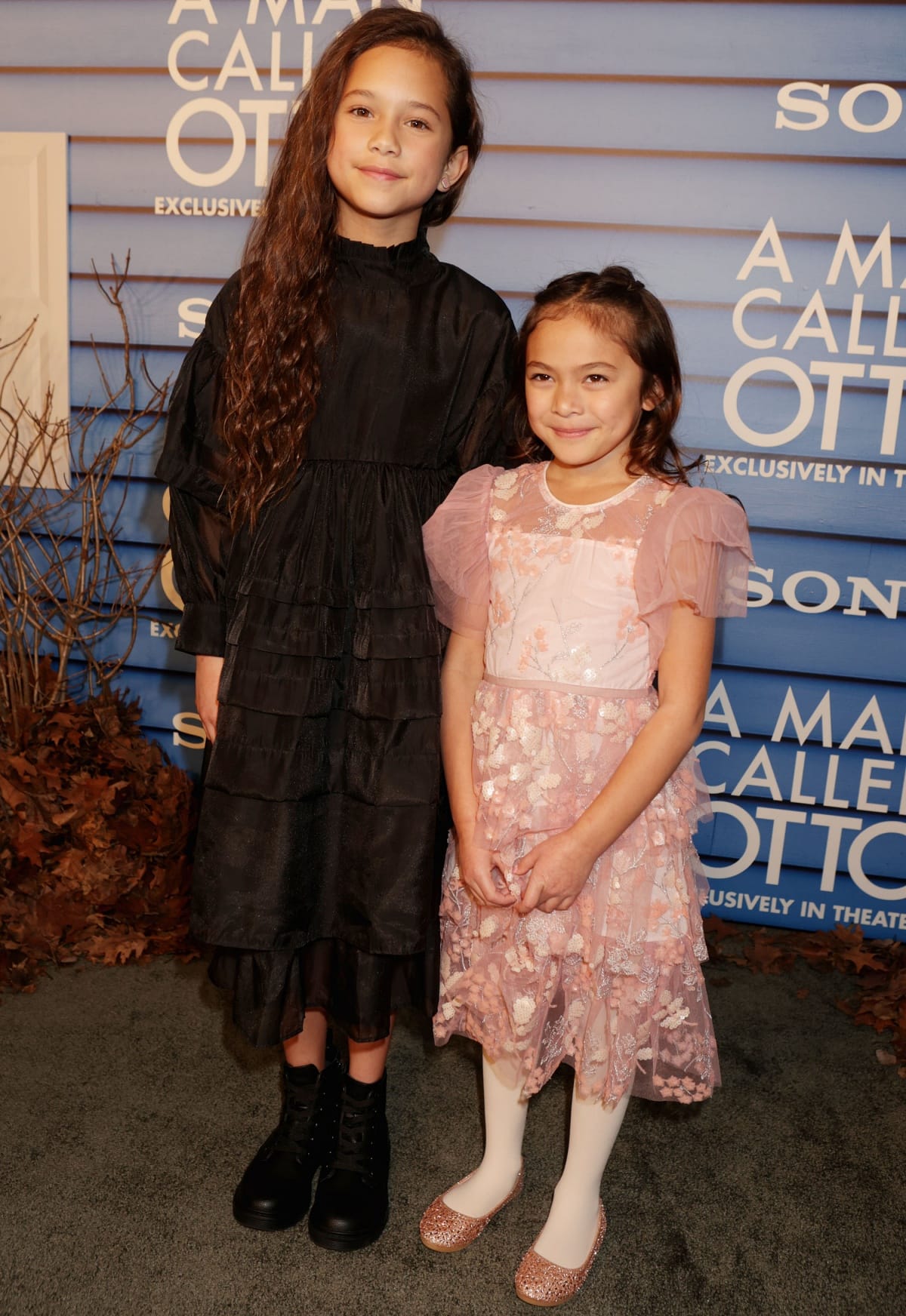 Christiana Montoya and Alessandra Perez bring charm to their roles as Marisol's children (Credit: Dave Allocca / StarPix / Startraksphoto / Cover Images)