The start of the year always marks the time when we look back at our past and resolve to make changes where they're needed in our lives. As shoe lovers, we usually resolve to buy more (or less) shoes, get a better shoe closet, or try out new shoe styles.
But did you know that many of the most popular New Year's resolutions all have something to do with shoes? Read on to find out how shoes relate to New Year's resolutions, and how your love for shoes can help you follow through with your commitments.
1. Lose weight /exercise more / get fit
Getting fit means getting into sports. And in order to get all the benefits of sports without risking getting injuries, you have to get the right gear! Thankfully, fashion has a major obsession with sneakers, so, for us shoe lovers, it's now easier than ever to achieve top fitness in style.
Taylor Swift and Gigi Hadid hiking together in Franklin Canyon Park in Los Angeles, California, on May 10, 2015
Celebrities like Taylor Swift and Gigi Hadid above are often spotted in sneakers from big-name sports labels like Nike and Adidas.
If you're less of a sporty gal and more of a sophisticated chick, that's not a problem — luxury fashion houses like Giuseppe Zanotti, Saint Laurent, and even the super-feminine Valentino are in on the sneaker obsession and have come out with their version of fashion sneakers, too.
2. Get out of debt / save money
Shoeholic-ism is probably the biggest obstacle we here at Your Next Shoes face in getting our finances back on track. But of course, feeding our shoe vice doesn't always mean having to break the bank.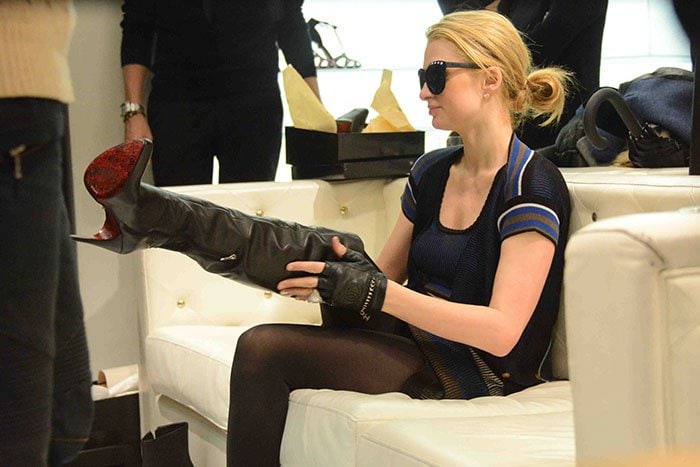 Paris Hilton shoe shopping at luxury shoe store Cesare Paciotti in Milan, Italy, on January 21, 2015
Some of our favorite online discount websites like Nordstrom Rack offer really good deals on some of the hottest shoe styles on a regular basis. All we gotta do is keep an eye out for when they'll be putting up their deals.
If you ain't got the time for that, we here at YNS have got you covered — we're always on the lookout for the best shoe deals and we love sharing them with you here on our blog and on our Facebook page. Never pay full price for shoes ever again.
3. Learn something new / enjoy life more
Another popular resolution that people love to make at the start of the year is to enjoy life more. This is often equated with taking a trip, starting a new hobby, or trying out something new.
Thrill-seekers volcano-boarding on the slope of the crater of Cerro Negro volcano in Nicaragua
If your new thing involves travel, then you're going to want a good pair of walking shoes that are airport-friendly, too. If it involves learning how to ski, how to bowl, or how to do any type of sport, then you're going to need the appropriate gear and footwear.
If enjoying life for you basically means spending more time with friends and family, then why not bring them along the next time you go shoe shopping? Shop for the things you love with the ones you love!
4. Improve one's self
Be more organized, reduce stress, be more responsible — these types of resolutions all fall under the self-improvement category. As contradictory as it may sound, indulging your shoe obsession can actually help you achieve your resolution to improve yourself.
For example, the simple act of cleaning up your shoe closet already means you're becoming more organized. As an ever-growing shoe collection takes up more and more space, something like this shoe rack with dustproof cover can help you with keeping things neat and clean:
Songmics 7-Tier Portable Shoe Rack Closet with Fabric Cover, $35.99 at Amazon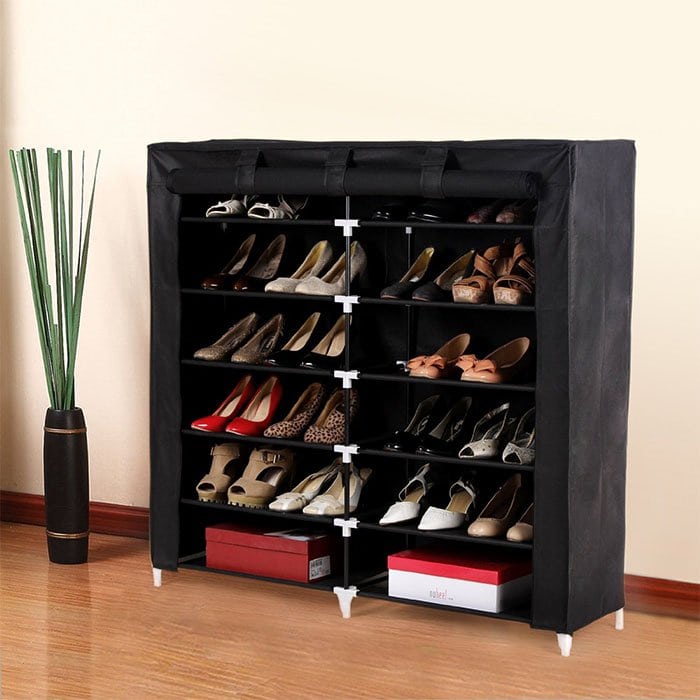 If you'd like to be more environmentally responsible, look to shopping for shoes with eco-friendly brands like Kamik and Keen. If you simply want to improve your shoe game, then look no further — we're always featuring fierce shoe inspirations here on Your Next Shoes.
5. Help others
Rounding out the top 5 most popular New Year's resolutions is wanting to volunteer and help others. If you think shoes are the farthest thing from this, then you're in for a surprise: YES, your shoe fanaticism CAN help others too!
TOMS Giving has reached more than 70 million people across six continents
A good example of this is the shoe brand TOMS, which has the motto "One for one". What it means is that for every pair of TOMS shoes you purchase, TOMS will give a pair of new shoes to a child in need.
So giving a gift of TOMS shoes to yourself also means giving shoes to a child that could change his or her whole life. This is one resolution that any shoeholic can turn into a reality.
Check out TOMS shoes and find out more about their One for One movement at Toms.
As a shoe lover, what New Year's resolutions have you made?
Credit: star.press / WENN