Nicki Minaj showcased her insane unedited curves at the 2018 MTV Europe Music Awards this weekend.
The Best Hip-Hop Artist Award winner got us wondering how she was even breathing in an ultra-tight silver crystal-mesh bodysuit and gold Swarovski-crystal body harness custom-made for her by Versace.
Nicki Minaj arriving on the pink carpet at the 2018 MTV Europe Music Awards held at the Bilbao Exhibition Centre in Bilbao, Spain, on November 4, 2018
Apparently still hung over from last week's Halloween festivities, Nicki carried around and posed with a gold Medusa mask encrusted with Swarovski crystals on the pink carpet.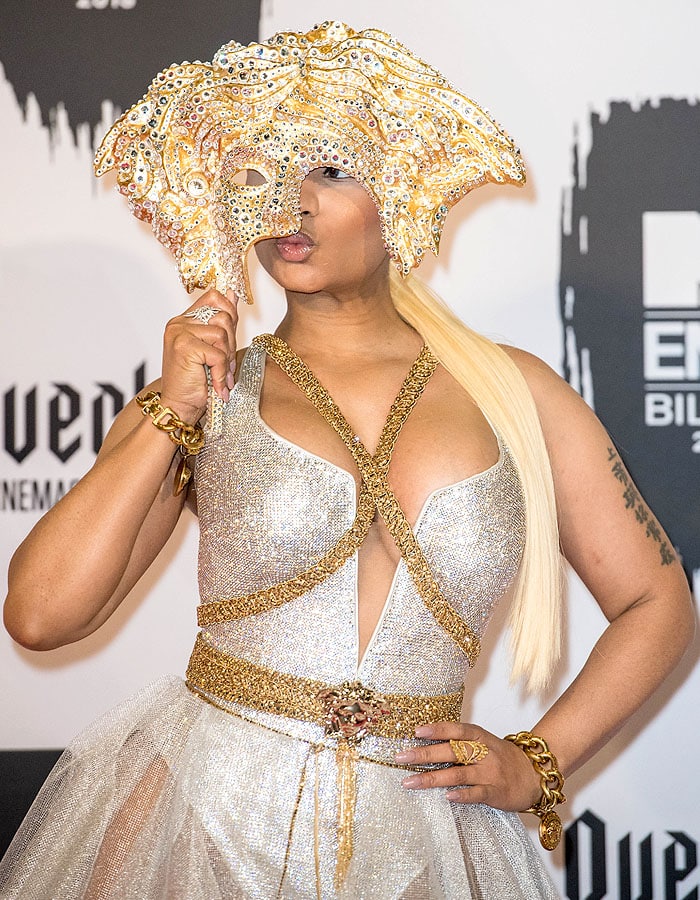 Nicki Minaj shows off her unedited curves with a gold, crystal-encrusted Medusa mask
She coordinated her gold chain jewelry and accessories to a brassy blonde lace-front ponytail wig. The "Barbie Dreams" singer then caked on the contoured makeup punctuated by heavily winged eyes and feathery fake eyelashes.
Nicki Minaj showing off thick, caked-on makeup and her blonde lace-front ponytail wig
A sheer, glittery silver ball skirt with an open-front design completed Nicki's custom Versace look.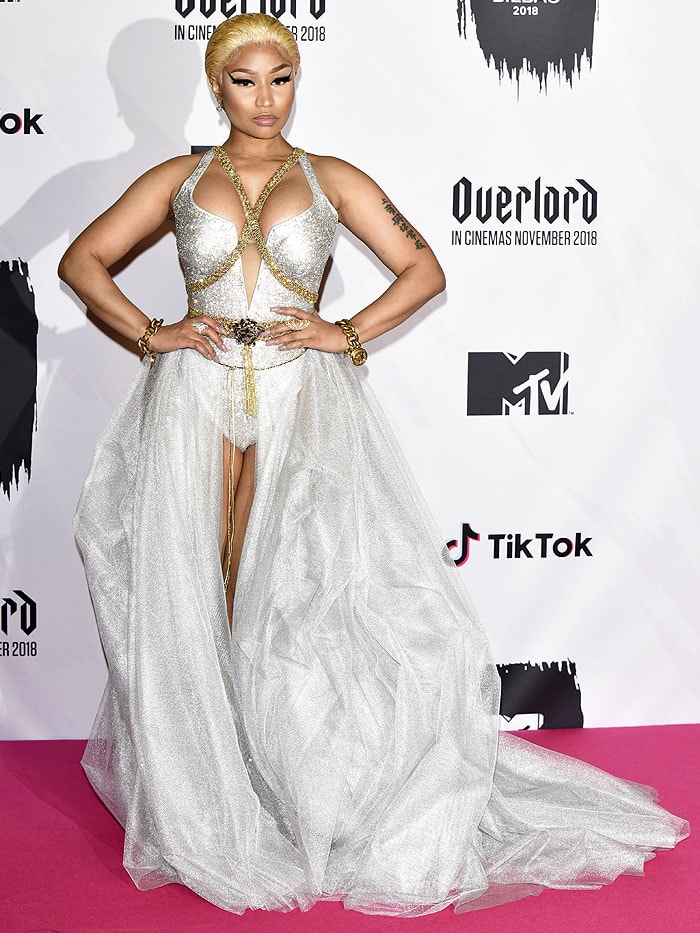 Nicki Minaj in a custom Versace Swarovski-crystal-encrusted mesh bodysuit and silver-tulle open-front ball skirt accessorized with a gold chain body harness, Medusa belt, and heavy chain-link bracelets
While we've grown tired of unlined dresses on the red carpet, we still do benefit from how they give us peeks at the shoes celebrities are wearing.
Nicki, this instance, is wearing silver Jimmy Choo ankle-tie sandals with slightly thicker stiletto heels and double straps across the toes.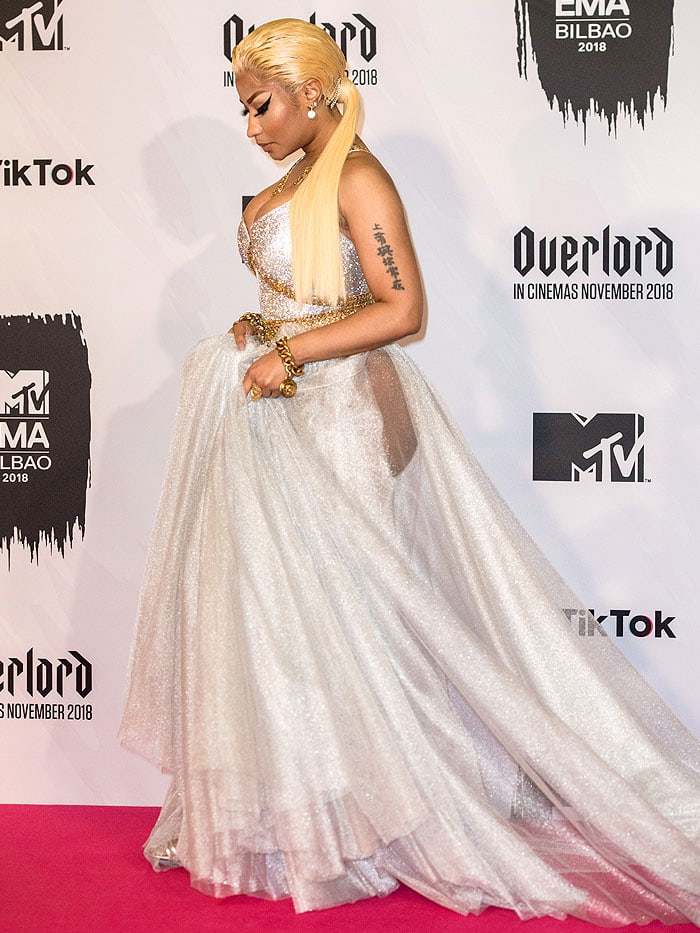 Nicki Minaj taking a step and showing a peek of her silver Jimmy Choo leg-tie sandals with double toe straps
Check out the similar Jimmy Choo 'Tizzy' ankle-wrap sandals previously worn by Kendall Jenner, Jamie Chung, and Taraji P. Henson.
Jimmy Choo 'Tizzy' Ankle-Wrap Sandals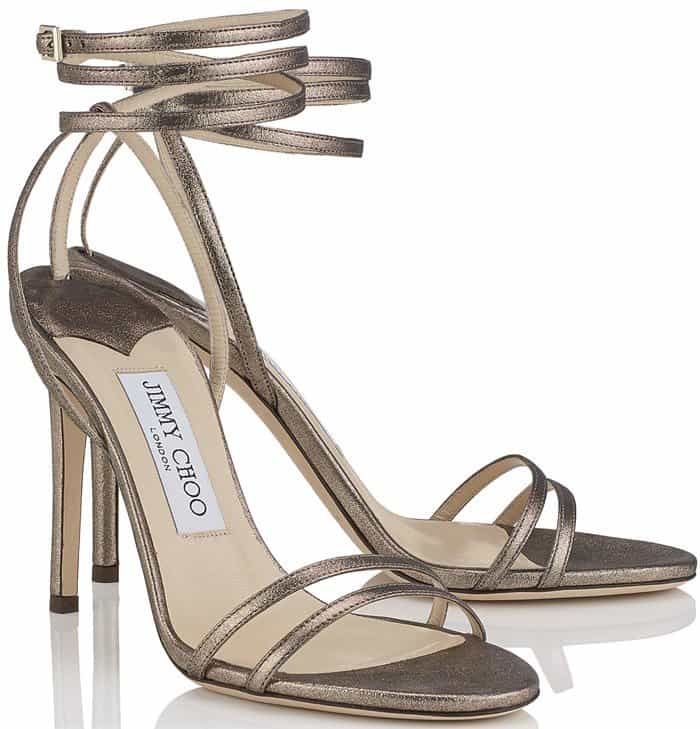 For her stage performance of "Woman Like Me" with girl group Little Mix later in the awards show, Nicki changed into another custom-made Versace look.
Her crystal-strapped pink bodysuit featured the Versace Spring 2019 Goielleria Jetés chain print and even came with matching crystal-studded gloves and socks.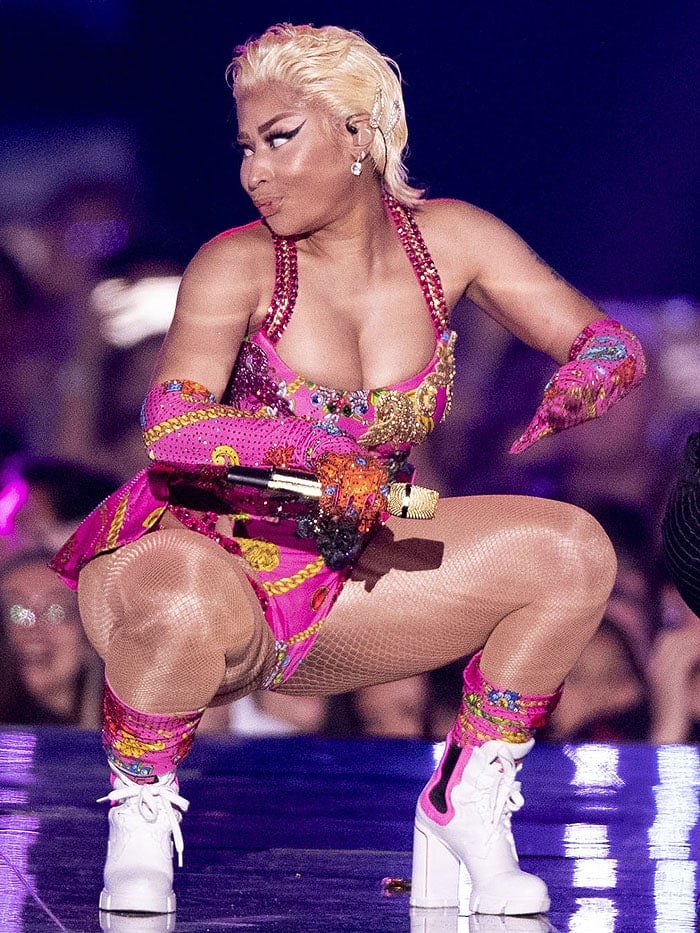 Nicki Minaj in a custom Versace pink printed bodysuit with matching gloves and socks and Prada neon-pink-trimmed sporty booties
The 35-year-old rapper paired her on-stage costume with sporty, white-leather Prada booties featuring neon-pink neoprene trim and rubber logo details on the tongues and chunky high heels.
Nicki Minaj performing "Woman Like Me" with Little Mix at the 2018 MTV EMAs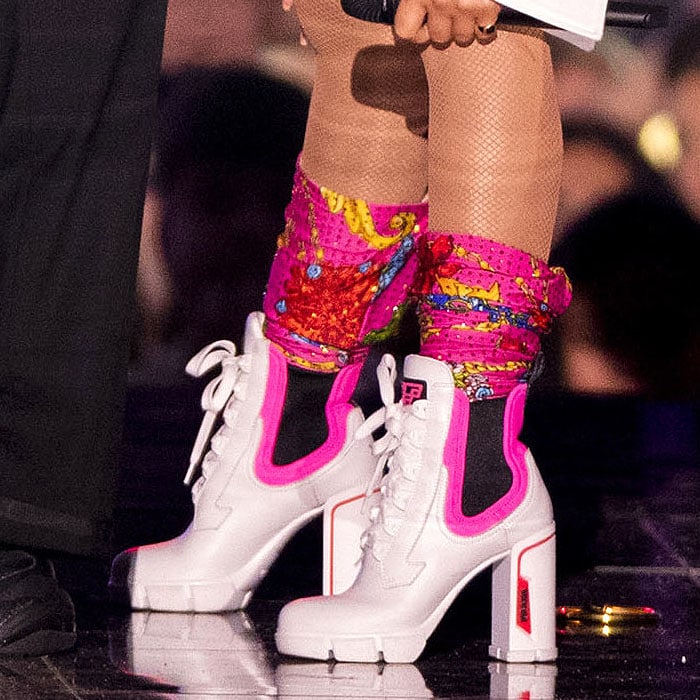 Details of Nicki Minaj's sporty white-leather Prada booties featuring chunky heels, lug-sole platforms, and neon-pink trim
Are you digging Nicki's sporty, high-heeled Prada booties? Then you'll love these 10 high-heel tennis shoes that'll kick up any of your everyday looks.
Prada Neon-Trimmed Sporty Chunky-Heel Leather Booties, $990 at Farfetch and Saks Fifth Avenue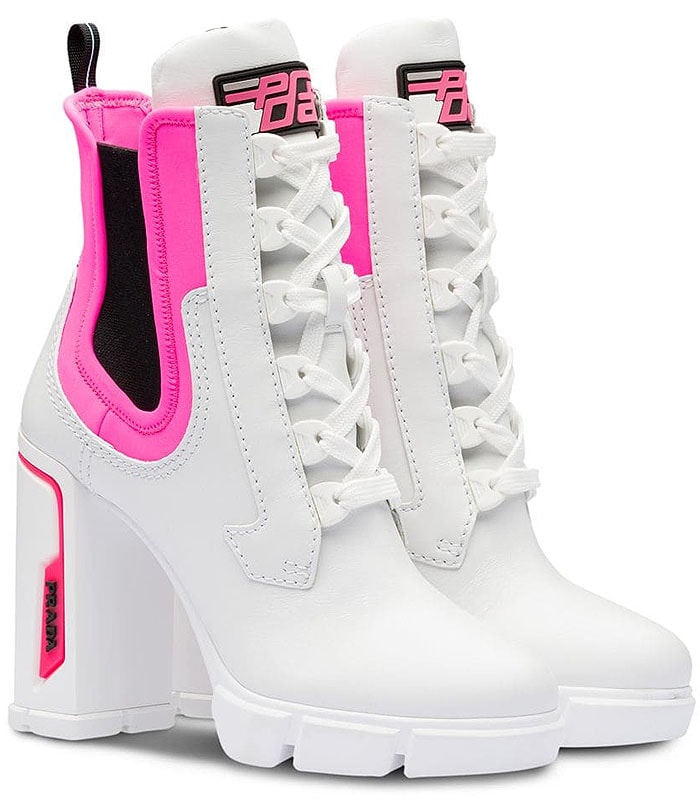 Credit: Andreas Hübner / Dutch Press Photo / Euan Cherry / Future Image / Regina Wagner / WENN