Paris Hilton gave motherhood wisdom to Lindsay Lohan, who recently revealed her pregnancy on Instagram.
The 42-year-old socialite congratulated Lohan during her pregnancy reveal, saying, "Congratulations love! So happy for you, Welcome to the Mommy Club!" demonstrating that their infamous beef has long been over.
In an interview with Access Hollywood, Hilton – whose first kid, Phoenix Barron Hilton Reum, was born to her and her husband, Carter Reum, in January via a surrogate due to fear of childbirth – reacted to the announcement of Lohan's pregnancy.
The Supernatural actress said, "I'm so excited for her." When asked for advice for the soon-to-be mom, Hilton continued, "It's just exciting to see all of my friends growing up and starting families on their own. My advice is just to soak in every moment because it's just so precious."
In another interview with ET, Hilton also addressed the news: "I know that she's always wanted to be a mom, and she seems like she's in such an amazing place with her new man, so I'm just happy for her."
As a new mother herself, Hilton also offered a glimpse into what Lohan might anticipate from becoming a first-time mom, saying, "Just take in all the special moments because they grow up so fast!"
The hotel heiress has been making headlines with her recent appearance in New York City to promote her new book, "Paris: The Memoir," which you can buy on Amazon.
Hilton's novel recounts her life's ups and downs, including traumatic experiences from her teenage years.
During her appearance on Good Morning America, Hilton wowed fans with her stunning blue Saloni dress.
The sophisticated ensemble featured a delicate floral print, a billowy mock-neck silhouette, and a ruffled midi-length skirt that complemented her style.
Paris Hilton in an elegant blue Saloni dress paired with pointed-toe white leather pumps featuring sharp triangular toes and thin ankle straps on March 14, 2023, in New York City (Credit: Roger Wong / INSTARimages)
The media personality paired the outfit with a white quilted Chanel flap purse, white cat-eye sunglasses, and a cream lapel coat for elegant flair. Hilton wore soft white leather pointed-toe shoes with delicate ankle straps to complete her ensemble.
In her interview, Hilton spoke about her new book and the "cathartic" and "therapeutic" process of writing it.
The model revealed, "This book was like a diary. I put everything in there, so many really traumatic experiences that I endured, especially as a teenager, and so many just memories I didn't want to remember – but also a lot of the good, exciting times. I've lived such an amazing life."
Paris Hilton dons an all-black look for her appearance on Good Morning America and looks effortlessly chic in a luxurious designer coat dress paired with matching tights and sleek black pumps (Credit: Roger Wong / INSTARimages)
Hilton also shared some advice for her younger self, saying, "I would tell her that you're going to go through a lot in life, but one day you're going to use your voice to help others and make such an impact, so it's going to be worth it."
After the interview, Hilton stepped out in an all-black ensemble with a belted coat, translucent tights, and suede pointed-toe heels before meeting her husband in Times Square.
She also donned a chic white dress decorated with green vines and powder blue flowers by Oscar de la Renta after her appearance on The View. You can purchase her floral cotton-blend midi dress at Mytheresa.
To accessorize her look, Hilton added a lovely white coat, a pair of complementary sunglasses, and matching stilettos.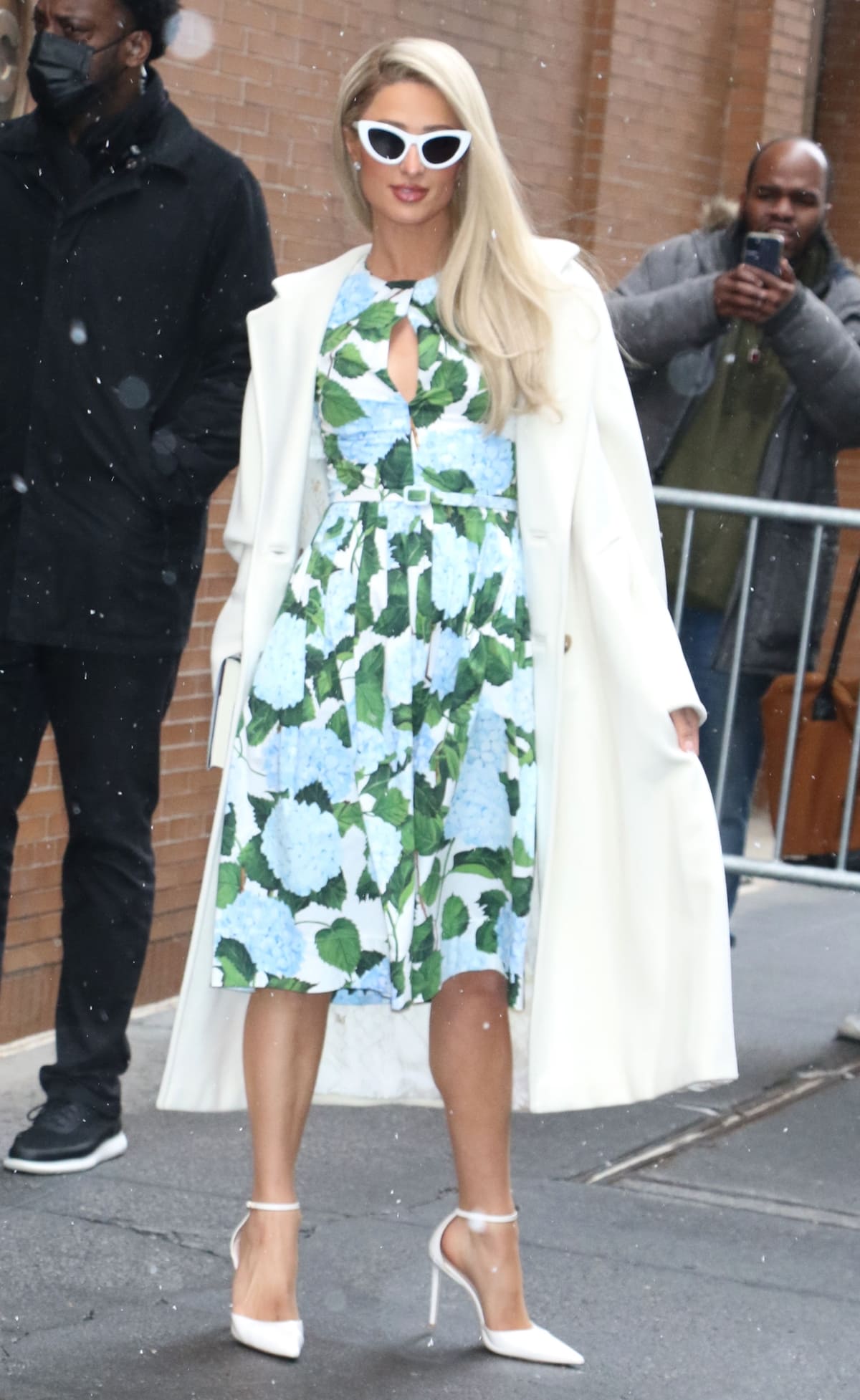 Paris Hilton stuns in an Oscar de la Renta belted floral-print cotton-blend poplin dress outside the ABC Studios after appearing on The View on March 14, 2023 (Credit: Roger Wong / INSTARimages)
The perfume mogul also met up with her stylish younger sister, Nicky Hilton, while sporting a hot pink dress with floral appliqués at the neckline and an elegant white coat.
Her younger sibling contrasted her punchy outfit wearing a black turtleneck, matching leggings, black heels, and a classic camel coat while holding a black leather Hermés Birkin handbag.
Hilton stood out with her cat-eye sunglasses and unicorn Begum heels by female footwear designer Amina Muaddi. These shoes feature a square peg on each heel and a silver wreath on each pointed toe.
Paris Hilton looked stunning in a hot pink dress adorned with flower embellishments at the neckline, while her younger sister Nicky looked equally fashionable in a black turtleneck, matching capri pants, and a tawny coat, exuding chic and sophistication (Credit: Roger Wong / INSTARimages)
Paris Hilton is a famous socialite and a fashion icon with a sense of style that many admire. Whether dressed up in glamorous outfits or keeping it casual, she always pulls off a chic look effortlessly.
With her new book out, fans can look forward to more of Hilton's appearances in the coming months.