A thrilling story of romance, wealth, and fraud set in one of the wealthiest cities in Europe, what could go wrong?
Based on the novel Headhunters by American film director and author Jules Bass that you can buy on Amazon, Monte Carlo centers around Grace Benett, an American woman who mistakenly gets misidentified as a wealthy British celebrity whilst on vacation in Paris.
Selena Gomez, Leighton Meester, and Katie Cassidy portray three friends posing as wealthy socialites in the 2011 American adventure-romantic comedy film Monte Carlo (Credit: 20th Century Fox)
While it may seem like a straightforward romantic comedy film, fans of Selena Gomez's 2011 Monte Carlo may not realize that there is much more than meets the eye when it comes to this oft-forgotten film.
Selena Gomez's Start in Hollywood
When production on Monte Carlo began in 2005, Nicole Kidman had signed on to the film to portray the dual role of Grace Bennett, and the British celebrity she is mistakenly identified as; Cornelia Winthrop-Scott.
Selena Gomez, Leighton Meester, and Katie Cassidy became good friends filming Monte Carlo (Credit: Northfoto / Shutterstock)
However, the film underwent multiple screenplay revisions, and in 2010, it was decided by the film's producers that the screenplay and film overall needed to be made youthful.
With this priority in mind, in March of 2010, Selena Gomez was announced to be starring in the lead role of Grace Bennett/Cornelia Winthrop-Scott, replacing Nicole Kidman.
Selena Gomez, Leighton Meester, and Katie Cassidy on the set of Monte Carlo in Budapest, Hungary, on June 5, 2010 (Credit: Northfoto / Shutterstock)
Selena Gomez was 17 when she was cast in the lead role in Monte Carlo. Born and raised in the city of Grand Prairie, Texas to parents of Mexican and Italian ancestry, Gomez's path to Hollywood began in 2002, when she was only 10 years old.
Gomez began her acting journey by auditioning for children's television shows, including Barney & Friends, a role that she landed for thirteen episodes.
For the next five years, she would continue to get plenty of television and film work, including appearances in Spy Kids 3-D: Game Over (2003), Walker, Texas Ranger: Trial by Fire (2005), and The Suite Life of Zack & Cody (2006).
Selena Gomez appears briefly as Waterpark Girl in the 2003 American 3D spy action comedy adventure film Spy Kids 3-D: Game Over (Credit: Troublemaker Studios)
In 2007, she would be cast in the recurring role of Mikayla in the Disney Channel's hit series Hannah Montana.
Following this, she and her family moved from Texas to Los Angeles, as Gomez's burgeoning acting career had gone into full swing.
One of her most famous roles came soon after, as the lead role of Alex Russo in the Disney Channel series Wizards of Waverly Place, a role she would continue to play until the show ended in 2011.
The Production of Monte Carlo (2011)
After it was announced that Selena Gomez would be cast in the lead role of Grace Bennett in the film, the casting directors would fill out the rest of the cast with popular young stars, including Leighton Meester as Grace's stepsister Meg Kelly, and Glee star Cory Monteith in the role of Owen Andrews, the boyfriend of Grace's best friend Emma Perkins, who is portrayed by Katie Cassidy.
Selena Gomez as Grace Bennett/Cordelia Winthrop-Scott and Pierre Boulanger as Theo Marchand in Monte Carlo (Credit: 20th Century Fox)
Did you catch the easter egg hidden in the names of the main characters? When you combine the first name of Grace Bennett with the last name of Meg Kelly, you get Grace Kelly, the popular Golden Age of Hollywood star who became the princess of Monaco in 1955, following her marriage to Prince Rainer of Monaco.
Filming began in Harghita, Romania, on May 5, 2010. That's right, Romania. While the setting of this film is a combination of Paris and Monaco, the reality is that the filming of the movie took place all over Europe, with places in Romania and Hungary standing in as the more opulent Monaco and Paris.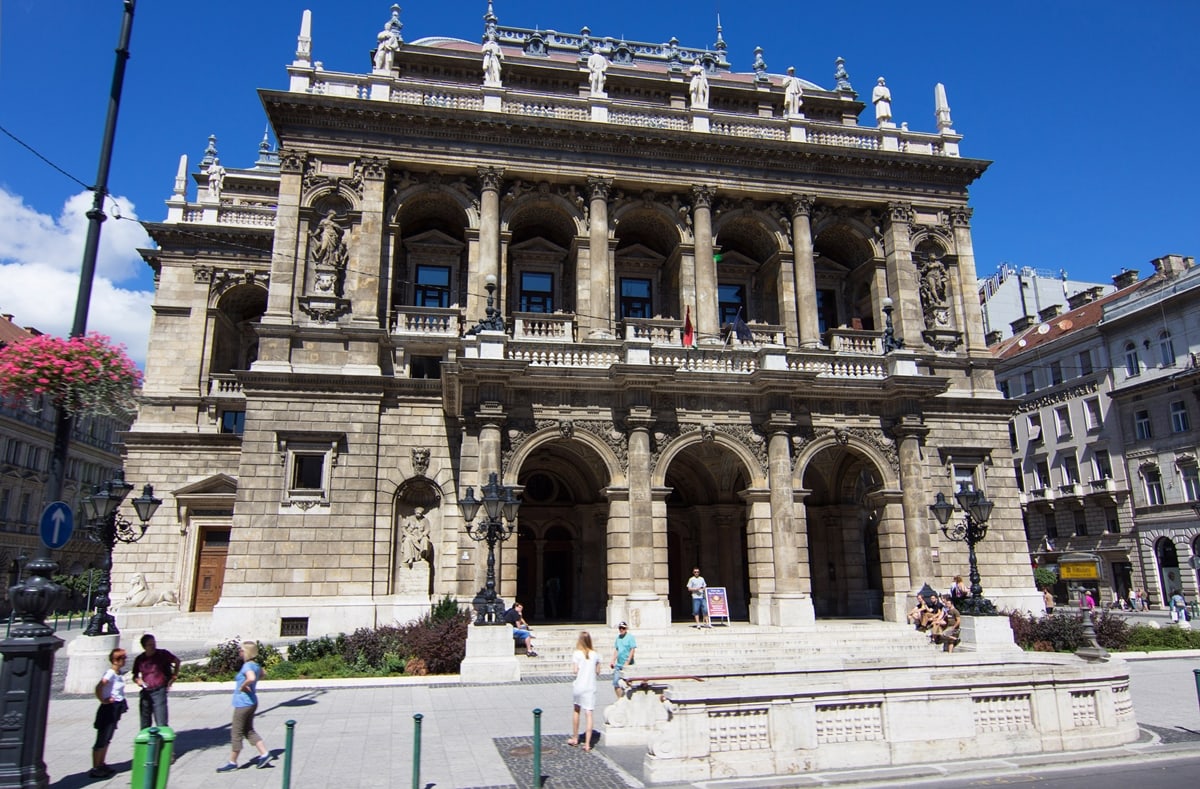 The scenes from The Grand Belle Hotel in Paris were filmed at The Hungarian State Opera House located in central Budapest (Credit: Liya_Blumesser / Shutterstock)
When filming started in May 2010, Selena Gomez was still 17 years old. She celebrated her 18th birthday on July 22, 2010. Leighton Meester was 24 years old when filming, having celebrated her 24th birthday on April 9, 2010. Katie Cassidy was 23 when shooting and turned 24 on November 25, 2010.
By the time production wrapped on July 7, 2010, the film's production only filmed in Paris and Monaco for a total of two weeks, while filming in other parts of Europe lasted months.
Actress Selena Gomez poses with fans at the "Monte Carlo" screening at AMC Loews Lincoln Square on June 23, 2011, in New York City (Credit: Lev Radin / Shutterstock)
In preparation for the role, Selena Gomez learned to play polo and worked with a linguist to perfect her fake English accent.
She apparently had difficulty grasping polo, however, and in an interview with the Chicago Tribune, she said "…I'm horrible at it. It was hard. I could not get it down, and it was really irritating me."
Despite her frustrations with polo, during the production of the film, co-stars Selena Gomez and Leighton Meester actually formed a friendship, much to the opposite of how their relationship initially appears in the film.
Was Monte Carlo Successful? Or Did It Flop?
The film was finally released on July 1, 2011, to mixed reviews. While Gomez and her cohort of young Hollywood talent tried their best to appease audiences' expectations, unfortunately, film critics did find many good things to say about the film.
In a review for the Independent, film critic Anthony Quinn called the film "A dull fantasy of luxe hotel suites, hot guys, and product placement jewelry, a pretty unappetizing mix…", to give you an idea of how the film was received overall.
While the film producers tried their best to provide a thrilling plot mixed with romance and intrigue, the film came across as little more than a vehicle for a young star fresh off the success of a long-running Disney Channel show.
Actress Selena Gomez in a pretty blue J. Mendel chiffon embellished gown at the "Monte Carlo" screening at AMC Loews Lincoln Square on June 23, 2011, in New York City (Credit: Lev Radin / Shutterstock)
In the end, Monte Carlo only managed to gross $39.7 million USD at the box office, which isn't much more than its purported budget of $20 million USD. Not even a score by Academy-Award-winning composer Michael Giacchino could save this one.
Selena Gomez would go on to have a successful career in music and film, so it's probably best that this one just stays in the past as a film that managed to miss the mark for the young star.
Selena Gomez wears her hair down at the 2016 iHeartRadio Music Awards held on April 3, 2016, at The Forum in Inglewood, California (Credit: WENN)
In April 2016, Selena Gomez joined Taylor Swift and Karrueche Tran at the 2016 iHeartRadio Music Awards held at The Forum in Inglewood, California.
The then 23-year-old "Same Old Love" songstress sported a sexy red Mugler jumpsuit that showed off her abs with strategic cutouts.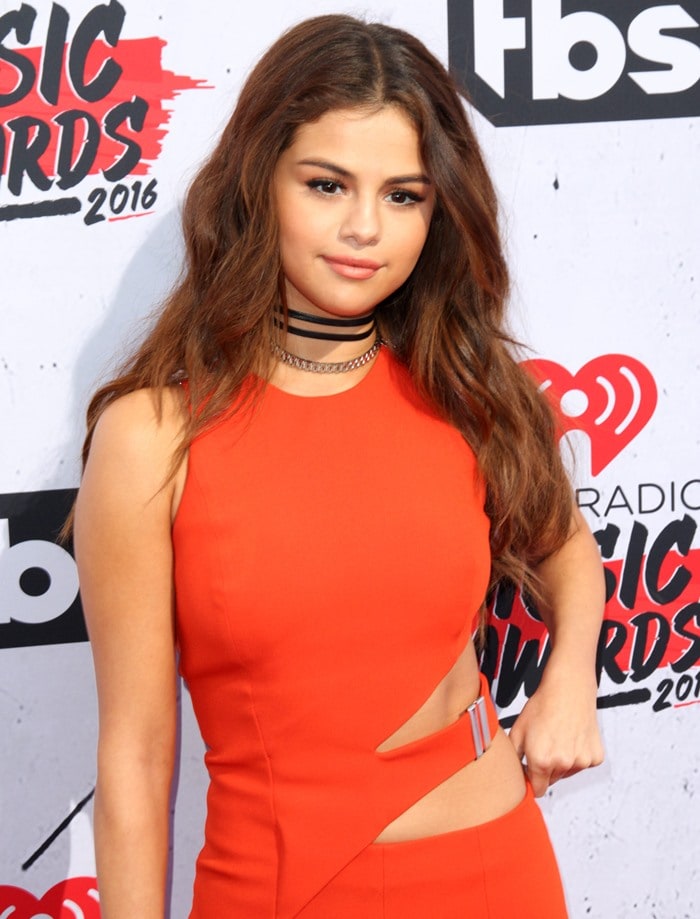 Selena Gomez accessorizes with choker necklaces at the 2016 iHeartRadio Music Awards (Credit: WENN)
She accessorized with layers of choker necklaces by Fenton Fallon, a Jimmy Choo clutch, and a silver pair of Giuseppe Zanotti sandals.
Selena Gomez wears her dark hair down in waves (Credit: WENN)
Other than the choker necklaces, she kept her accessories to a minimum. She wore light makeup and kept her curled hair down.
Selena Gomez shows off her abs in a red Mugler jumpsuit (Credit: WENN / Brian To / Apega)
What do you think of Selena's ab-baring look?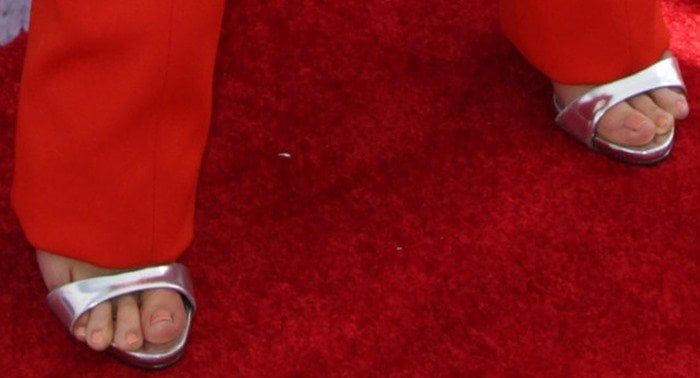 Selena Gomez's feet in silver Giuseppe Zanotti sandals (Credit: WENN)
We spotted her in the same sandals earlier this year at the 2016 Grammys. You can buy them at Farfetch and Net-a-Porter.
Giuseppe Zanotti 'Coline' Strappy Sandals in Silver, $642.22 – $850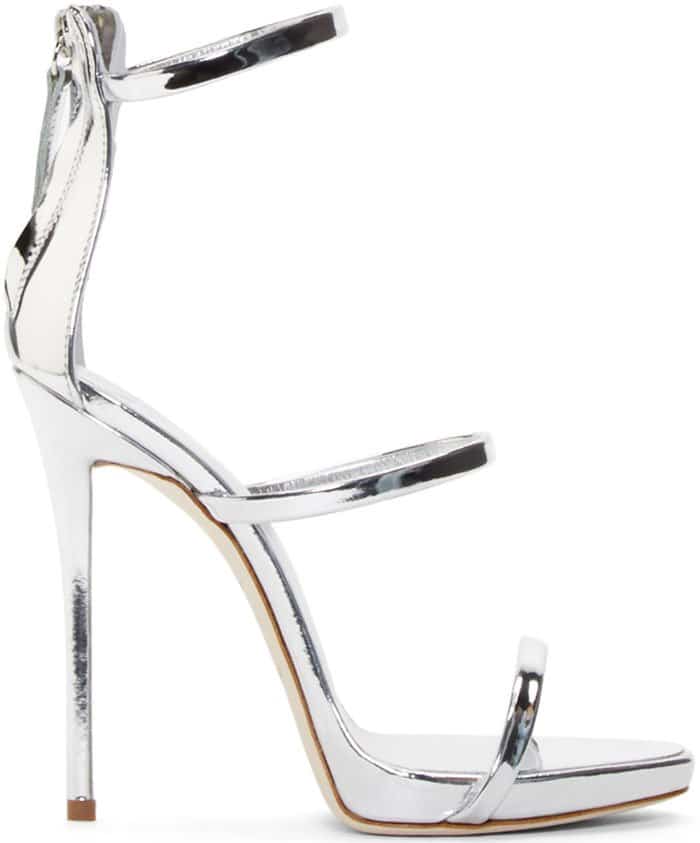 Mirrored silver patent Giuseppe Zanotti sandal with three straps
These glamorous sandals feature a slinky 3-strap design along with an alluring 5″ stiletto heel