Do you have designer taste on a smaller budget? Tony Bianco is the mid-level brand that gives you the best of both worlds. This Australian footwear brand blends contemporary and classic silhouettes to create shoes that work for every occasion.
Tony Bianco is one of Australia's most popular footwear brands and one you'll find all over social media as a go-to for influencers and Australian celebrities. Kourtney Kardashian, Miranda Kerr, and Shay Mitchell have all been spotted wearing Tony Bianco shoes.
Shay Mitchell, Christina Milian, and Kendall Jenner wearing Tony Bianco footwear (Credit: Roger Wong / INSTARimages / Michael Simon / Startraksphoto / Curtis Means / ACE PICTURES)
We're deep diving into the world of Tony Bianco to share everything you need to know about the brand, including whether Tony Bianco is a luxury brand.
Meet Tony Bianco
Tony Bianco is an eponymous footwear brand launched in Australia in 1972 that has become a global lifestyle brand beloved by celebrities and influencers alike.
It remains family-run and is 100% Australian owned, with 14 stores across Australia, as well as being stocked by various online and international retailers.
The label has become an alternative to luxury footwear brands by offering both contemporary and classic styles with an eye for detail and high-quality materials without costing hundreds of dollars.
Anthony Bianco, Tony Bianco's son, is currently serving as the director of the Australian footwear label (Credit: Ragtrader)
The brand has over 600k followers on Instagram, making it one of Australia's leading fashion footwear brands. Tony Bianco promotes the idea that being "an individual is the essence of true style" and offers something to suit every fashion aesthetic.
Is Tony Bianco a Luxury Brand?
Tony Bianco sits as a mid-tier designer brand. You'll pay more than you would for shoes from high-street retailers like Zara but less than the price tag for luxury brands like Christian Louboutin or Jimmy Choo.
The shoes are made of a higher quality than mainstream fashion shoes using real leather.
Tony Bianco is a mid-tier designer brand that specializes in creating high-end, contemporary women's footwear
The brand is an ideal option if you want to start investing in your shoe closet without breaking the bank.
Unlike luxury brands, you'll find discount codes and offers throughout the year on best-selling Tony Bianco shoes to save you a little money along the way.
What is Tony Bianco Known For?
Tony Bianco is known for being one of Australia's most successful footwear brands, offering high-quality craftsmanship and fashion-forward styles without a crazy price tag.
Tony Bianco, as seen on the feet of supermodels Bella Hadid, Gigi Hadid, and Miranda Kerr, is known for its high-quality yet attainable price tags (Credit: Philip Vaughan / Ace Pictures / INSTARimages / INFphoto)
The brand is known for using luxurious materials, including real leather, and has heightened attention to detail. It captures the laidback but chic Australian aesthetic that has won it a legion of influencer and celebrity followers.
Ultimate supermodel sister duo Gigi Hadid and Bella Hadid and supermodel Tyra Banks all have at least one pair of Tony Bianco shoes in their closet.
The Best Ways to Find Tony Bianco Discount Codes
Tony Bianco offers its own loyalty program – known as TB INSIDER – that gives frequent customers access to gifts, private rewards, exclusive events, and other perks.

Tony Bianco's loyalty program, the TB Insider, offers frequent customers benefits, including a welcome reward, birthday reward, early access to sales, and access to exclusive content (Credit: Tony Bianco)
You can earn up to $150 in rewards, get 10% off full-priced items, and access free shipping as you level up with TB Insider.
Signing up for the loyalty program will also get you early access to sale events and member-only offers. You'll get a $20 welcome reward when you sign up for Tony Bianco's loyalty program.
Are you shopping for your wedding shoes? TB Insider gives you access to one-on-one consultation and bridal party bookings at Tony Bianco stores.
Where Are Tony Bianco Products Made?
Tony Bianco uses various leather types for their shoes, primarily cow and goat leather. The brand has a detailed leather glossary on its website, suggesting that its shoes are all made using real leather.
While Tony Bianco is 100% Australian-owned, its products are made in China (Credit: Tony Bianco)
While Tony Bianco is a mid-tier designer brand, its products are not made in Australia. The brand offers a 'made to order' service and discloses on its website that these shoes are made in China.
What To Know Before Buying Tony Bianco
Before buying Tony Bianco shoes, you want to make sure you understand the brand's sizing, most popular styles, and where you can buy Tony Bianco shoes from.
Sizing Options for Tony Bianco
Tony Bianco's product descriptions provide guidance on sizing options. If there are no size notes on a product listing, it means the styles run true to size.
Tony Bianco recommends going up a size for those with wider feet if the style does not come in a half size.
The description part of each Tony Bianco product will specify if a style runs large or small; if not, it means the shoe runs true to size (Credit: Tony Bianco)
The Most Popular Tony Bianco Styles
Not sure where to start with building your collection of Tony Bianco shoes? We've rounded up the most popular Tony Bianco shoes that deserve a spot in your closet.
1. Tony Bianco Brazen: A Timeless Classic for Any Season
The "Brazen" shoe is a classic black leather pointed ankle boot with a block heel that will carry you effortlessly from one season to the next.
These boots are one of Tony Bianco's best-selling styles and a classic option to see you through autumn and winter.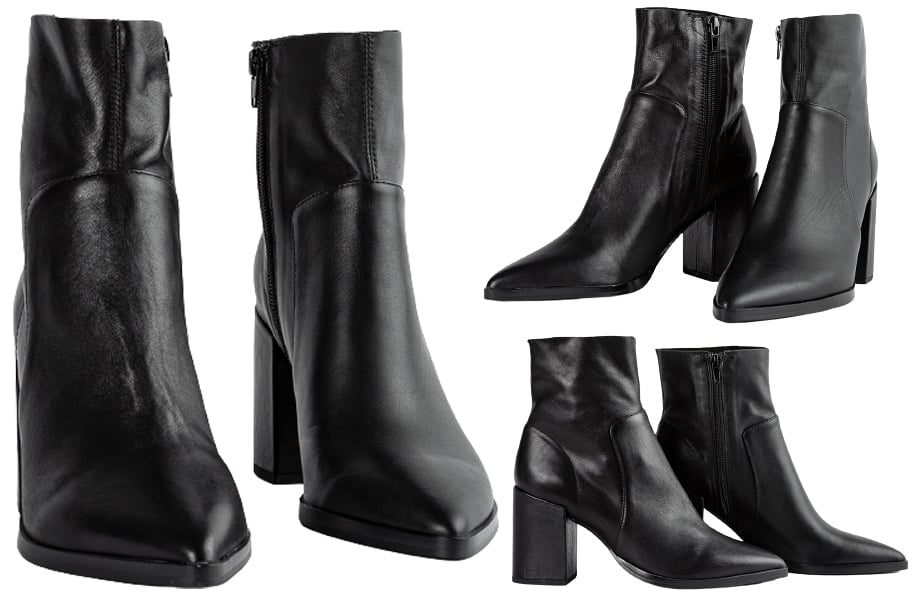 Tony Bianco's Brazen is a classic black leather pointed-toe ankle boot with a comfortable 3.3-inch block heel
2. Tony Bianco Caprice: A Minimalist Sandal for Sophisticated Style
Minimalistic and classic, the "Caprice" sandal is all about adding a touch of sophistication to your closet.
The shoe features an open almond toe and ankle buckle, making it easy to dress up for special occasions or pair with jeans for weekend looks. Tony Bianco recommends purchasing these shoes half a size smaller as they run large.
Sleek and sophisticated, the Caprice boasts a minimal aesthetic with thin straps, open almond toes, and 2.7-inch heels
3. Tony Bianco Fantasy: Channel Your Inner Supermodel with These Knee-High Boots
Channel your inner supermodel with the Fantasy knee-high boot by Tony Bianco.
These premium black leather boots make a statement with their hourglass-shaped heel and feature an extended square toe shape and inner zip for extra comfort. The "Fantasy" boots are available in six neutral shades for ultimate versatility.

The Fantasy is made from premium leather and feature a statement hourglass-shaped heel, an extended squared toe-shape, and an inner zip
4. Tony Bianco Hiranni: The Affordable Alternative to Chanel Dad Sandals
The popularity of 'Dad sandals' shows no sign of slowing down. While you might not want to splurge on the OG Chanel style, Tony Bianco has you covered with the same style at a more affordable price.
These sandals feature a cushioned footbed with adjustable Velcro straps and leather lining for a must-have all-rounder off-duty shoe.

The Hiranni is Tony Bianco's take on the dad sandal trend with a cushioned foot-bed and thick cross-foot velcro straps
The Best Places to Buy Tony Bianco
You can purchase Tony Bianco shoes directly from the brand's official website or approved stockists, such as Revolve, Zappos, and Amazon.
Shopping on Tony Bianco's website will give you access to the brand's TB Insider program with exclusive discounts and early access to sales.