If there's one thing that we fell in love with during lockdown, it's UGG slippers. While working from home and spending more time indoors, our fashion switched more to a comfort-focused look.
Slippers are essential loungewear and worth investing in – especially if you're a fan of cozy staples like cashmere jumpers and oversized hoodies.
Available at Nordstrom and Saks Fifth Avenue, the Ugg Tasman slippers are one of the most popular slippers on the market, and for good reason.
Ugg's best-selling Tasman slipper features a light, durable outsole and can be worn both indoors and out
If you're looking for the perfect Christmas gift or something to treat yourself to, the Tasman slippers should be top of your list.
We're taking an in-depth look at these best-selling UGG slippers to ask if they're really worth their $100 price tag.
Meet the Tasman Slippers
Described as the 'slipper for all occasions', Tasman is one of UGG's best-selling shoes. They incorporate the same durable and lightweight outsole of the brand's iconic boots, making them wearable both indoors and outdoors.
The Tasman slippers are available in four colors, including a pastel pink hue and a classic chestnut neutral.
Ugg's warm, suede Tasman slipper with embroidered trim and a plush genuine-shearling lining can be worn in or out of the house thanks to the grippy sole
What we love about these slippers is their plush natural wool lining that makes it feel like you've wrapped your feet in a comfortable blanket.
Are the Tasman Slippers worth $100?
Deciding whether a shoe is worth its price tag is subjective. If you're someone who wears slippers, the Tasman slippers are a steal at $100. You can expect to get a high return on your investment and a low cost per wear.
If you never reach for slippers and don't see yourself wearing the Tasman shoes outside, they may be a pass for you. There are brands that offer alternatives to UGGs that include similar slippers at a more budget-friendly price point.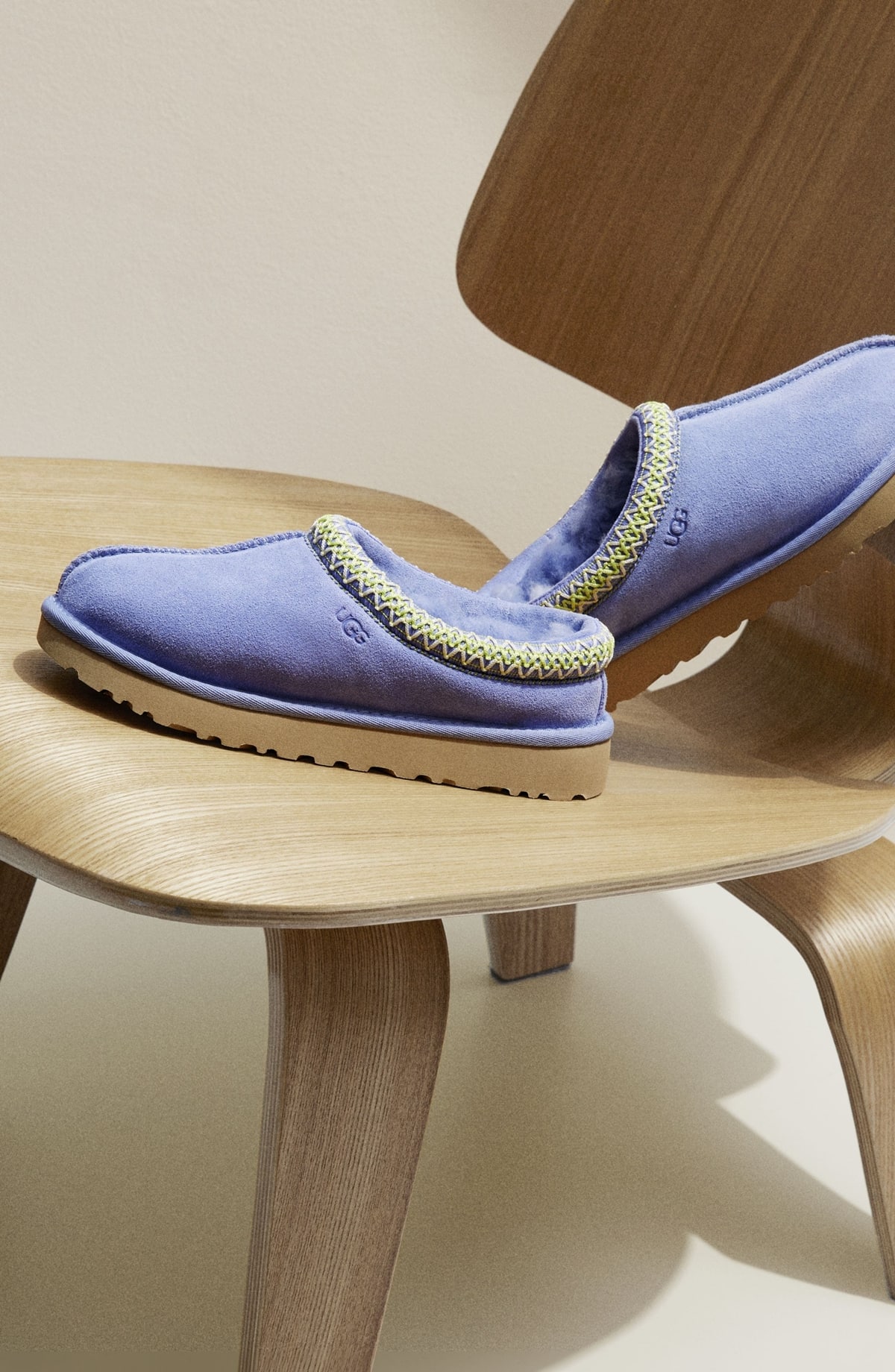 Lined with plush sheepskin and upcycled wool, Ugg's Tasman slipper is crafted from soft suede with an embroidered braid and easy slip-on silhouette
At $100, the Tasman slippers are expensive for their footwear category, but their versatility makes them a worthwhile investment for fans of comfort-driven fashion. If loungewear is your middle name, these slippers are ones that you'll reach for every day.
Why are they so popular?
Part of the reason why the Tasman slippers are so popular is that they're a versatile style that you can even wear outdoors for the ultimate casual-chic look.
You can style them with high-waisted jeans and an oversized sweater for the perfect winter look for a day of holiday shopping or sipping on festive drinks.
What reviewers say about the UGG Tasman slippers
Don't just take our word for it, there are thousands of reviews for the UGG Tasman slippers online. There are over 7,000+ reviews on Zappos alone with most of them being glowing 5-star reviews.
One reviewer called them the "best slipper ever…my feet have been doing a happy dance ever seen!".
There are thousands of positive reviews for the UGG Tasman slippers online
Another review recommended the Tasmin slippers for dog walking, while a third reviewer said that "these slippers are the best I have ever owned. They are so comfortable that I never take them off while I am in the house".
If you're looking for the ultimate investment slippers for everyday wear, the Tasman slippers are a must-have. You can purchase them directly from UGG or official UGG stockists. What do you think of the UGG Tasman slippers?