She's adding bartending to her resume! Kendall Jenner got behind the bar to serve guests her 818 Tequila during a whirlwind promotional tour in Florida last week.
Kendall Jenner mixes 818 Tequila cocktails at Seminole Hard Rock Hotel & Casino in Florida on December 7, 2021 (Credit: Mega / WENN)
While she's trying her best to show off her mixology skills, some fans were not impressed.
In a short clip shared by the Kardashian News fan account, Kendall was seen giggling while mixing margaritas for the crowd at the Goodtime Hotel. She was criticized for her bartending skills, with one saying, "she should just stick to modeling."
"That's some bad bartending," another one commented. The state of California requires 40 hours of classroom instruction to obtain a bartending license.
"She should try to look a bit more confident of her product/brand if she wants to sell it," said another. One fan defended the model saying, "it's more anxiety cause she has to do bartending, something that is not modeling and it is outside her comfort zone."
View this post on Instagram
Earlier in the day, the 26-year-old model channeled the '90s while mixing 818 margaritas and signing bottles of her tequila at Seminole Hard Rock Hotel & Casino.
Offering a glimpse of her midriff, Kendall wore an olive-green cropped tee and a pair of Roberto Cavalli light yellow acid-washed straight fit jeans, featuring the Italian luxury fashion house's iconic tiger and amour tattoo print.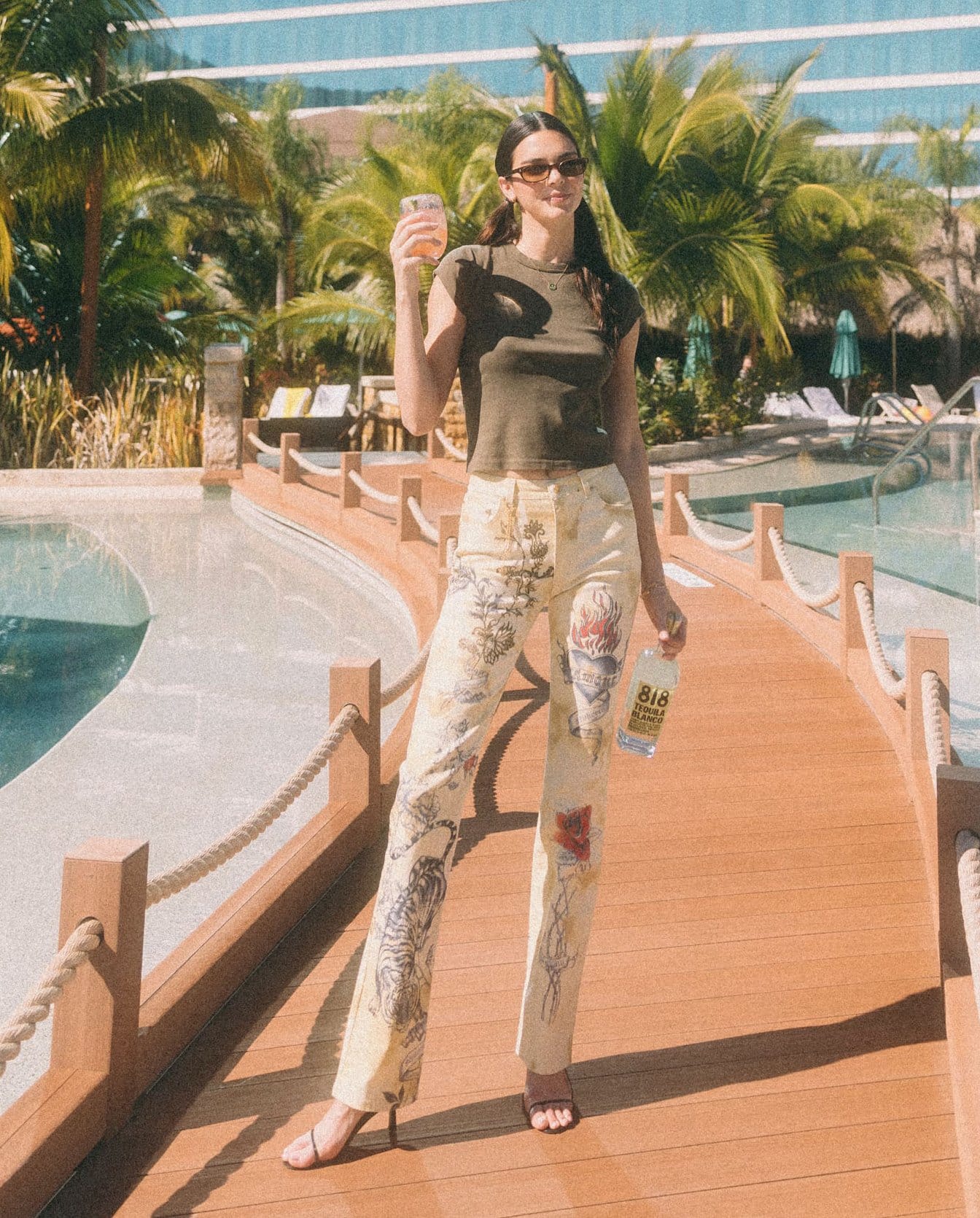 Kendall Jenner goes braless underneath her olive green crop top paired with Robert Cavalli yellow acid-washed graphic jeans (Credit: Mega / WENN)
Kendall appeared braless underneath her basic tee. She kept the rest of her look simple, accessorizing with just a dainty necklace, understated hoop earrings, and a delicate gold chain bracelet.
Selected as one of today's hottest women, Devin Booker's girlfriend wore minimal makeup and styled her hair in low pigtails.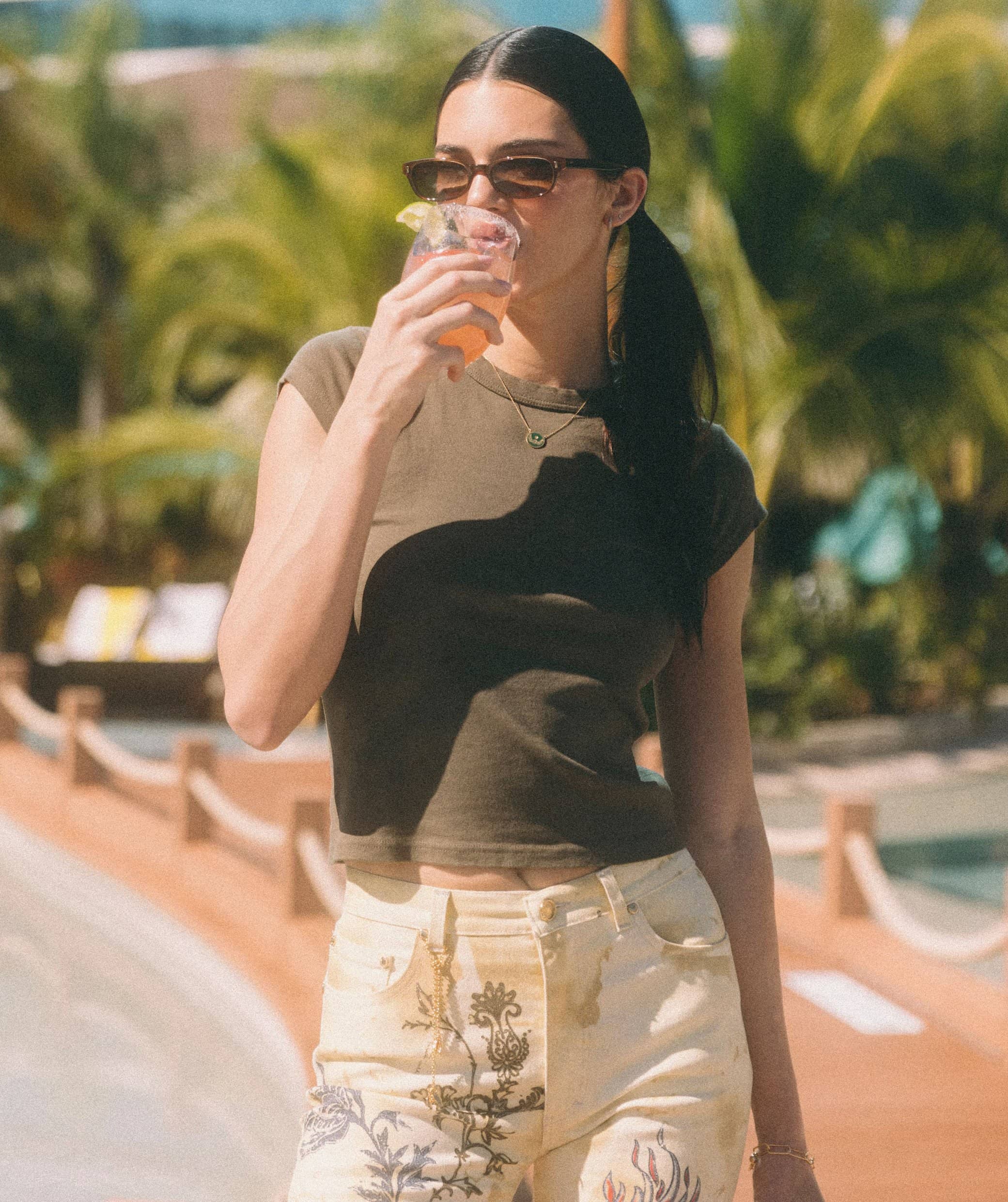 Kendall Jenner styles her hair in pigtails as she takes a sip of her 818 Tequila Watermelon Margarita cocktail (Credit: Mega / WENN)
She shielded her eyes from the sun behind a pair of $490 Salt Bertram sunglasses and completed her look with The Row "Bare" sandals.
These minimalist sandals are crafted from soft leather and feature barely-there straps and modest 3-inch heels.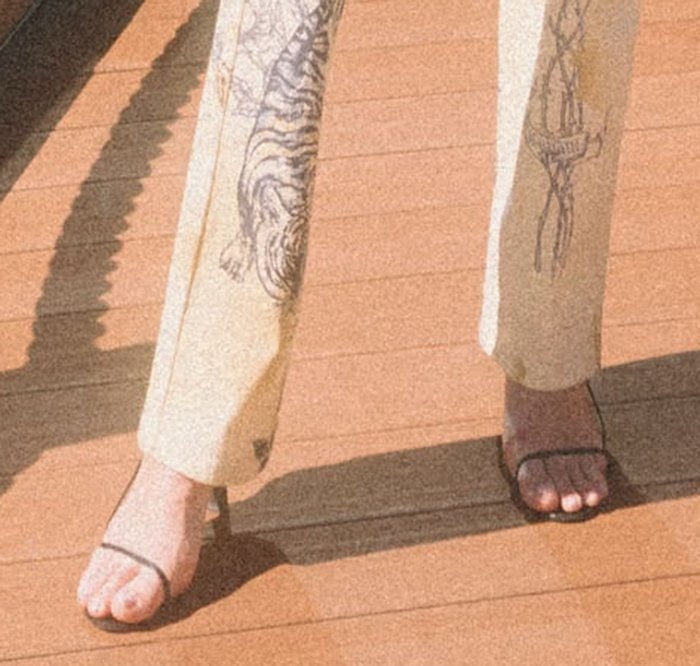 Kendall Jenner boosts her 5'10" height with minimalist The Row Bare sandals (Credit: Mega / WENN)
The Row 'Bare' Leather Sandals, $850 at Mytheresa
A minimalist pair of sandals that feature barely-there delicate straps and modest heels
On Sunday evening, Kendall promoted her 818 Tequila at Miami's SLS Brickell hotel as part of the Miami Art Week.
She showcased her slim figure in a vintage 1966 Jean Paul Gaultier "Cyberbaba" bodycon maxi dress, featuring festive ruby red and green colors, a grid pattern, and a futuristic skeleton x-ray print.
Kendall Jenner promotes 818 Tequila at Miami's SLS Brickell hotel as part of the Miami Art Week on December 5, 2021 (Credit: Mega / WENN)
The fashion model, who regrets getting an inner lip tattoo, kept her hair and makeup simple and coordinated her look with a Gucci GG Monogram beaded crystal and lizard horsebit bag, slung over her shoulder.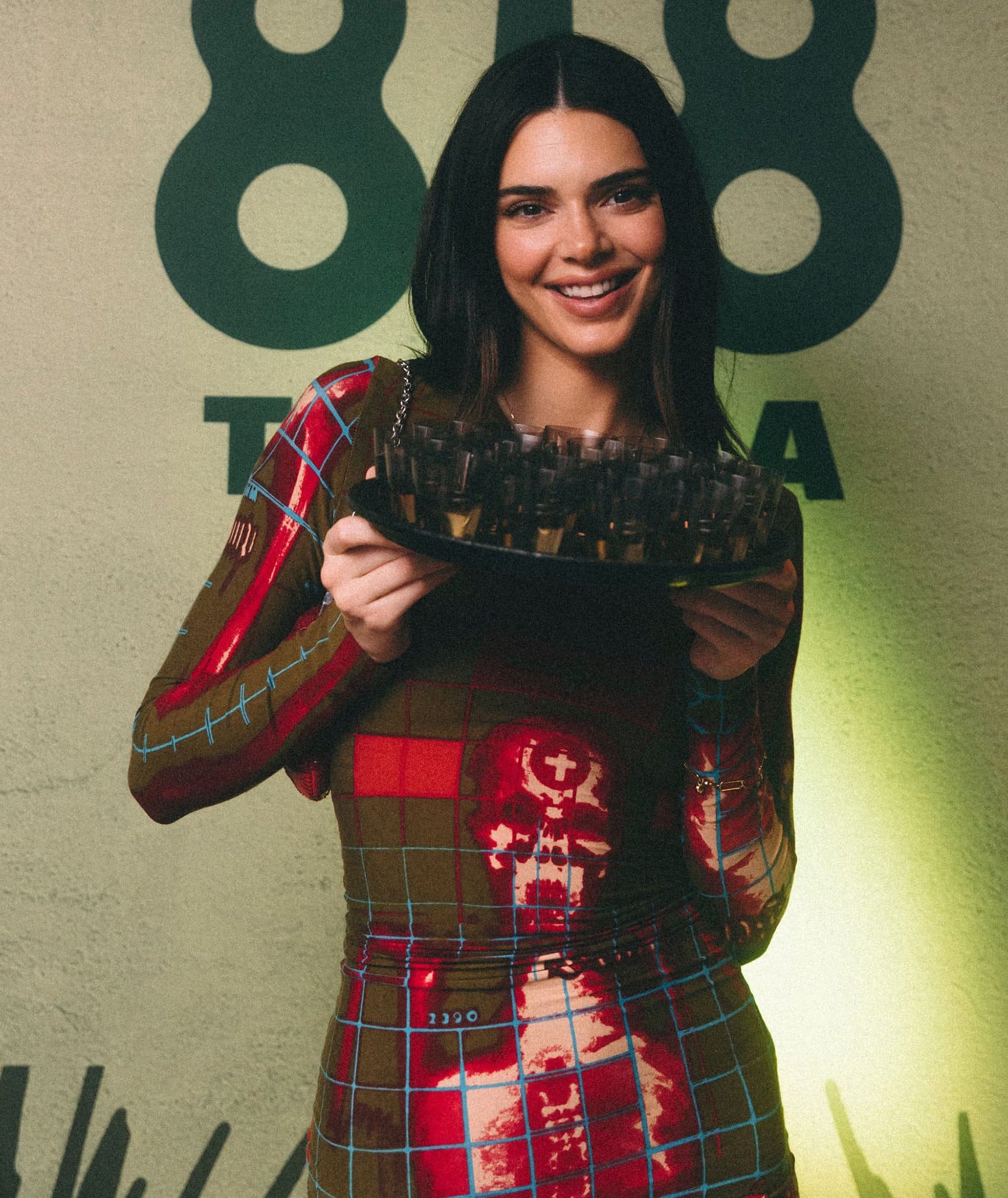 Kendall Jenner flaunts her slim frame in a vintage 1966 Jean Paul Gaultier Skeleton Cyberbaba bodycon maxi dress (Credit: Mega / WENN)
As for her footwear, the 5'10" beauty added a few inches to her tall frame with a pair of Amina Muaddi "Lupita" glass mules.
They are made from clear PVC and feature square open toes and the Paris-based Italian-raised designer's signature flared heels, inspired by the profile of a martini glass.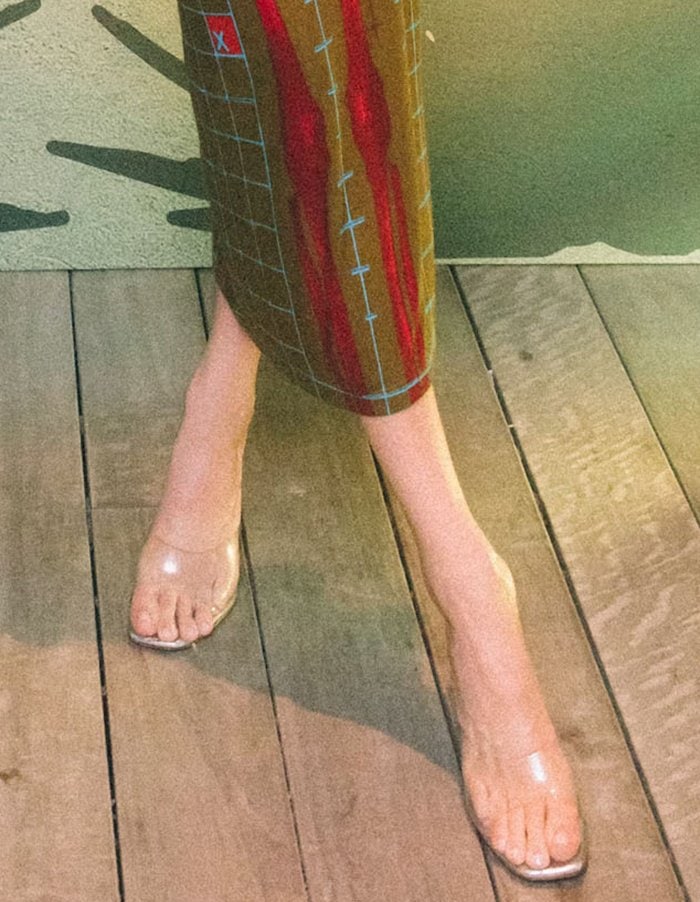 Kendall Jenner completes her festive look with Amina Muaddi Lupita clear PVC mules (Credit: Mega / WENN)