Andrew Garfield is a name that needs no introduction in Hollywood.
The charming British-American actor has won the hearts of audiences worldwide with his undeniable good looks and impressive acting skills in movies like The Social Network and Hacksaw Ridge.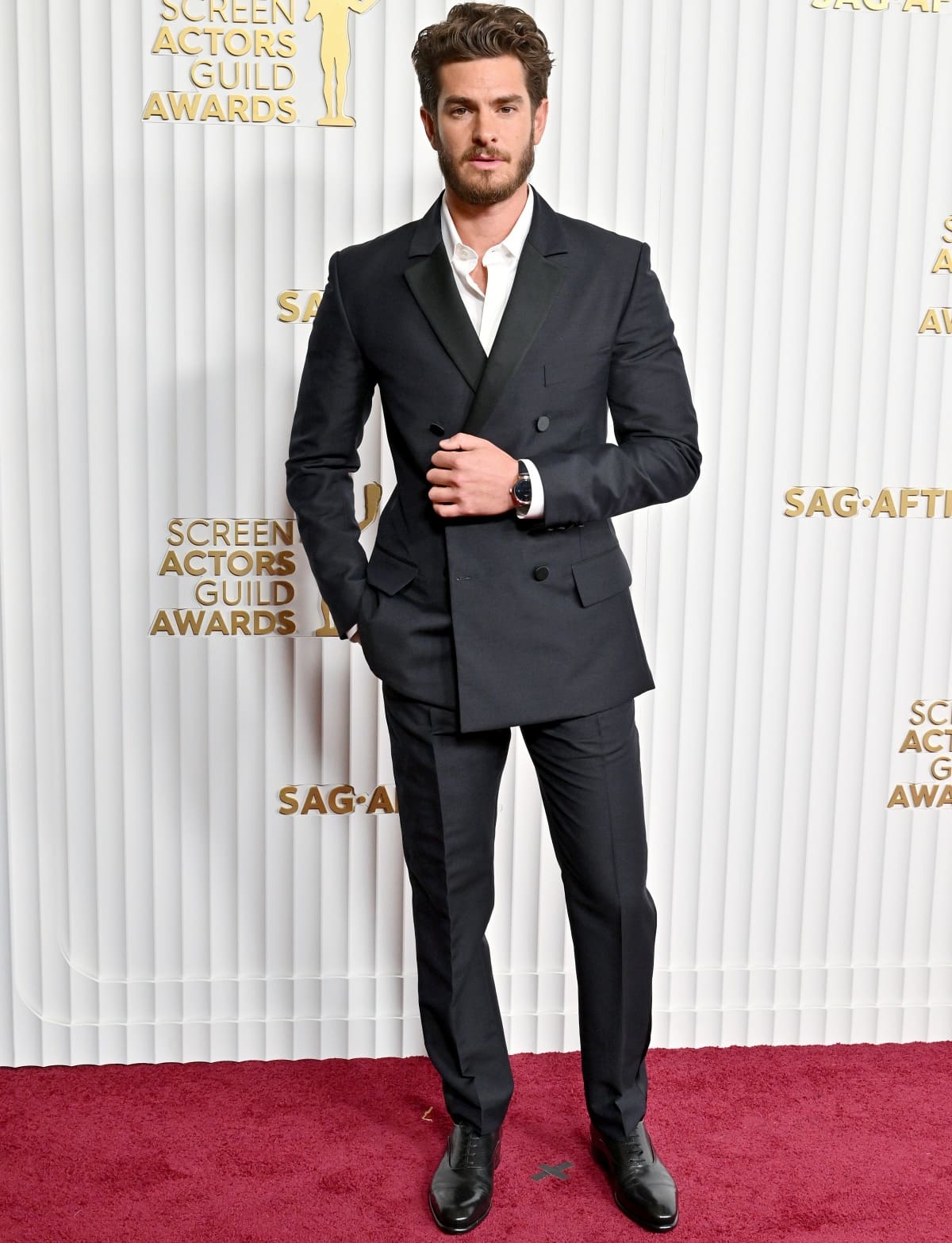 Andrew Garfield looking dapper in a custom Valentino suit with Santoni shoes at the 29th Annual Screen Actors Guild Awards held at Fairmont Century Plaza in Los Angeles, California on February 26, 2023 (Credit: BauerGriffin / INSTARimages)
However, the 39-year-old actor has kept things relatively private regarding his personal life. Fans have been curious about the actor's past relationships and sexuality, and today we will unfold it all.
From his on-screen chemistry with Emma Stone to his rumored romances with other celebrities, let's take a closer look at Andrew Garfield's relationship history and the questions surrounding his sexuality.
Is Andrew Garfield Gay?
Andrew Garfield got into trouble with the LGBTQ community after declaring, "I am a gay man right now, pretty much, just without the physical act – that's all," and admitting that he watched RuPaul's Drag Race with friends to prepare for his role as a gay man in 2017.
Andrew Garfield attending the revival of Angels of America afterparty at Espace in New York City on March 25, 2018 (Credit: lev radin / Shutterstock)
Gay Man in Angels in America
Andrew Garfield once played Prior Walter, a gay man struggling with the reality of AIDS at the pinnacle of the 1980s crisis that cost countless lives in the gay community, in the highly lauded London production of Tony Kushner's Angels in America.
The Amazing Spider-Man star discussed his preparation for the role during a Q&A panel interview, revealing that his initial "big concern" was "what right do I have to play this wonderful, seminal gay part" as a man who identified as straight.
Andrew Garfield rocking a brown suit at the revival of Angels of America afterparty at Espace in New York City on March 25, 2018 (Credit: Lev Radin / Shutterstock)
Garfield stated, "As far as I know, I am not a gay man. Maybe I'll have an awakening later in my life, which I'm sure will be wonderful, and I'll get to explore that part of the garden, but right now, I'm secluded to my area, which is wonderful as well. I adore it."
His Stance on His Sexuality
The actor revealed that despite being previously identified as straight, he now perceives his sexuality through a more flexible stance during an exclusive interview with OUT magazine in February 2018.
Garfield said, "Up until this point, I've only been sexually attracted to women."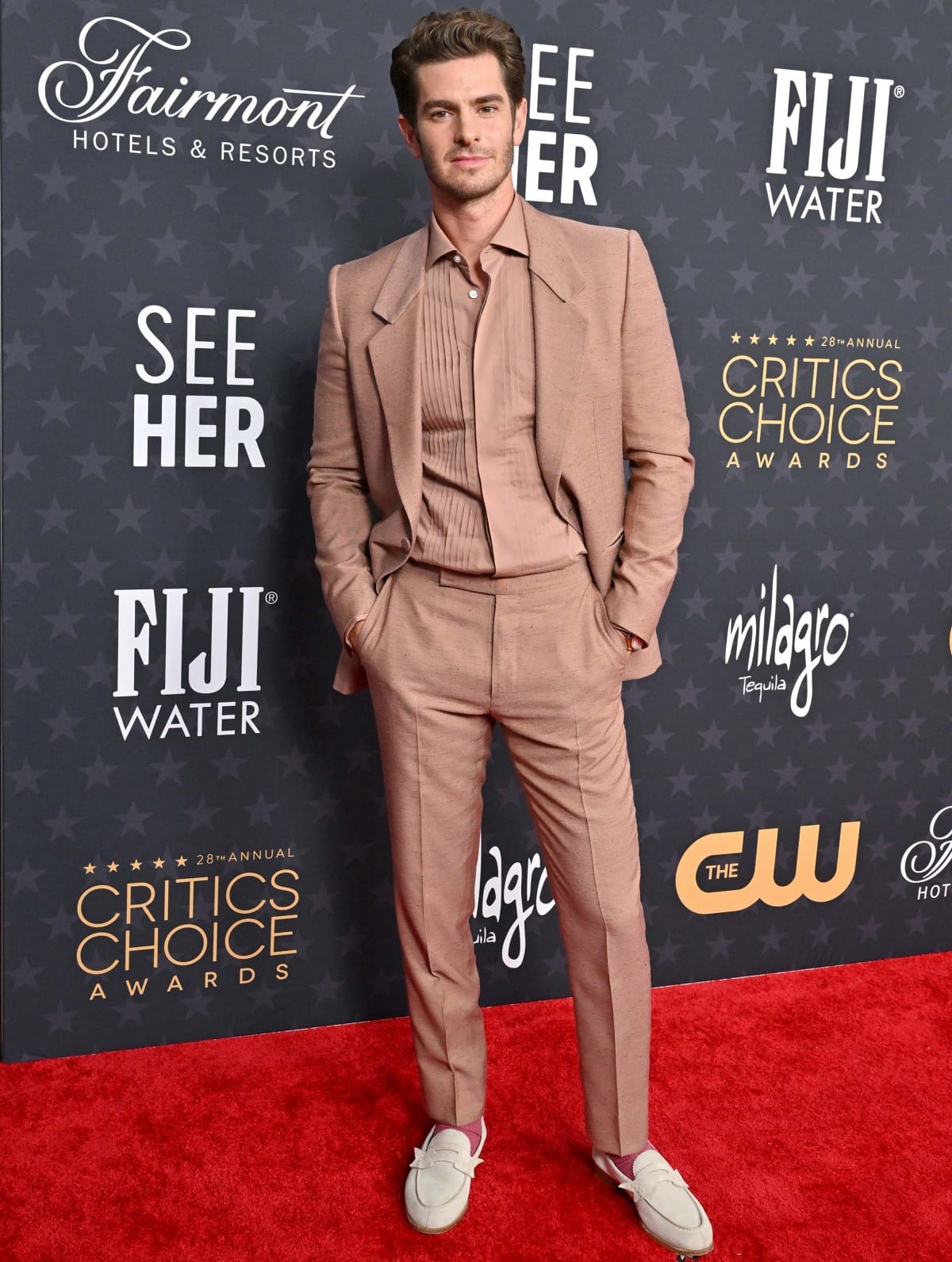 Andrew Garfield wore a tonal Zegna suit with Christian Louboutin No Penny suede loafers at the 28th Annual Critics Choice Awards in Los Angeles, California on January 15, 2023 (Credit: BauerGriffin / INSTARimages / Cover Images)
The actor added, "My stance toward life, though, is that I always try to surrender to the mystery of not being in charge. I think most people – we're intrinsically trying to control our experience here, and manage it, and put walls around what we are and who we are."
He elaborated, "I want to know as much of the garden as possible before I pass. I have an openness to any impulses that may arise within me at any time." However, he quickly added a clarification, saying, "But, if I were to identify, I would identify as heterosexual."
Andrew Garfield's Dating History
Despite his best efforts to keep his relationships under wraps, Andrew Garfield has been linked to several stunning women.
Aside from being in a relationship with Emma Stone from 2011 to 2015, Garfield has also been linked with Shannon Woodward, Rita Ora, Susie Abromeit, and Christine Gabel. The actor has also been rumored to be in a relationship with Alyssa Miller and Phoebe Dynevor.
Andrew Garfield in a terracotta Zegna suit and black shoes at the 80th Annual Golden Globe Awards in Los Angeles, California on January 10, 2023 (Credit: DDP / INSTARimages / Cover Images)
Are Andrew Garfield and Phoebe Dynevor Dating?
According to The Sun, Andrew Garfield and Phoebe Dynevor allegedly connected right away after meeting at GQ's Men of the Year Awards in London in November 2022 and have been essentially dating ever since.
An insider told the publication, "Andrew and Phoebe clicked straight away. There was an immediate attraction."
Phoebe Dynevor in a Victoria Beckham Spring 2023 ensemble at the 2022 GQ Men of the Year Awards held at The Mandarin Oriental Hyde Park in London, England on November 16, 2022 (Credit: PA Images / INSTARimages / Cover Images)
The source continued, "They know each other through various acquaintances in the business and have plenty in common. But this is certainly no one-off encounter. After leaving together, they've since met up and are acting like a proper couple."
In an exclusive interview with Life & Style in December 2022, a source said that Garfield was "really into" the 27-year-old Bridgerton actress, saying that "the chemistry between them is crazy."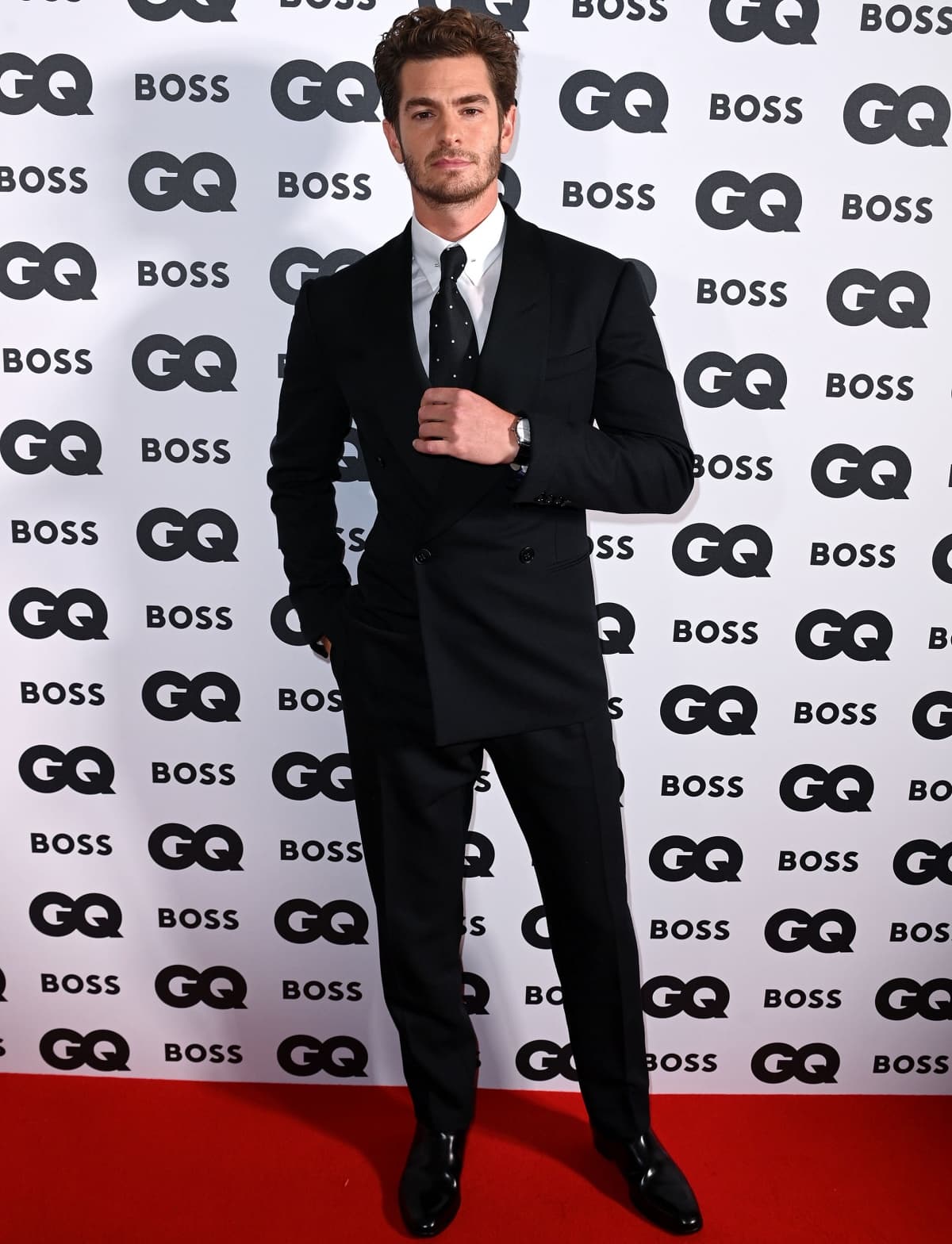 Andrew Garfield in a Ralph Lauren suit with black dress shoes at the 2022 GQ Men of the Year Awards (Credit: Doug Peters / PA Images / INSTARimag / Cover Images)
The A-list actors have been in constant communication since they first connected through mutual acquaintances in November, and they are both "super happy" about their developing relationship. The insider said, "She has been seeing him in-between filming, and they call and text non-stop."
Shannon Woodward: His First Public Relationship
In the years leading up to his rise to stardom, Andrew Garfield dated Westworld actress Shannon Woodward for three years, from 2008 to 2011.
The couple reportedly parted ways in 2011 due to Garfield's hectic schedule filming The Amazing Spider-Man.
Shannon Woodward attending the 70th Primetime Emmy Awards held at the Microsoft Theater in Los Angeles, California on September 17, 2018 (Credit: Sara DE Boer / Startraksphoto)
Emma Stone and Andrew Garfield
Andrew Garfield's most high-profile relationship was with his The Amazing Spider-Man co-star, Emma Stone. The couple met on the movie set and started dating from 2011 to 2015.
Although they tried to keep their relationship private, the paparazzi captured several sweet moments between the couple.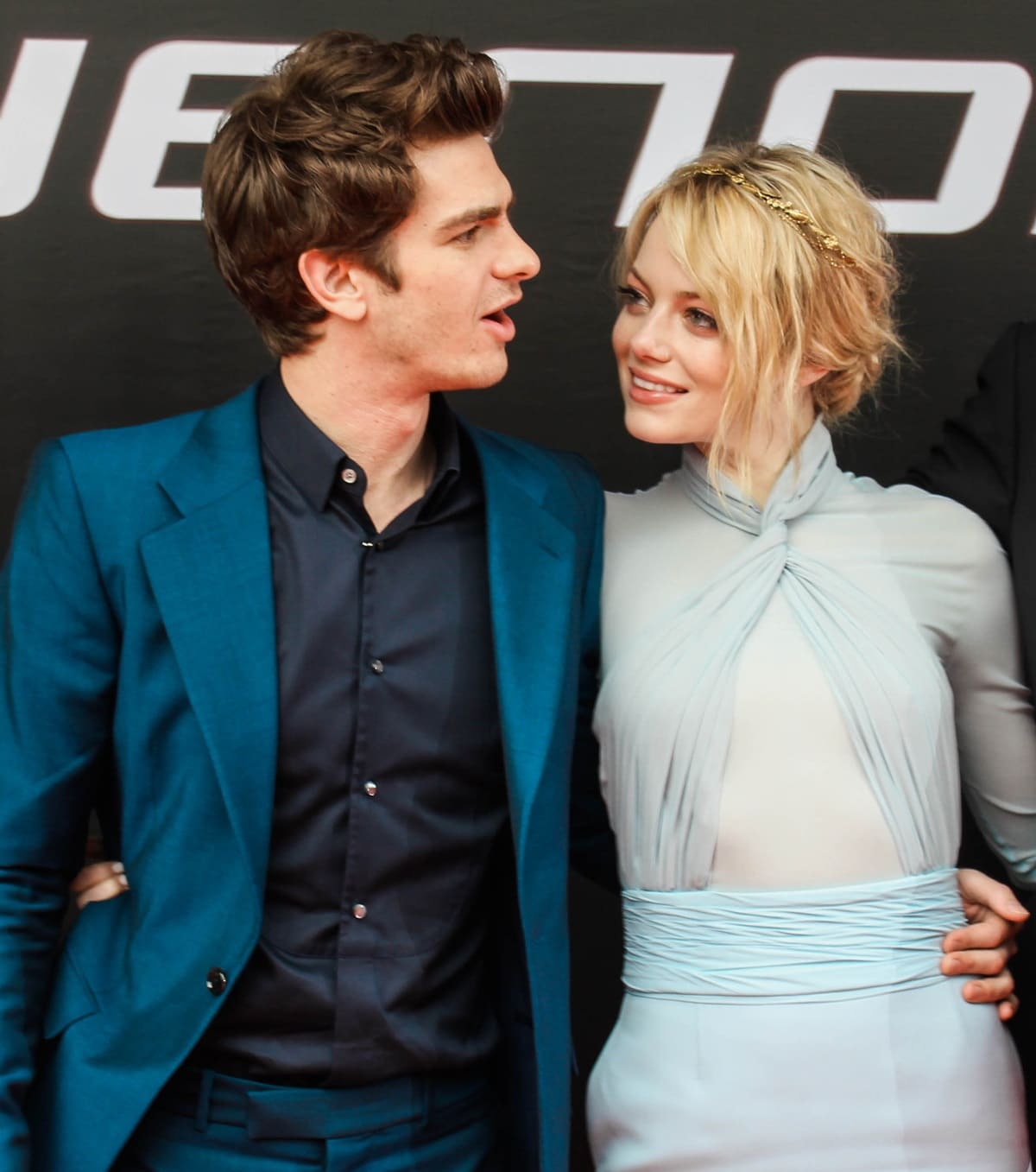 Andrew Garfield and Emma Stone at The Amazing Spider-Man premiere in Moscow, Russia, on June 15, 2012 (Credit: Naumova Ekaterina / Shutterstock)
The pair split up in April 2015, and they did so amicably. Following her marriage to former Saturday Night Live director Dave McCary in 2020, Stone and McCary welcomed a daughter the following year.
Andrew Garfield and Susie Abromeit
Actress Susie Abromeit and actor Andrew Garfield were reportedly seen spending time together at Disneyland and getting close in Malibu in September 2018, which sparked suspicions that the two were dating.
Abromeit, a former tennis player who switched to acting, is most known for her roles in Chicago Med and Jessica Jones. Their romance appeared short-lived, with rumors claiming it ended near the end of the year.
Susie Abromeit attending UCLA's Institude of the Environment and Sustainability Annual Gala in Beverly Hills, California on March 22, 2018 (Credit: Sara De Boer / Startraksphoto)
Rita Ora and Andrew Garfield
After her breakup with Abromeit, Andrew Garfield was rumored to have moved on to British singer Rita Ora.
But their relationship would also fizzle out as quickly as it started. After only a few short months together, the stars reportedly parted ways in March 2019.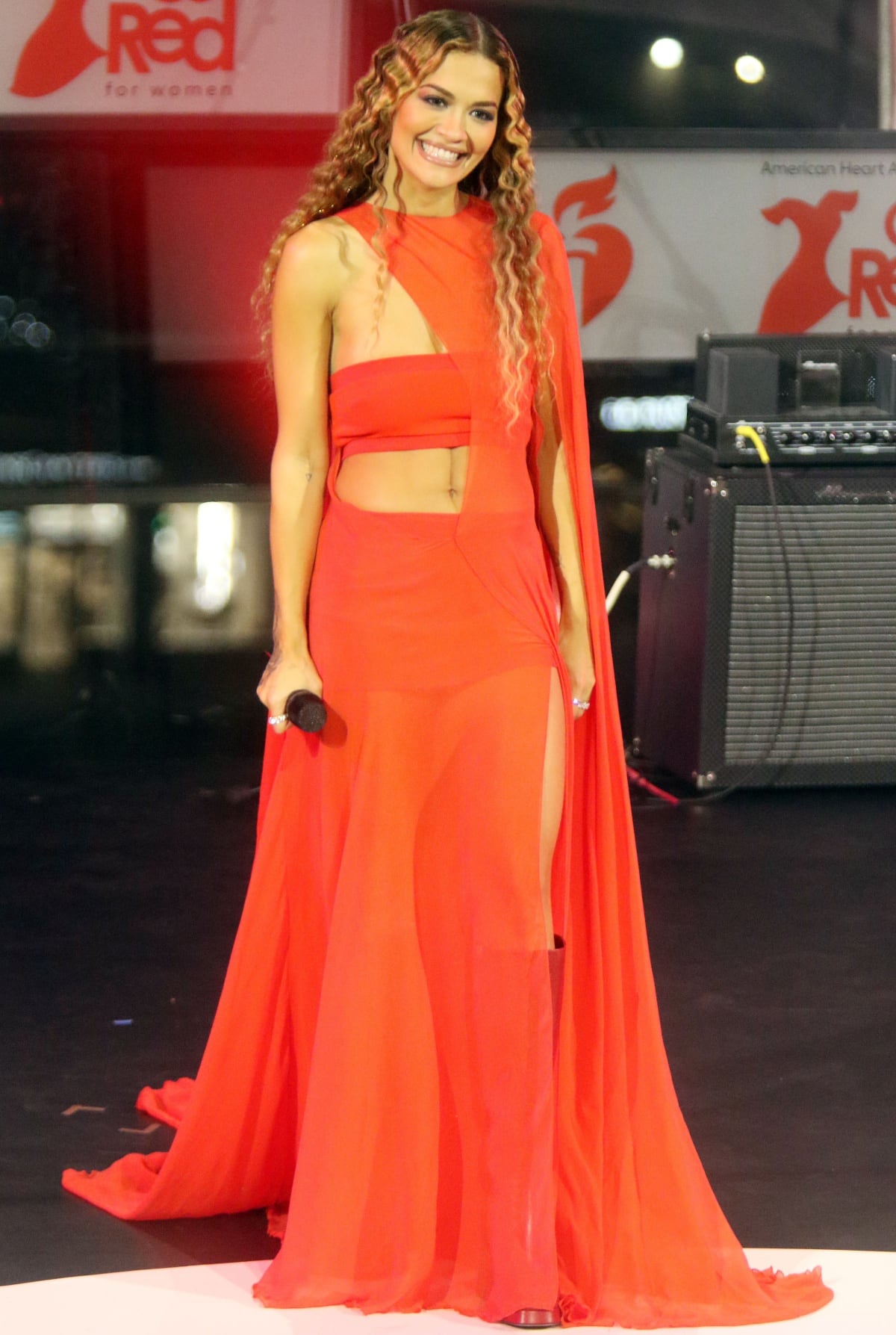 Rita Ora performing at The American Heart Association's Go Red for Women Red Dress Collection Concert held at Lincoln Center in New York City on February 1, 2023 (Credit: ROGER WONG / INSTARimages / Cover Images)
Months before the reported couple's apparent breakup, Ora avoided a question about her favorite Spider-Man actor in January 2019 after keeping their romance largely under wraps.
Andrew Garfield and Christine Gabel
In the summer of 2019, Christine Gabel, a model and medical student, was allegedly dating Andrew Garfield.
Despite doing an excellent job of keeping their relationship out of the spotlight and away from the paparazzi, the couple was caught holding hands in New York City.
Garfield and Gabel's relationship would eventually end before November 2021, when he would be linked to Sports Illustrated model Alyssa Miller.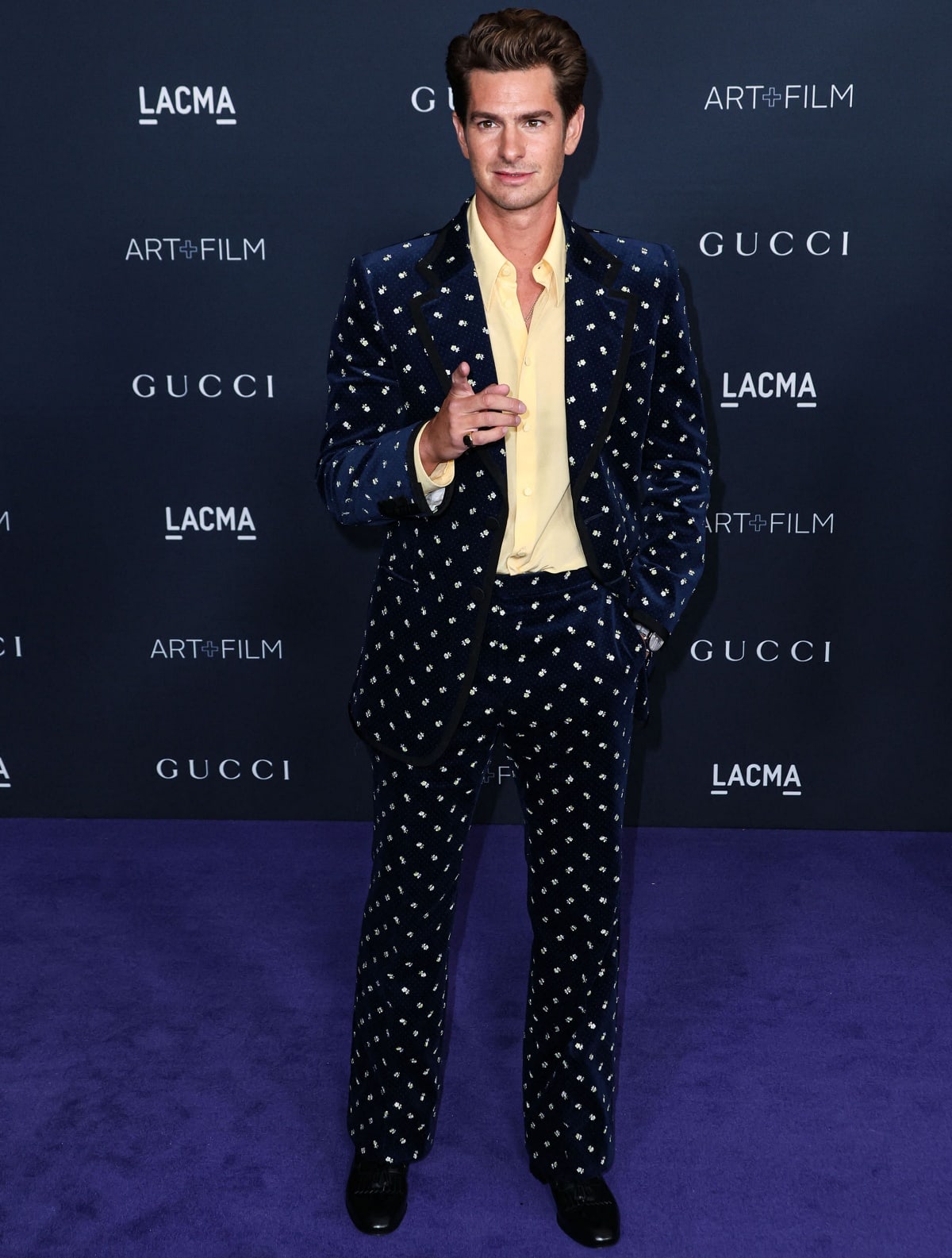 Andrew Garfield standing out in a Gucci floral-embellished velvet suit with a yellow shirt and black dress shoes at the 11th Annual LACMA Art + Film Gala held at the Los Angeles County Museum of Art in Los Angeles, California on November 5, 2022 (Credit: Xavier Collin / ABACA / INSTARimages / Cover Images)
Alyssa Miller and Andrew Garfield
In November 2021, after being seen together in New York City, Garfield fuelled romance rumors with model Alyssa Miller.
The couple looked like they confirmed their relationship in February 2022 when they were caught holding hands after a tennis date in Malibu, California, before Valentine's Day.
Alyssa Miller attending the 2010 Angel Ball hosted by Gabrielle's Angel Foundation for Cancer Research in New York City on October 21, 2010 (Credit: Dara Kushner / INFevents)
At the Screen Actors Guild Awards that same month, Garfield and Miller stepped out as a couple for the first time in matching black suits.
Their breakup was announced just one month later due to their busy schedules. But, when Miller addressed the split on Instagram, it seemed they had parted ways amicably.
Andrew Garfield's Acting Career
Andrew Garfield is an American-English actor, who has had a successful career in film and theater. He started his career on stage and in television shows in the UK before gaining global recognition for his supporting role in The Social Network in 2010.
Garfield played the superhero Spider-Man in The Amazing Spider-Man films and later reprised the role in Spider-Man: No Way Home in 2021.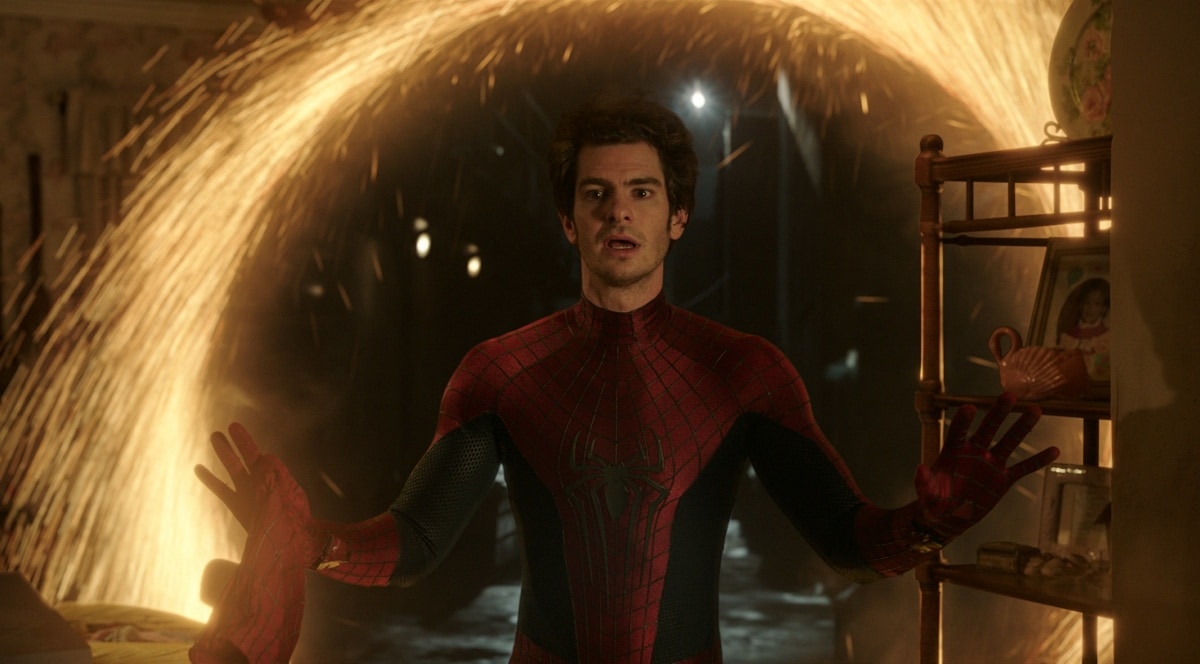 Andrew Garfield as Peter Parker/Spider-Man in the 2021 superhero film Spider-Man: No Way Home (Credit: Sony Pictures Releasing)
He has been nominated for several prestigious awards including the Academy Awards, Primetime Emmy Awards, Laurence Olivier Awards, and Golden Globe Awards.
In addition, he has performed on stage, earning nominations and awards for his performances in productions such as Angels in America and Death of a Salesman.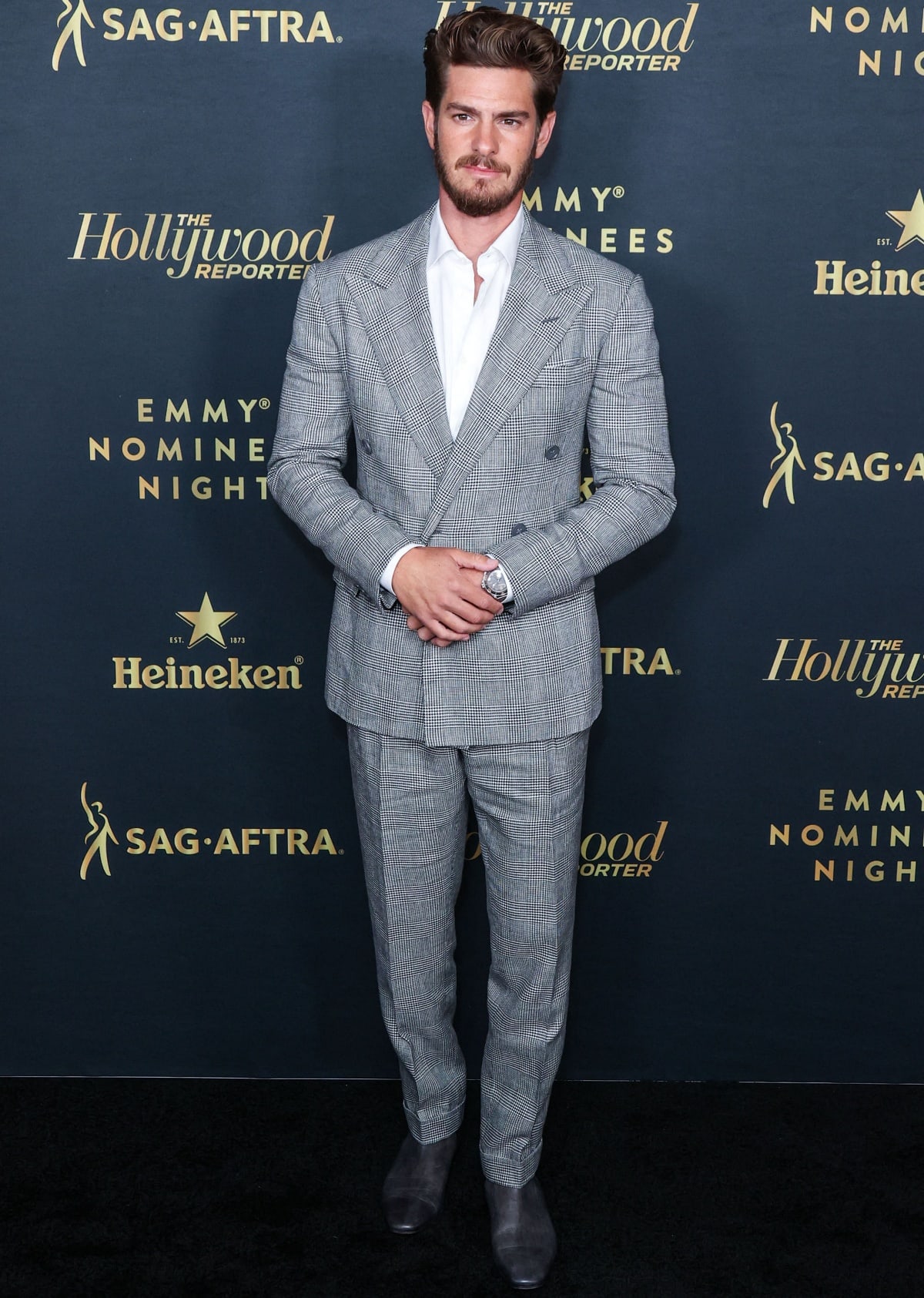 Andrew Garfield attending The Hollywood Reporter and SAG-AFTRA's 74th Annual Primetime Emmy Awards and Emmy Nominees Night held at the Penthouse at 8899 Beverly in West Hollywood, California on September 10, 2022 (Credit: Xavier Collin / ABACA / INSTARimages / Cover Images)
Where Will We See Andrew Garfield Next?
In April last year, Andrew Garfield announced that he would "rest for a little bit" after starring in the true-crime drama TV series Under the Banner of Heaven.
The actor said, "I need to recalibrate and reconsider what I want to do next and who I want to be and just be a bit of a person for a while."
Andrew Garfield in a Valentino Pre-Fall 2022 After Club look at the Valentino Fall 2022 Haute Couture show during Rome Fashion Week in Rome, Italy on July 8, 2022 (Credit: Marco Piovanotto / ABACA / INSTARimages / Cover Images)
While fans eagerly await his next project, it is evident that whatever role he takes on, Andrew Garfield's talent and passion will continue to shine through. Whether he decides to focus on film or television, he will inevitably continue to captivate audiences with his charm and undeniable talent.
Until then, we can only wait and see where his journey takes him next.