A coat is the ultimate investment piece for your closet. It's effortlessly chic and works with every outfit. Whether you're the queen of workwear or an athleisure enthusiast, you'll get seasons of wear out of a camel coat.
As most camel coats are made using wool, they're the perfect choice for layering up in the colder months.
You can also find more casual options that look like a cardigan-meets-coat style that you can wear during the warmer months.
Kimberley Walsh, Emma Watson, and Jennifer Lopez show three great ways to wear camel coats (Credit: Tony Oudot / WENN)
With all its versatility and styling, it's no surprise that camel coats are one of the most sought-after closet staples. Are you not sure if a camel coat is right for you? We have an in-depth guide on everything that you need to know about camel coats, including styling tips.
We're rounding up the best camel coats that are worth the investment – with styles at every price point from high-street brands to luxury fashion houses.
1. Michael Kors Wool Blend Oversized Coat
Available at Michael Kors, the iconic American designer describes this camel coat as having a "borrowed-from-the-boys aesthetic" with a cozy wool blend and statement-notched lapels.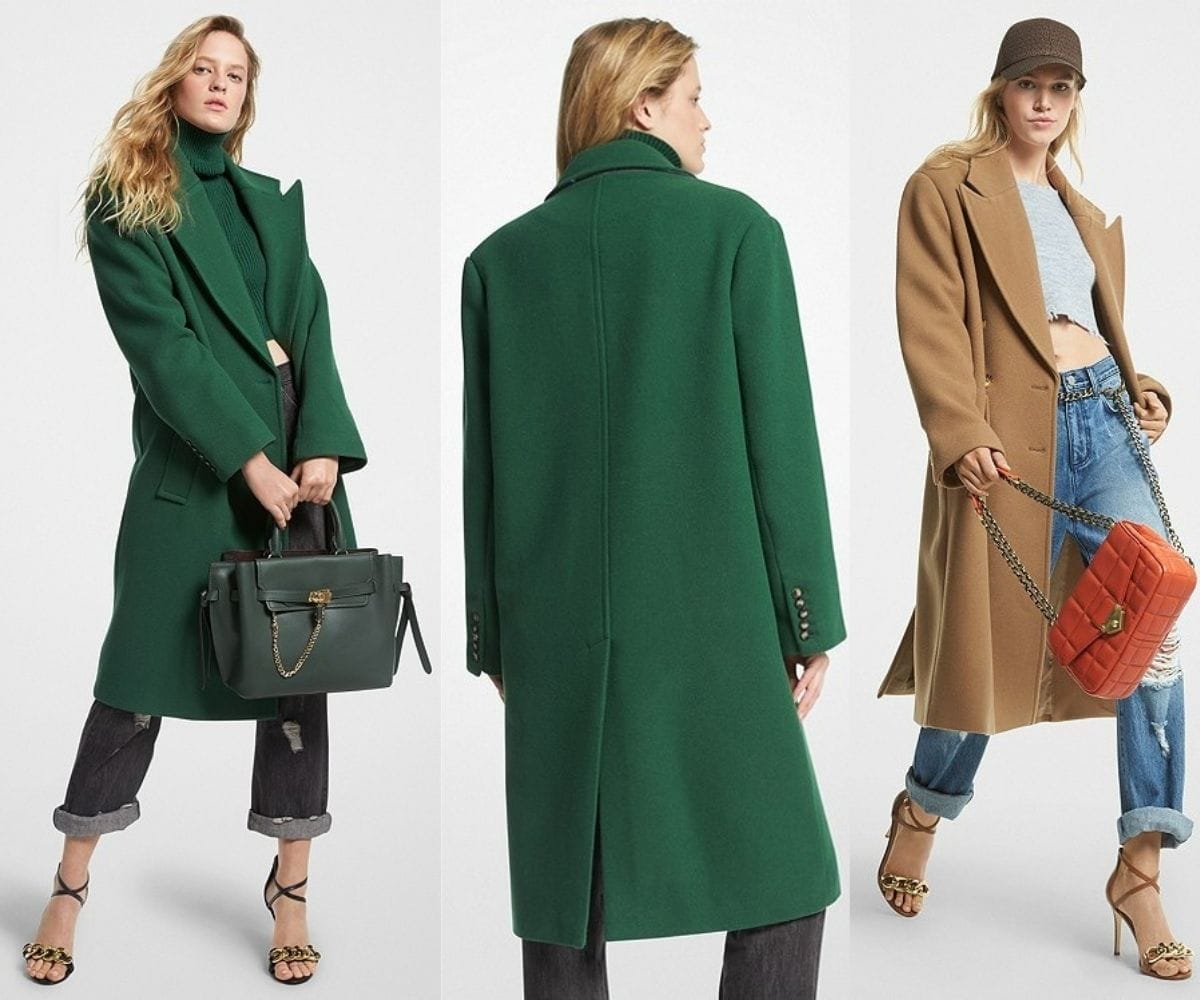 It's the perfect choice if you prefer a laidback look or want to layer it over your favorite sweatshirt or jumper for fall and winter.
2. Vince Classic Camel Wool-Blend Coat
If you're looking for a minimalistic workwear camel coat, we've found the one for you at Harvey Nichols. This coat is made using 55% recycled wool with a loose fit that gives it extra versatility.
Its minimalism is its biggest selling point, making it easy to style with everything from your yoga pants to a little black dress.
3. Karen Millen Italian Wool Blend Buckle Signature Coat
We all have a piece in our closet that is our signature accessory. For most of us, it's our coat.
If you've always wanted a coat like the ones that your favorite news presenters wear, this coat by Karen Millen is worth considering.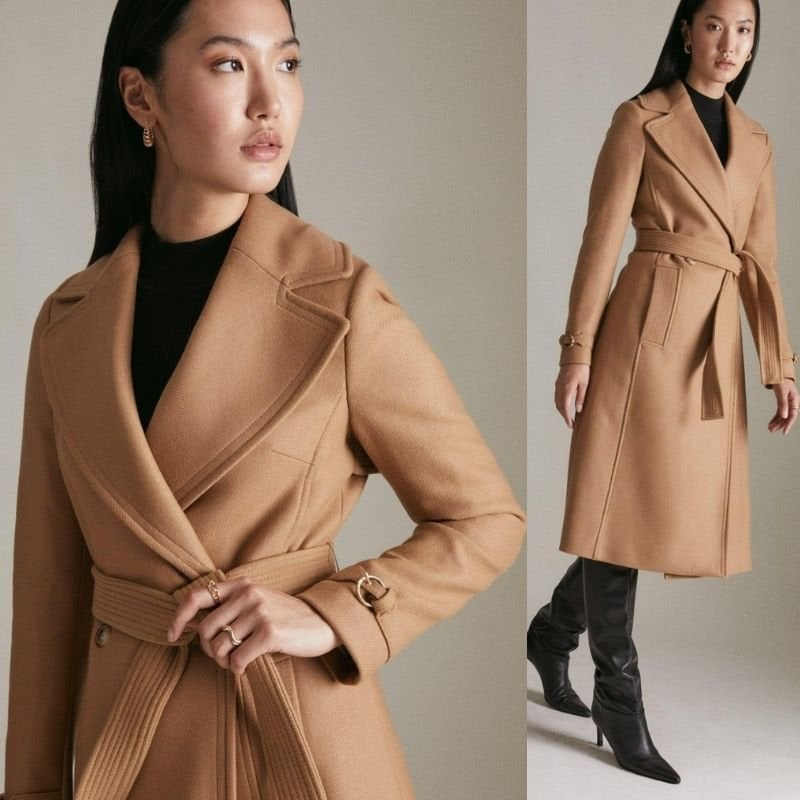 It has a more structured silhouette and a midi-length for added versatility, with a thick waist belt and gold hardware for an elevated feel.
4. J.Crew – Double-breasted Topcoat in Italian Wool-Cashmere
J.Crew is a go-to choice for any investment coat with its high-quality fabrics. Their signature camel coat is available in a classic and petite fit with a knee-length silhouette.
This is the winter coat you'll want to wear all season long, giving you an instantly polished look with its luxe wool-cashmere blend.
5. Tommy Hilfiger Wool Blend Belted Coat
Layer up against the cold with this classic Tommy Hilfiger coat that we found at Farfetch.
Its wool blend fabric is perfect for layering with your winter essentials, while the double-breasted silhouette helps to keep you warm all year round.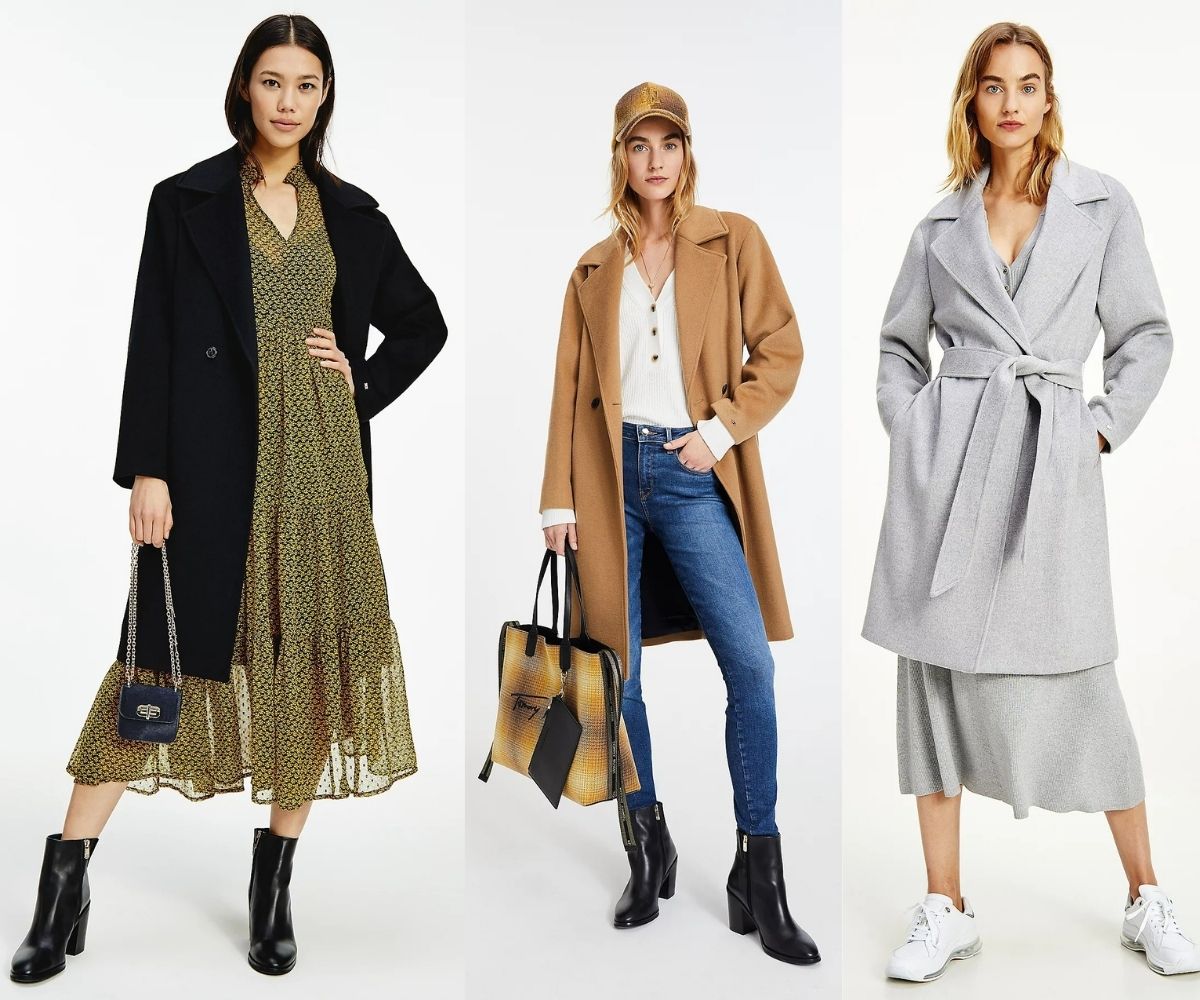 You can pop the color to get a peek at the contrasting lining and classic Tommy Hilfiger branding.
6. Max Mara 101801 Icon Coat
When it comes to designer coats, there's no better brand to choose than Max Mara. If you're able to invest a four-figure sum into your camel coat, Max Mara is the perfect brand to look into at Net-A-Porter.
Their 101801 coat takes its inspiration from the 1980s with its double-breasted fastening, kimono sleeves, and soft beaver wool and cashmere.
Max Mara is a favorite brand amongst celebrities and influencers and is synonymous with its classic Italian design.
7. Max Mara Manuela Icon Coat
Another iconic camel coat by Max Mara is the 'Manuela' coat that you can find at Saks Fifth Avenue.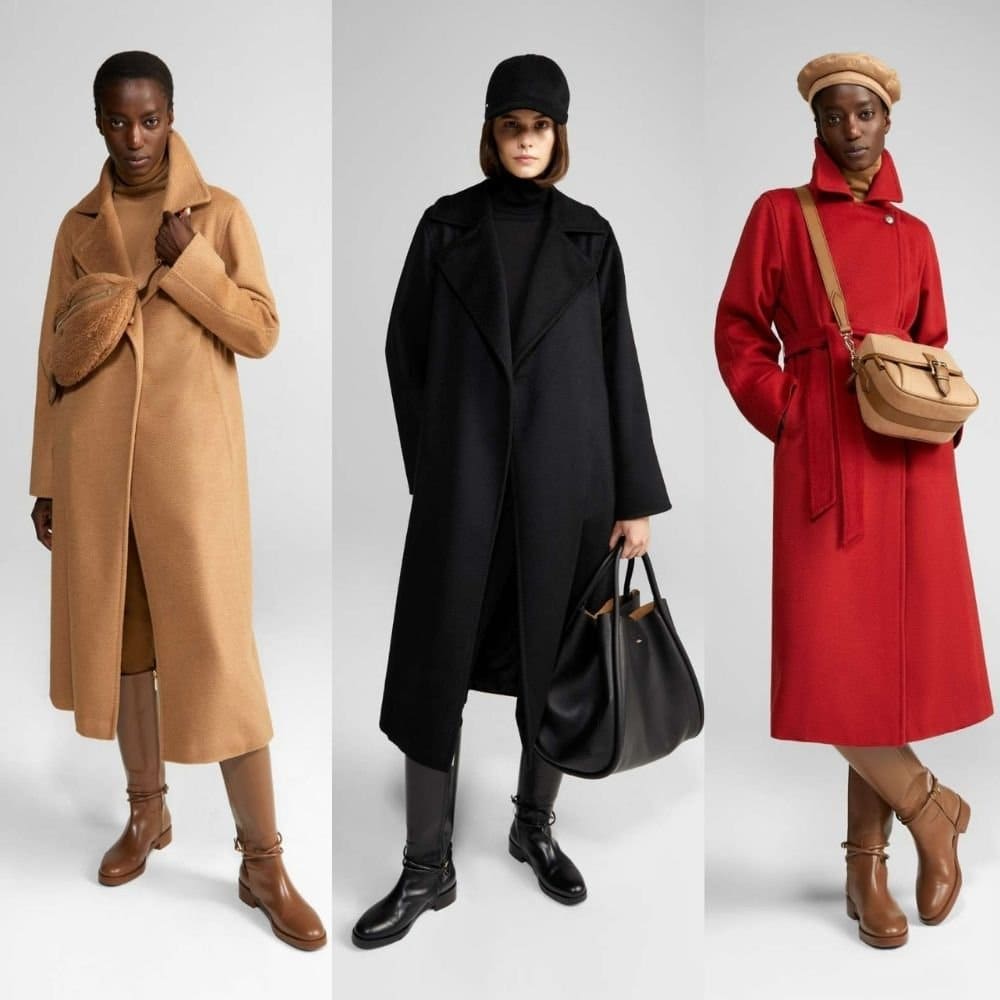 It has a slightly more attainable price point than the 101801 icon coat and offers a timeless design with perfect proportions, complete with a lapel collar.
You can wear it open for a more casual outfit or create a tailored look using the matching belt.
8. Ted Baker Rosell Long Length Wool Wrap Coat
Ted Baker is a British brand that is famous for their camel coats. You'll often find celebrities and media personalities wearing this coat for its versatility, elevated look, and minimalistic styling.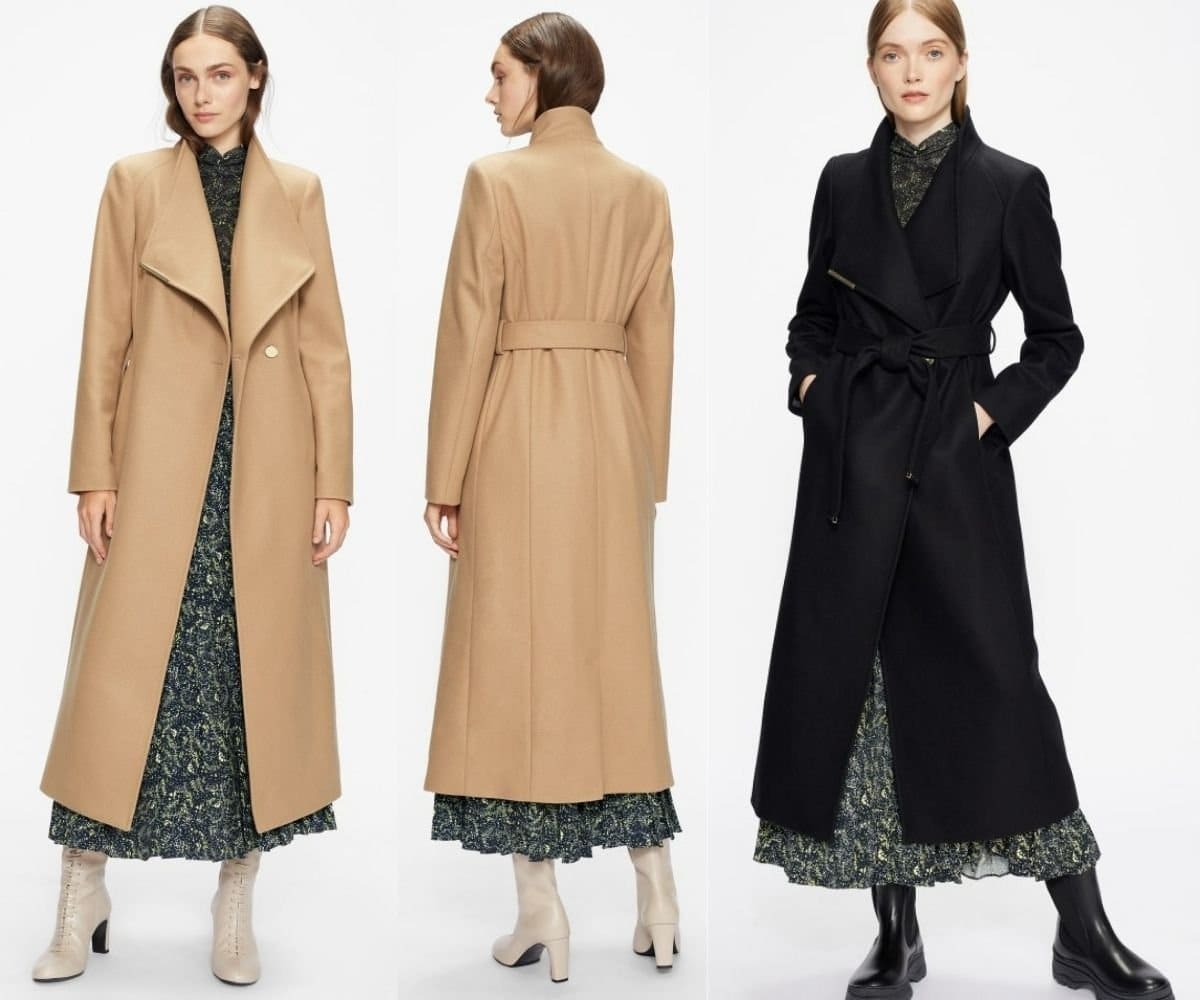 This long-line coat has a polished metal fastening that allows you to wear the coat open with a wide cross-over collar or closed with the embedded magnet.
9. Nap Londyn Shawl Collar Coat
Do you want a camel coat that is so comfortable that you could nap in it? Check out the 'Londyn' coat by Nap Loungewear. It's a high-quality coat that is both functional and stylish, complete with a rounded shawl collar.
The midi-length and double-faced wool give this camel coat a more relaxed look than other options on this list.
10. Lauren Ralph Lauren Wool-Blend Wrap Coat
When it comes to closet staples, Ralph Lauren never disappoints. If you want a workwear coat or one that you can wear off-the-clock, this camel coat available at Nordstrom should be on top of your list.
Ralph Lauren describes it as 'effortlessly feminine' with its rich wool-and-cashmere blend and classic wrap silhouette.
11. Abercrombie & Fitch Wool-Blend Dad Coat
If you want to invest in a camel coat without breaking the bank, this so-called dad coat is one that's worth considering.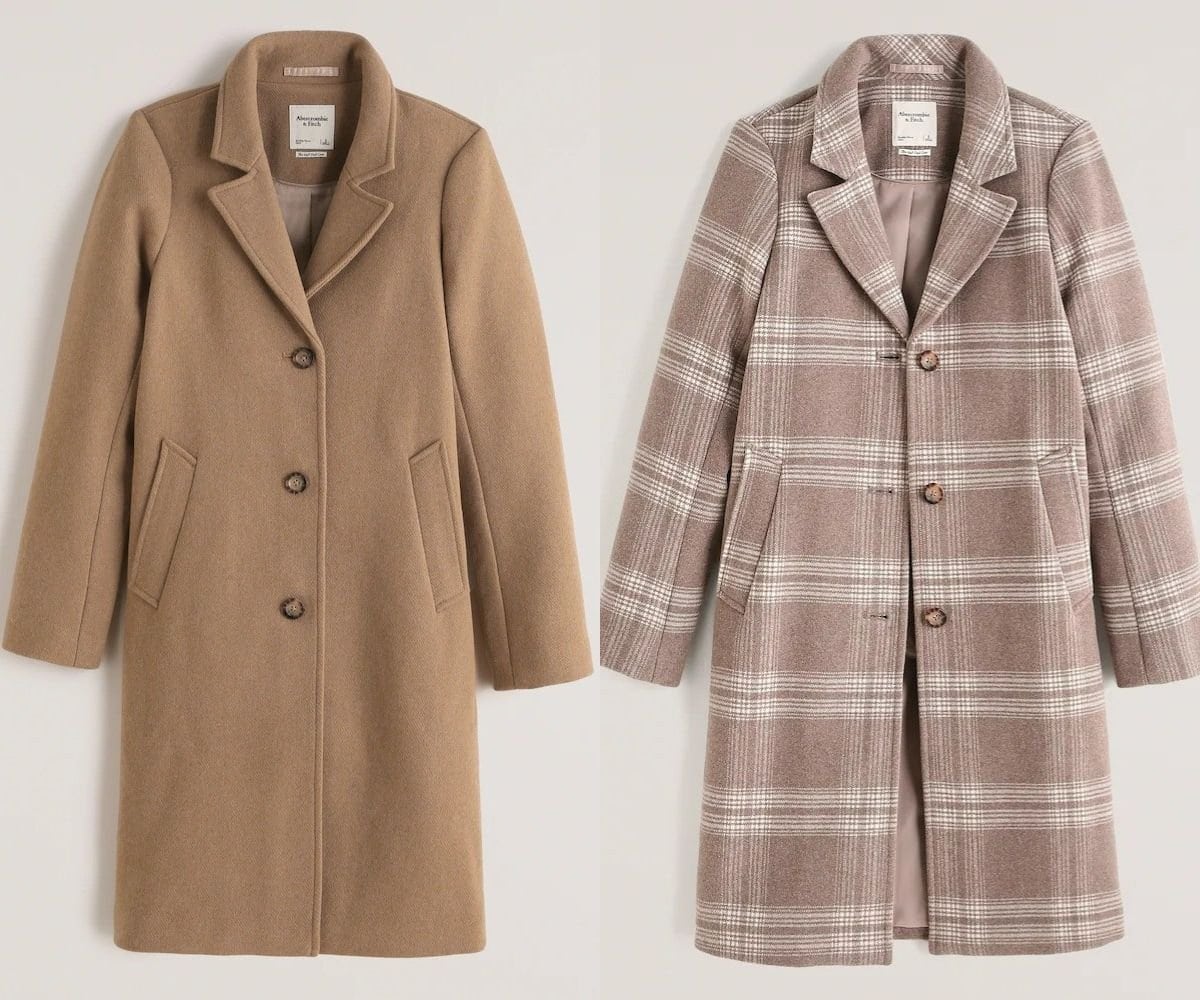 It's available in a petite, regular, and tall fit to give you the perfect length. This camel coat offers luxe interior lining and front button closure that completes its tailored fit.
12. H&M Wool-Blend Coat
One of the most budget-friendly options on this list is by H&M. This wool-blend coat offers a calf-length silhouette and has a brushed finish for a relaxed look.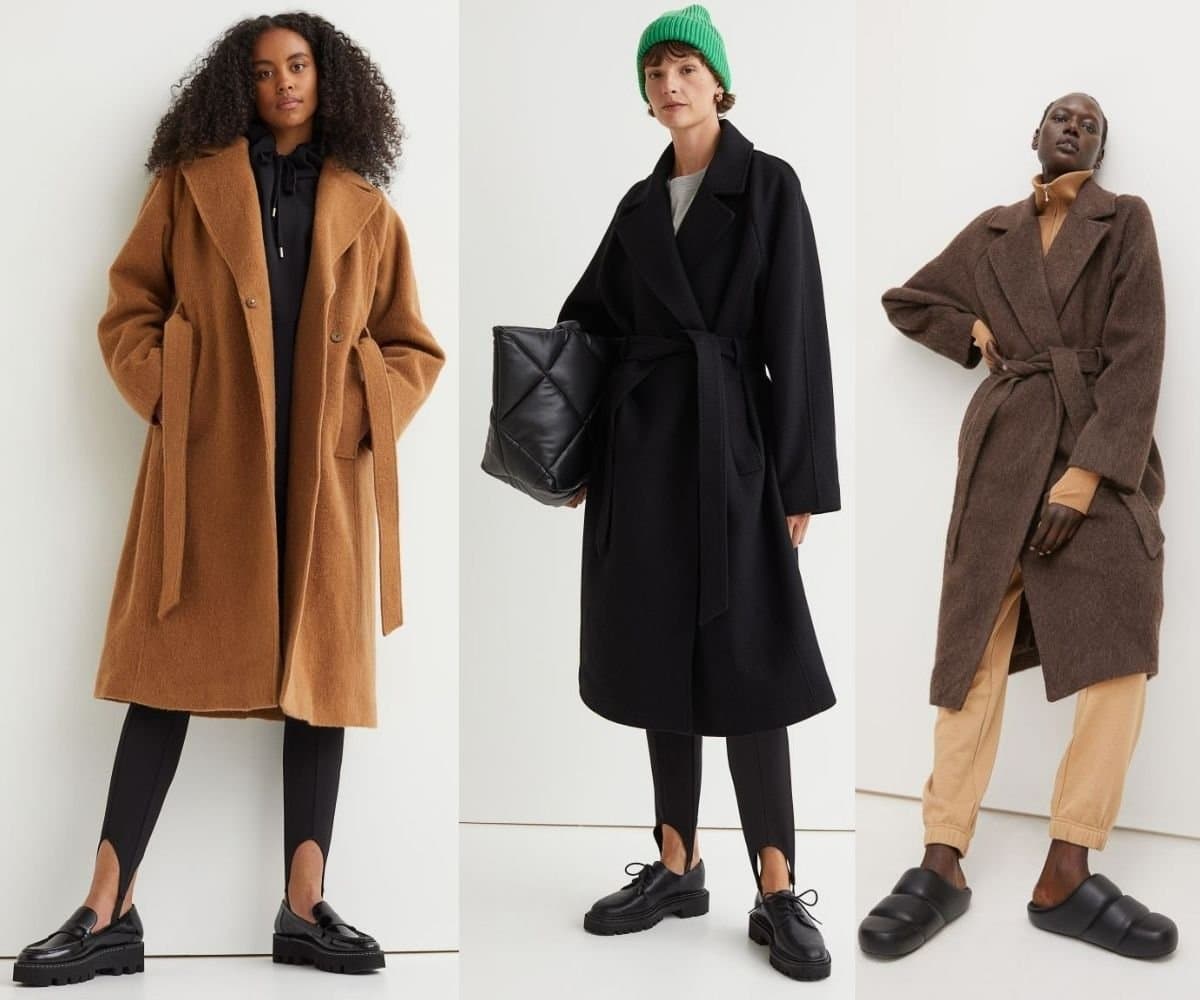 You can use the detachable tie belt to pull in the waist for a more tailored look. The raglan sleeves and wide notch lapels make this coat the ultimate choice for a casual winter look.
13. & Other Stories Oversized Alpaca Blend Coat
With the right silhouette, a camel coat can be a ladylike staple that you can wear to a day at the office or a black-tie event.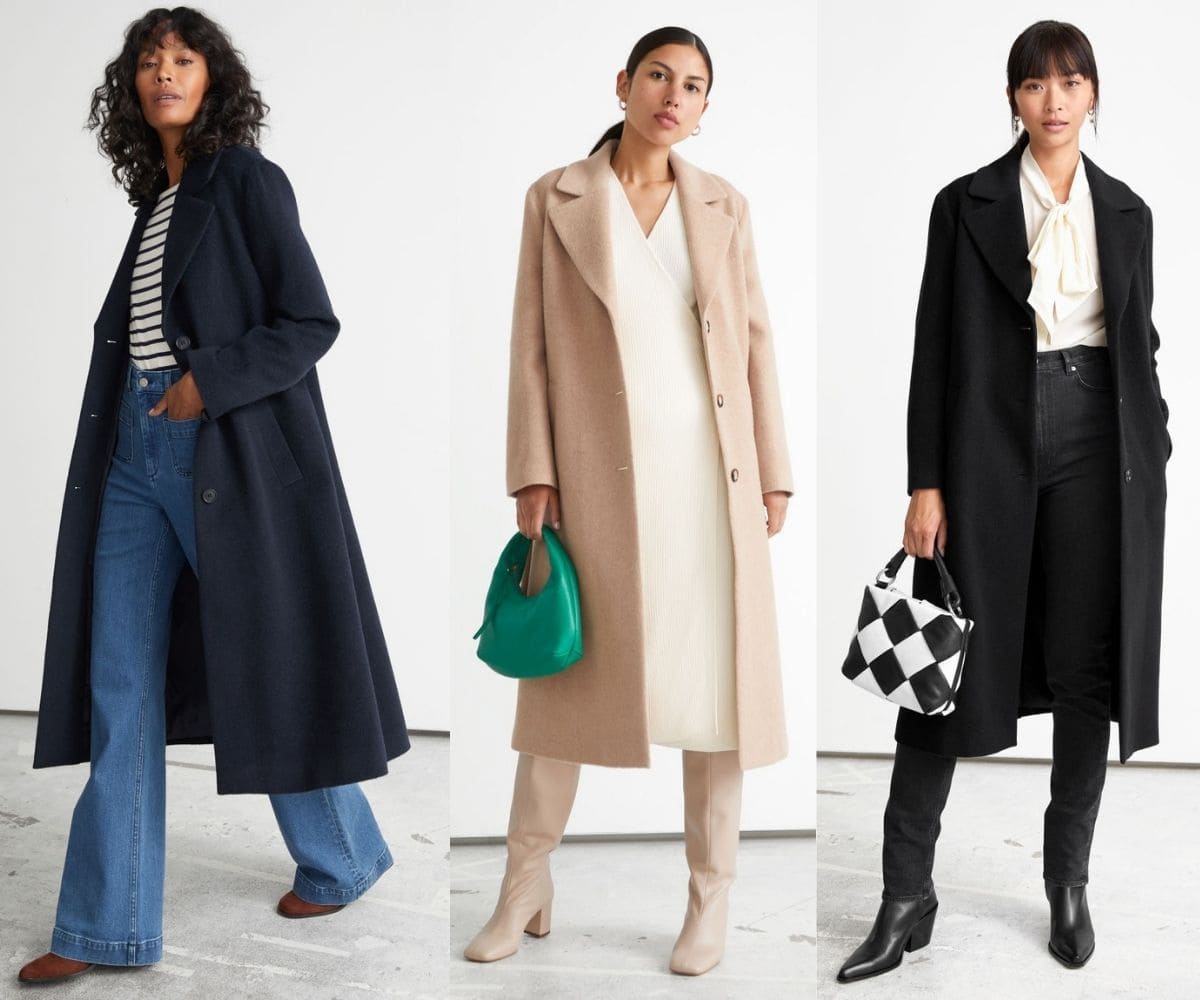 This budget-friendly coat by & Other Stories has an oversized silhouette and an alpaca and wool blend fabric, complete with a belted waistline for added versatility.
Which of these camel coats will you be adding to your closet this season?