Halsey's Feet, Hot Legs, Tattoos, Quotes and Net Worth
Scroll down to see pictures of Halsey showing off her nude feet and bare legs in sexy high heels, boots, sandals, pumps, and hot shoes.
Noted for her distinctive singing voice, she became one of the top five female artists in the U.S. on both Spotify and Billboard's 2017 end of the year lists. Halsey has an estimated net worth of $5 million.
| Net Worth: | $5 million |
| --- | --- |
| Full Name: | Ashley Nicolette Frangipane |
| Born: | September 29, 1994, in Edison, New Jersey |
| Boyfriend: | In 2019, Halsey was dating Dominic Harrison, who performs as Yungblud, an English alternative rock musician from Doncaster |
| Kids: | None |
| Weight: | 54 kg (119 lb) |
| Shoe Size: | 7 (US) or 37.5 (EU) |
| Height: | 163 cm (5 ft 4 in) |
| Nationality: | American |
| Source of Wealth: | Music |
| Ethnicity/Race: | African-American, Irish, Italian, Hungarian |
Halsey's Best Quotes
I wear my personality on my sleeve, for sure, and my look is constantly changing because so am I.

If I am who I am, I'm provocative, candid, and androgynous; there's nothing I can do that will make any fan think, 'I didn't expect that from her.'

The environment around you shapes who you are. How you handle an emergency or how you react when someone is rude to you, that's you.

You can be accessible without catering to an audience.

I have to remember for every kid saying something awful, there's a kid saying something great.

I'm open about having bipolar disorder. I'm open about being of mixed race. I'm open about being bisexual, and I have this wantingness to talk about it, and for me, it's about more than being a role model for any specific community.

So many people are concerned with being the perfect 'something.' Whether it's the perfect singer, the perfect sexy girl, or the perfect feminist. I don't want to be the perfect anything.

As a songwriter, pop music really is a love and a joy and a science, and I feel like a lot of people look at pop music with a very formulaic perspective in numbers and patterns, but an outsider would think that the process is very natural.

When I was in high school, I was a bad kid and a good student.

I was a weirdo. I think I wanted to be liked, but I didn't have the attention or bother to actually make an effort to be. I also think I had a different perception of what I needed to do to be liked.

I love Kanye West. I think he's a visionary. He's one of those people for whom I separate his personality from his artistry.

I'm a human, and I'm multidimensional. If I was the perfect form of anything, I'd be boring. If I was a free spirit all the time, I would be boring; I would lack depth. If I was dark and enigmatic all the time, then I would lack relatability.

My mom is awesome. She's really young. My mom is 40, and she raised me listening to Nirvana and Courtney Love and Coldplay, Gin Blossoms, The Cranberries, and stuff. Like, my early, early memories are of being a little kid running around in floral skirts and Doc Martens when I was, like, three.

People are so afraid to talk about real things, but they're experiences that everyone goes through.

In one week, I went from being a girl who owed a guy thousands of dollars – my manager Anthony was paying for my outfits, paying for my food; I was sleeping in his parents' basement – to taking meetings with every major label in America. The next morning, I had a record deal and wrote him a cheque to pay back all that money.

All the musicians I loved growing up were men. I loved Leonard Cohen, Mick Jagger. I loved Alex Turner from the Arctic Monkeys. Even today, I love Van McCann from Catfish and the Bottlemen and Matt Healy from The 1975.

I'm learning slowly to not be as much of a control freak. I can't afford to be all the time, but I'm getting better at communicating. Delegating parts of my vision for other people to execute has made it an easier process for knowing what I want, and what people can handle, and what I should probably save for myself.

I had a crazy life for a teenager. I lived in New Jersey, but I'd go to Vermont for three weeks, join a commune, take pictures with the guy I was dating, come back home, and post photos.

If I go out there and am myself, and I do what makes me comfortable and what I think is true to my artistry, and they don't like it, then that's fine. I walk off stage, and I know there's nothing there's nothing I could have done differently.

I consider myself someone who takes a lot of beauty risks, and I've realized what I liar I am. I change my hair a lot, from blue to blonde to bald, but I'm trying to branch out a little more with makeup.

You can tell if there's magic in something. When you start it, you want to finish it and you want it to be perfect. If you're not inspired, and you're working hard to pull inspiration from somewhere and make a song something it's not, then it's very contrived, and I don't like to write music that's contrived.

I think escapism is something artists write about pretty frequently – it's something everyone can relate to, the concept of wanting something more, wanting to find solace, wanting to have something better.

I put 'Ghost' online hoping to make a couple hundred bucks, but then the next day, I took meetings with five different record companies.

I end up pleading my case to alternative programmers – you're telling me that my music is too dark for pop, too pop for alternative, and urban radio won't touch it – so we have a record that doesn't fit in. And what is more alternative than that?

A guitar can be so human, so sorrowful, so angry, and I wanted to figure out how to achieve that vibe without having to actually use guitars, because 'Badlands' is a very futuristic record – and making it that in an era of futuristic music is a really hard thing to do!

I'm 21 years old, and it's kind of uncomfortable for me to talk about, but I'm in the 1 percent as far as my income and tax bracket. But now that I'm here, there's no amount of money you can wave in front of my face that will make me understand depriving people of human rights.

It's hard because I think I fall into this in-between space where there's something that's innately feminine about me, and there's also something that's kind of androgynous. I carry myself somewhere in between, and I think my music lends itself to that as well.

I think, growing up in a small town – I grew up in a lot of different places. I grew up in a city environment, a more suburban environment, a more rural environment. That's the beauty of New Jersey is you get a lot of different types of living.

For me, writing about hotels is like writing about being in a parallel universe. The sense of voyeurism, and the sense of removedness, and there are all these people silently above you and next to you.

'Badlands' is a very tangible record; a lot of the sounds were actual things: they were pots and pans, and they were rocks, and they were voices,and instruments used in a way to create a landscape of sound.

In 2016, makeup has become an incredible passion and hobby for men and women, but it hasn't become mainstream.

Being a pop-leaning, female artist, you'd think that I'd have my record company breathing down my neck and trying to control everything I'm doing. Actually, they've just kind of let me take the wheel.

I'm a musician with a very unique mental state, I suppose. I'm agoraphobic. I'm scared to leave my house. I haven't been alone in, like, two years. I'm either with my boyfriend or my assistant, my manager or my tour manager. I won't go anywhere by myself; I'm too terrified.

I was obsessed with learning about social behaviors. I remember explaining to my mom that kids on my soccer team were fighting because of dyads and triads.

In a city, there's more room to be, wherein a small town, you have to squish yourself down a little bit. And it's exciting for me to be pursuing a career where I don't have to be small.
Halsey's Naked Feet and Bare Legs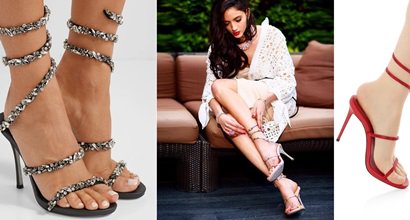 Stylish celebrities like Bella Hadid and Gal Gadot have been spotted wearing the elegant 'Cleo' sandals from Italian luxury shoe…
Halsey had a tattoo inked on her right upper arm in 2017 to celebrate her Playboy magazine cover story. It…
Halsey showed off her right ankle tattoo of a knife with a belt around it at the Ending Youth Homelessness:…
Halsey showed off her foot tattoo on the red carpet on the red carpet as she arrived at the 2019…
Anne-Marie hit the red carpet on Saturday at Capital FM's Jingle Bell Ball 2018 at The O2 Arena in Peninsula…
Sophia Webster uses the hashtag #SpottedinSophias to showcase stylish women – like Bella Hadid and Emily Blunt – wearing her…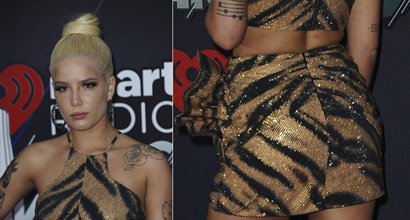 Halsey went for a street worker-inspired look when she joined Sarah Hyland, Anne-Marie and Rita Ora at the 2018 iHeartRadio Music Awards held at The…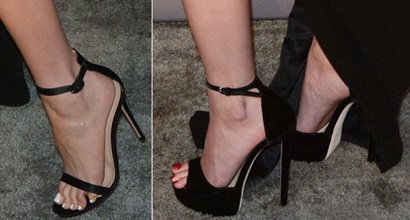 The amfAR Gala New York serves as the unofficial kick-off to New York Fashion Week, which officially begins on Thursday,…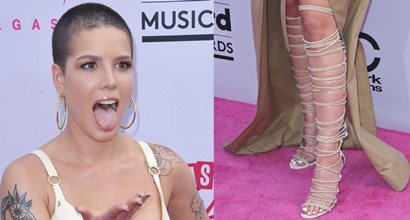 Halsey joined Dencia, Hailee Steinfeld, Lea Michele and Vanessa Hudgens on the pink carpet at the 2017 Billboard Music Awards…
It seems like Halsey forgot exactly how to wear a belt. All eyes were on the sultry singer as she strutted…
This year's iHeartRadio Music Awards gave us a lot of stylish shoes to look at on the red carpet. Celebrities…
Despite being mocked for her cameo role, Rita Ora stole the show while walking the carpet at the 'Fifty Shades…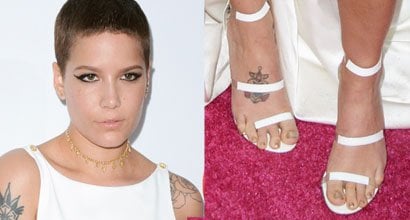 Halsey is relatively new to the music scene. It's only been two years since the musician debuted her EP, but…
Before performing her new hit song "Castle," which is featured in the upcoming blockbuster 'The Huntsman: Winter's War', Halsey turned…