Gigi Hadid is one of the most sought-after supermodels in the world, so it's no surprise that she typically dresses to the nines. Even her most laidback outfits look fantastic on her. So naturally at Milan Fashion Week, we expected to see her showcase her best outfits. After all, when you are walking for designer brands like Fendi, Versace and Moschino, you have the best of the best at your fingertips.
Gigi started Day 1 on a high note with a chic ensemble from Max Mara. The model wore a beige romper under a long gold sequined trench coat that showed off her gorgeous, tanned legs. Gigi finished off her sexy look with more Max Mara pieces, including the "Oliveto" patent rabbit fur sandals and a large tote bag.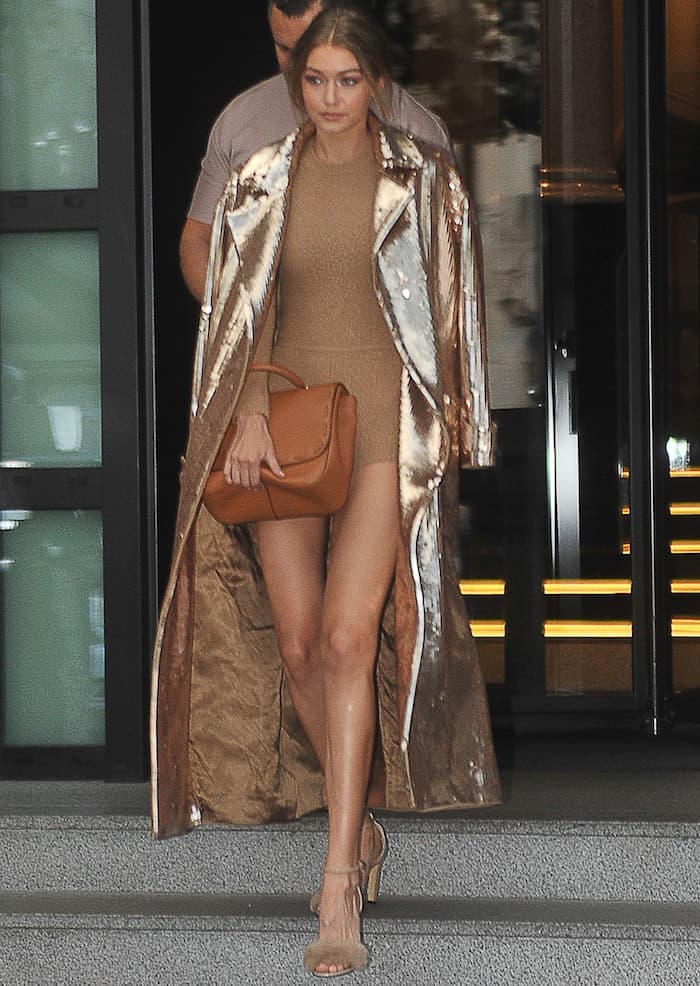 Gigi Hadid from head-to-toe Max Mara at Milan Fashion Week on September 21, 2016.
Max Mara "Oliveto" Patent Rabbit Fur Sandals in Nude, $635 from Max Mara
Later that day, however, the 21-year-old went from fierce to frumpy in an odd denim ensemble. She wore a pair of skirted jeans with a white tee under a matching denim jacket. She paired the outfit with Freda Salvador "Keen" mules and accessorized with a pair of round sunglasses and a Versace backpack. It looked like an outfit straight out of Woodstock, but not in a good way. It was definitely not one of her best looks.
Gigi Hadid in a denim ensemble and Fred Salvador "Keen" mules later that same day.
Freda Salvador "Keen" Mule, $350 from Freda Salvador
Gigi redeemed herself by the end of the week, however, in a pair of Alexander Wang "Lyndon" Boots.
What do you think of Gigi's looks for Day 1 of Milan Fashion Week?
Credit: WENN