No one does Halloween quite like the undisputed queen of Halloween herself, Heidi Klum, whose annual Halloween party has become a highly anticipated event in the industry.
Every year, many celebrities show up in unique and elaborate costumes, but none can match Klum's spectacular, fearlessly imaginative, and often extravagant Halloween appearances.
This year was no different. As expected, Klum set a new bar high when she arrived at the nightclub Marquee New York wearing a larger-than-life peacock costume.
Heidi Klum shows up as a peacock at her 22nd Annual Halloween Party held at Marquee in New York City on October 31, 2023 (Credit: Darla Khazei / INSTARimages)
The 50-year-old supermodel, who hung up her Victoria's Secret Angel wings over a decade ago, opted to spread a new set of wings for this year's Halloween.
She donned a velvety cobalt blue bodysuit, complete with an intricate headpiece and a beak prosthetics created by Bill Corso, to resemble a proud peacock. Her hands were painted blue and green, and so was her face to conceal her flesh.
To help realize her vision of a peacock look, Klum collaborated with 10 Cirque Du Soleil dancers, who dressed in peacock feather-print bodysuits and posed as her tail feathers.
"In order to make this an art performance, I thought I would team up with one of the most known artists in the world, and that is Cirque du Soleil. I had numerous FaceTime conferences, as well as in-person meeting in Montreal at their headquarters to finalize mine, as well as all of the artist positions," Klum told Vogue.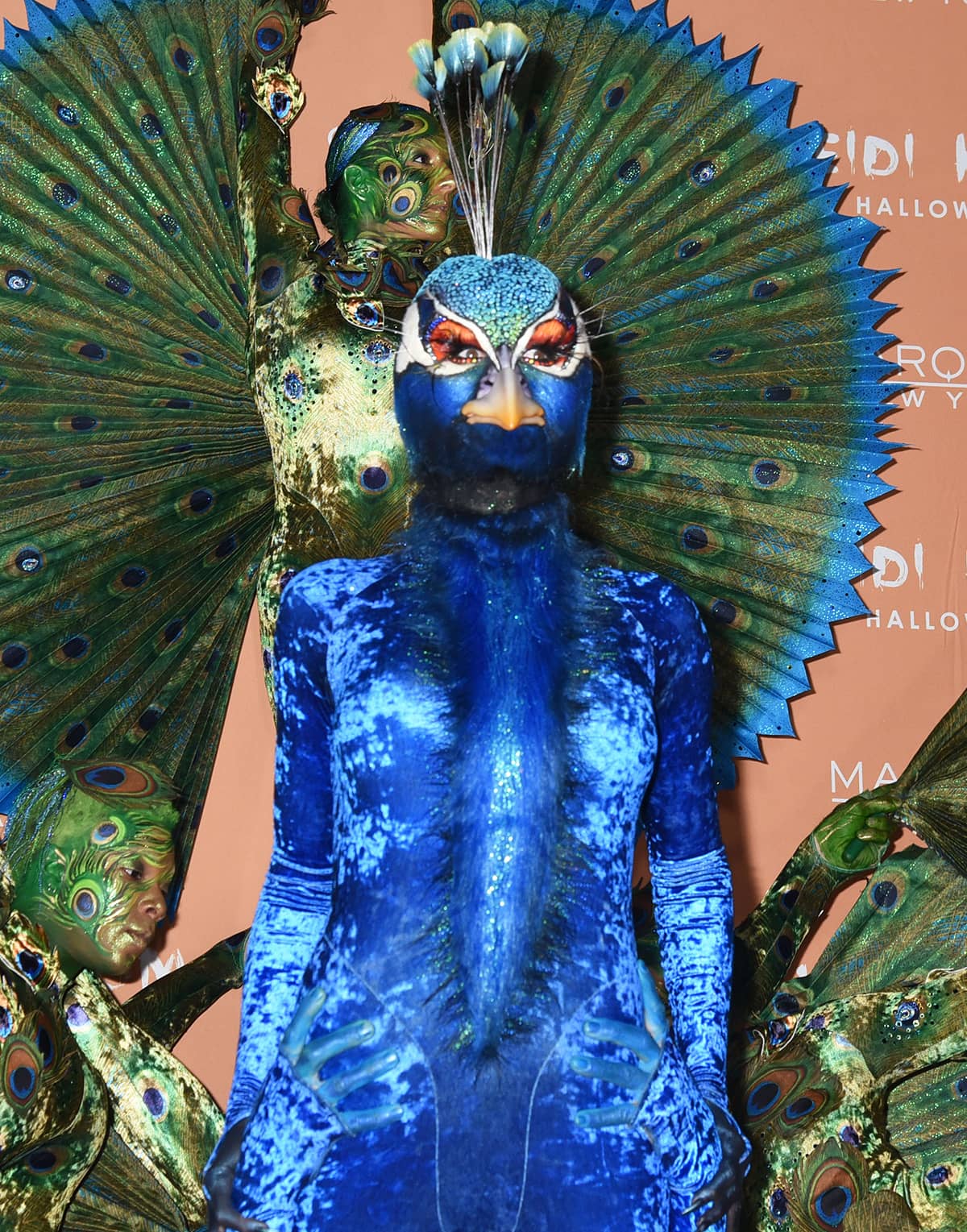 Heidi Klum commissioned Bill Corso to create her intricate peacock headpiece and beak (Credit: Darla Khazei / INSTARimages)
Cirque Du Soleil costume designer Marie Chantale Vaillancourt designed and printed the patterns on the dancers' unitards, embellished with Swarovski crystals. Meanwhile, Cirque Du Soleil's makeup artist, Vanessa Ashley, recreated a full peacock feather look by applying foil, glitters, and airbrush paints on the dancers' hair and faces.
"It took about six hours to do this," Klum told Page Six exclusively. "There's many people, there were 10 artists in there, getting painted with me at the same time."
She admitted that although she was "not really anxious," she was worried about getting glue in her eyes while blinking with her feathery lashes on.
"There's a lot of moving parts and people needing this and that. You know, [hair] spray, and so it's a lot of commotion with so many people doing this show, you know?"
View this post on Instagram

She added, "I thought it would be fun to do a costume with a bunch of people and so I came with the idea of a peacock and to do this with 10 people and all make an amazing formation and then fan out."
"We figured out how the positioning would be and who gets what kind of leotard and how is it painted on so that from the front it will look like a peacock."
Klum positioned herself in the middle, atop one of the dancers' thighs, while the acrobats arranged their bodies in twisted and bent positions on the red carpet. It reportedly took more than 20 hours of rehearsals to bring the magical peacock look to life.
Heidi Klum poses with ten Cirque Du Soleil dancers clad in peacock feather-print bodysuits resembling her tail feathers (Credit: Darla Khazei / INSTARimages)
Known for appearing in Halloween couple costumes, Klum was joined on the red carpet by her husband, Tom Kaulitz, who dressed up as a giant peacock egg.
"It's not easy to come up with something that fits. So peacock, we thought, you know, egg could fit. Big egg!" Tom told Page Six.
"We got really stuck on the egg [idea] immediately," Klum added.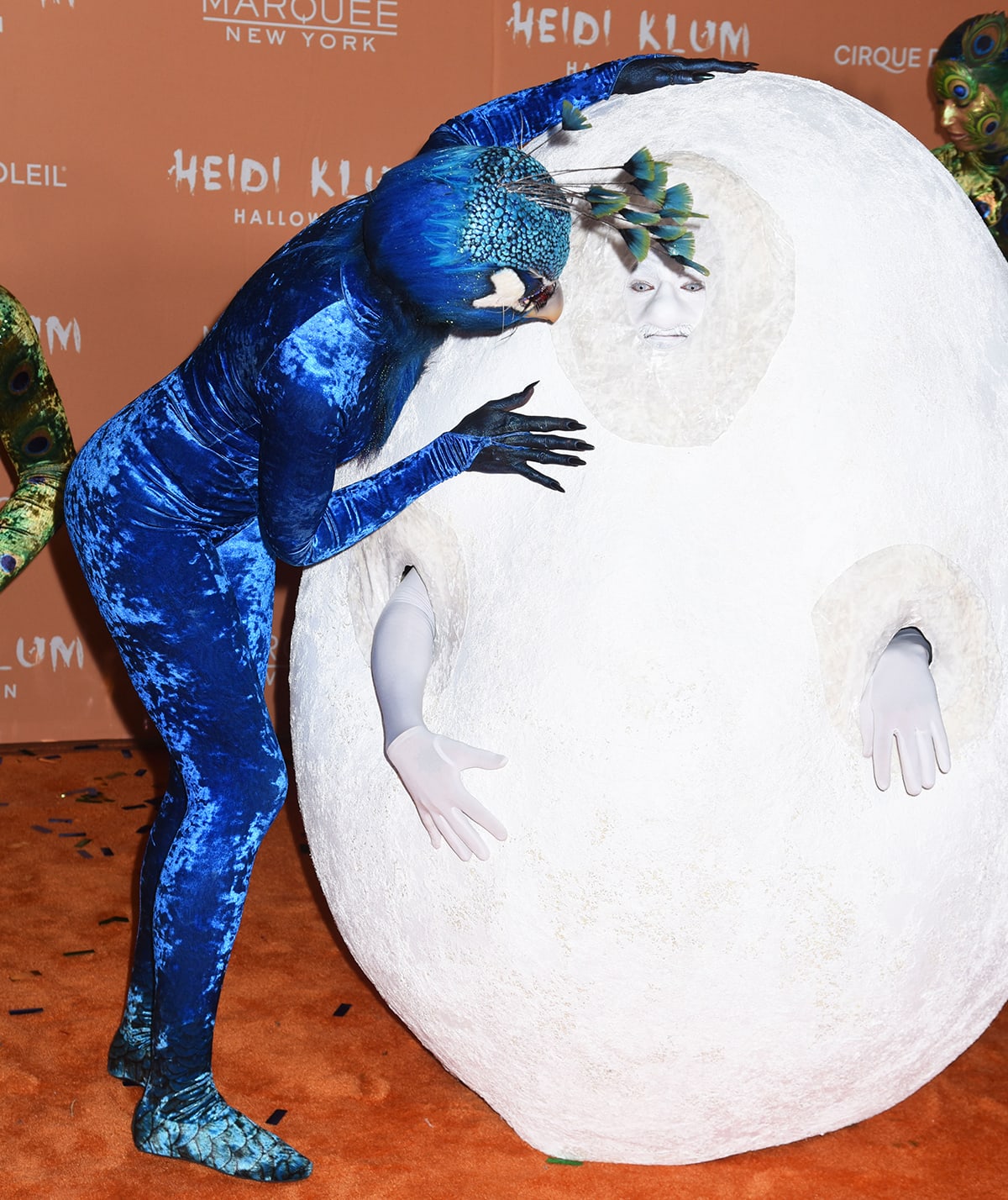 Heidi Klum's husband Tom Kaulitz shows up as Klum's human-sized peacock egg (Credit: Darla Khazei / INSTARimages)
Last year, Heidi dressed up as a worm, with Tom as a fisherman. In an interview with Jimmy Fallon before her 2023 Halloween bash, Klum admitted that her last year's rainworm costume "was very hard."
"I was very claustrophobic because basically they had to tie my arms down in order to be in this position, and then my face was like glued to the outside of it, so I couldn't really move my face any which way. I was just stuck."
Klum's much shorter daughter, Helene "Leni" Boshoven Samuel, also attended her mom's Halloween event this year.
She chose not to wear matching costumes and instead showed up as the seductive version of Strawberry Shortcake, wearing a pink bikini lingerie and a wig.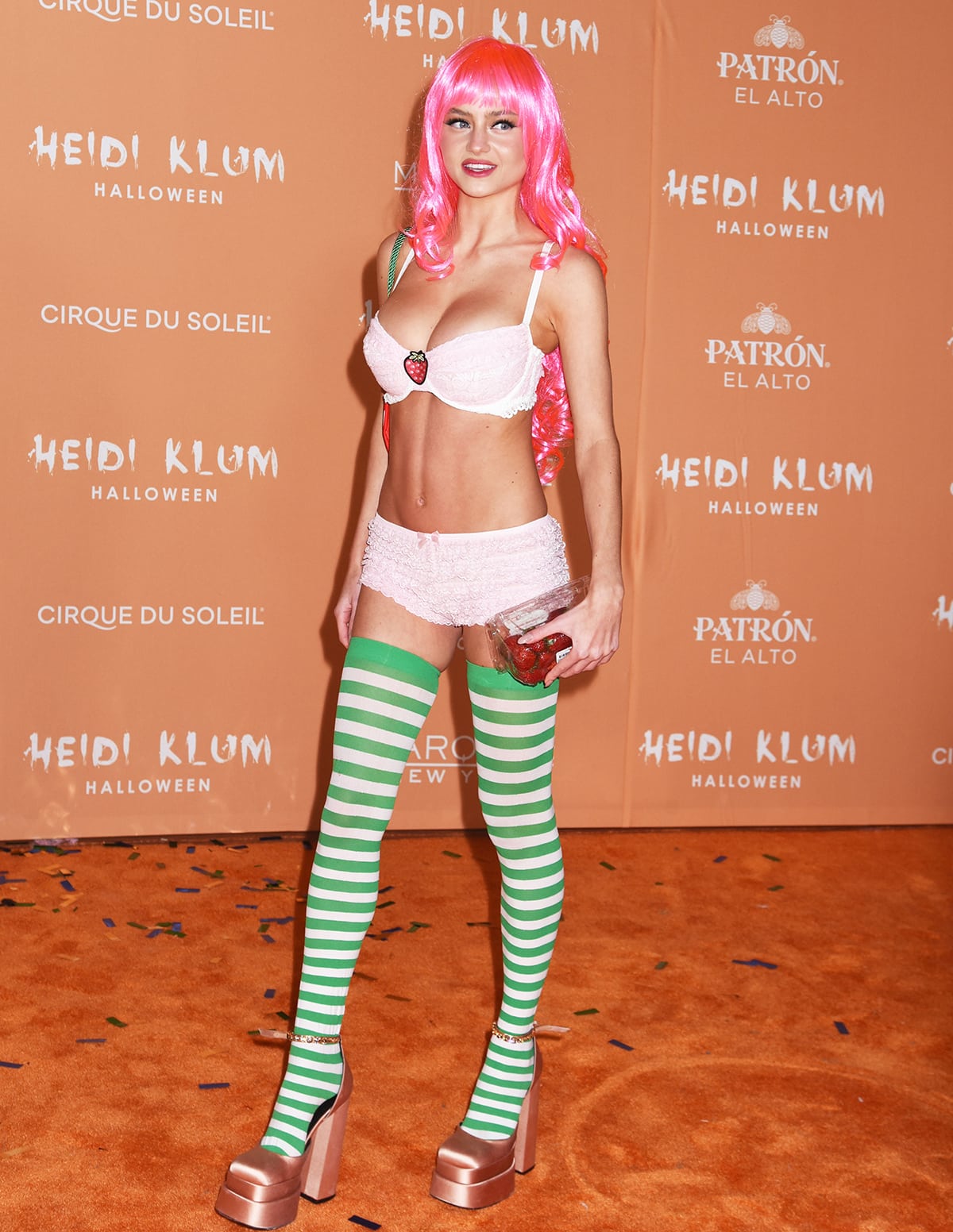 Leni Klum opts for a sexy version of Strawberry Shortcake in pink bikini lingerie (Credit: Darla Khazei / INSTARimages)