With her uneven boobs on display in a sexy corset dress, Jennifer Lawrence got a little daring at the X-Men: Apocalypse after-party held Monday night at the exclusive nightclub Tape London following the film's London premiere.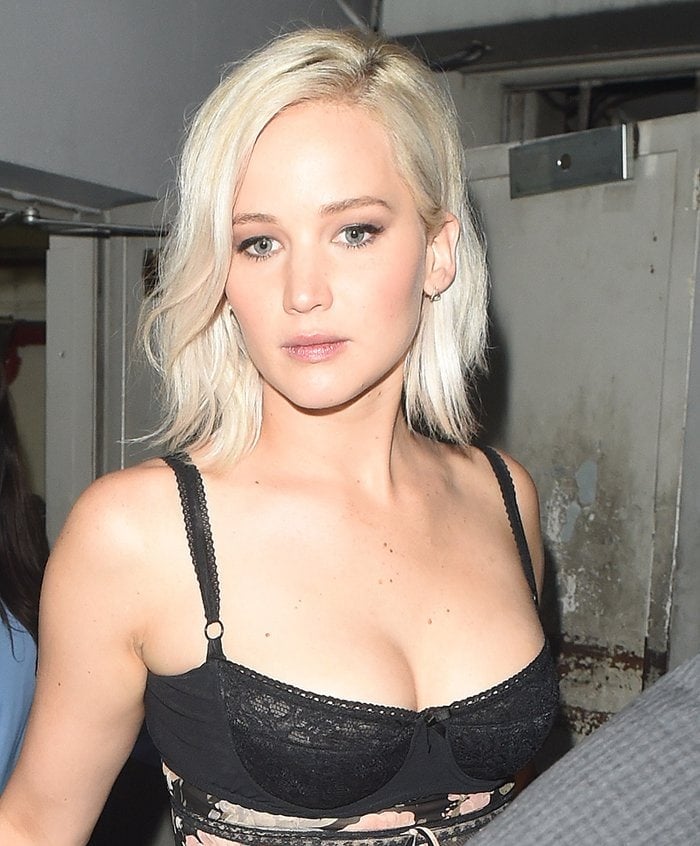 Jennifer Lawrence wears her short blonde hair down at the "X Men: Apocalypse" premiere after-party held on May 10, 2016, at Tape Nightclub in London (Credit: Will Alexander / WENN)
Appearing on Jimmy Kimmel Live! in 2013, she revealed that her boobs are uneven.
"I just went to the doctor today, I got a chest X-ray of my lungs and discovered that my breasts are uneven," she said.
"I was like standing there with these doctors and they're like looking at my lungs and I just couldn't – it felt like an elephant in the room – and I was like, 'Are my breasts uneven?' And they were just kind of, like, stifled and uncomfortable, obviously. So I kept thinking, 'Well, I'm gonna dig myself out of this hole by bringing it up again.'"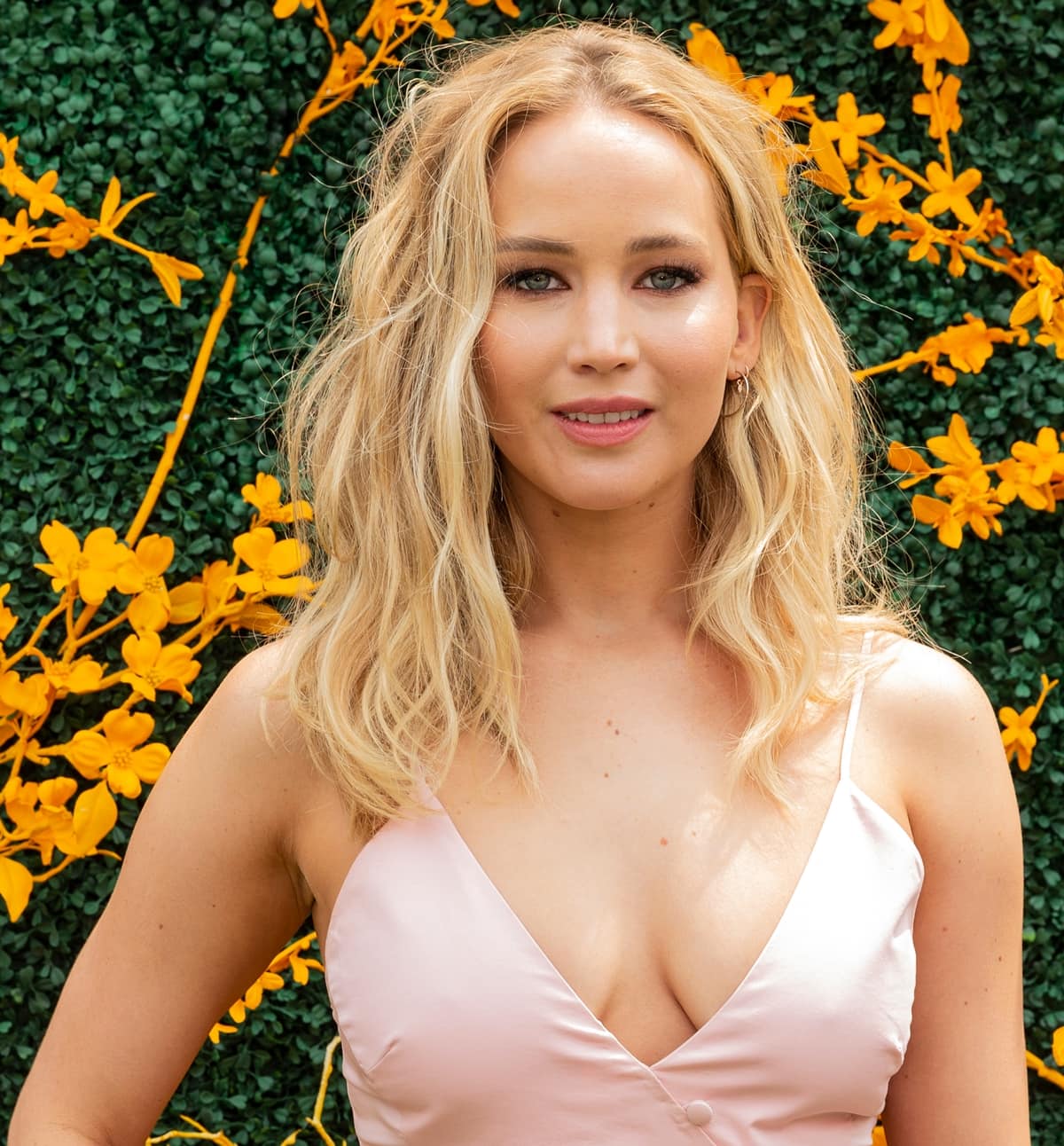 Jennifer Lawrence discovered her boobs are uneven when she did a chest X-ray (Credit: Lev Radin / Shutterstock)
"So he was like, 'All right, our radiologist will get back to you about your lungs.' And I was like, 'And my breasts?'"
"It wasn't until the X-ray," Lawrence responded when asked if she's worried about her uneven breasts. "I just hope no one will ever see my breasts in an X-ray."
Jennifer Lawrence displays her boobs in a form-fitting Dolce & Gabbana dress outside Tape Nightclub in London (Credit: Will Alexander / WENN)
All eyes were on the 25-year-old actress as her breasts threatened to spill out of her Dolce & Gabbana dress.
She squeezed her ample assets in the form-fitting frock, which had a racy cleavage-baring corset-bra bodice and a floral skirt with a laced hem that hit just right above her knees.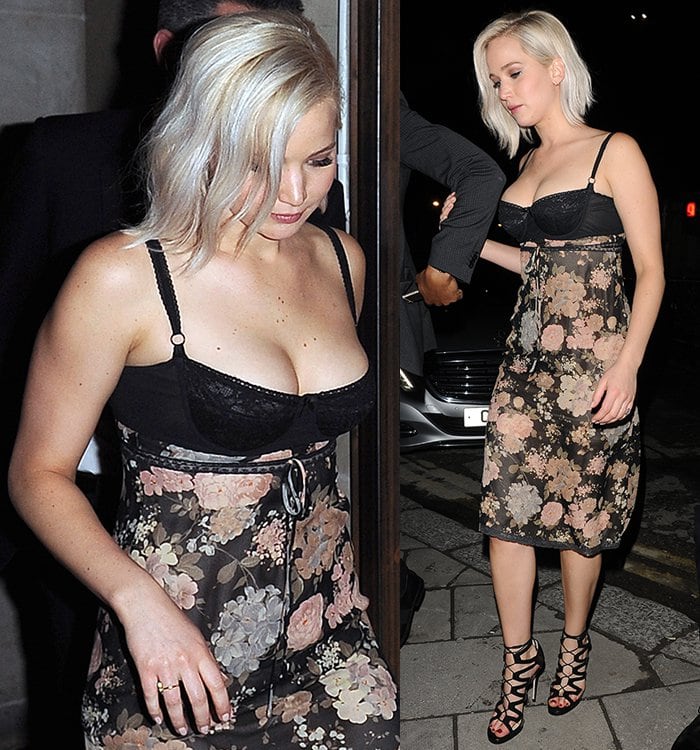 Jennifer Lawrence shows off her cleavage as she spills out of a floral-printed Dolce & Gabbana dress (Credit: Will Alexander / WENN)
The "Joy" star allowed her impressive cleavage to take center stage by going bare-necked and accessorizing with minimal jewelry.
She wore her short platinum blonde locks in soft waves, with the left side tucked behind her ear. The popular actress amped up the sultry vibe of her look with subtle smoky eyeshadow, black eyeliner, and rosy lipstick.
Jennifer Lawrence squeezes her boobs in a Dolce & Gabbana corset dress (Credit: Will Alexander / WENN)
J.Law rounded out her smoldering look with a pair of sexy lace-up "Dani" sandals by Jimmy Choo.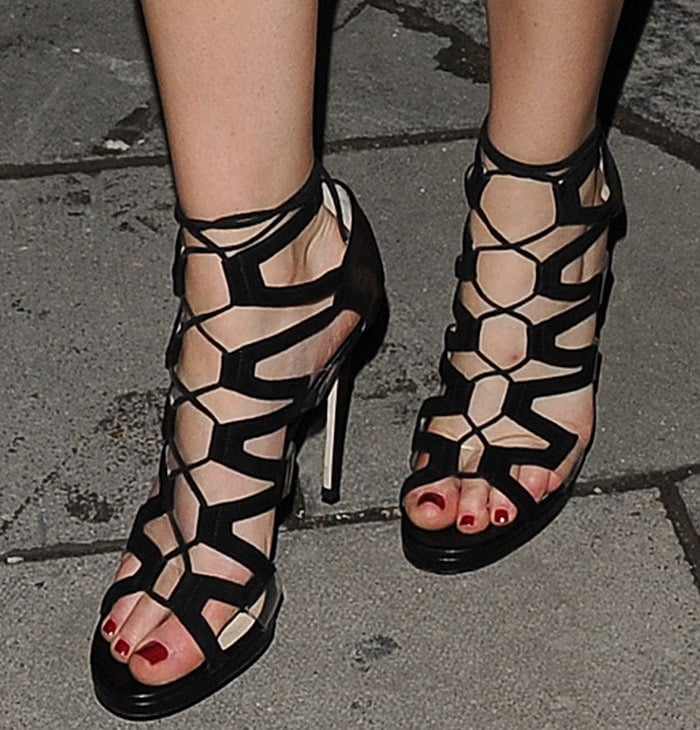 Jennifer Lawrence's feet in gladiator-style Jimmy Choo sandals (Credit: Will Alexander / WENN)
These modern gladiator-style heels feature suede straps with cutout sides and PVC inserts, lace-up fastenings, and five-inch black leather stiletto heels.
You can check out her popular Jimmy Choo sandals at Mytheresa and Net-A-Porter.
Jimmy Choo "Dani" Cutout Leather, Suede, and PVC Sandals, $995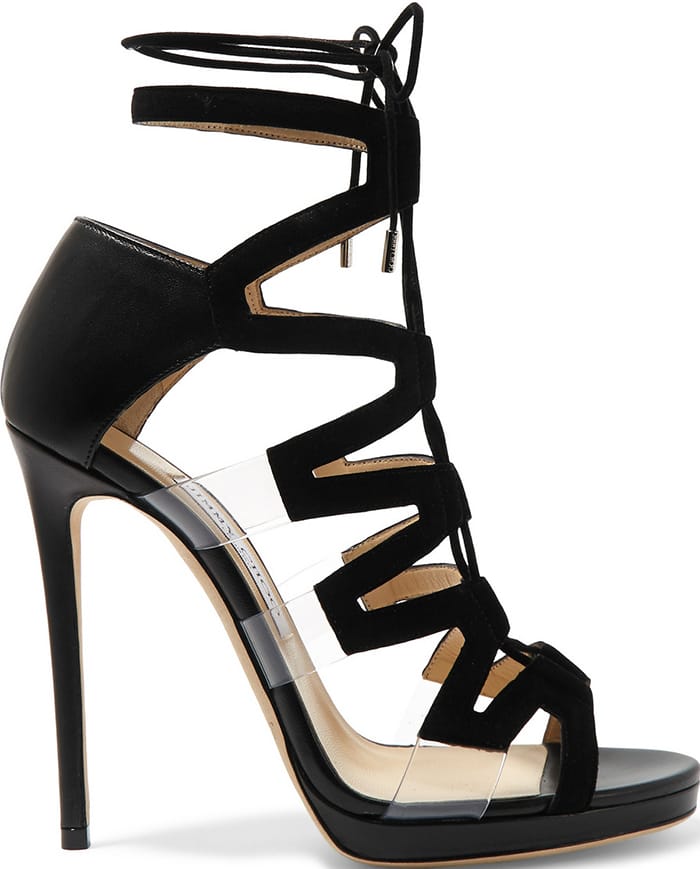 Jimmy Choo's 'Dani' pumps are crafted in Italy from supple black leather and suede
A graphic, modern take on gladiator styles, this pair has cutout sides and PVC inserts "for a daring reveal of skin