Jessica Simpson is all about family these days.
She recently posted an adorable photo with her snuggling up to her three-year-old daughter Birdie Mae on Instagram. Her mini-me had her arms wrapped around her mom's neck, and both of them were all smiles as they posed for a picture.
The black-and-white photo was captioned with a quote from Dolly Parton: "If you see someone without a smile, give them one of yours."
View this post on Instagram
In February of this year, Jessica Simpson gave an insight into her family life with a series of photos posted on her Instagram account.
Simply captioned, "Whole Lotta Love ❤️," the Open Book author shared snapshots of her kids – ten-year-old Maxwell Drew, nine-year-old Ace Knute, and three-year-old Birdie Mae – whom she shares with husband Eric Johnson.
In one of the photos, Jessica Simpson and daughter Birdie Mae are seen wearing matching red robes and heart-shaped glasses. She also shared some shots from their Valentine's Day celebration, as well as a family picture on a leather couch with her kids, their dog, and her husband.
View this post on Instagram
Last year, The Dukes of Hazzard star was photographed in Thousand Oaks as she headed to her daughter Maxwell's basketball game.
She wore a tight-fitting white top under a black leather jacket with printed jeans from DSQUARED2 and black leather platform boots from Versace.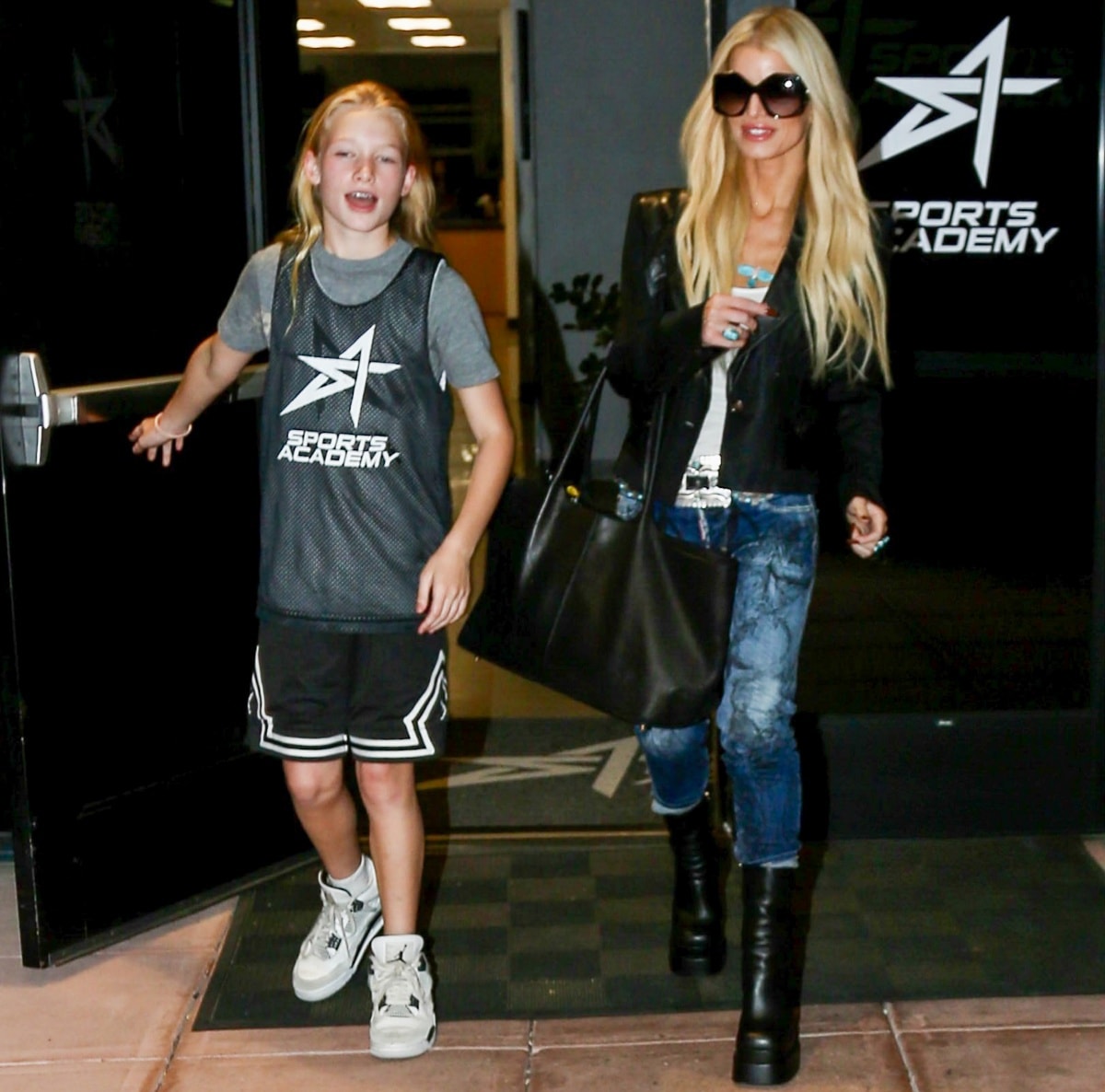 Jessica Simpson with daughter Maxwell heading to a basketball game in Los Angeles, California on November 4, 2022 (Credit: BauerGriffin / INSTARimages / Cover Images)
Nick Lachey's ex continued to showcase her incredibly slender frame, which she credits to giving birth to three kids and seeking help from celebrity trainer Harley Pasternak.
In September 2022, Jessica Simpson addressed the public's focus on her weight to Extra's Terri Seymour.
"I've been criticized, and it hurts, but I've been every weight and I've been proud of it," Jessica admitted. "I decided, 'Okay, everybody is going to talk about my weight all the time, I might as well make money off of it and turn it into a business of selling clothes and acceptance.'"
The "I Wanna Love You Forever" singer also opened up about shedding 100 pounds in 2019 after giving birth to baby number three.
Jessica Simpson lost 100 pounds following the birth of her third child in 2019 (Credit: DFree / Shutterstock / Jessica Simpson's Instagram)
"I went to a nutritionist, and I needed to get my eating habits right," Jessica shared.
When asked if she feels healthy, she replied, "I absolutely feel healthy. I don't know. I feel like my old self before I had children and all the hormones going wild. I feel younger, actually. I have a lot more energy and yeah, I get to wear all the clothes that are in storage that I saved for Maxwell and Birdie."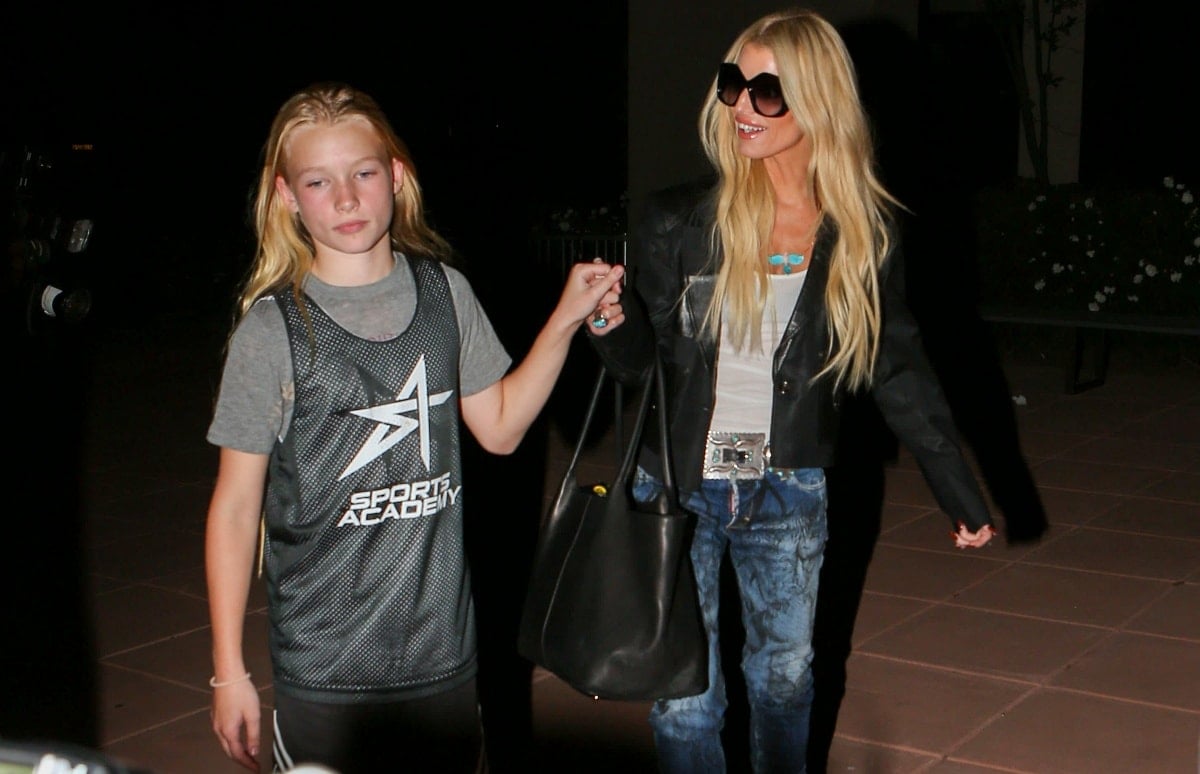 Jessica Simpson holding hands with daughter Maxwell (Credit: BauerGriffin / INSTARimages / Cover Images)
Last year, the footwear designer took control of the Jessica Simpson Collection. When asked about how it feels to finally be in control of her own company, she said:
"It feels inspiring. It feels powerful, but in a really humble way because we worked so hard to get to this ownership, and, like, after 18 years of having a collection, to actually own it and to have put all of my, liquidate my investments, put all my faith in getting this just for myself and for my children one day, it was a moment that, I still sometimes don't believe it's real."
She continued, "I still feel like I have someone to answer to. And then I'm like, 'Okay, it's just us 10 girls.' We got this, but everything is growing. We're having our biggest quarter that we've had right now in, like, eight years, so my mom and I knew we could do it, and we're doing it and I just, you know, I feel very blessed."
View this post on Instagram