The 29-year-old model made an appearance on the Today Show on Wednesday to talk about motherhood and her passion project Kode With Klossy.
Sharing her experience as a first-time mom, Karlie Kloss said, "The moment he was placed on my arms—I literally cry at commercials now, so I might cry right now—I just had this moment of, 'Now, every woman who has a child, every parent, goes through this,' and it's just the most profound experience that I had no idea [about] until having a kid."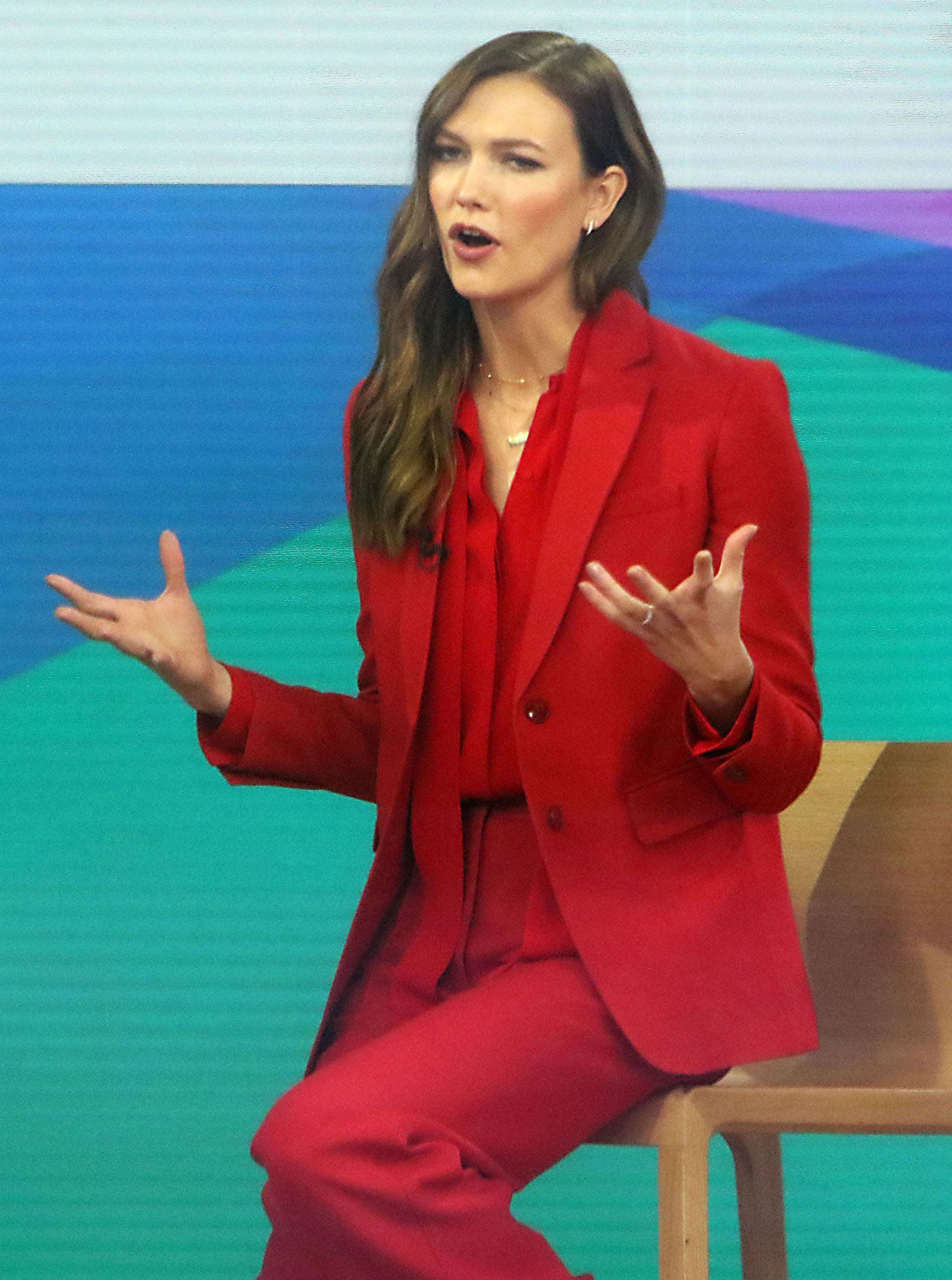 Karlie Kloss talks about motherhood and Kode with Klossy in Maison Valentino red suit on Today Show on April 6, 2022 (Credit: ROGER WONG / INSTARimages)
"Everything changes. I think the last few years have changed us as well but becoming a mom? I have become, first of all, so much more efficient with my time. I'm actually on time everywhere now," she added.
"I'm always a multitasker, you know me, I'm doing a thousand things. But I think priorities just changed."
For the interview, the mom-of-one gave a major boss lady vibe in a powerful red suit from Maison Valentino's Resort 2022 collection. She wore a matching red blouse underneath tucked into a pair of red wide-leg pants.
View this post on Instagram
While her pussy bow-detailed blouse gives off a vintage feel, Karlie added a contemporary edge to her monochromatic ensemble by finishing it off with a pair of white Prada x Adidas Superstar sneakers.
First released in 2019, these limited-edition shoes feature the original Superstar rubber toe and herringbone outsole updated with Prada's logo markings on the tongue, insole, and ankle. They also boast the "Made in Italy" hot-stamped phrase, which is a distinctive sign of artisan crafting.
With only 700 pairs produced, these sneakers sold out quickly. You can find a few used pairs on second-hand markets like GOAT and StockX.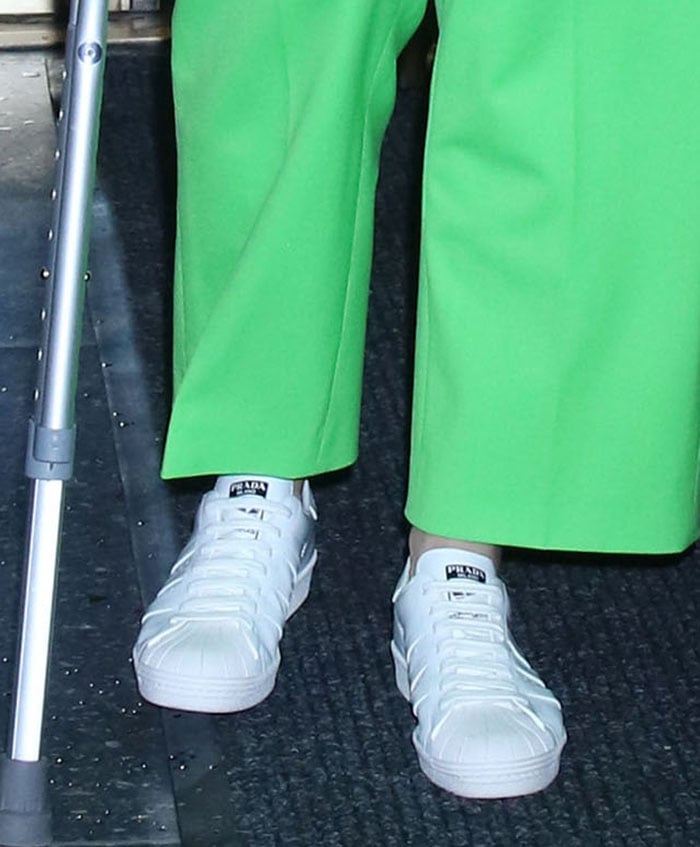 Karlie Kloss pairs her monochromatic suit with Prada x Adidas Superstar sneakers (Credit: ROGER WONG / INSTARimages)
The rich model was pictured sporting the same Adidas x Prada shoes while walking on crutches around New York City that same day.
This time, she paired her popular white sneakers with a neon green suit from German designer Marcell von Berlin's Spring 2022 collection.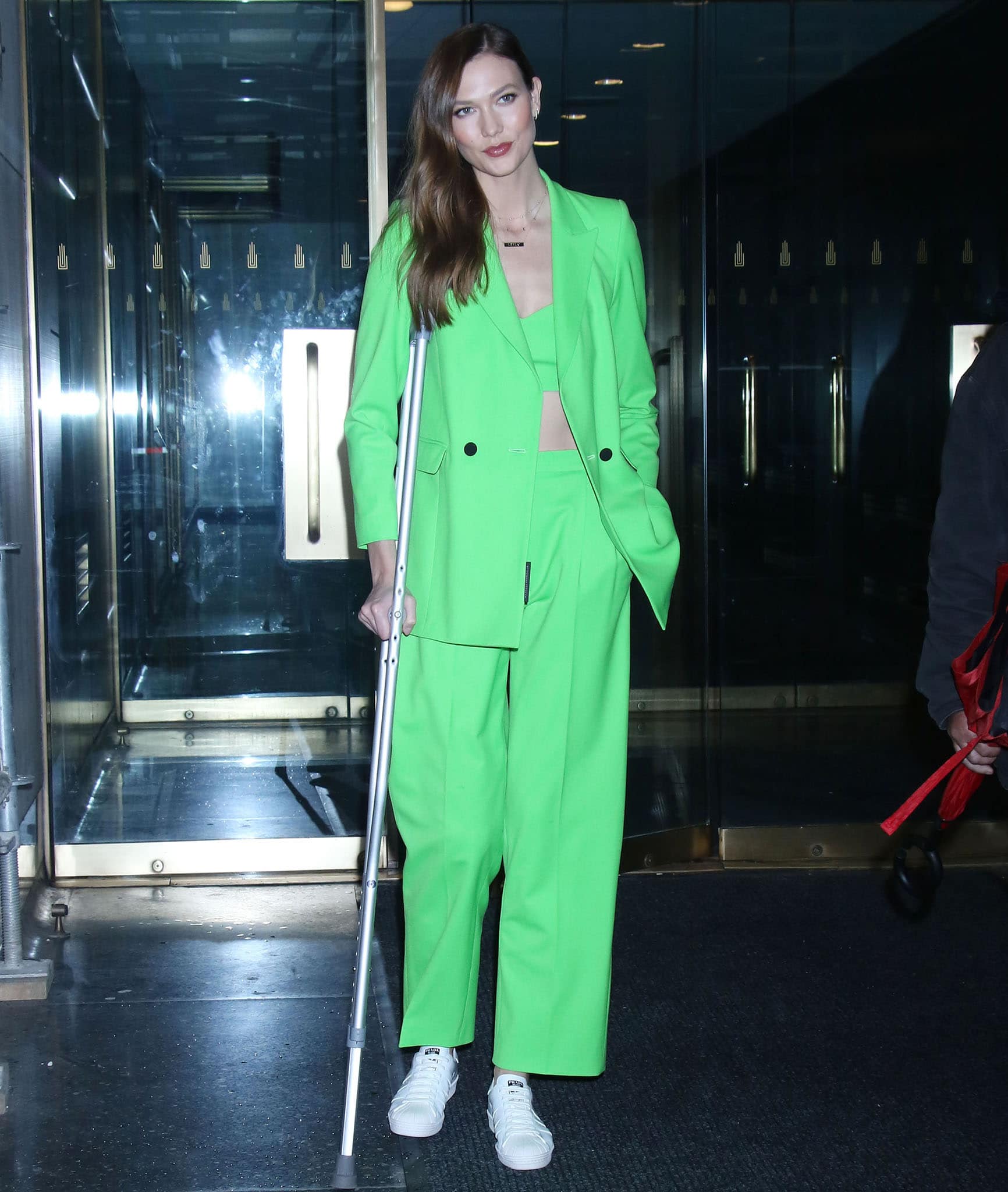 Karlie Kloss walking with crutches around New York City in Marcell von Berlin Spring 2022 neon green co-ord set (Credit: ROGER WONG / INSTARimages)
Flashing her toned abs and a hint of cleavage, Karlie wore a three-piece apple green number that included a bra top, an oversized double-breasted blazer, and a pair of straight-leg loose-fitting trousers.
Joshua Kushner's wife styled her look with the same jewelry. She accessorized with diamond earrings, layered gold necklaces, and her wedding band.
She also wore the same beauty look with eyeliner, mascara, peachy blush, and pink lipstick.
Karlie Kloss flashes her abs in a neon green crop top paired with a double-breasted blazer and straight-leg pants (Credit: ROGER WONG / INSTARimages)
Fully embracing the power suit trend, Karlie was also pictured in a pink shorts suit from American designer Michael Kors' Spring 2022 collection.
The former Victoria's Secret Angel paraded her long legs and revealed her knee brace in the thigh-skimming high-waisted pleated cuffed shorts, which you can get for $590 at Saks Fifth Avenue.
Karlie Kloss puts on a leggy display in a pink Michael Kors shorts suit (Credit: ROGER WONG / INSTARimages)
Karlie paired them with a matching wool boyfriend blazer with peak lapels and a single-breasted design, available for $1,450 at Saks Fifth Avenue.
To top off her monochromatic pink ensemble, she bundled up with a coordinating wool trench coat from the same brand.
Retailing for $2,450 at Saks Fifth Avenue, the refined double-breasted coat features a notched collar, shoulder epaulettes, long sleeves with belted cuffs, and a removable grommeted self-belt.
Karlie Kloss keeps the monochromatic pink look going with pink lip color and highlights her eyes with mascara and eyeliner (Credit: ROGER WONG / INSTARimages)
Admitting she's a "bit of a klutz," Karlie addressed her injury on the show, saying, "I'm a bit of a klutz generally, so it's kind of a miracle this hasn't happened sooner with these giraffe legs and knobby knees. I'm okay, I'm rocking the sneaker."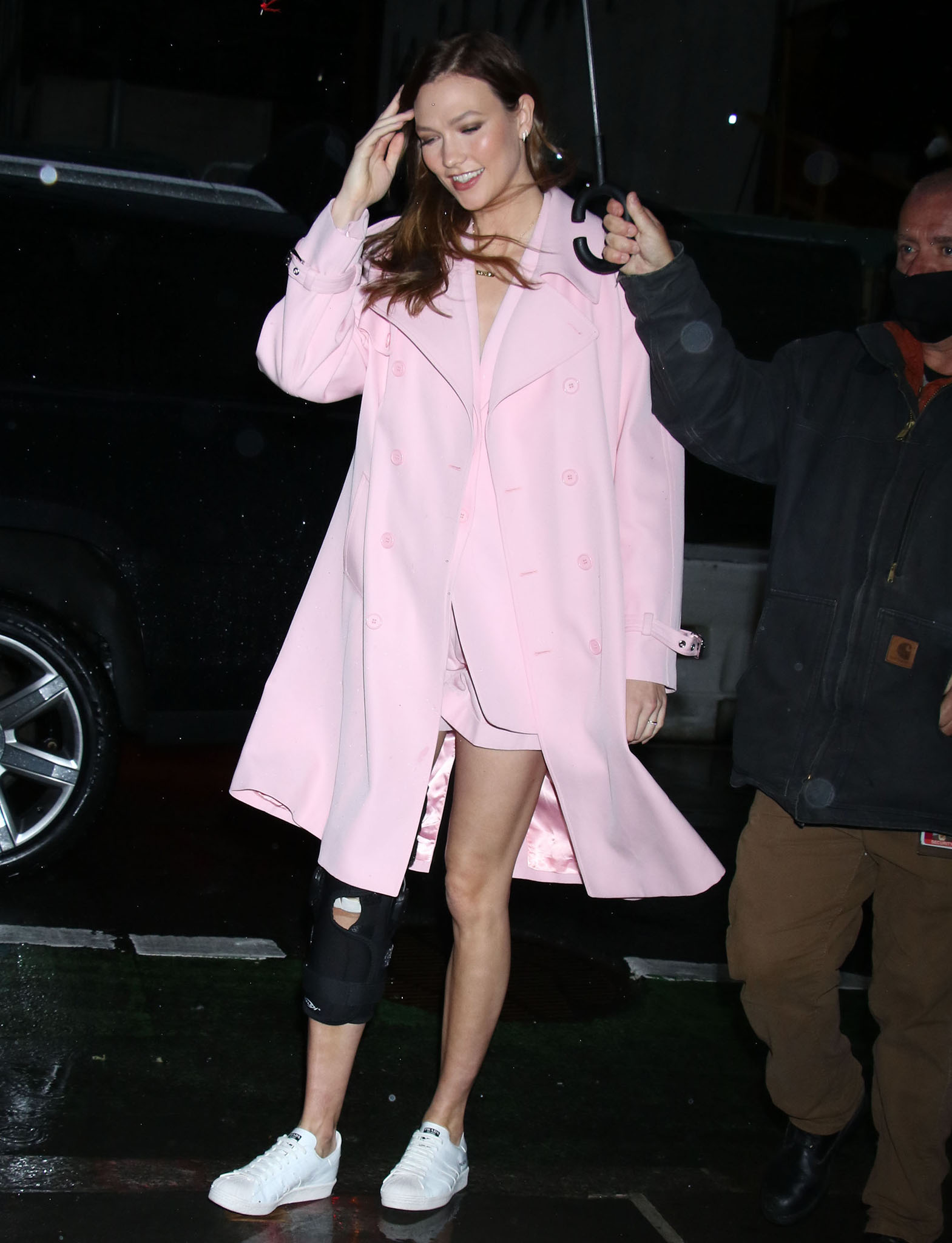 Karlie Kloss reveals she's a klutz and is seen with a knee brace outside Today Show studios (Credit: ROGER WONG / INSTARimages)
In 2015, Karlie founded Kode With Klossy, a free two-week coding summer camp for girls ages 13-18. The non-profit scholarship program aims to empower and inspire girls to learn to code and become leaders in the tech world.
"I grew up in a house of all girls and I have parents who helped us realize we can do anything that we set our mind to despite our gender or anything. And I just was so infuriated by the fact that there weren't women in these industries at leadership levels or at even equal representation."
She added, "And that's what we really try and do, is create a space that is inclusive, and creative, and fun to learn how to code. And it's all for free."
View this post on Instagram