As she stepped onto the Sports Academy for her son Saint's basketball game in Thousand Oaks on Friday, Kim Kardashian showcased her signature style and effortless chic.
The 42-year-old SKIMS mogul effortlessly combined comfort and edge, sporting a casual black Skims cotton fleece pullover hoodie that exuded a laid-back vibe.
Paired with leather motorcycle pants from the Supreme x Yohji Yamamoto Vanson collection, she effortlessly blended comfort with high fashion.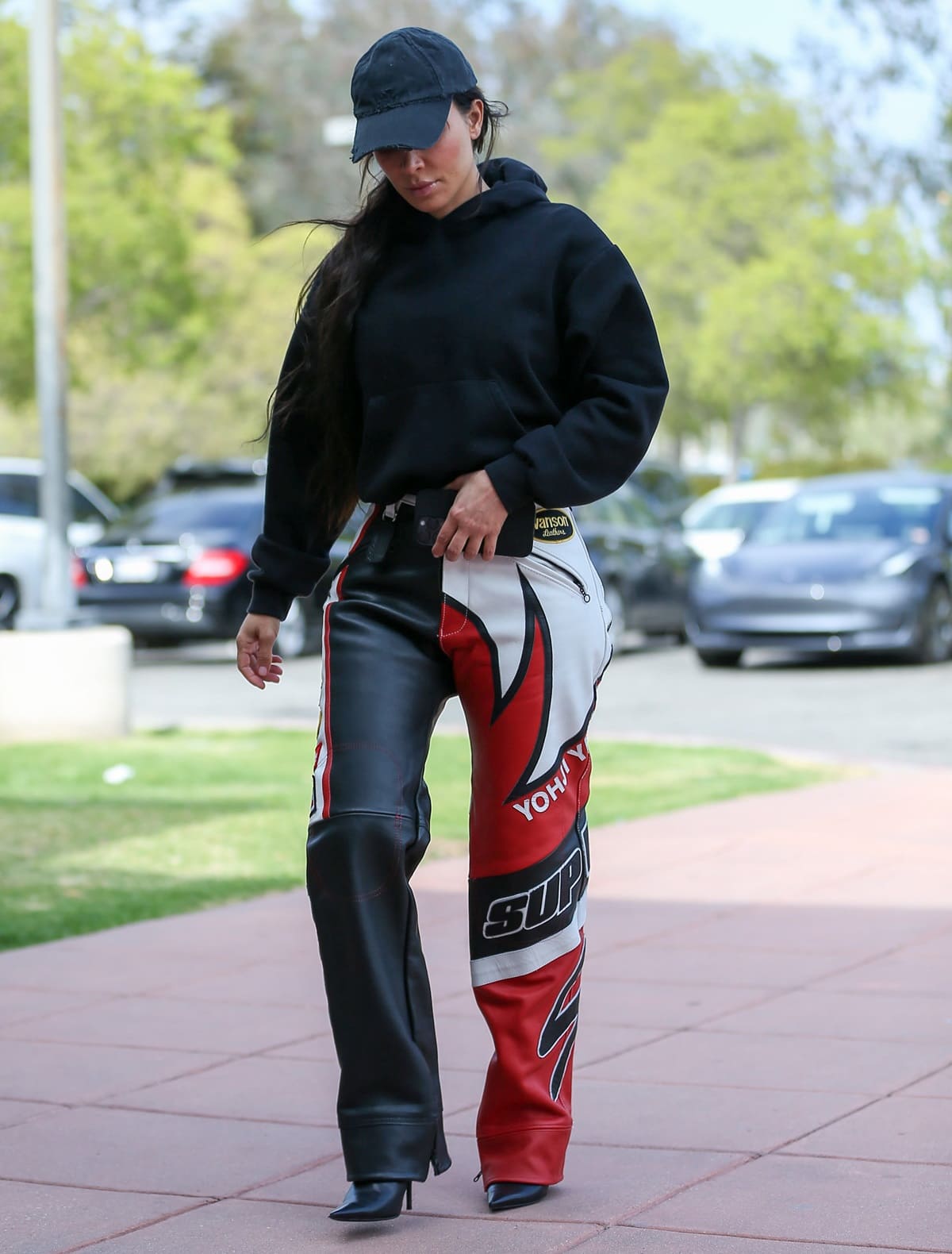 Kim Kardashian wears leather motorcycle pants from the Supreme x Yohji Yamamoto Vanson collection with a Skims cotton fleece pullover hoodie in Los Angeles on May 19, 2023 (Credit: BauerGriffin / INSTARimages)
Known for her flawless beauty, Kim decided to ditch her picture-perfect glam for the day and embraced her natural beauty, showcasing her flawless complexion without a trace of makeup.
Her glossy black locks were pulled back into a sleek ponytail, stylishly concealed under a trendy, tattered black Balenciaga baseball cap.
In true fashion-forward form, the TIME100 honoree completed her look with a pair of pointed-toe black heels with her phone gracefully cradled in her palm, adding a touch of sophistication to her sporty ensemble.
Inspired by classic motorcycle leathers, Kim Kardashian's pants from Supreme's collaboration with renowned designer Yohji Yamamoto and Vanson Leathers showcase black, red, and white accents throughout (Credit: Thecelebrityfinder / BauerGriffin / INSTARimages)
Kim Kardashian's journey as a parent is no secret. The successful entrepreneur cherishes her role as a mother to her four children.
With ex-husband rapper Kanye West, Kim shares a beautiful family that includes 7-year-old Saint, their 3-year-old son Psalm, and their daughters North, 9, and Chicago, 5.
This past Mother's Day, the media personality was showered with love and heartwarming messages from her children. Among them was a heartfelt video tribute from her son Saint, expressing his gratitude and love for his mother.
With the help of her sister Khloe Kardashian, who organized the heartfelt surprise, Saint told Kim in the video, "Mom, I'm very grateful for you. I know I'm rude to you a lot, I say you're nothing to me, but you mean the world to me… I love you more than anything. You're my favorite in the family, I even love you more than my cute little brother Psalm. I love you, never forget that."
Kim Kardashian has unveiled the Mother's Day messages she received from her four children, sparking intrigue among her followers. Alongside the heartfelt cards and presents from her kids North (9), Saint (7), Chicago (5), and Psalm (4), there was a video tribute from her eldest… https://t.co/fE5MNwiG2p

— Your Next Shoes (@yournextshoes) May 23, 2023
Despite her glamorous lifestyle, Kim Kardashian isn't shy about sharing the realities of motherhood. In an exclusive clip from the On Purpose with Jay Shetty podcast shared with People, Kim reflected on the joys and challenges of raising her four children.
With raw honesty, Kylie Jenner's favorite sister acknowledged the chaos and madness often accompanying parenting, saying, "Everyone says the days are long and the years are short, and that couldn't be like a more true statement. So, like, when you're in it, I mean, especially when they're babies and you're feeding… there's madness going on. It's like full madness. It's the best chaos though."
As a mother, Kim acknowledged that parenting had been a profound learning experience that taught her much about herself.
The aspiring lawyer opened up, "Parenting is the thing that has taught me the most about myself. It has been the most challenging thing. There are nights I cry myself to sleep. Like, holy shit, this f***ing tornado in my house. Like, what just happened?"
Kim continued, "You know, with all the moods and the personalities and sometimes they're fighting, and you know, there's no one there. Like, it's [just] me to play good police officer and bad cop."
The trials of balancing motherhood and work. Kim Kardashian, renowned as one of the world's most prominent women, faces the same struggles as any regular parent when it comes to putting her kids to sleep.

During a recent episode of Jay Shetty's "On Purpose" podcast on Monday,… https://t.co/OLb4aJ8fCg

— Your Next Shoes (@yournextshoes) May 23, 2023
The reality TV star's journey as a mother has been a rollercoaster ride, filled with moods, personalities, and sibling squabbles, admitting that "parenting is really f***ing hard."
She explained, "That's the only way I can describe it. It is the most rewarding job in the entire world. It is. There is nothing that can prepare you… I don't care how long you wait. I don't care what you're waiting for. You are never prepared."
View this post on Instagram
Kim added, "But you will figure it out, and it will make you so proud of yourself that you figured it out and that you got through the day."
Despite the hardships, the stylish celeb wouldn't trade the experience for anything. She said, "There's just nothing that can prepare you for this experience. It is the most challenging, rewarding job on this planet."