Couples that slay together stay together. If you're looking for a low-key way to flaunt your romantic connection, look no further than tastefully done matching outfits.
We're not talking about cringey his-and-hers graphic t-shirts or Britney and Justin-esque top-to-toe matching looks. Subtlety is key when it comes to nailing the matching couple's outfit.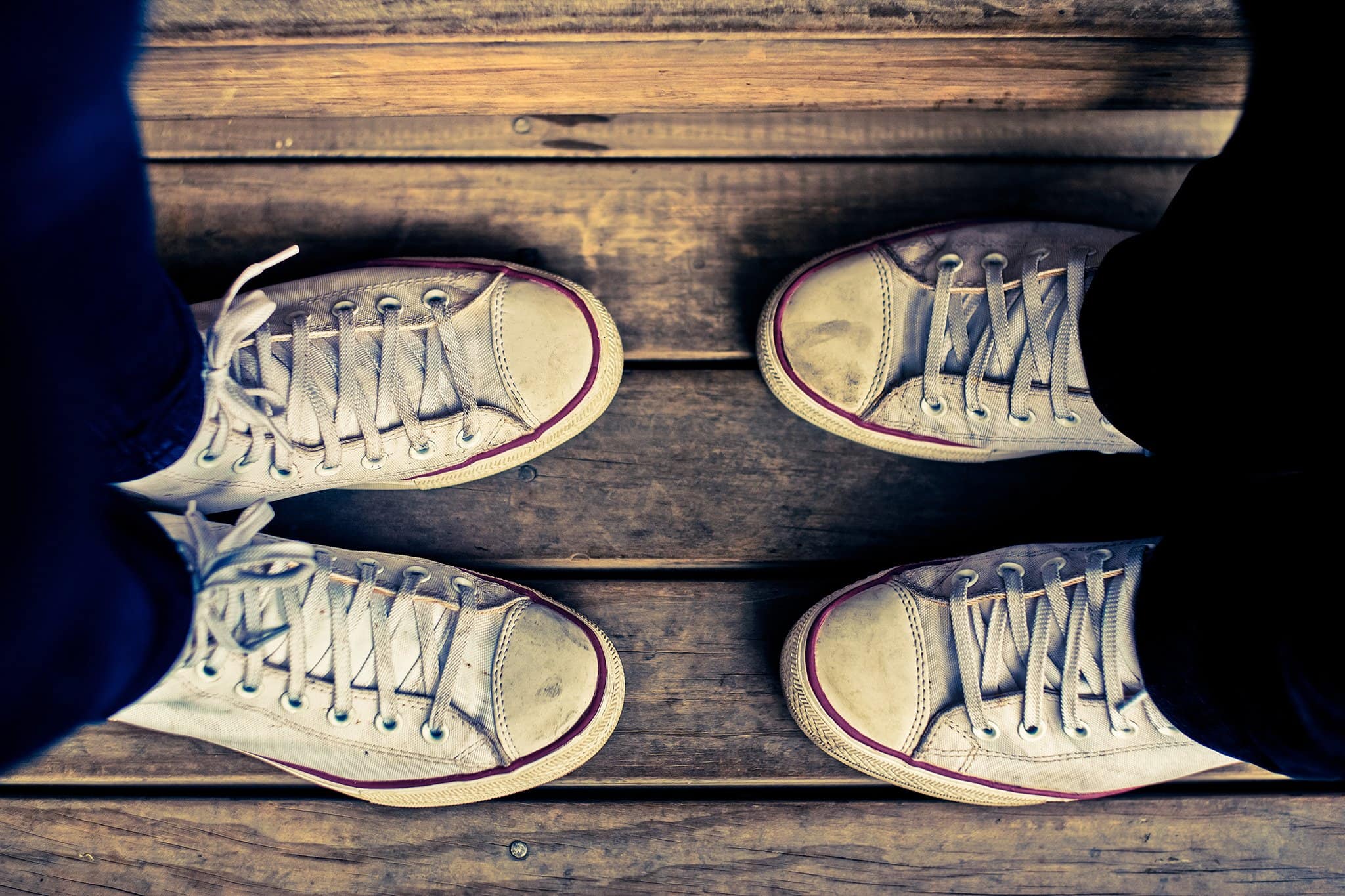 Couple shoes are a subtle way to show off your romantic connection with your partner (Credit: TaraPatta / Shutterstock)
A fantastic approach to showcasing unity and embracing personal style as a couple is wearing matching shoes. This clever styling trick adds a touch of sweetness to your overall look without being overtly obvious.
It allows you and your partner to express your fashion preferences through clothing choices while subtly highlighting your togetherness through coordinated accessories. Matching shoes symbolize unity and a delightful way to add a unique flair to your couple's fashion statement.
Interested in trying out this trend with your beau? Discover the best matching shoes for couples below!
The Best Matching Shoes For Streetwear Couples
1. Nike Air Jordans, $345 to $389 on Farfetch
The classic color-block high-top sneaker looks great on both men and women. They can be styled with sweats or jeans, so you and your beau can wear your matching Air Jordans practically anywhere.

Nike Air Jordans come in an array of colorways for both men and women
Available in many different colorways, this versatile sneaker fits in with colorful or neutral aesthetics.
2. Nike Air Force 1 Sneakers, $284 to $950 on Farfetch
Couples who prefer tennis shoes' streamlined look will love Air Force 1s. This is another classic style from Nike that looks amazing on any gender.
Most fashion lovers will agree that the crisp white colorway is the most iconic version of the Air Force 1, but couples that prefer pops of color will also have a great selection of multicolored versions to choose from.
The Nike Air Force 1 offers unisex colorways that look great on any gender
Pro tip: Customize your sneakers by visiting Nike By You. Add cute personal touches to your matching sneakers, like your initials or anniversary date. This easy-to-use service makes gifting a breeze.
The Best Matching Shoes For Indie Couples
3. Vans Checkerboard Slip-Ons, $65 to $70 on Zappos
Couples that love sprucing up their outfits with bold prints will benefit from matching pairs of Vans slip-ons in the skatewear brand's iconic checkerboard print. Stylish and easy to wear, these slip-on shoes are perfect for laid-back couples.

Vans' classic canvas slip-ons are perfect for laidback couples
4. Vans Old Skool Sneakers, $70 on Nordstrom
If you and your other half aren't fans of all-over prints but still want to embrace quintessential skate style, Vans' Old Skool sneakers have your names all over them.
The classic Old Skool sneakers look good on both men and women
The mostly solid sneakers feature contrasting laces and the signature Vans wave logo. Complete your looks with jeans, band tees, and leather jackets.
5. Converse Chuck Taylor All-Star Sneakers, $85 to $90 on Nordstrom
No matching shoe list would be complete without everyone's favorite canvas sneaker. Converse Chuck Taylors have been vital to matching uniforms for decades, from punk bands to sports teams.

The Converse Chuck Taylor All-Star sneakers are considered a staple in every couple's closet
Show the world who your number one is with matching Chuck Taylors in any color of the rainbow.
6. Comme Des Garcons x Converse Chuck Taylor All-Star Sneakers, $150 on Nordstrom
If you want to make your matching Converse even sweeter, opt for styles from the Comme Des Garcons range. The emblematic heart logo of the Japanese luxury label gives a touch of romance to Chuck Taylors in the chicest way possible.

Make your couple shoes sweeter by wearing your heart on your feet with the Comme Des Garcons x Converse Chuck Taylors
Wearing your heart on your sleeve (or ankle) never looked so cool.
7. Doc Martens 1460 Boots, $150 to $169.95 on Zappos
The chunky platform boots have become synonymous with alternative culture. Couples who spend their days watching indie films and their date nights attending underground gigs deserve edgy boots that match their personas.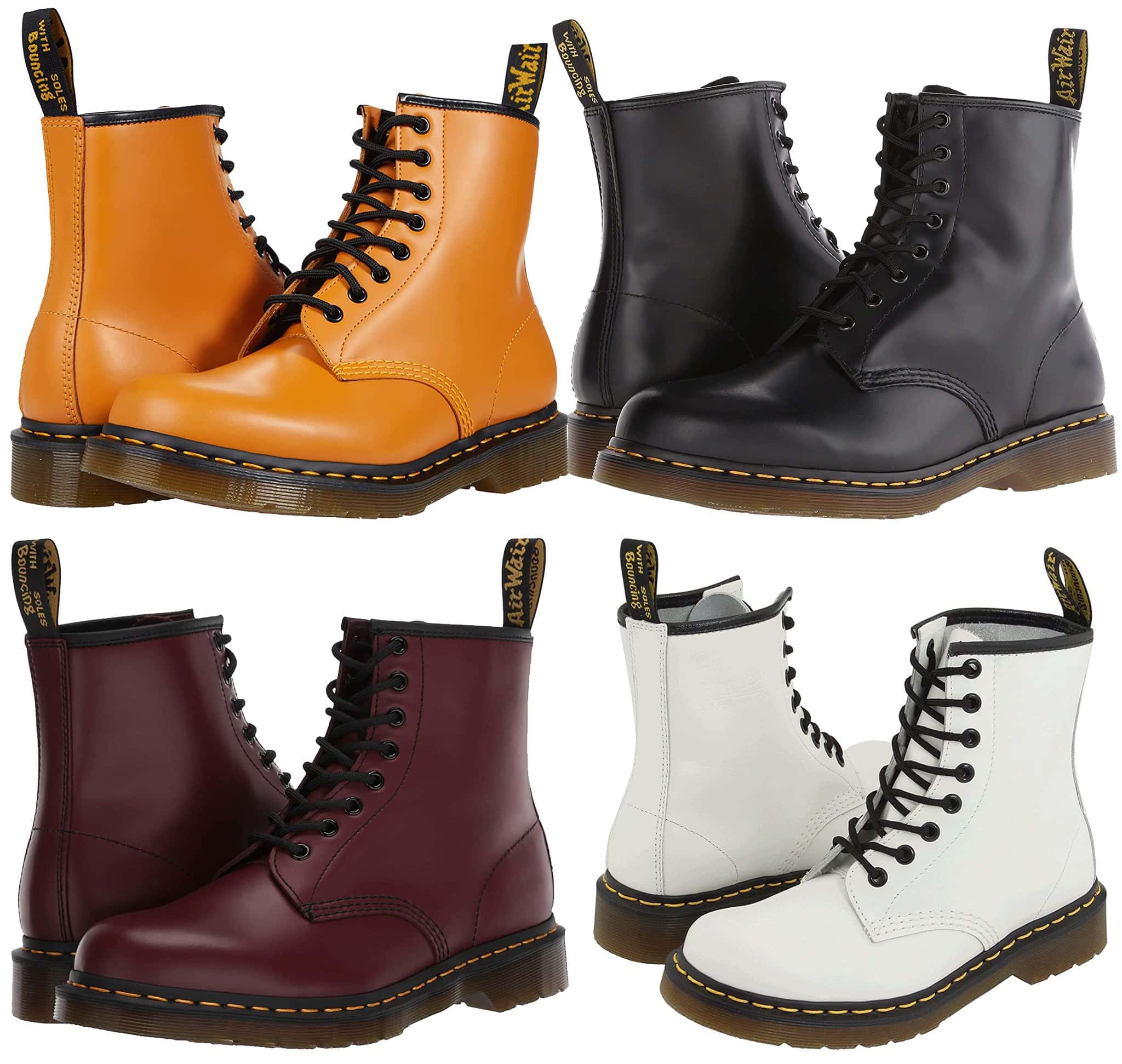 The Doc Martens 1460 is a unisex style that lends an effortless-cool vibe to any couple outfit
Doc Martens lend an effortlessly cool feel to any outfit, whether styled with jeans and a t-shirt (for him) or contrasted against a floral dress (for her).
The Best Matching Shoes For Preppy Couples
8. Adidas Stan Smith Sneakers, $90 to $99.95 on Zappos
The quintessential white tennis sneaker will add a crisp, clean feel to your couple OOTD. Adidas Stan Smiths are stylish and versatile, whether for all-over white or the original green detailing.
Style your streetwear or lunch date couple OOTD with the versatile Adidas Originals Stan Smith
Couples can style these sneakers with just about anything, from athleisure looks for neighborhood walks to more dressed-up outfits for lunch dates.
9. Veja V-10 Sneakers, $150 to $170 on Nordstrom
Trendsetting couples will undoubtedly want matching kicks from the sneaker world's new darling, Veja. The French brand's streamlined styles, such as the V-10 low tops, are ideal for unisex styles.
Available in multiple accent colorways, there are V-10 sneakers out there for every taste.
Elevate your couple outfit with the royal-favorite Veja V-10 low-top sneakers
Why not complete your couples' look with matching shoes?