Priyanka Chopra Jonas and Game of Thrones star Richard Madden have been the talk of the town for the past couple of weeks as they promote their upcoming action drama series, Citadel, in different parts of America and Europe.
The 40-year-old Indian actress, known for her impeccable fashion sense, has been a consistent show-stopper on this promotional tour with bold and daring fashion choices.
Stanley Tucci, Priyanka Chopra Jonas, and Richard Madden attend a fan screening for their new Prime Video series "Citadel" on April 25, 2023, in Los Angeles, California (Credit: Abaca Press / INSTARimages)
Priyanka planned numerous outfits for each premiere, and her fashion choices have not disappointed her fans. She has consistently pushed boundaries with her style, from delivering a red-hot look in London to nailing the green goddess vibe in Rome.
On April 25th, the Quantico star made another breathtaking appearance on the red carpet at the Citadel movie premiere in Los Angeles, ready to make another bold fashion statement.
She looked stunning in a vibrant fuchsia silk-satin gown with an open back and belted at the waist from Roksanda's Fall 2022 collection.
Available on Matches Fashion and Mytheresa, the fuchsia silk-satin gown by Roksanda is draped with such elegance that it creates beautiful ripples as it flows across the body.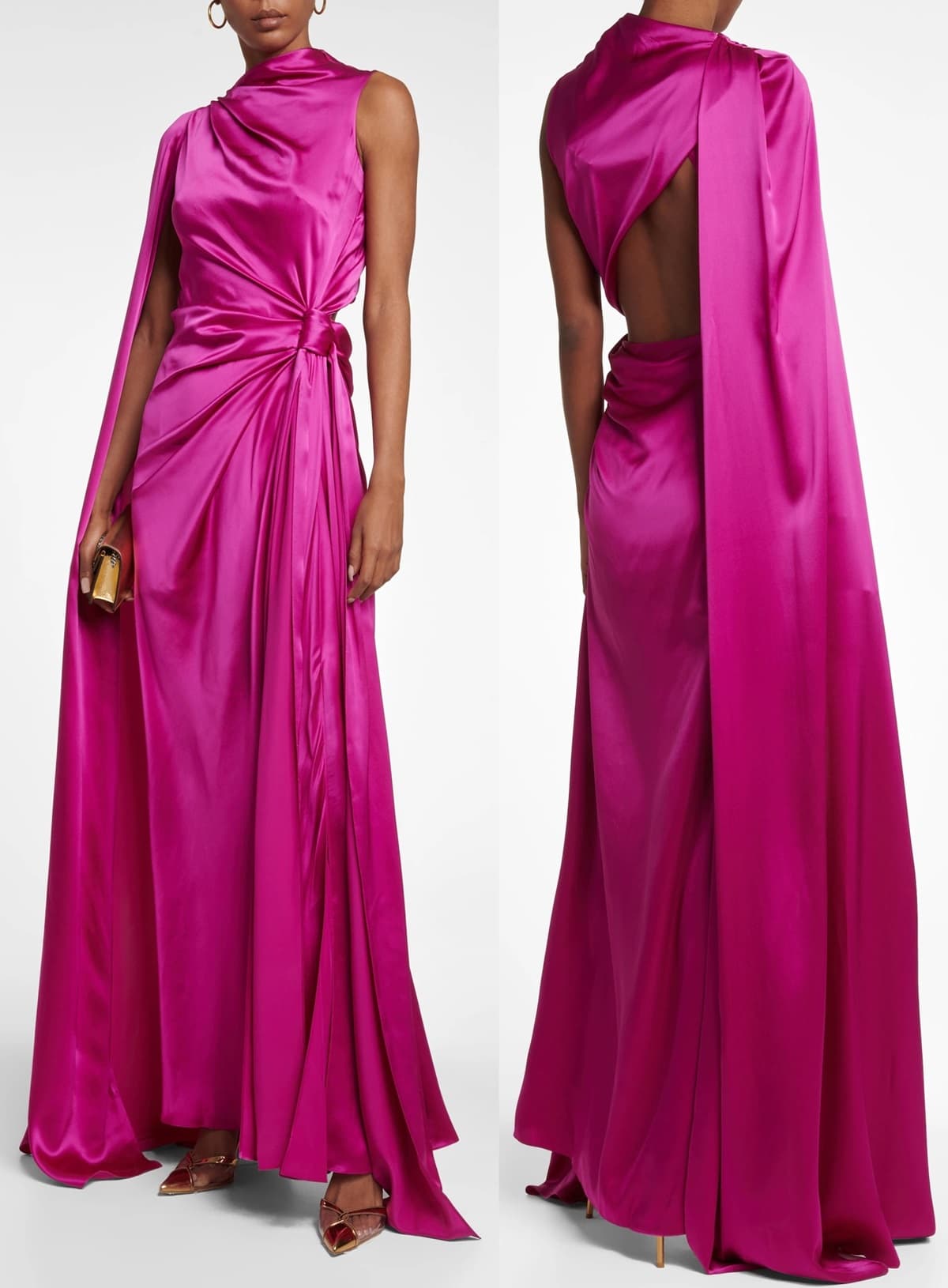 The Orien gown by Roksanda features a pure silk satin material with an asymmetrical draped design, a cape covering one shoulder, a pleated floor-length skirt, and a waist cinched with a knot detail
Her asymmetrical ensemble had a long, flowing train that flowed from her shoulder to the carpet on one side and a high leg slit that showed off her flawless leg on the other.
Priyanka Chopra Jonas and Richard Madden made a stunning pair at Citadel's Los Angeles premiere, with Priyanka's glamorous high-heeled silver bedazzled sandals elevating her 5ft 6 inches (167.6 cm) frame to stand tall alongside Richard's towering height of 5ft 9 ¼ inches (175.9 cm) (Credit: Abaca Press / INSTARimages)
Priyanka wore her sleek black hair down and parted in the center, complementing her chic appearance. Her fuchsia eyeshadow, pink blush, and deep, dark red lip color were all stunningly coordinated, perfectly accentuating her features.
Bulgari's silver and diamond jewelry enhanced the Baywatch star's bold look. Priyanka wore twisted silver mini hoop earrings, a matching ring, two diamond bracelets, and her stunning diamond engagement ring from her much younger husband, Nick Jonas.
To complete her polished look, Malti Marie's mom sported a light pink manicure, adding a touch of elegance to her ensemble.
Priyanka Chopra donned a stunning hot pink silk dress from Roksanda's spring 2023 ready-to-wear collection boasting a one-shoulder cape, a dramatic side train, smooth drapes, pleats, and a fitted knot waist tie (Credit: Abaca Press / INSTARimages)
On the red carpet, Priyanka was accompanied by her Citadel co-star, Richard Madden, who stood tall in tapered slacks and a black suit jacket by Dior.
The 36-year-old English actor, known for his charming personality and good looks, dressed casually by donning a tight black T-shirt, a Chopard watch, and white lace-up Goodman Brand sneakers.
Richard had freshly shaved, salt-and-pepper hair that was gently pulled back, which added to his charming and dapper persona.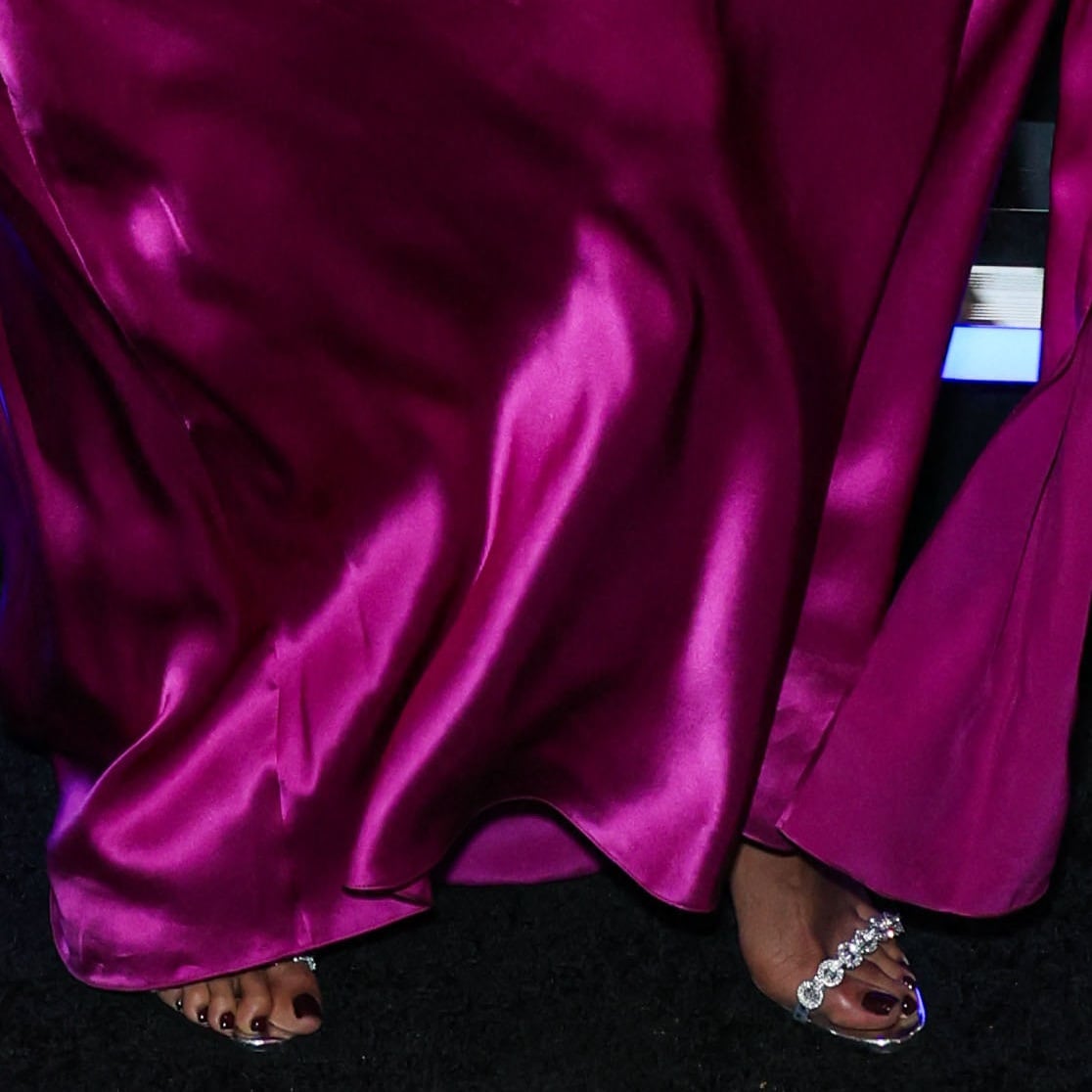 Priyanka Chopra shows off her feet in silver metallic crystal-embellished sandals (Credit: Abaca Press / INSTARimages)
The duo made a stunning pair, with Richard's towering height of 5ft 9 ¼ inches (175.9 cm) hardly noticeable alongside Priyanka's 5ft 6 inches (167.6 cm) frame, elevated by her glamorous high-heeled silver bedazzled sandals.
They posed together for pictures, displaying their connection and chemistry, which will be reflected on-screen.