Sometimes, even the best actors can't save a terrible film.
Take, for example, Halle Berry. Even the actress's universal appeal and numerous awards couldn't save "Catwoman."
And, what about those popular disaster films of the mid-2000s? Even Kurt Russell and Emmy Rossum couldn't save "Poseidon" from tanking at the box office.
Actress Priyanka Chopra flaunts her legs in a white Marc Jacobs lace dress while promoting "Baywatch" in Berlin, Germany, on May 30, 2017 (Credit: Steffens / DDP / INSTARimages)
We could keep going.
"The New Mutants" failed to impress — even as an "X-Men" franchise movie starring both Maisie Williams and Anya Taylor-Joy, who should have helped boost its numbers at the box office.
And, not even Kirsten Dunst could revive "Midnight Special," despite her adoration for writer-director Jack Nichols and his filmography.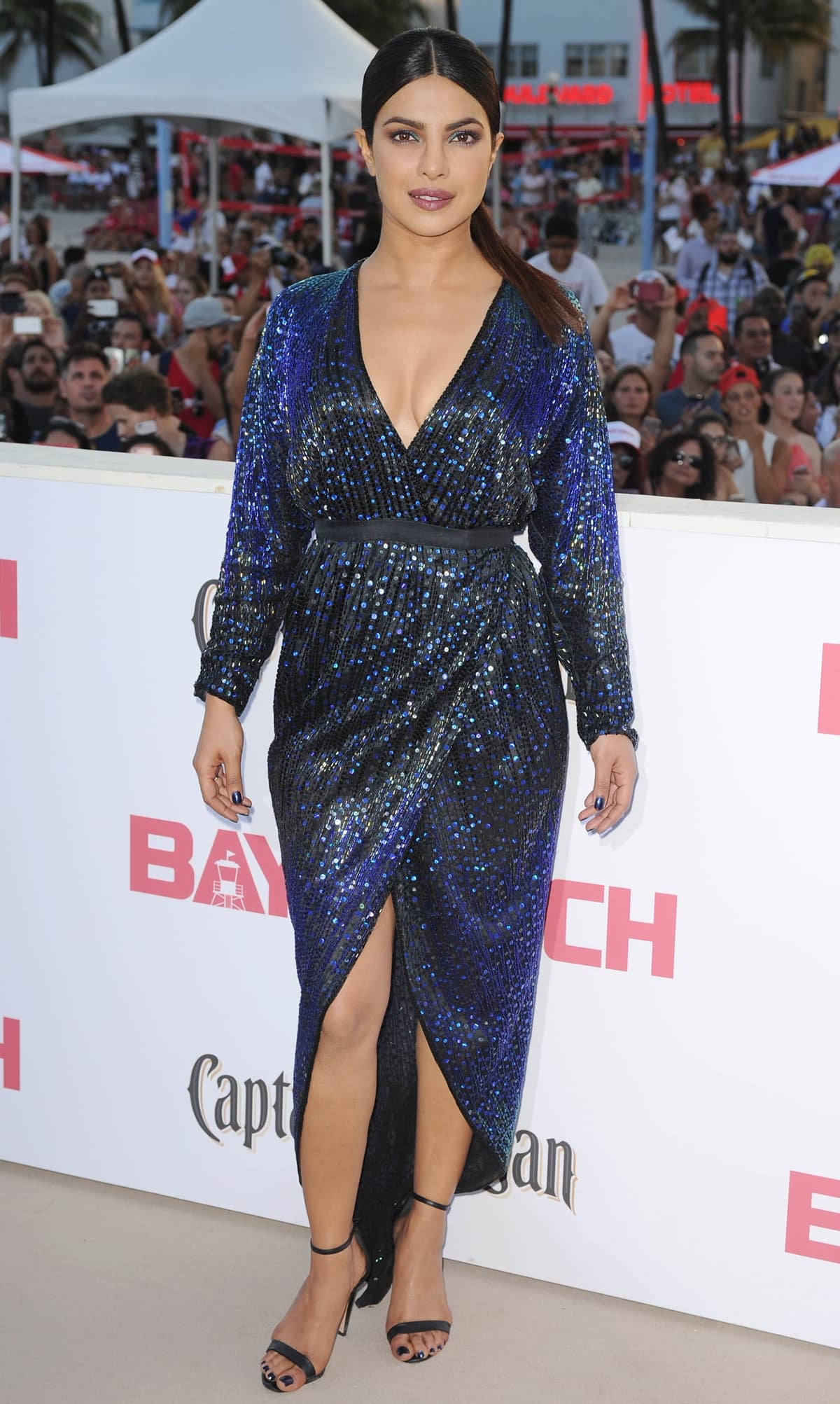 Priyanka Chopra wears a vintage blue Halston sequin-embellished dress, Schutz strappy shoes, and Nirav Modi jewelry at the world premiere of Paramount Pictures film "Baywatch" held on May 13, 2017, at South Beach in Miami, Florida (Credit: INSTARimages)
So, what we're saying? None of us are blaming Priyanka Chopra for the failed 2017 reboot of cult-classic "Baywatch."
Priyanka grew up in India watching the original television series and was excited about landing the role of antagonist Victoria Leeds in the movie adaptation.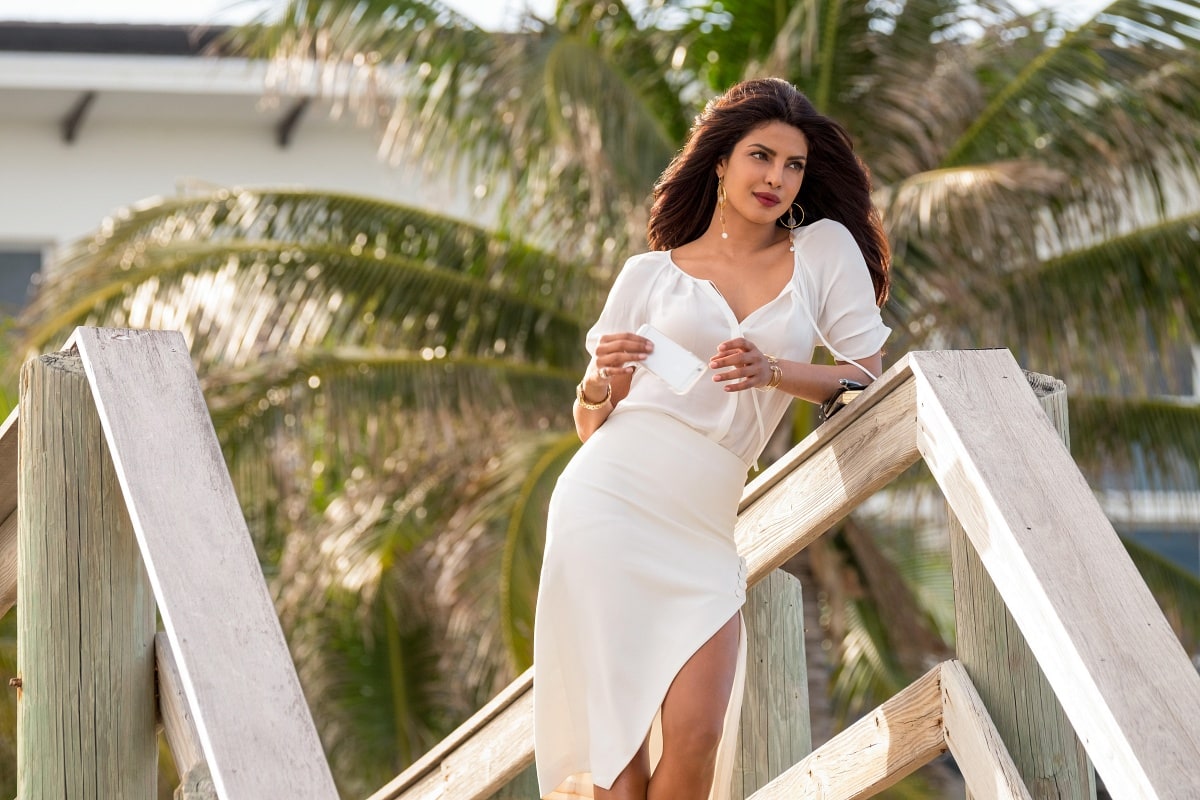 Priyanka Chopra portrays Victoria Leeds in the 2017 action-comedy film "Baywatch" (Credit: Paramount Pictures)
But, it's incredibly tricky to reboot a cult classic.
Remember "Charlie's Angels?"
The first two movie adaptations of the fan-favorite TV show were considered successful, thanks in large part to lead stars Drew Barrymore, Cameron Diaz, and Lucy Liu.
However, Elizabeth Banks and her attempt at a 2019 reboot failed spectacularly.
This was also the case for Baywatch, which flopped at the box office despite the popularity of its ensemble cast.
Priyanka Chopra's role as Victoria Leeds
Priyanka may be relatively new to Hollywood, but she certainly isn't new to the industry.
The 40-year-old actress is a Bollywood icon with a string of commercial successes and critically-acclaimed performances back home in India.
Priyanka struck a deal with ABC Studios in 2014, which began her expansion into American television. She became the first South Asian to lead a network drama series with her role as Alex Parrish in 2015's "Quantico."
Quantico aired from 2015 to 2018, and Priyanka Chopra reportedly made $3 million per season (Credit: ABC)
In 2017, Priyanka celebrated her Hollywood debut as Victoria Leeds in Baywatch. The action-comedy film adaptation was directed by Seth Gordon and starred Dwayne Johnson and Zac Efron.
Her character is often described as a feminist villain – a role which really allowed Priyanka to show off her acting chops.
Actress Priyanka Chopra films scenes for the movie "Baywatch" on February 29, 2016, on a beach in Miami, Florida (Credit: INFphoto)
Priyanka took the role as a challenge and said she wanted to use it to make a statement for feminism and prove that women could make choices without judgment.
Priyanka Chopra makes her Hollywood live-action film debut as Victoria Leeds in "Baywatch" (Credit: Paramount Pictures)
Interestingly, the antagonist of the movie was intended to be a man. However, director Seth Gordon changed the part upon meeting Priyanka.
Why 'Baywatch' was a failure
While nobody expected "Baywatch" to have a complex and thought-provoking plot, viewers were left disappointed with a terrible script that made it forgettable and bland.
The lackluster humor didn't help it either, and the long running time was unnecessary for a movie with such a wafer-thin plot.
Due to its horrible reviews, the movie didn't secure the positive word-of-mouth it ultimately needed to survive the box office.
Not even Dwayne Johnson and Zac Efron could charm their way into a positive movie review.
Dwayne Johnson portrays Mitch Buchanan and Zac Efron portrays Matt Brody in the 2017 action-comedy film "Baywatch" (Credit: Paramount Pictures)
All things considered, Priyanka did her best, given what she had to work with.
In fact, several critics considered her to be the only highlight of the reboot. She was severely underused in the movie, but her performance was still noticed and praised.
Why critics hated 'Baywatch'
According to Forbes, Baywatch's budget was the primary reason for its failure. Based on its numbers, Baywatch "actually did pretty well worldwide."
While the film did make more than $57 million domestically and more than $152 million globally, the early onslaught of negative reviews hurt its chances of making even a tiny splash at the box office.
In the Forbes article, author Scott Mendelson wrote that if it didn't cost $69 million to produce Baywatch, "it probably would have been a solid moneymaker."
The cast of the 2017 action-comedy film "Baywatch" (Credit: Paramount Pictures)
"At that budget, and with those expectations, it's now a genuine disappointment," Scott added. "[A] budget that didn't require a Dwayne Johnson comedy to perform like a Dwayne Johnson action movie would have protected the film from bad reviews and comparative viewer disinterest."
There were a lot of factors that contributed to the 2017 reboot's failure.
Yes, the overwhelmingly bad reviews and word-of-mouth made a significant impact on its underperformance at the box office.
But, as Forbes stated, "that overly large budget is the reason it's a genuine bomb as opposed to a mere disappointment."
What's next for Priyanka Chopra?
While "Baywatch" failed to satisfy viewers across the globe, Priyanka has continued to deliver stellar performances in films such as "The Sky Is Pink" and "The Matrix Resurrections."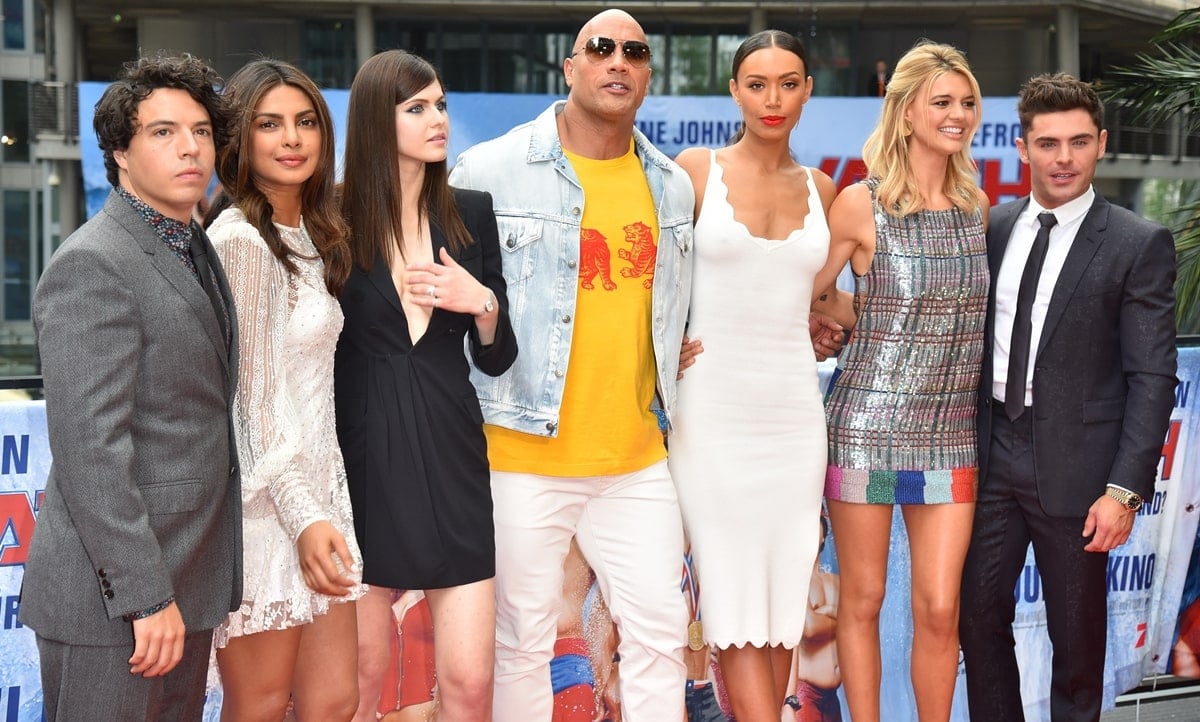 "Baywatch" cast members Priyanka Chopra, Alexandra Daddario, Dwayne Johnson, Ilfenesh Hadera, Kelly Rohrbach and Zac Efron (Credit: Stoccy / DDP / INSTARimages)

Mrs. Jonas also produced several small-budget films under her own production company, Purple Pebble Pictures. She even wrote a New York Times bestseller entitled "Unfinished: A Memoir."
In addition to her Bollywood and Hollywood acting careers, Priyanka is also juggling both a high-profile marriage and motherhood.
But Priyanka Chopra makes it all look easy. We can't wait to see her next move.