Kirsten Dunst is known for her iconic acting performances in Spiderman movies, Bring it On, and other best-selling films like Jumanji and Interview with the Vampire. However, not many people know about her role in a recent 2016 indie film, Midnight Special. Why is this?
What Is Midnight Special?
The film was written and directed by Jack Nichols. A sci-fi film about a boy with special powers and religious extremists that are trying to find and capture him.
Kirsten Dunst as Sarah Tomlin in the 2016 American science fiction film Midnight Special (Credit: Warner Bros. Pictures / YouTube)
Midnight Special has a strange plotline but is filled with a talented cast, which begs the question of why it didn't succeed.
The movie was filmed in New Orleans and while there's not a clear answer of why it was called Midnight Special, there is one clear assumption. "Midnight Special" is the title of an old American South folk song that originated from prisoners.
In the song, references are made to the train's "ever-loving light." Part of the boy's power comes from a bright light radiating from his eyes. The connections are clear as you watch the film.
What Was Dunst's Role in the Film?
An enticing premise, it makes sense why Dunst would want to star in this movie. In Midnight Special, Dunst played Sarah, the boy's mother in the movie and was in her early thirties while filming the movie.
Dunst was a huge fan of Nichols' films and went to great lengths to be cast in his next film. Director Jeff Nichols told Cinema Blend about casting Kirsten Dunst as the mother to eight-year-old Alton.
Jaeden Lieberher and Kirsten Dunst attend the 'Midnight Special' photocall during the 66th Berlinale International Film Festival Berlin at Grand Hyatt Hotel on February 12, 2016, in Berlin, Germany (Credit: Tania Volobueva/ Shutterstock)
"She was really interested in being in it. She loved Take Shelter, liked Mud. I didn't quite see it though. I had something else in my mind. She said, 'Let me show you.' And she put herself on tape. She's a big-time movie star, and for her to do that I was quite impressed with," he revealed about Dunst's audition tape for the role of Sarah Tomlin.
"But it was honestly the tape. She pulled her hair back, into this ponytail and braid, and didn't have make-up on, felt very honest. That's what really did it. Because everyone's nice and everyone says they like your movies, but that doesn't mean they'll go this far."
Kirsten Dunst did not hide her interest in starring in one of Jeff Nichols' films. "I've been a fan of Jeff's movies – I loved Take Shelter so much, and I didn't even need to read the script to want the part. I'd have taken any role in any of his movies," Dunst admitted.
Kirsten Dunst, Joel Edgerton, Michael Shannon, Jaeden Lieberher, and Jeff Nichols attend the 'Midnight Special' premiere during the 66th Berlinale International Film Festival Berlin at Berlinale Palace on February 12, 2016, in Berlin, Germany (Credit: Tania Volobueva/ Shutterstock)
However, it all wasn't fame and fortune. She was the female lead role in the film, but was it her fault the movie failed?
Why the Film Ultimately Failed
Nichols seems to think the film was doomed from the start. His last film, Mud, performed poorly in Cannes and the criticism got to his head.
He entered into filming Midnight Special in a place of disgruntled dissatisfaction. He admitted that the movie had turned out to be his "least successful film and also probably (his) least well-executed."
"You have to kind of protect the health of who you are in order to do this work. All the press and money and all these things are kind of like a drug: You need more and more and more," Nichols said about Midnight Special in a roundtable conversation in GQ.
"It can open you up to a lesser side of yourself really quickly. 'Mud' was a failure at Cannes. Nobody wanted to buy it. So the summer I wrote 'Midnight Special' I was writing with a chip on my shoulder. And that turned out to be my least successful film and also probably my least well-executed. It's because I allowed myself to be affected by the response. We'd be morons if we weren't affected by it. But you somehow have to protect this thing that you are, or it can really hurt you. It can hurt the work."
Jaeden Martell portrays 8-year-old Alton Meyer, a boy with special powers, in Midnight Special (Credit: Warner Bros. Pictures / YouTube)
Even the first response he received from trial viewings was poor. Many people didn't like the initial ending of the film. This outcry was so large that Nichols changed the ending, yet still, the film was not a success.
The other factor for the film's downfall was the marketing of the movie. Watching the trailers, you can't grasp a clear idea of what the film is, what genre it's in, and who it appeals to.
On one hand, it feels like a superhero film, but on the other hand, it looks like an indie movie. By appealing to everyone, the movie ends up selling to no one.
Criticism Can Take Down Even the Best
The thoughts of others may have gotten into Nichols' head and caused him to falter with this release. Still, the people who've watched the film seem to be in agreeance that it's one that makes you think.
The movie was inspired by the director's true-life crisis of his child's illness. Jeff Nichols revealed at the Berlin Film Festival in February 2016 that his own 1-year-old son nearly died after facing a sudden febrile seizure.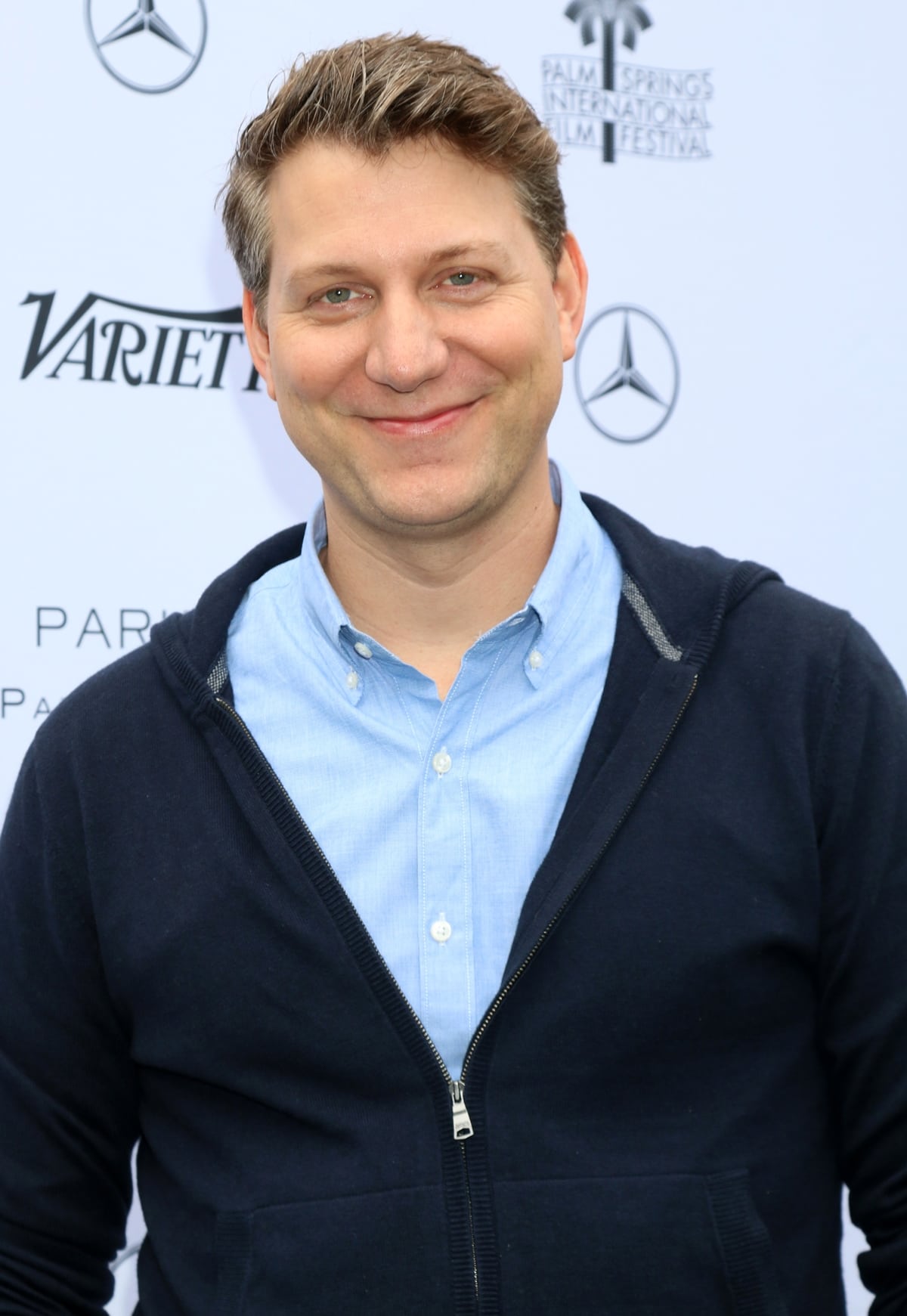 American film director and screenwriter Jeff Nichols was inspired to write Midnight Special after his own son nearly died (Credit: Kathy Hutchins / Shutterstock)
"It was a very scary moment for my wife and me. I rushed him to the hospital, and I was afraid he was dying," the director recalled.
His son luckily recovered and is doing fine. "But it made me realize in this moment that anything could happen to him and I would have no control over that," he added.
The director shared additional details about the experience during a roundtable interview to discuss Midnight Special.
"When I was writing the film I was a new father. When I write my films I try to find some palpable emotion to put in my films. I think that's the best way to communicate with the audience. And filmmaking is a really tricky process, takes a long time, and there are so many variables that go in, and you have to have this really strong emotion to make it through development."
"And with this, it was the fear of losing my son. When I was conceiving of the film and he was 8 months old he had a febrile seizure, and my wife and I dealt with the reality of losing him. And I was terrified by that. In fact, I was paralyzed for a couple of months."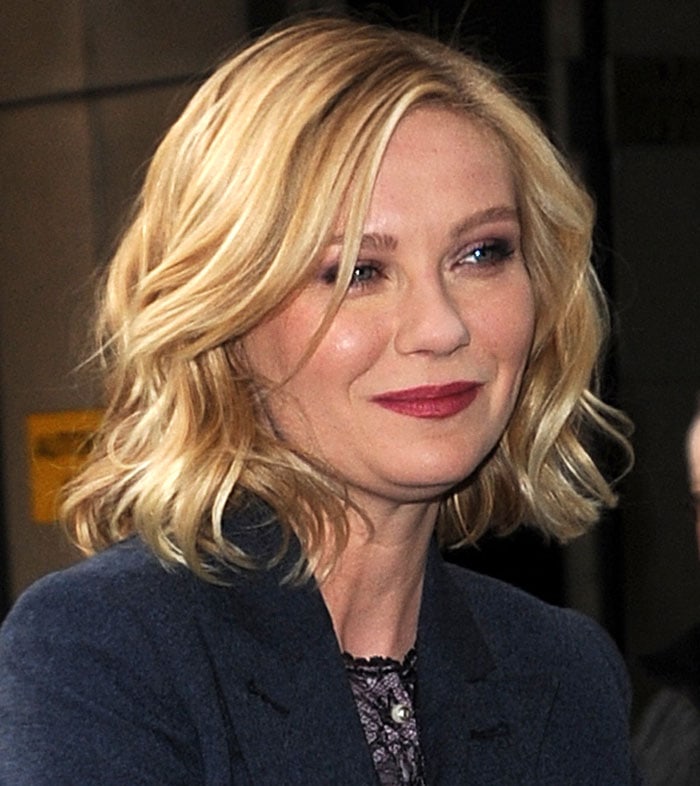 Kirsten Dunst wears her blonde hair down as she stands outside the BBC Radio 1 Studios in London on March 31, 2016 (Credit: WENN)
Kirsten Dunst has mastered the art of effortless elegance. Her style may be predictable, but she never fails to look on-point.
Her appearance on an early morning in March 2016 was no different as she sported her signature ladylike look while arriving at BBC Radio 1 studios.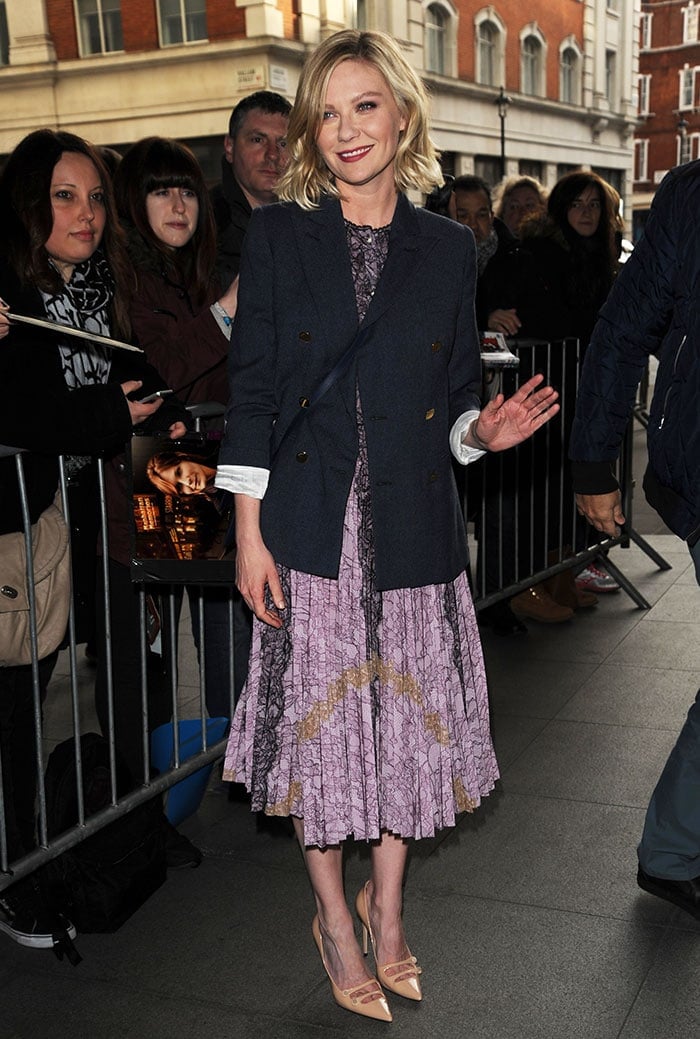 Kirsten looks ready for spring in a floral dress from Gucci's Resort 2016 collection (Credit: WENN)
The then 33-year-old actress was in London to promote her new movie, "Midnight Special," which was released in UK cinemas on April 8, 2016.
Kirsten embraced spring in yet another floral dress, this time from luxury label Gucci's Resort 2016 collection. She picked a vintage-style lilac midi frock, which featured lace panels, a button front, and a pleated skirt.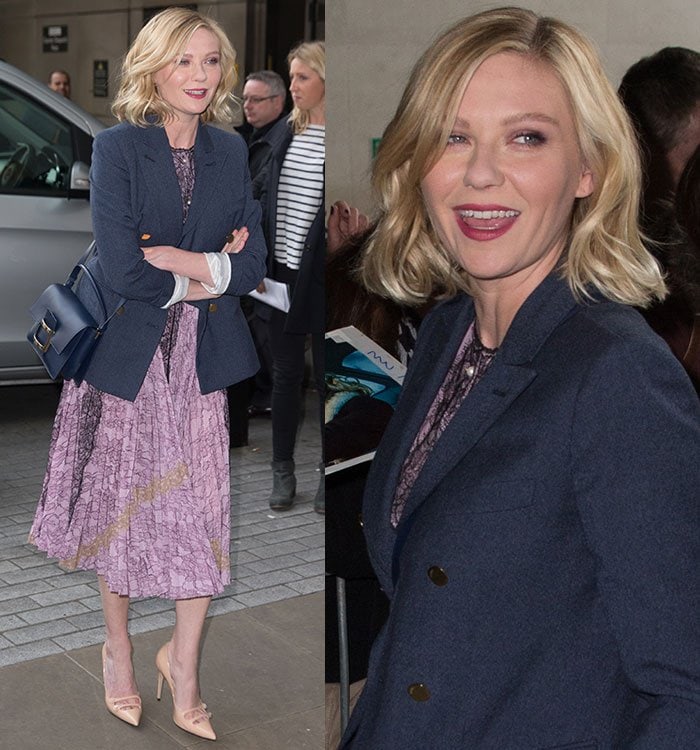 Kirsten Dunst tops her floral Gucci dress with an oversized navy blazer (Credit: WENN)
She added a hint of masculine vibe to the feminine look with an oversized navy blazer and boosted her height with a pair of nude pumps.
To complete the ensemble, she hid her eyes behind a pair of sunglasses and carried a Roger Vivier "Viv" bag across her body.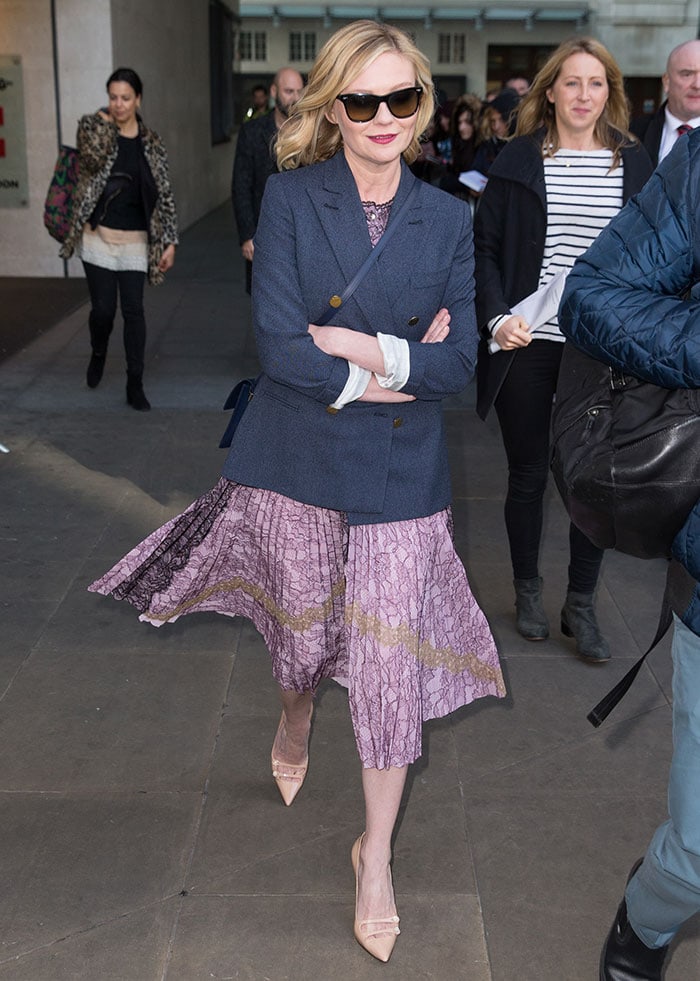 Kirsten Dunst hides her eyes behind a pair of sunglasses as she arrives at the BBC Radio 1 Studios in London (Credit: WENN)
The Fargo actress sported dark pink lipstick and wore her short blonde locks down in tousled curls.
Kirsten Dunst pairs a Gucci dress with a dark blue blazer (Credit: WENN)
A pair of dainty sandals could have perfected the girly look, but Kirsten opted for a pair of Gucci "Aneta" pumps.
Kirsten Dunst's feet in patent leather Gucci pumps (Credit: WENN)
They are made of polished patent leather and feature pointed toes, two thin vamp straps with mother-of-pearl buttons, and 3.5-inch slender heels.
Kirsten Dunst's feet in pearl-accented "Aneta" pumps (Credit: WENN)

These pumps from the iconic Italian fashion brand are available in two classic color versions at Mytheresa and Farfetch.
Nude Gucci "Aneta" Double-Strap Patent Pumps, $695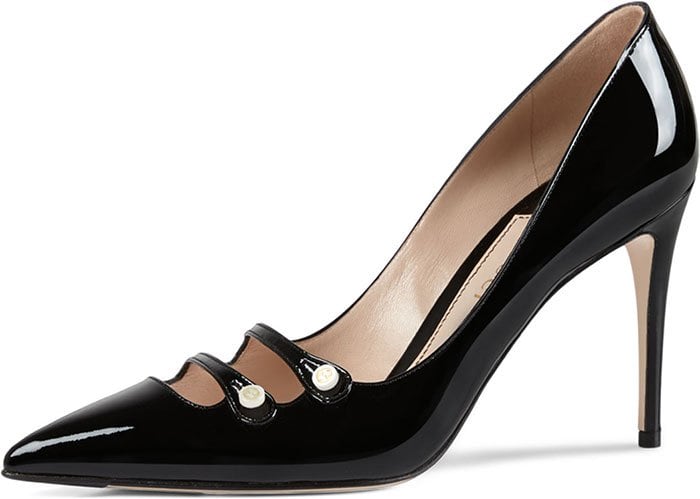 Black Gucci "Aneta" Double-Strap Patent Pumps, $695