She's 31 and dreams of having a big family. According to Mayo Clinic, female fertility drops rapidly after age 37. Older women are also more likely to have a baby with a chromosome disorder.
Rita Ora had her eggs frozen for the first time when she was 24 and again at 27 to make sure she will have a large family in the future.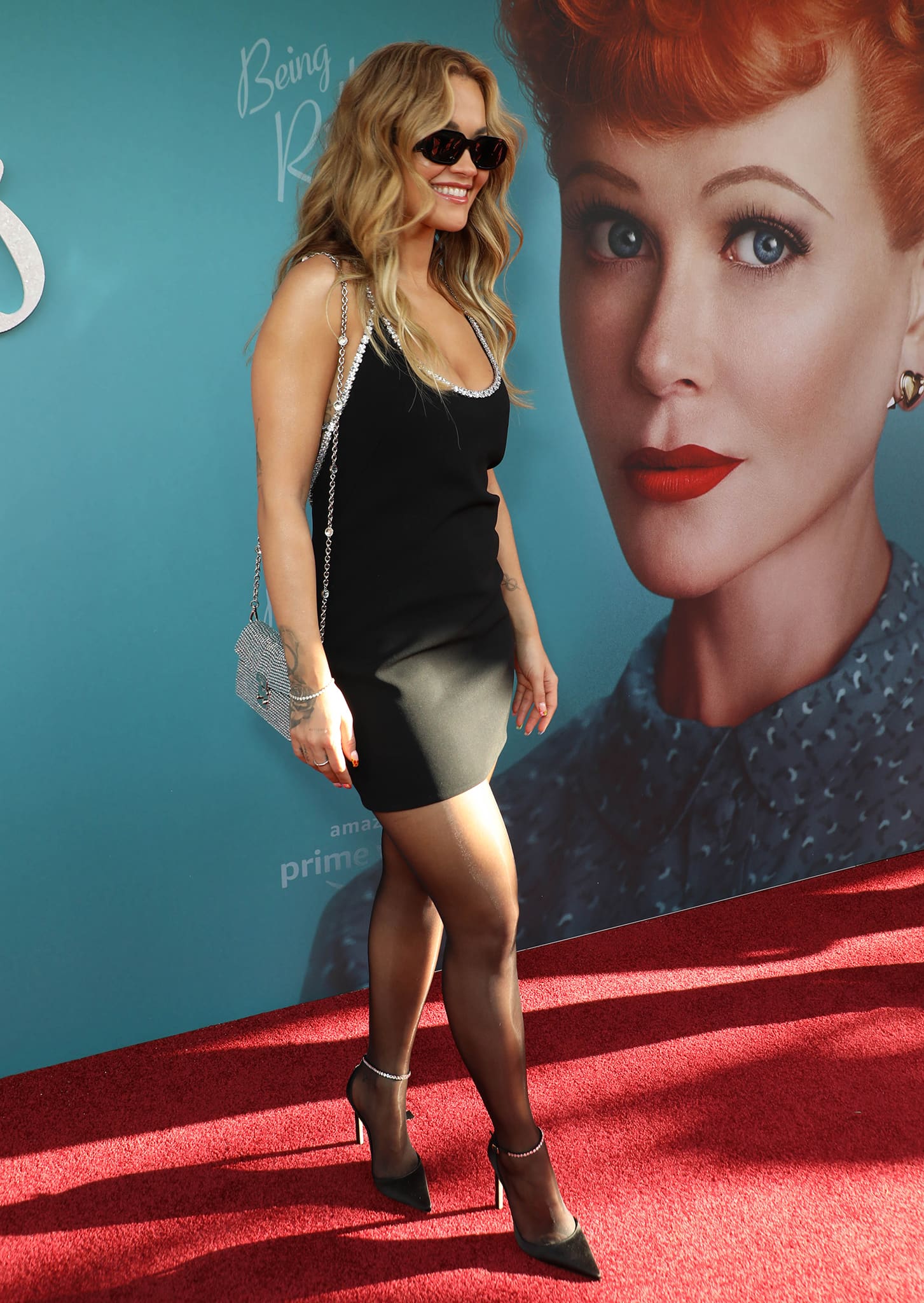 Rita Ora thinks that freezing her eggs was the best thing she ever did (Credit: Mega / WENN)
In an interview with The Independent, the Kosovo-born singer explained the procedure and why she made the decision to freeze her eggs.
I'd love to have a nice big family," she said, adding that having children is "what's important" in the Kosovan culture.
"And I think as women, we put that pressure on ourselves, subconsciously, because we feel like that is our duty—to create and give life. So, I just wanted to not worry about it. And I didn't after, and it was the best thing I ever did!"
Taika Waititi and Rita Ora attend the Australian premiere of Being the Ricardos at the Hayden Orpheum Picture Palace in Sydney on December 15, 2021 (Credit: Mega / WENN)
The Hot Right Now hitmaker also talked about her director boyfriend Taika Waititi, whom she met while shooting The Voice in Sydney in February 2021.
"I didn't expect to find love in Australia, nor was I looking for it."
Wanting to keep her new relationship out of the public eye, Rita said her past relationships taught her the importance of having a sense of privacy.
"I think protecting something that you really care about, you've got to have a sense of privacy a little bit. I wouldn't have known that if I didn't go through what I went through in the past."
Kiwi film producer and actor Taika Waititi is 15 years older than Rita Ora (Credit: Mega / WENN)
Just recently, Rita and Taika stepped out in coordinating black looks as they attended the Being the Ricardos premiere in Sydney.
The Kiwi filmmaker, who's 15 years Rita Ora's senior, looked sleek in a black suit jacket paired with black trousers and oxford shoes. He wore a black shirt underneath and finished off his look with a matching tie and a pair of square-framed sunglasses.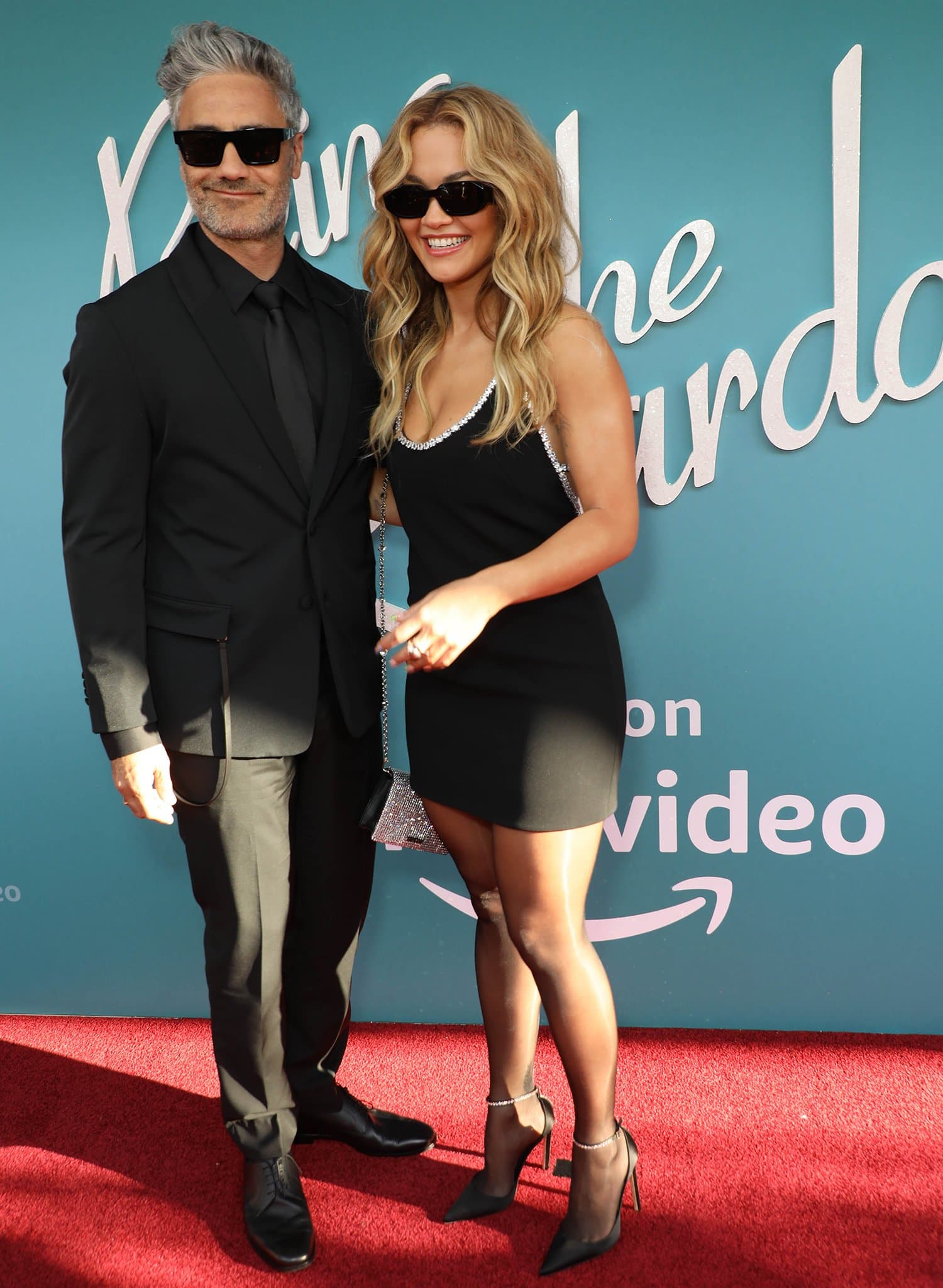 Taika Waititi and Rita Ora coordinate in all-black outfits, with Taika in a suit jacket and Rita in an LBD (Credit: Mega / WENN)
Putting her arms around her boyfriend's waist, the How We Do (Party) singer showcased her toned figure in a little black dress from Miu Miu.
This sultry yet classy shift dress features a cleavage-baring low-cut scoop neckline and a crossover back strap embellished with sparkling crystals. It also has a thigh-grazing straight hem that allowed her to parade her shapely legs. You can get it for $3,350 at Farfetch.
Rita Ora flaunts her figure in a Miu Miu LBD with crystal trims (Credit: Mega / WENN)
Keeping the look sexy, the Fifty Shades of Grey star teamed the mini dress with black stockings and black stilettos from Prada.
She wore a pair of satin Mary Jane pumps, featuring a crystal-embellished strap across the vamp. They also have pointed toes finished with 4-inch stiletto heels.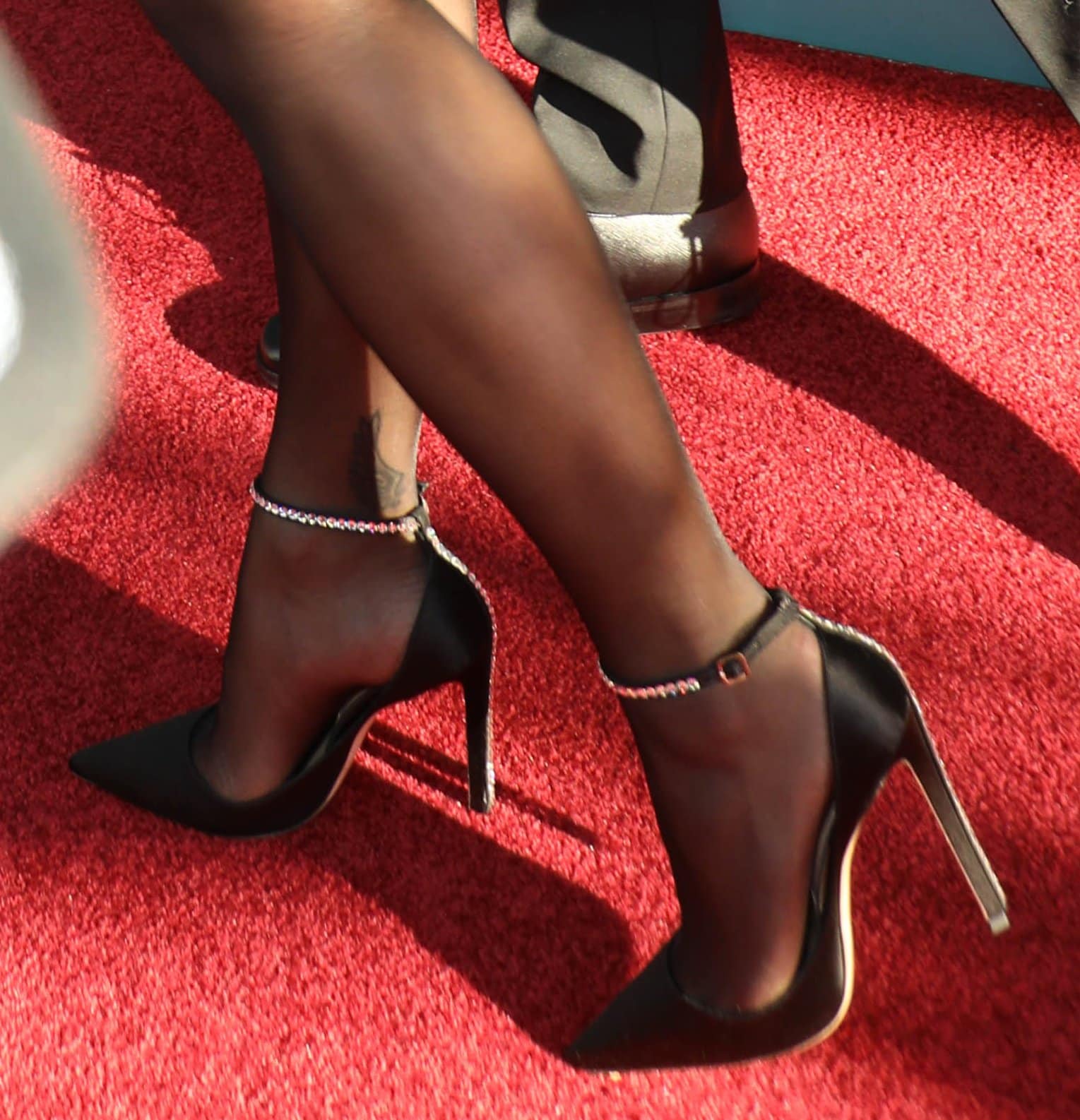 Rita Ora pairs her mini dress with black stockings and Prada Mary Jane pumps (Credit: Mega / WENN)
Adding more sparkles to the look, Rita accessorized with a diamond bracelet, a couple of rings, and a Miu Miu Starlight bag that features sparkling crystal embellishments and a glistening chain strap.
She then styled her long blonde tresses in soft curls, wore pink lipstick, and covered her eyes with black Prada sunglasses.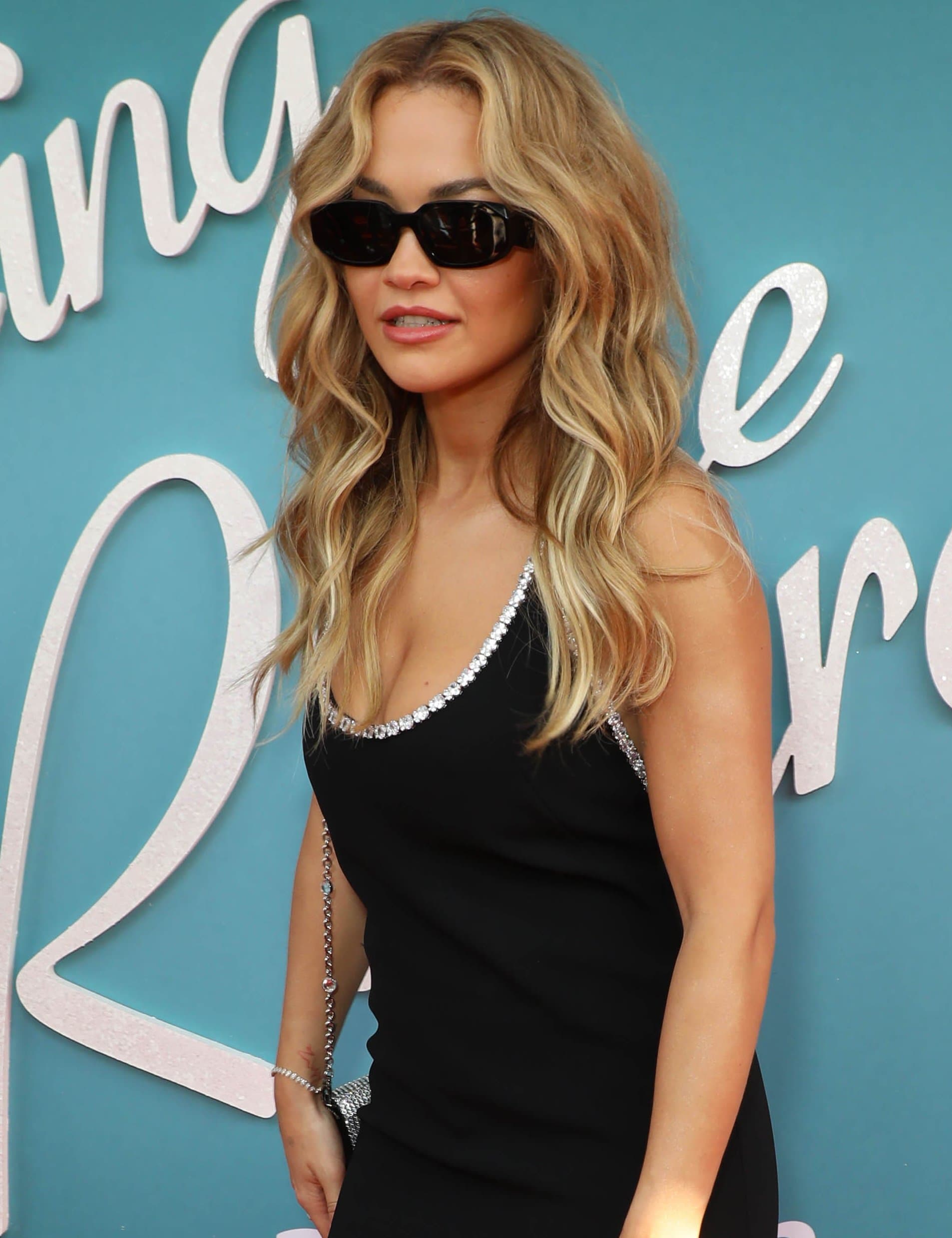 Rita Ora styles her long blonde hair in soft curls and wears pink lipstick and Prada sunglasses (Credit: Mega / WENN)