While leggings are something you can grab from your closet and quickly build an outfit around, there are a few types of shows you should avoid.
You're free to wear them around your home, but wearing them out in public can make your look too casual, or the two pieces can clash.
1. Flip Flops (Summer)
While flip flops work with shorts, they look off with leggings. If you're thinking of wearing flip flops with your leggings, swap them out for a pair of slides.
Alessandra Ambrosio pictured wearing flip flops with printed leggings on June 19, 2020
You might wear flip flops when the temperatures reach boiling point, but they're for pool days and wearing with denim shorts. We all love a casual look, but there's a line between comfortable and zero-effort.
2. Outdoor Slippers (Winter and Summer)
Leggings are a wardrobe staple while working from home. You might run around your house with a pair of slippers on, but they're best for wearing at home.
Resist the temptation to go to the grocery store with your fluffy sandals.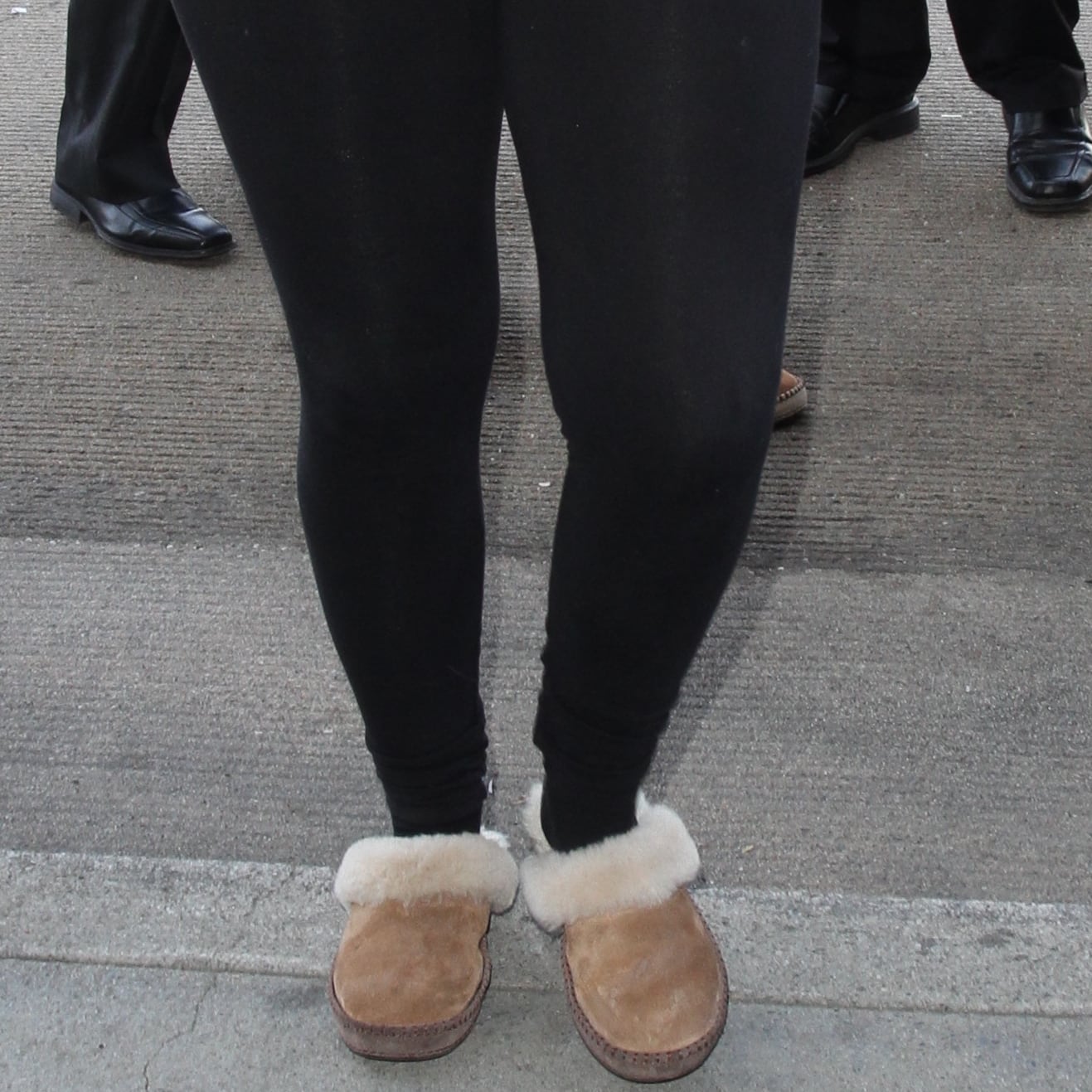 Meghan Trainor wears slippers with leggings in 2015
The great thing about leggings is how versatile they are. You can choose any pair of flats from your closet, especially ballet flats or loafers.
Save the slippers for your Zoom meetings and days when you're curled up in your leggings and oversized jumper watching Netflix.
3. Ankle-Strap Shoes (Winter and Summer)
This style of shoe doesn't work with leggings due to their length. The ankle-strap can shorten the appearance of your legs. It's difficult to wrap the strap over your leggings or to hide them underneath.
Katie Price teams her shiny leggings with ankle-strap pumps in 2013
You can elongate your legs by wearing heels or choosing a pair of mules. During winter, you can wear ankle boots as a way to slim down the appearance of your calves.
If you're not wearing boots, you want to wear your leggings with shoes that end below your ankle.
4. Sock Boots (Winter)
Just like ankle-strap shoes, sock boots don't work with leggings as they make you appear shorter. Sock boots can look like an extension to your leggings, making your legs appear stouter.
If you want to wear a pair of boots with your leggings during winter, try a pair of Chelsea boots or knee-high boots instead.
Chrissy Teigen wearing sock boots with black pants in 2017
Leggings are the foundation of every wardrobe. Whether you're chilling at home or running errands around the city, leggings are the ultimate go-to piece. The shoes you choose can change your outfit and help it go from day to night.
The next time you see your favorite leggings on sale, make sure to grab an extra pair. Whether you're a fan of leather leathers or a more casual athleisure style, they're a closet staple for winter and summer.
Credit: TFLASH / LUIGI / Instar / WENN