Stumped on what to get your shoe-crazed loved one for Christmas this year? You've come to the right place for shoe lover gifts!
If you ask us — and we say this with all bias — shoe lovers are the easiest people to shop gifts for. Barring actual shoes and shopping gift cards, here are 15 cute, cool, and chic stocking stuffers guaranteed to make your footwear fanatic friend go head over heels. All are shoe-themed, of course, and all are just $40 and under!
You can check off stuffing shoe-loving Christmas stockings with this list.
1. Rikki Knight "Keep Calm and Buy Shoes" Ornament, $13.00 at Amazon
Just in case your gift receiver needs a reminder, stuff their stocking with this fun and quirky ornament to spread holiday cheer.
2. Solemates High Heelers, $12.00 at Solemates
Your gift receiver won't ever have to worry about navigating grates, grass, and pebblestone floors in stilettos with these Solemates High Heelers. Beach weddings, garden parties, soccer games — these nifty little inventions allow heels to be worn to any event as pleased. We love these so much, we wish we thought of it ourselves.
Since they are mechanically engineered to prevent heels from sinking into grass, Luann de Lesseps could have used them when she attended the opening night for the new Broadway comedy 'Meteor Shower'.
TV personality Luann de Lesseps attends the 'Meteor Shower' Broadway opening night at the Booth Theatre on November 29, 2017 in New York City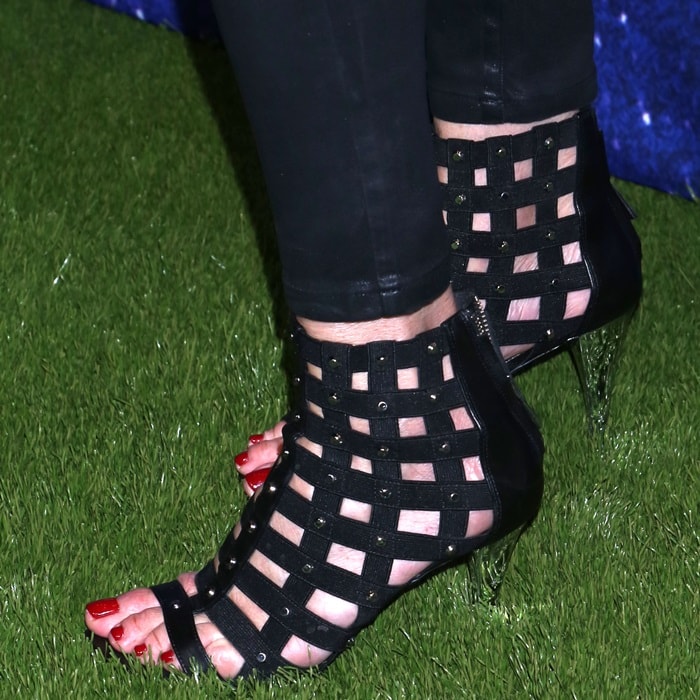 The American television personality, model, author, and singer could not stop her high heels from sinking into grass
This zippered shoe pouch is a must-have for every shoe lover. It accommodates two pairs of shoes and features a convenient carrying handle perfect for the woman on-the-go.
4. LHN 16GB High Heel USB 2.0 Flash Drive, $4.40 at Amazon
Gift this flower flip flop flash drive as a work tool and as a reminder of what you love most!
5. Vans Waffle Sole iPhone Case, $5.00 at Amazon
For the smartphone-using sneakerhead, here's a phone case that's textured like Vans soles.
6. Mix No. 6 Reindeer Women's Slipper Socks, $14.95 at DSW
Keep your loved one's feet happy and comfy with these adorable slipper socks that feature faux fur lining and a festive reindeer design.
7. STANCE Socks, $8.40 to $16.00 at Shopbop
Who doesn't love the feeling of wearing a new pair of socks?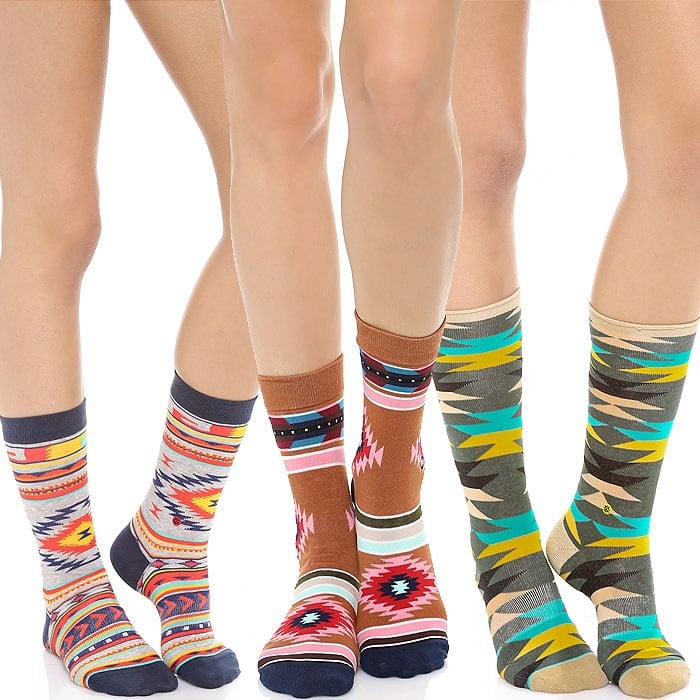 8. Shoes Page-A-Day Gallery Calendar, $11.59 at Amazon
We'd gift this shoe-a-day calendar ourselves as a supplement to a Your Next Shoes daily shoe fix.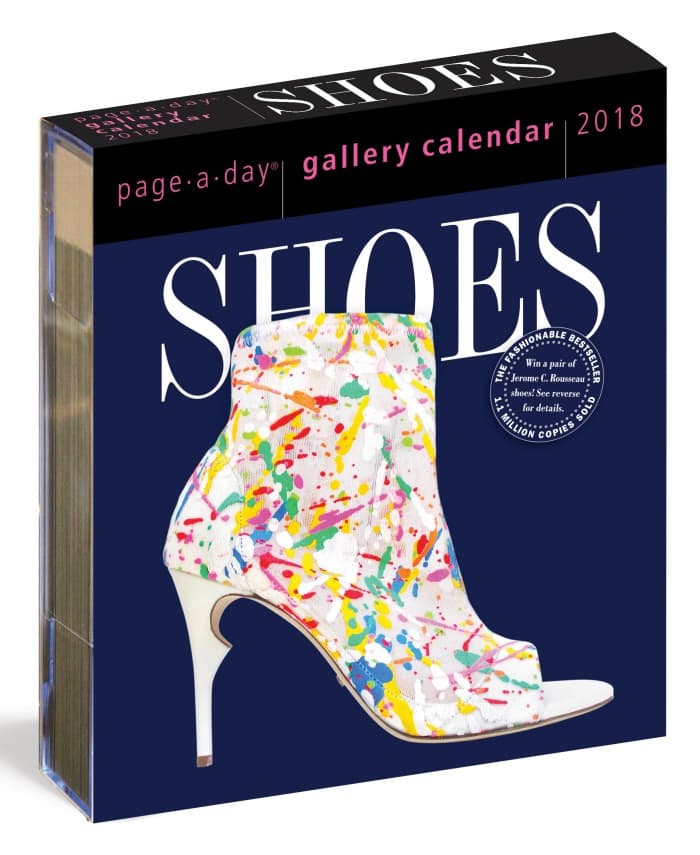 9. Oktoberfest Style Glass Beer Boot, $19.99 at Amazon
We just couldn't resist this boot-shaped glass. And it'll fit perfectly in a Christmas stocking, too!
10. Jot It Going on Notebook Set in Shoes, $9.00 at Modcloth
Give this charming notebook set to the girl who kicks ass with killer shoes.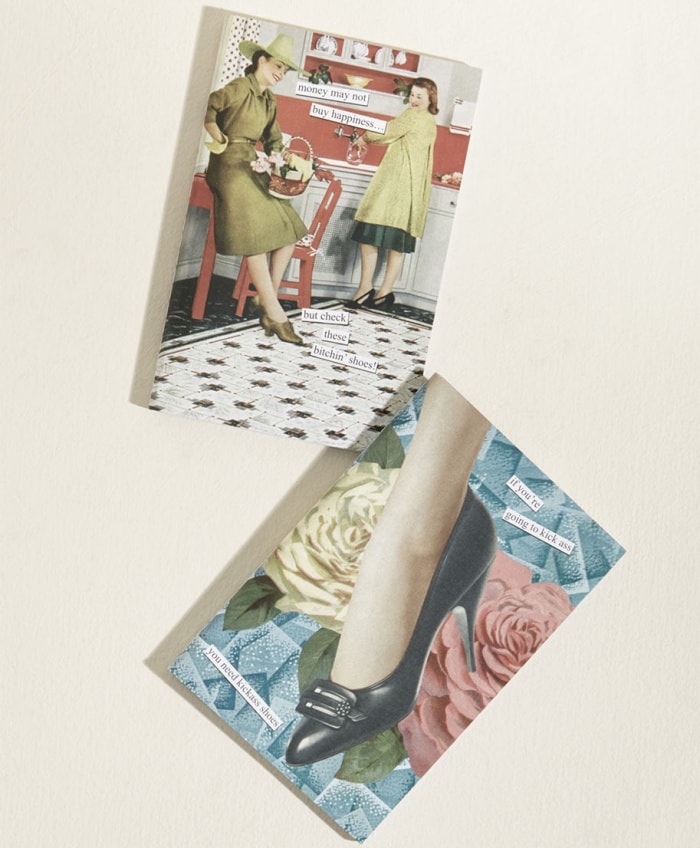 11. Lace-Up Ankle Socks, $4.90 at Forever 21
Stay en pointe with a pair of pointelle knit ankle socks, which feature lace-up ribbons.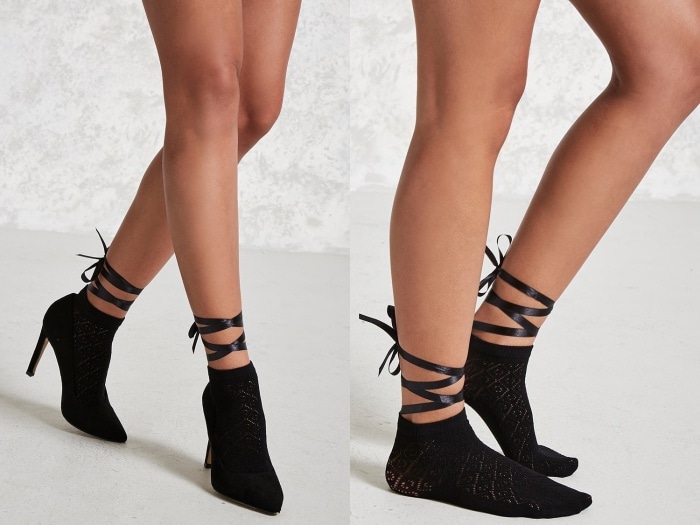 12. Solemates Shoe Essentials, $10.00 at Solemates
We're staunch advocates of adjusting your heels so they're more comfortable to wear. All high-heel-wearing women should discover the wonders of inserts, cushion gels, and pads.
13. Jeweled High-Heeled Shoe Key Chain, $19.99 at Amazon
Lucky rabbit's foot? No, we shoe lovers have stilettos as our lucky charms.
14. Bell Automotive Universal High Heel Design License Plate Frame, $13.99 at Amazon
Give the gift of a fabulous license plate frame complete with a single row of large faux diamonds and two fabulous high heels.
Blow your loved ones away with these reusable boot shapers designed to keep their favorite boots from getting unwanted cracks and maintaining their shape.
Credit: Solemates Facebook page / Joseph Marzullo / WENN