In a 2015 interview with The New York Times, singer and actress Vanessa Hudgens discussed refocusing her life on Christ following her breakup with fellow star Zac Efron.
The couple were together for four years before splitting in 2010, and Hudgens admitted there were some trying times. "I went through a phase when I was really mean because I was so fed up," she told the newspaper.
"Girls were running after him, and I was giving them death stares. Then I realised that's not what that's about. 'Spread the love, be a good person, they support you, be nice.'"
Hudgens and Efron crossed paths during their early careers as teenage stars on the popular Disney hit High School Musical. The two met on the set of the show, where their professional journeys began.
Vanessa Hudgens and Austin Butler were both followers of Hillsong Church, a global megachurch with headquarters in Sydney, Australia (Credit: Shutterstock / Lev Radin)
After her split from Zac Efron, Hudgens focused more on her relationship with God and attended services at the internationally-known Hillsong Church.
The actress attributed the restoration of her Christian faith to her then-boyfriend, actor Austin Butler. Throughout their relationship, from 2011 to 2020, the couple frequently attended services at Hillsong together.
"It feels like Arcade Fire – it's epic like that," she said, comparing Hillsong's services to the popular indie rock band's concerts.
"They really focus on you having your own personal relationship with Jesus, which is wonderful." Hudgens grew up in the Catholic faith, but admitted she "never felt very connected to it."
In a 2015 interview with The New York Times, Hudgens said that she started attending Hillsong after she started dating Butler (Credit: Lev Radin / Shutterstock)
In a 2018 interview with StyleCaster, Vanessa Hudgens expressed that she experiences a spiritual sensation when attending music festivals like Coachella.
"…In this day and age, people are so preoccupied and so easily distracted, and at a festival is one time where everyone is centered and paying attention to the same thing for an extended amount of time, and I think that's magical."
After splitting from Austin Butler and leaving Hillsong Church, Vanessa Hudgens drew concern from Christian leaders when she started working on Dead Hot: Season of the Witch, an unscripted movie where she, along with her friend GG Magreem, both self-taught students of witchcraft, venture into the spiritual realm in Salem, Massachusetts. It premiered on Tubi on April 14, 2023, and received lousy reviews.
"During 2020, I think we were all looking for ways to better ourselves, to grow and come out of it as better people," Hudgens told Variety.
"I really started to lean into rituals and manifestation. I was actually leading little coven meetings over Zoom with a few other witchy friends. It was such an uplifting community and it had me even more curious about witchcraft. The exploration seemed like a special thing to document and share."
Vanessa Hudgens ties her hair back while shopping at both Bed Bath & Beyond and Whole Foods on July 16, 2016, in Los Angeles (Credit: WENN)
Vanessa Hudgens seems to be a pretty healthy person. She's known for being a yoga and pilates enthusiast and has been spotted around Los Angeles carrying organic drinks more than a few times.
So, in July 2016, it wasn't surprising to see the then-27-year-old emerging from a Los Angeles Whole Foods after spending an afternoon grocery shopping.
Vanessa also made a stop at Bed Bath & Beyond, where she picked up a number of things.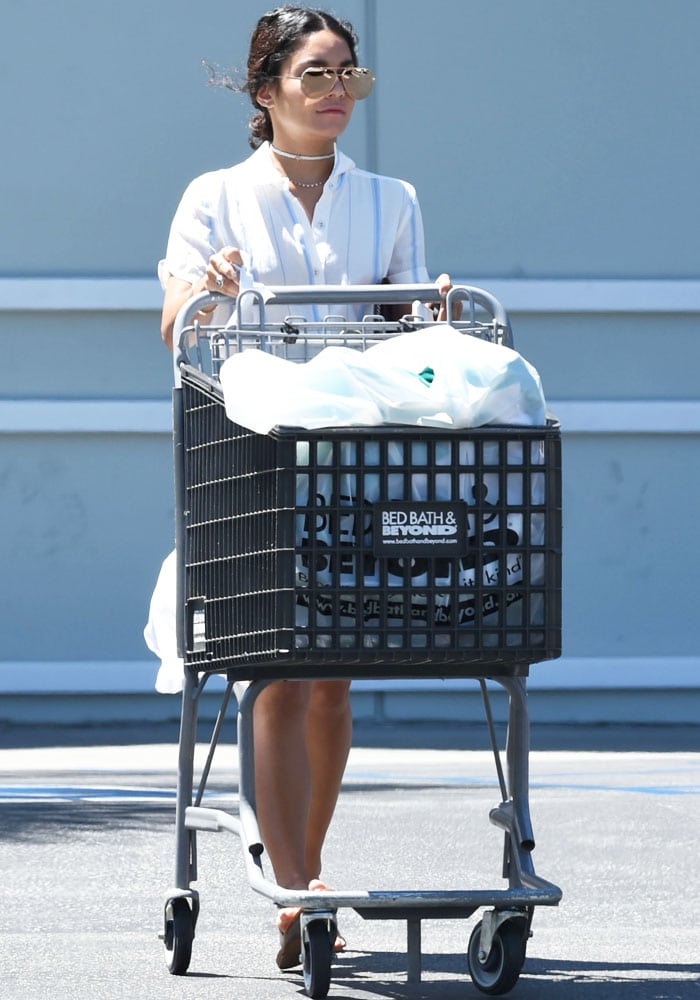 Vanessa Hudgens wears a pair of mirrored Quay sunglasses as she pushes a Bed Bath & Beyond cart (Credit: WENN)
The "High School Musical" star wore a cute striped shirt dress from L'Academie, which she styled with a "Labradorite Starburst" choker from Jacquie Aiche, along with several other chains and baubles.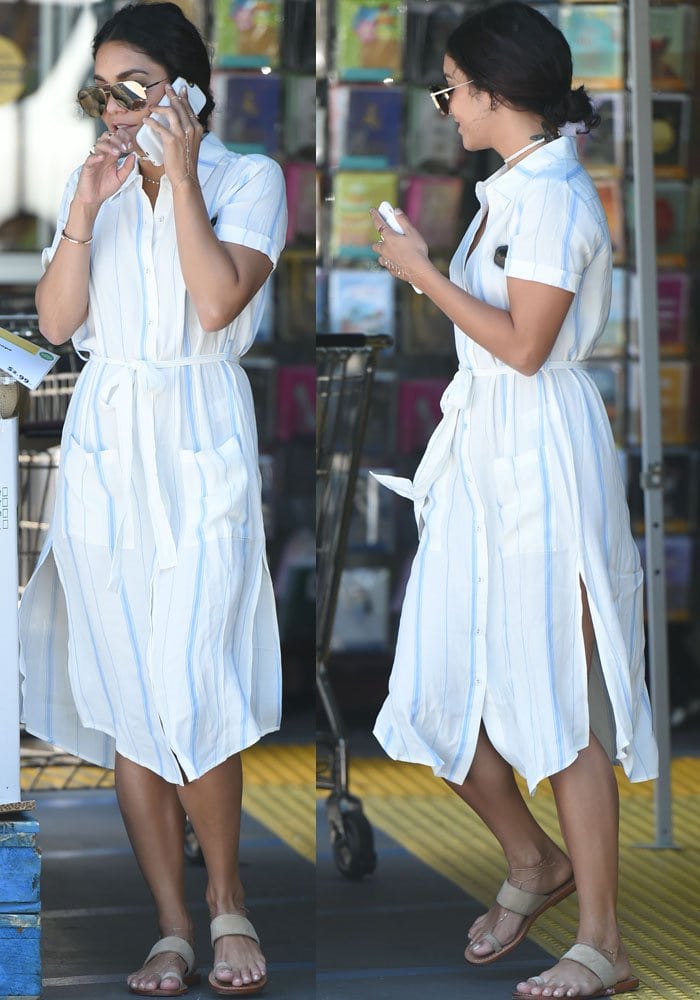 Vanessa Hudgens shops at Whole Foods in a breezy L'Academie dress (Credit: WENN)
The Journey 2: The Mysterious Island actress finished her look with sunglasses from Quay Australia x Desi, a Stella McCartney "Falabella" crossbody bag, and displayed her feet in Raye "Sara" sandals in nude suede.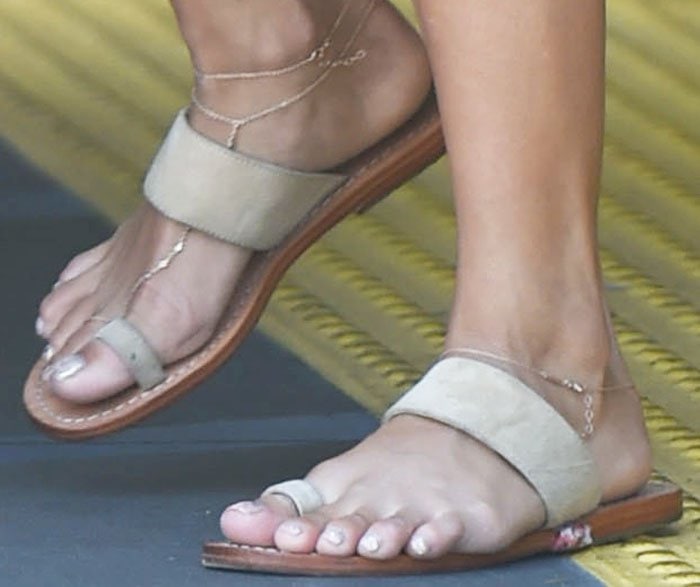 Vanessa Hudgens's feet in slip-on Raye sandals (Credit: WENN)
The "Sara" sandals from Raye are no longer available online, but you can pick up a similar pair from Matiko on Amazon.
RAYE Sara Sandal in Nude & White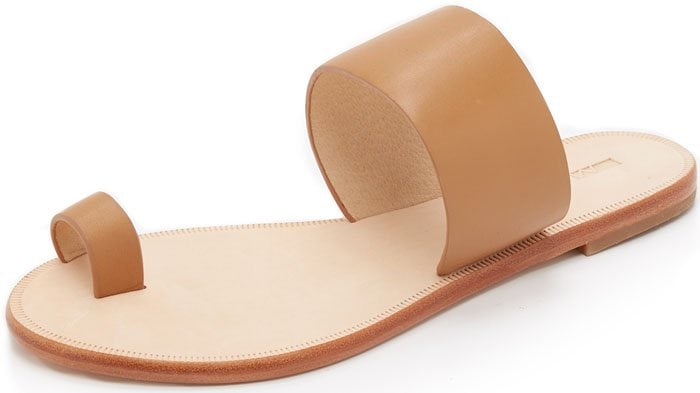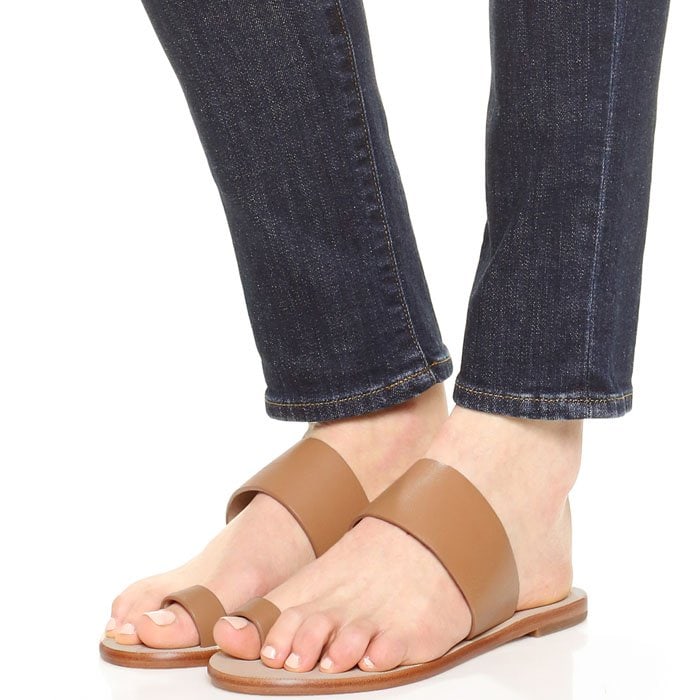 Matiko "Bonny" Toe Ring Sandals, $114