Zendaya's parents have always been such a huge part of her life, and their support has helped her get to where she is today. In case you don't know much about them, we're here to give you the scoop on who they are and what their careers are like.
The Emmy winner's parents – Claire Stoermer, who is of German descent, and Kazembe Ajamu Coleman, who has African roots – are just as cool as she is. The multi-talented star is proud to have roots in two different backgrounds, and she's not afraid to show them off.
In a 2016 interview on The Ellen DeGeneres Show, Zendaya gushed about the role her parents played in helping her become the person she is today.
"I'm really lucky to have the parents that I have," Zendaya said. "They just have always instilled in me those core values that I think I have to carry me through everything. I give it up to them. I give it up to my family."
The Euphoria actress was born on September 1, 1996, and grew up in Oakland, California as the only child of Claire and Kazembe. Zendaya is the youngest of six children in total, having five half-siblings from her father's previous marriage.
When Claire and Kazembe are not around to be with the star on set or at prestigious events, the two are still sending out their support from a distance, flexing their gifted daughter through appreciation posts on their social media pages.
View this post on Instagram
They've worked hard to support their daughter in her career, from her early days on Disney Channel to her rise in Hollywood. We know you want to know everything about these two people who gave her constant support, and we're here to give it to you!
Claire Stoermer: Proud Mom and Noble Teacher
Zendaya's mom, Claire Stoermer, is not only the proud mother of one of the most talented actresses in Hollywood, but she's also a school teacher who worked at inner-city schools in Oakland, California.
Her mother's dedication led the actress to have an extra appreciation for education, and she looked up to her mom as her role model for being passionate about helping others.
Zendaya is the only child of Claire Marie Stoermer, who split from Zendaya's father, Kazembe Ajamu Coleman, in 2016 after eight years of marriage (Credit: BauerGriffin / INSTARimages)
In Zendaya's impactful 2016 Teen Vogue message, the actress proudly shared how her mother inspired her to value education through her mom's noble profession: "My mom went above and beyond, working constantly to open her students' eyes to an education that could lift them far beyond their current circumstances. Watching her was magical; it instilled within me a true appreciation of and devotion to the importance of education."
Zendaya shared in her tweet in 2011 that her mom, Claire, was so committed to being a teacher that she had to stay behind and couldn't move out with them when the actress started working on Disney Channel's 2010 series Shake It Up.
Committed to teaching, Claire stayed behind in Oakland when Zendaya moved to Los Angeles to start working on her Disney Channel series, Shake It Up, in 2010 (Credit: Twitter)
Growing up, Zendaya's mom wasn't just inspiring to her because of her work but also because she presented herself to the world with so much confidence. Zendaya's mom never wore makeup, and it had a huge impact on her growing up.
The star told Vanity Fair in a 2019 interview that she was inspired by her mom's beauty philosophy. "My beauty icons are the women in my life. My mom didn't wear makeup; I don't think she knew that, to me, it was empowering that she didn't care."
However, she still developed her love for fashion and beauty. She even recalled that she was super into it. "I would go to my grandma's house, and she would have all the good makeup."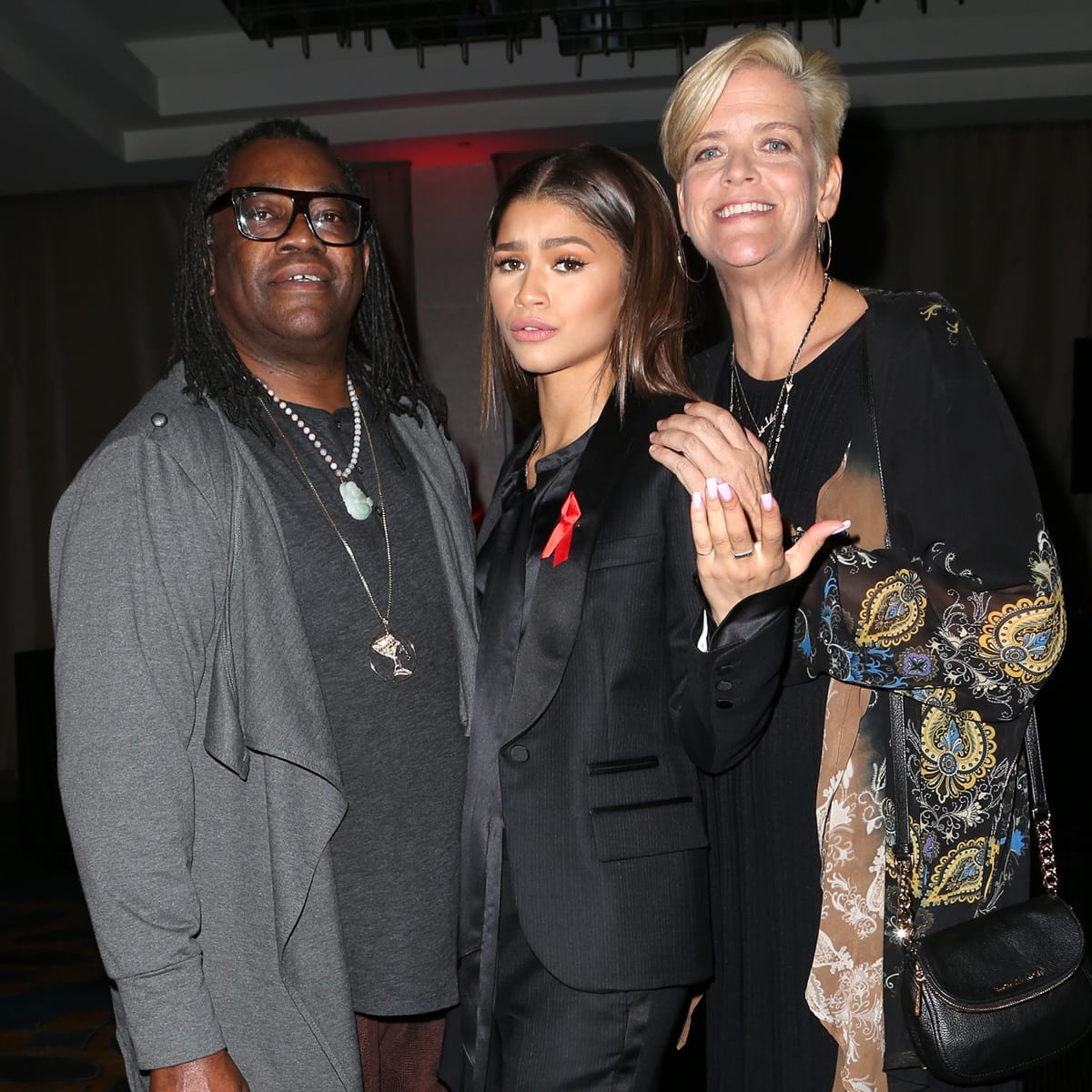 Zendaya with her parents Kazembe Ajamu Coleman and Claire Stoermer at the Inaugural World AIDS Day Benefit held at Sofitel Hotel in Beverly Hills, California, on December 1, 2015 (Credit: WENN / FayesVision)
Zendaya is proof that you can be your most glamorous self and still embrace your natural beauty. She is a huge advocate for it, and it's all thanks to her mom. Zendaya has been outspoken about her natural beauty and has even made it a point to show the world just how gorgeous she is without makeup on.
Claire Stoermer is also a jewelry designer and has her own line called Kizzmet Jewelry, focusing on precious stones and crystals. Claire isn't the only one who supports Zendaya's work.
The actress herself is incredibly supportive of her mother's jewelry line. In fact, the singer even wears pieces from Claire's collection on occasion. She even tweeted about it on social media.
View this post on Instagram
With over 121,000 followers on her personal Instagram, it is no doubt that Claire Stoermer has won the hearts of Zendaya's fans.
Claire frequently posts photos of her dogs and custom pieces from her jewelry line, but she also dedicates a part of her feed to show how proud she is of her daughter.
Kazembe Ajamu Coleman: Proud Dad and Supportive Manager
Born Samuel David Coleman, Zendaya's dad changed his name to Kazembe Ajamu after he reconnected with his Nigerian roots.
Kazembe was also a teacher when the actress was still young, but when Zendaya's career took off, he had to work with her daughter as her manager. Kazembe helped her daughter rise to fame in her own right by being by her side and taking care of her while launching her career.
Considering that her parents were both teachers, the actress told Us Weekly magazine in 2014 that she "always had to take school very seriously" growing up.
However, the actress wasn't always the perfect student when she revealed that in second grade, she "failed some spelling tests and got in a lot of trouble!"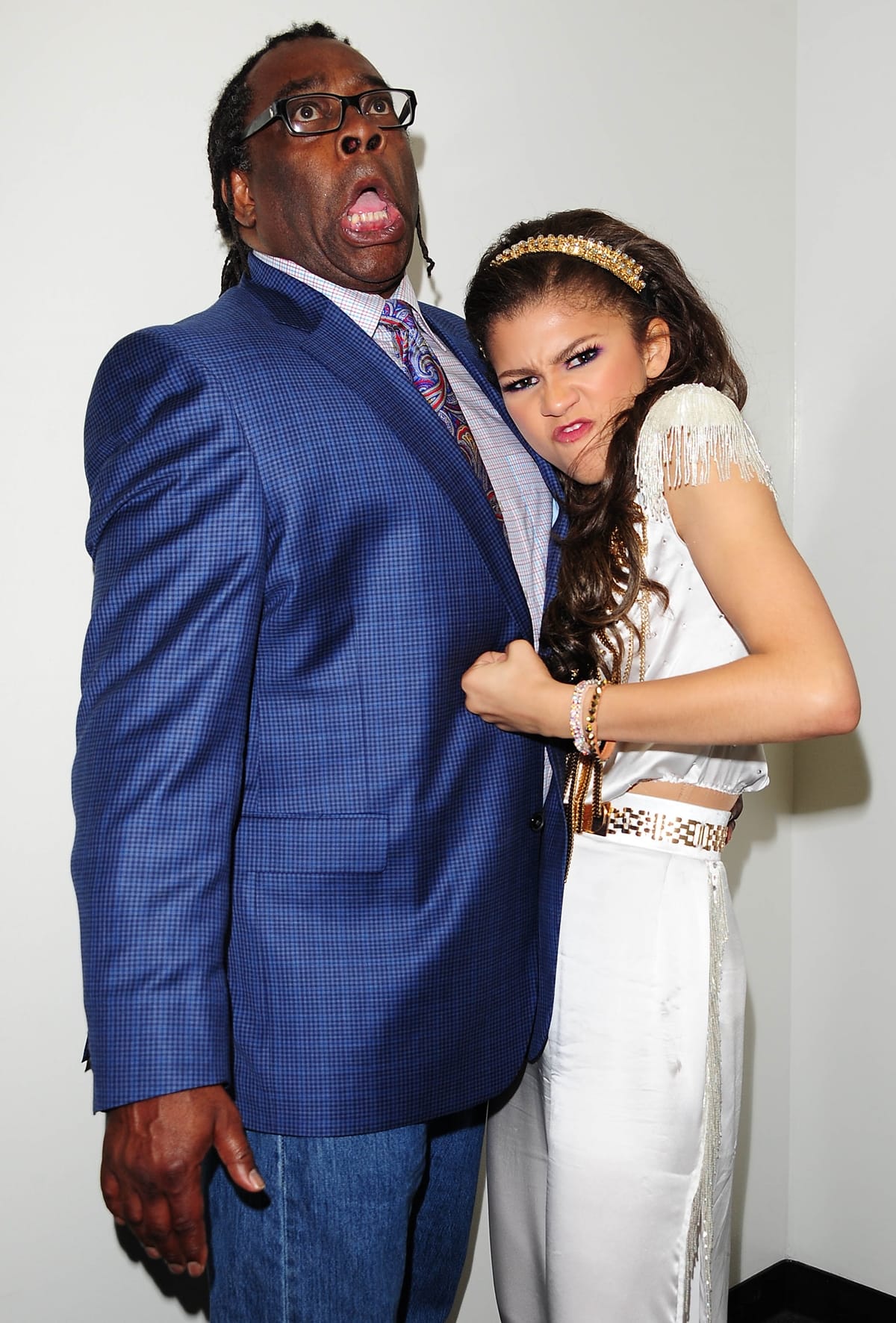 Zendaya's father, Kazembe Ajamu Coleman (born: Samuel David Coleman), is her bodyguard of African-American descent with a total of six children (Credit: Michael Simon / Startraksphoto)
As previously mentioned, Zendaya was the only child of her parents. However, Kazembe has five other children before he got married to Zendaya's mom. Her two older step-brothers are Austin and Julien, while her three older step-sisters are Katianna, Anabella, and Kaylee.
Because her siblings are older than her, Zendaya was born an auntie to her older niece and nephew. Kazembe is also a proud grandfather, as his kids have their own children to look after.
In a 2015 interview with TIME, the then-teen actress revealed that as she got older, she realized that her true models are her parents.
"My mom is like a sheroe. My dad is so strong. I look up to my big sister and realize the influence she's had on me and making me a better person. Having such a big, grounded family, I realized as you get older how important that is."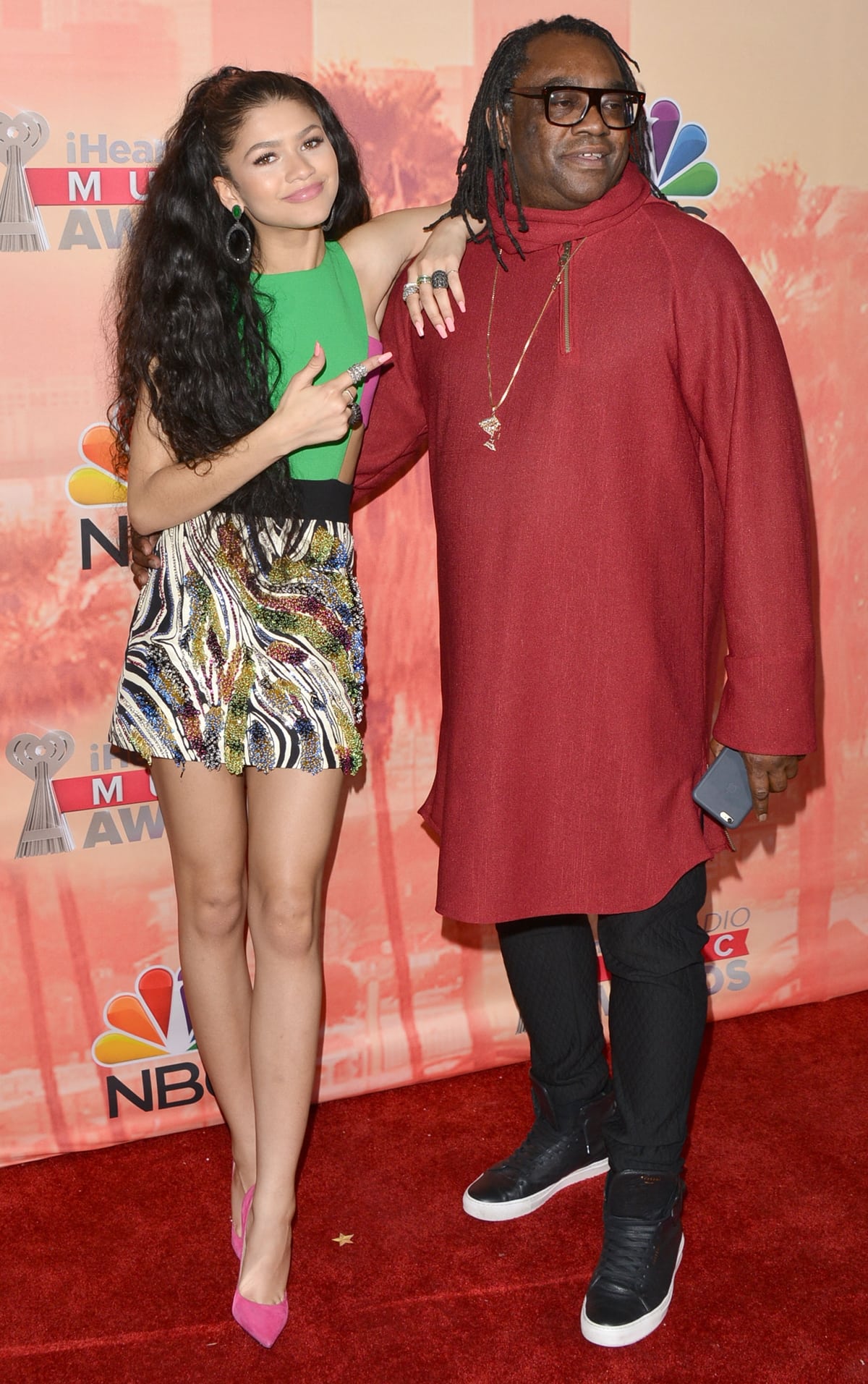 Zendaya is very close to her biological father, Kazembe Ajamu Coleman, who also serves as her manager/bodyguard (Credit: Tony DiMaio / Startraksphoto)
Zendaya has always been vocal about how grateful she is towards her father, who has always been proud and supportive of her career.
"Thank you for your unconditional love, unwavering strength, your protection, and your wisdom, even when I think I know everything. I'm so thankful to have you as a father," Zendaya wrote on Instagram as a sweet tribute to Kazembe to celebrate Father's Day in 2016.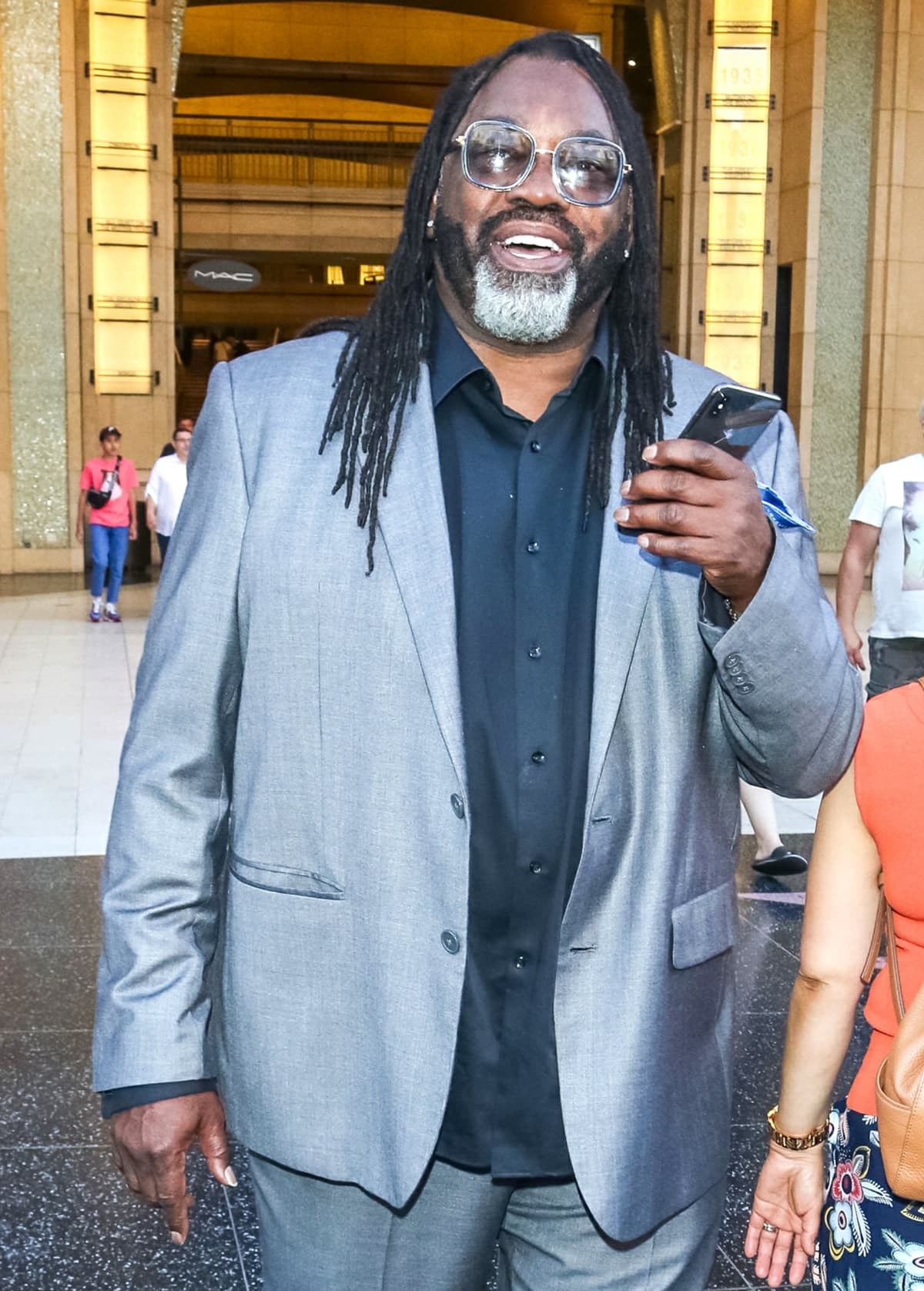 Born Samuel David Coleman, Zendaya's dad changed his name to Kazembe Ajamu Coleman after taking a DNA test that confirmed his African roots (Credit: BauerGriffin / INSTARimages)
If there's one thing that Zendaya knows how to do, it's sticking up for her family. The actress has no problem calling out trolls who attack her friends and family, including when she blasted a Twitter troll in 2015 who called her parents ugly.
In August 2016, Claire Stoermer and Kazembe Ajamu Coleman filed for divorce after eight years of marriage.