Just like Jordin Sparks, Zendaya is half white and half black. Her father is African-American, while her mother has German and Scottish ancestry.
"I gotta give it up to my parents," Zendaya said about her parents on Ellen in 2016. "I'm really lucky to have the parents that I have. They just have always instilled in me those core values that I think I have to carry with me through everything. I give it up to them, I give it up to my family."
In 2016, her parents announced their divorce after being married for 8 years. When the news broke, Zendaya tweeted that her parents had been apart for a long time; "My parents ain't been together for a long time, y'all didn't know cause we private + they still homies."
Marrying in 2008 when Zendaya was 12, Claire Stoermer filed divorce documents against Kazembe Ajamu Coleman in August 2016, citing irreconcilable differences. Zendaya's biggest inspiration growing up, she did not ask for spousal support.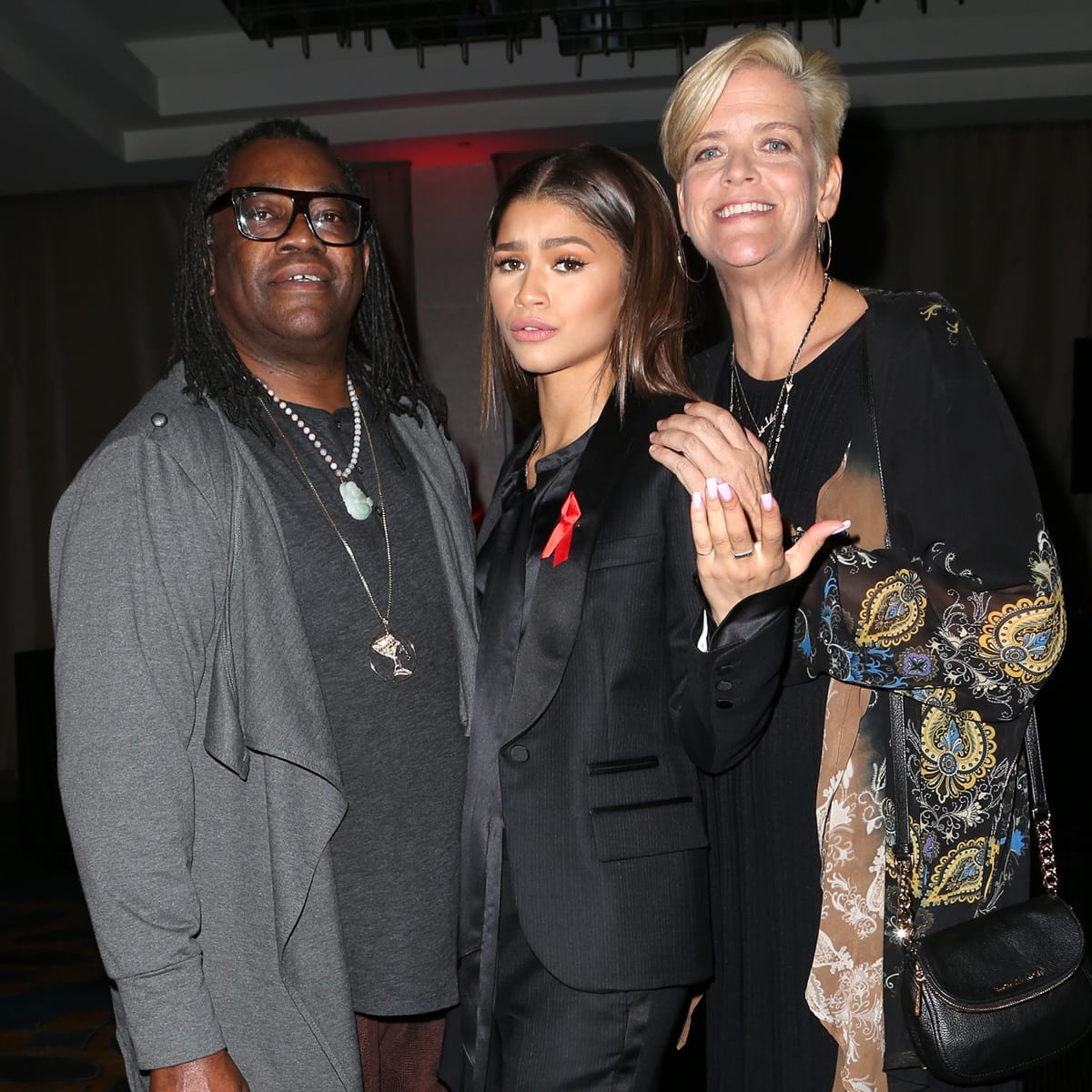 Zendaya's parents Kazembe Ajamu Coleman and Claire Stoermer filed for divorce in 2016 after 8 years of marriage (Credit: FayesVision / WENN)
"She would introduce them to the arts, guide them through the language of Shakespeare, and show them the wonders of nature outside city life — all things that they wouldn't have experienced otherwise," Zendaya told Teen Vogue about her mother's job at the California Shakespeare Theater.
"Watching her was magical; it instilled within me a true appreciation of and devotion to the importance of education. If I wasn't in entertainment, I'd be a teacher in a heartbeat — guaranteed!"
Zendaya has five older half-siblings, three sisters and two brothers, from her father's first marriage. In June 2021, her father, Kazembe Ajamu Coleman, was spotted on a date with American actress Niki McElroy.
Niki McElroy and Kazembe Ajamu Coleman holding hands in Los Angeles on June 18, 2021 (Credit: Guillermo Proano / WENN)
Protective of her parents, Zendaya got understandably upset when Twitter trolls said Claire Stoermer and Kazembe Ajamu are ugly.
"First, I'm going to pray for you. While you're so concerned about what my parents look like, please know that these are two of the most selfless people in the world. They have chosen to spend their entire life, not worried about trivial things such as looks and insulting people's parents on Twitter, but instead became educators who have dedicated their lives to teaching, cultivating and filling young, shallow, minds," the Shake It Up star tweeted.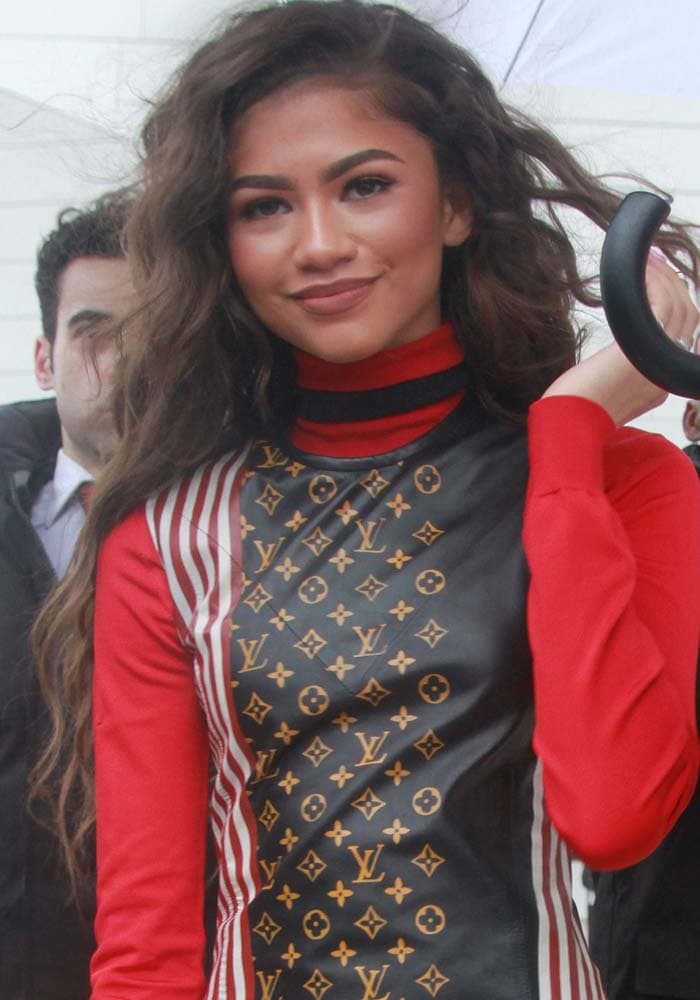 Zendaya wears her hair in curls at the Louis Vuitton Autumn/Winter 2016/2017 Show held on March 9, 2016, during Paris Fashion Week (Credit: WENN)
Before entering the Louis Vuitton show at the Paris Fashion Week on a rainy day in March 2016, the actress/singer was accidentally hit by an umbrella as people swarmed around her to take pictures.
The style maven — who showed up in head-to-toe Louis Vuitton — quickly cracked a joke about how she was planning to walk the runway.
Zendaya wears head-to-toe Louis Vuitton to Paris Fashion Week (Credit: WENN)
Zendaya's ensemble included a monogrammed leather dress reminiscent of the Spring/Summer 2016 line. The pop princess wore a long-sleeved red top underneath the dress and finished the look with leather ankle boots.
Zendaya wears lace-up ankle boots from Louis Vuitton (Credit: WENN)
Despite being all dolled up in (expensive) designer garb and having a million cameras pointing in her direction, the brunette casually brushed off the minor incident in the midst of the chaos.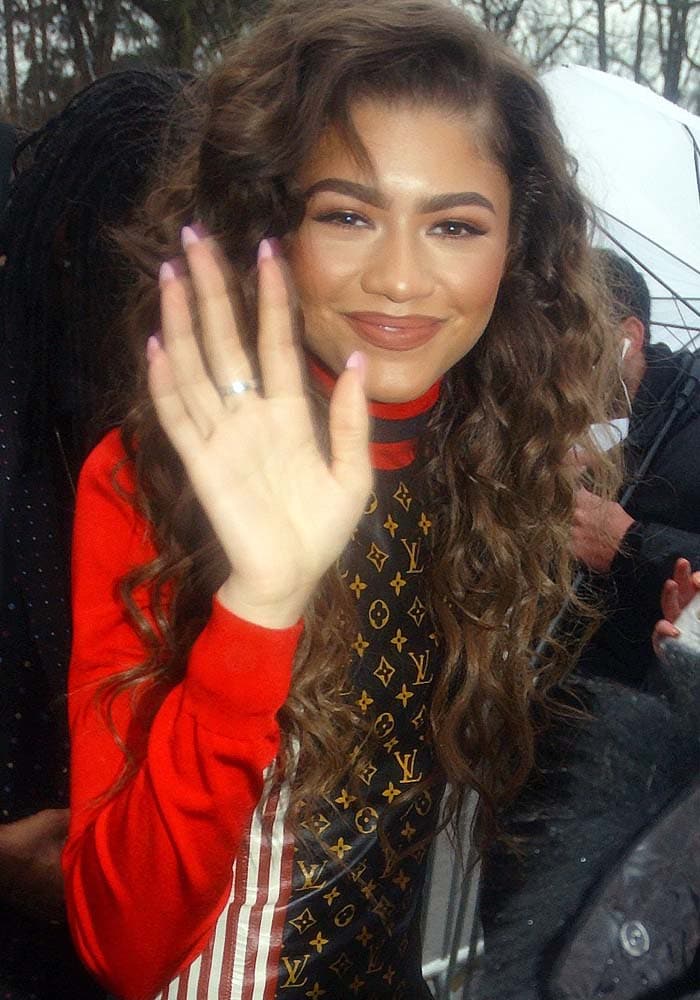 Zendaya smiles and waves after being accidentally hit with an umbrella (Credit: WENN)
You can order Sigerson Morrison heels similar to Zendaya's Louis Vuitton ankle boots at Zappos.
Sigerson Morrison 'Gisa' Boots in Beige/Black, $450