She has been noticeably absent from this season's fashion week shows, and fans speculate that it may be because of her anxiety.
In a new episode of Hulu's The Kardashians, Kendall Jenner opened up about undergoing a brain scan, which showed that she "100% has anxiety."
"Basically, [the doctor] scans your brain, and he tells you, like he sees where it's like firing. Like he said, 'You 100% have anxiety. I can see it all in your brain.' It's really interesting."
Hoping to convince her wealthy sisters to get their brains scanned as well, she told Khloe Kardashian: "I'm actually so interested to see how your brain looks, mostly after everything that's just happened with Tristan [Thomspon]."
Although we didn't get to see Kendall on the European runway shows this season, the 26-year-old model did make up for it as she strutted her stuff in NYC.
Kicking off the fall season, the 818 Tequila founder paraded her enviable model figure in two bodycon dresses on Thursday.
1. Kendall Jenner in Denim Bodycon Dress
Denim is clearly having a moment these days, and Kendall Jenner is jumping on the trend as she donned a denim sleeveless dress while out and about in Soho.
Kendall Jenner shows how to wear a sleeveless denim bodycon dress by Sportmax in SoHo, New York City, on September 22, 2022 (Credit: ROGER WONG / INSTARimages / Cover Images)
The '90s-inspired form-fitting denim number is the "Dida" from Max Mara's sub-label, Sportmax. It comes in a dark-wash denim hue and features flattering ruching and waist seams.
Wearing her brunette tresses down, Kendall further styled with tiny hoop earrings and added a pop of color to her look with red nail polish.
Kendall Jenner styles her fall look with a fur-and-leather shoulder bag and a pair of black sunnies (Credit: ROGER WONG / INSTARimages / Cover Images)
Creating the perfect fall look, the new face of Jimmy Choo teamed her denim dress with leather knee-high boots with pointed toes and kitten heels.
She then carried her day essentials in a brown fur shoulder bag with black leather accents and hid her eyes behind a pair of rectangular sunglasses.
Kendall Jenner completes her chic fall ensemble with knee-high leather boots (Credit: ROGER WONG / INSTARimages / Cover Images)
2. Kendall Jenner in White Bodycon Dress
Later in the day, Kendall hosted a dinner party at Little Sister Lounge to celebrate her newly launched Eight Reserve by 818 ultra-premium Añejo tequila.
Devin Booker's on-and-off girlfriend couldn't be missed in a form-fitting reflective white dress by Rick Owens.
Kendall Jenner hosts dinner to celebrate the launch of Eight Reserve by 818 at the Little Sister Lounge (Credit: Roger Wong / INSTARimages / Cover Images)
Made from 50% glass fiber, the minimalist dress features a strapless bustier bodice, seams across the chest and down the sides, a back zip, and a rear central vent.
You can find the floor-length version of her bodycon dress at Mytheresa, retailing for$1,165.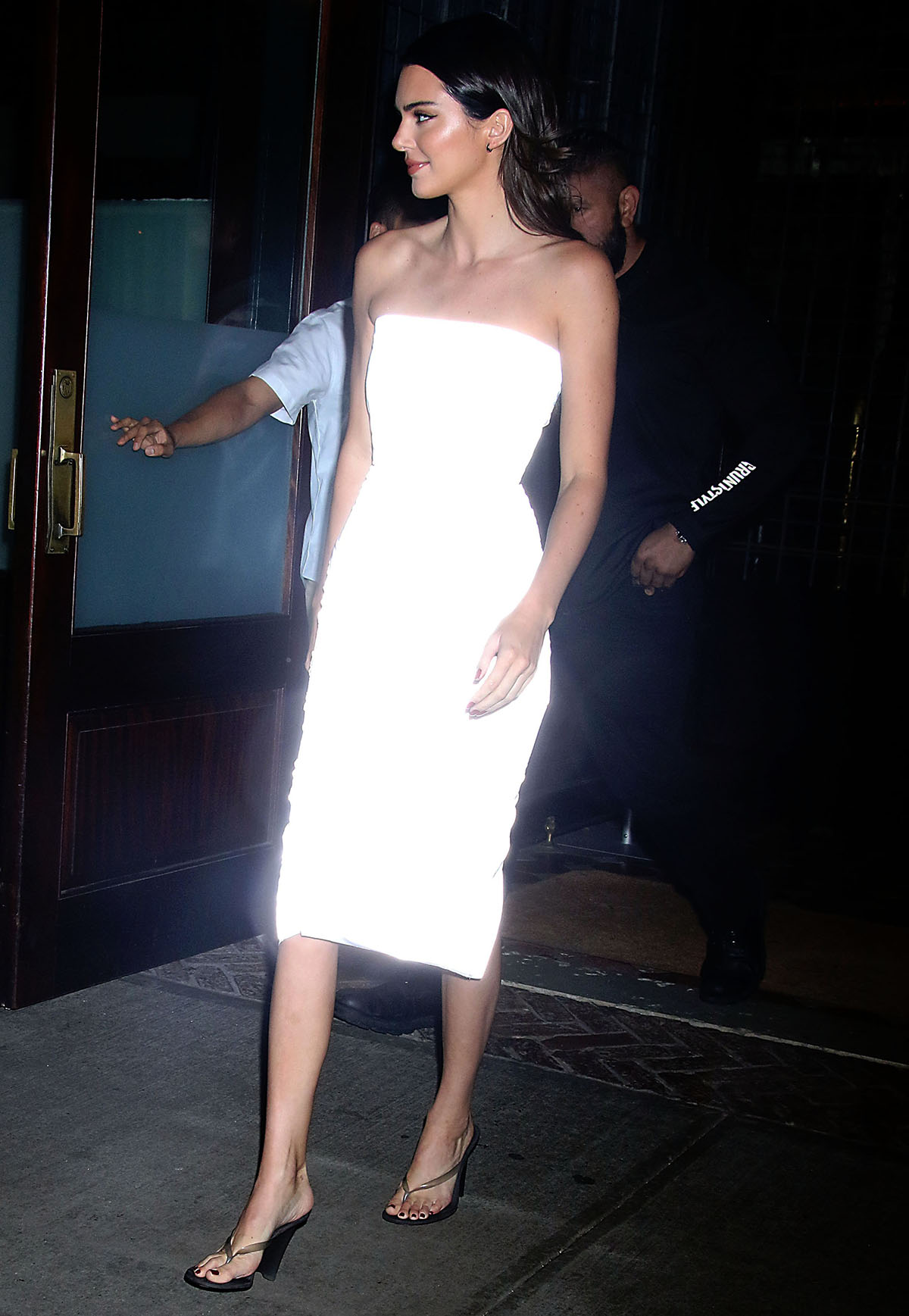 Kendall Jenner shows how to look radiant in a reflective white strapless bodycon dress by Rick Owens (Credit: Roger Wong / INSTARimages / Cover Images)
The rich model then showed off her big feet in a pair of Yeezy thong sandals, which featured flip-flop-inspired clear PVC straps and high wedge heels.
To complete her effortlessly chic look, Kendall simply styled her hair straight with a middle parting and wore winged eyeliner and a glossy pout.
Kendall Jenner shows off her feet in Yeezy PVC thong wedge sandals (Credit: Roger Wong / INSTARimages / Cover Images)
Kendall Jenner's Struggle With Anxiety
Last year, Kendall sat down with psychologist Dr. Ramani Durvasula for Vogue's Open-Minded series to discuss her journey with social anxiety.
"I remember being really young, I'd say 8, 9, 10, and having shortness of breath and going to my mom and telling her that."
She also opened up about how her fame took a toll on her mental health. "I think being overworked and being in the situation that I'm in now is kind of what set it out of control in a way."
"I've had times where I feel like I need to be rushed to the hospital because I think my heart's falling and I can't breathe, and I need someone to help me. Sometimes I think I'm dying. Sometimes parts of my body will go numb. It can be really intense and scary."
Kendall knows there are people who wonder what "does she have to be anxious about" given her fame and status in life.
"I'll never sit here and say that I'm not fortunate. I know I live a very privileged, amazing lifestyle. I'm a very blessed girl." Pointing to her head, she added, "I still have one of these, you know what I mean? And that thing up there sometimes doesn't always, I don't know, it's not always happy and it's not always connecting."
"I'm still a human being at the end of the day. No matter what someone has or doesn't have, it doesn't mean that they don't have real-life feelings and emotions."
Kendall Jenner recently reveals undergoing a brain scan, which confirmed her anxiety (Credit: ROGER WONG / INSTARimages / Cover Images)
In 2018, Kendall skipped the fashion month season to prioritize her mental health. She told LOVE magazine, "Last season, I didn't do any shows."
"Just cause I was working in L.A. and I was like 'Oof, I can't right now—I'm gonna go crazy.' I was on the verge of a mental breakdown."