Dianna Agron, who played cheerleader Quinn Fabray in Glee, really jumpstarted her career with the role.
Cheerleader Quinn Fabray was portrayed by Dianna Agron in the hit musical comedy-drama television series Glee (Credit: Fox)
There has been a lot of controversy surrounding the show and a lot more that has come after it. But one of the main questions Gleeks ask is: Why wasn't Quinn Fabray in The Quarterback episode?
Who Is Dianna Agron?
Dianna Elise Agron was born on April 30, 1986 in Savannah, Georgia. She is Jewish and was raised in San Antonio, Texas and Burlingame, California.
Her father was a general manager for Hyatt hotels, while her mother is a seamstress. She grew up in hotels due to the nature of her father's career and is said to have gained her love for storytelling due to watching all of the different people going in and out of the hotels.
View this post on Instagram
When Agron was 15 years old, she discovered that her father had been diagnosed with multiple sclerosis. This was a huge turning point in her family's life and caused her parents to separate.
Dianna Agron moved to Los Angeles in 2005, choosing it over New York so that she could be close to her family. She signed up with an agency for dancing and was placed in music videos.
Her goal was always to perform in musicals. In an interview with Rolling Stone, she said that in the early days, the majority of the roles that she was offered were in horror movies or required nudity, so she turned them down as these weren't parts that aligned with her personal goals.
Before Glee premiered, Dianna Agron attended the Fox Winter All-Star Party in Los Angeles on January 13, 2009 (Credit: Scott Kirkland / INFEvents)
Dianna Agron's Career
Earlier in her career, Dianna Agron appeared in smaller roles on shows like CSI: NY, Numbers, Drake & Josh, and Shark.
Her breakthrough role came in 2009 when she joined the cast of Glee as Quinn Fabray. The producers almost removed her character from the show as they had a difficult time casting the role, but Agron got the part just days before the pilot started filming.
Producer Robert J. Ulrich stated in an interview with Variety that after they saw Agron's audition, the show "came together."
Dianna Agron at the Glee series premiere screening at Santa Monica High School on May 11, 2009 (Credit: Andy Fossum / Startraksphoto)
How Did Glee Impact Dianna Agron's Career?
By the fourth season of Glee, Dianna Agron was reduced to a guest star in the series so that she could pursue other projects. She went on to star in The Family as Belle Blake and was the first star in Glee to go on to do other things outside of it.
Dianna Agron as Belle Blake in the 2013 dark comedy crime film The Family (Credit: Relativity Media)
Since then, Agron has truly gone on to do it all. She starred in Sam Smith's I'm Not the Only One music video in 2014. She has worked as a photographer, aiding her brother Jason for the February issue of Galore magazine in 2014.
In 2016, Agron moved to New York City, where she has always wanted to be. She continues to work in indie films and has even starred in a musical here and there.
Dianna Agron and Taylor Swift
There have been a lot of rumors over the past few years regarding Dianna Agron's sexuality, but they picked up due to her close friendship with Taylor Swift.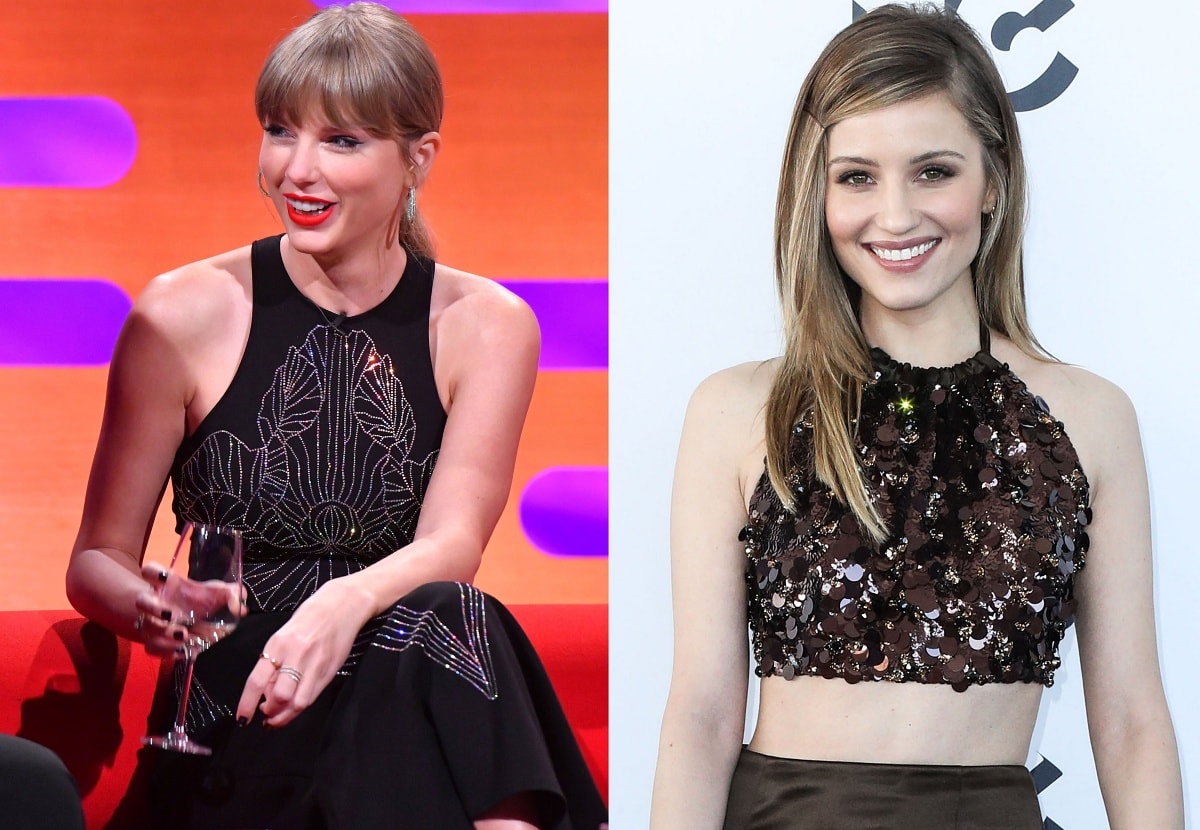 Swifties have multiple fan theories detailing "proofs" of the nature of the relationship between Dianna Agron and Taylor Swift (Credit: Matt Crossick / PA Images / INSTARim / Cover Images and Xavier Collin / Image Press Agency)
Dianna Agron and Taylor Swift were often photographed together very closely and because of it, fans speculated about the nature of their relationship. It seems that they had a falling out, as they have not been seen together in years.
In the 2022 Pride Month edition of BELLA magazine, she was said to have a "queer personality." Agron has not confirmed her sexuality, so everything is simply speculation.
Why Wasn't Dianna Agron in The Quarterback Episode?
After actor Cory Monteith's tragic passing, Glee filmed the episode entitled The Quarterback to explain his character Finn's death. The episode also served as a tribute to Monteith.
The cast of Glee paying tribute to Cory Monteith in the third episode of the fifth season, entitled The Quarterback (Credit: Fox)
Rumors have always circulated about why Dianna Agron did not appear in this particular episode of Glee. Some have said that it's because she had a falling out with the rest of the cast, while series creator Ryan Murphy told reporters, "I think she was working. I don't know."
When asked about it, Dianna Agron has never given a straight answer as to why she wasn't in The Quarterback. She simply told The Irish Independent that she has "nothing but love for that show and everybody involved in it."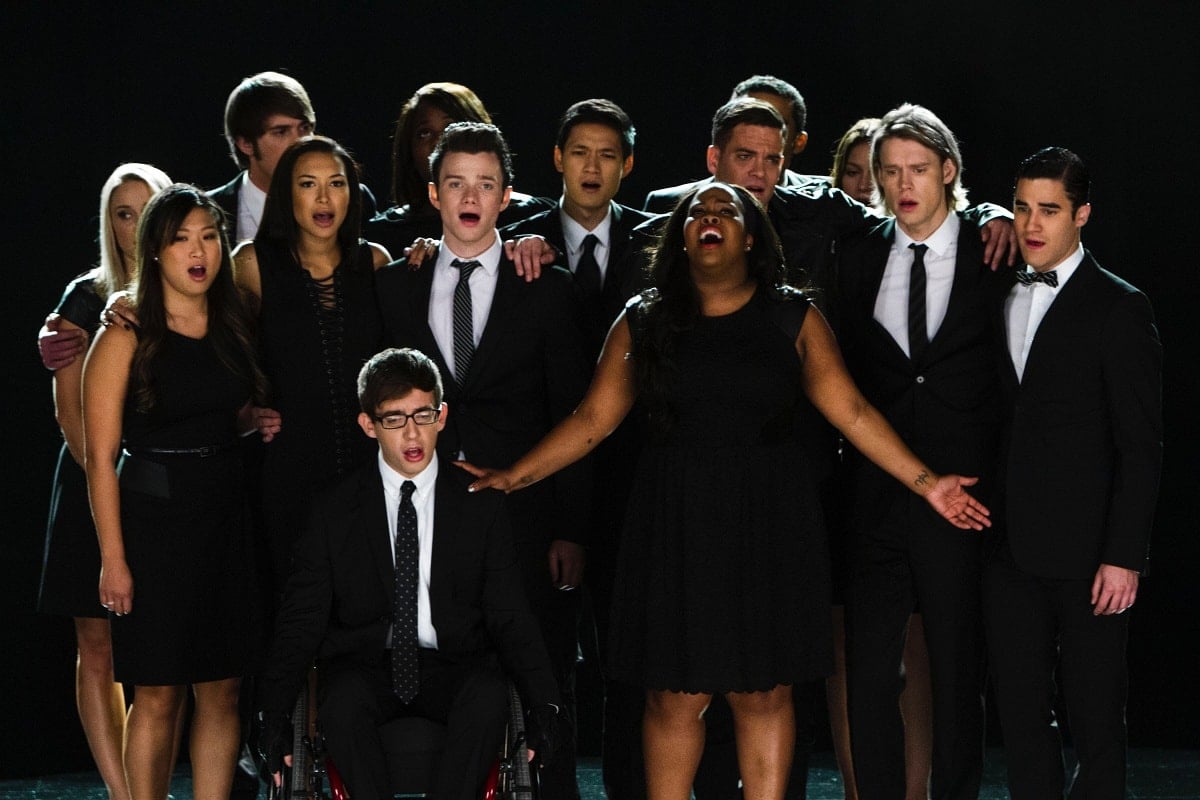 The cast of Glee performing a song in The Quarterback episode of the hit musical comedy-drama television series (Credit: Fox)
Maybe she was just preoccupied with other projects, or perhaps it was too emotional for her. We may never know the real reason. The simplest explanation is that Agron was simply too busy at the time of filming to commit to the episode.
Heather Morris, who played Brittany Pierce, was also not in the episode because she gave birth shortly before filming began.
Perhaps it's time to lay these rumors to rest. Cory Monteith's passing was a tragic thing that happened so suddenly, so it's understandable that not everyone in the cast could make it into the tribute episode.
How Old Was Dianna Agron in Glee?
When Glee started filming, Dianna Agron was 23 years old.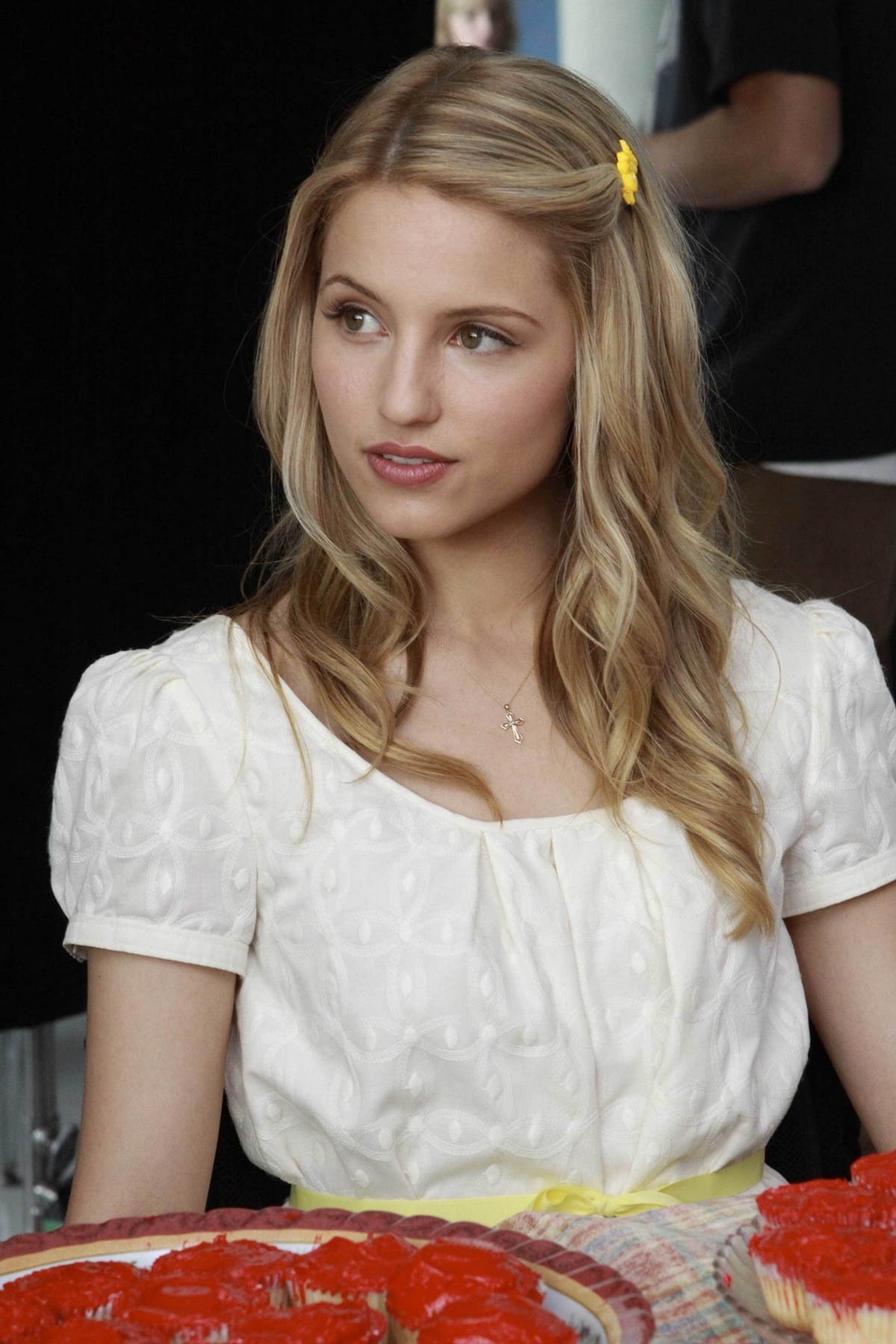 Dianna Agron as Quinn Fabray in the hit musical comedy-drama television series Glee (Credit: Fox)
The youngest cast member was Chris Colfer, who played Kurt Hummel. He was 19 years old at the time of filming and was the first openly gay character in the series.
Glee Trivia
Glee was an incredibly popular show in the 2000s. Here are some facts that you may not know about it:
The original cast of the hit musical comedy-drama television series Glee (Credit: Fox)
Darren Criss was cast in the role of Blaine after submitting a video on MySpace for Glee's nationwide open audition. He was aiming for the part of Finn at the time.
Lea Michele was in a car accident right before her audition and pulled shards of glass from her hair during the process.
Matthew Morrison, who played Mr. Schuester, is not even four years older than many actors in Glee.
Artie Abrams, who was played by Kevin McHale, is the only character that appeared in every single episode of the series.
The character of Rachel Berry was written with Lea Michele in mind.
Lea Michele and Cory Monteith were a real-life couple and when Monteith died, guest star Kate Hudson allowed Michele to stay at her home so that she could heal in peace away from the paparazzi.
Melissa Benoist (Marley) and Blake Jenner (Ryder) were married in real life, but Benoist filed for divorce after Jenner physically assaulted her.
Heather Morris (Brittany) was brought in to teach the Single Ladies choreography to the cast as she was a backup dancer for Beyonce. She was so well-liked that she was cast as a regular on the show.
Tragically, three of the main cast members in Glee have passed away in real life. Cory Monteith (Finn) died on July 13, 2013. Exactly seven years later, on July 13, 2020, Naya Rivera, who played Santana Lopez, passed away. Mark Salling (Puck) died on January 30, 2018.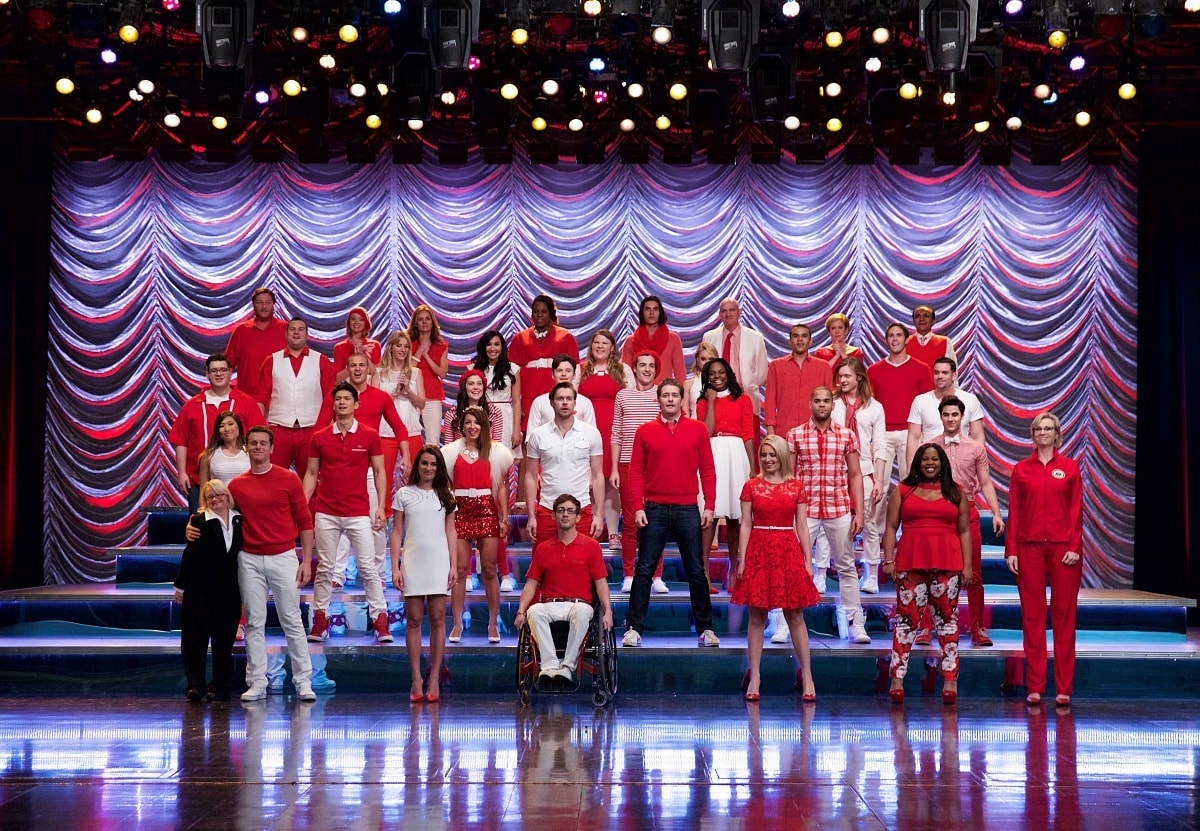 The cast of Glee in the series finale episode entitled Dreams Come True (Credit: Fox)