Dior ranks high in the category of investment shoes. Their sophisticated designs have been treasured for decades for their luxurious appearance and flawless craftsmanship.
Unsurprisingly, Dior's styles have often been imitated. But those who know the brand will agree that nothing compares to the real thing.
If you're in the market for Dior shoes, make sure you know how to distinguish the genuine from the fake. Below we're sharing some authenticity tips to help you out. Here are six surefire ways to tell if Dior shores are real or fake.
1. The Dior Logo & Signature Star
The logo should be in a serif font, meaning it should have small ticks on the end of each letter. These ticks should be extremely fine.
If the shoe features the brand's signature star icon, it should always have one point that clearly points up rather than being askew. The star should have a small hole in the center that you can clearly see through.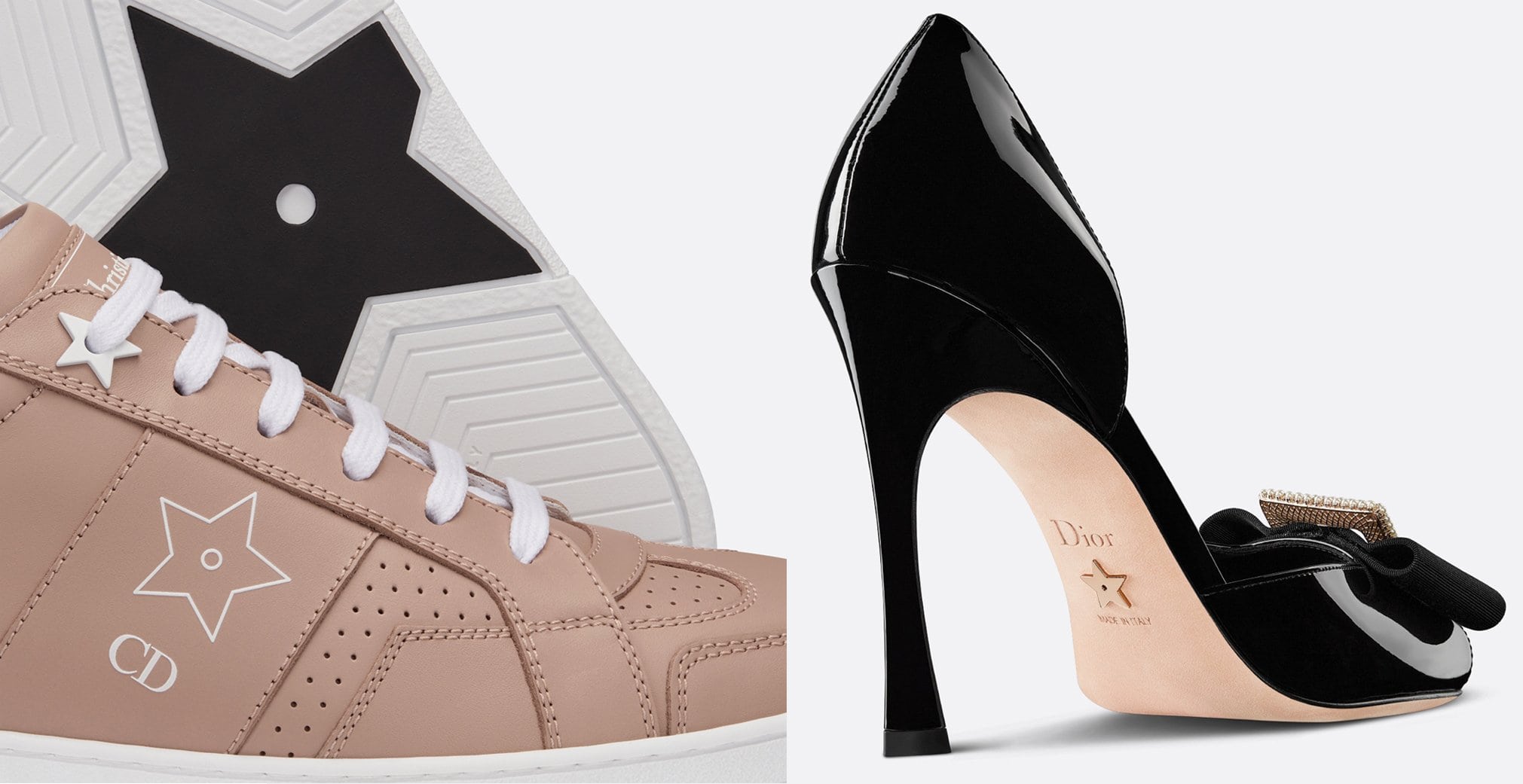 Dior uses serif font for its logo and usually incorporates the house's signature star with a small hole in the center
If it's on the upper of a sneaker, the bottom two points should be parallel to the logo.
If the star is on the sole of a heel, the top of it should point towards the Dior logo, while the bottom should be above the 'made in' stamp.
If it's a metal star on the bottom of the sole, it should be hammered flush against the bottom of the sole. There should be no space between the star and the sole.
2. Logos & Stamps
A Dior shoe will feature an assortment of logos and stamps, including the brand name, 'made in' stamp, size, and serial number.
These should all appear to be pressed down with equal strength, meaning one stamp should not look lighter or shallower than the others. All letters should be evenly spaced and fonts should match on the sole and interior of the shoe.
Christian Dior's logo prints and stamps should be evenly spaced and pressed down with equal strength
3. Stitching & Craftsmanship
Genuine Dior shoes are known for their impeccable craftsmanship. All the stitching and seams should be straight, even, and perfectly precise.
For heels, inner soles should be cut evenly without rough or raw edges. They should match the base of the shoe with an outer perimeter that is equal around all edges. Toe caps should be completely flush with the heels and should not jut out.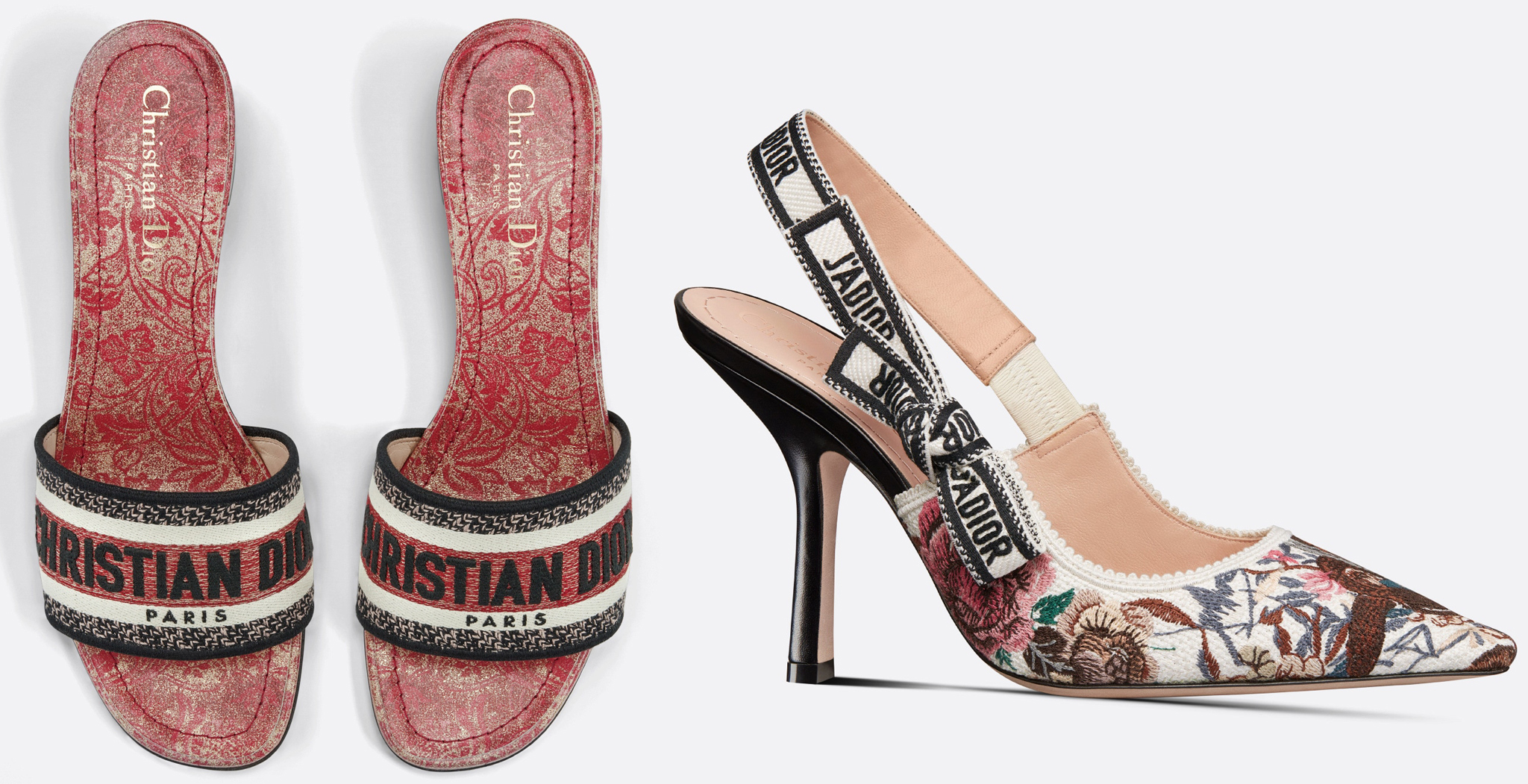 The inner soles of Dior heels should be cut evenly and match the base of the shoe
For sneakers, all logos and patterns should be parallel to pattern edges. Any pattern holes should not be too close or overlap with stitching lines. The lace bulge should be smooth and perfectly even.
Stitches, logos, and patterns should be properly aligned, and lace bulges should be even
4. Cost
Price points are another telltale sign of genuine vs. fake Dior shoes. Real Dior shoes range from about $600 – $2600 on the official website and in luxury department stores. The more elaborate the design is, the more expensive it will be.
Pre-loved styles are slightly less expensive, but they're still usually in the $$$ range. Vintage styles in great condition can often be as expensive as modern designs. If a deal seems too good to be true, it probably is.
5. Manufacturing
Most Dior shoes are made in Italy; the remainder is made in Spain. All shoes are marked with a 'made in' stamp from their country of origin. Be wary of shoes that are made elsewhere.
All Dior shoes should have a 'made in' stamp from their country of origin, either Italy or Spain
Dior's 4 Most Popular Shoe Shoes
These are the most highly coveted styles and, therefore, the ones that you'll need to be the most careful with if you're buying a pre-loved style. Make sure to do plenty of research and conduct authenticity checks before buying!
1. J'Adior Slingback Pump
These elegant slingbacks are defined by their two-tone color palette and J'Adior logo ribbons. A tribute to the original 1962 design by Roger Vivier, the "J'Adior" slingback pumps have become a celebrity favorite.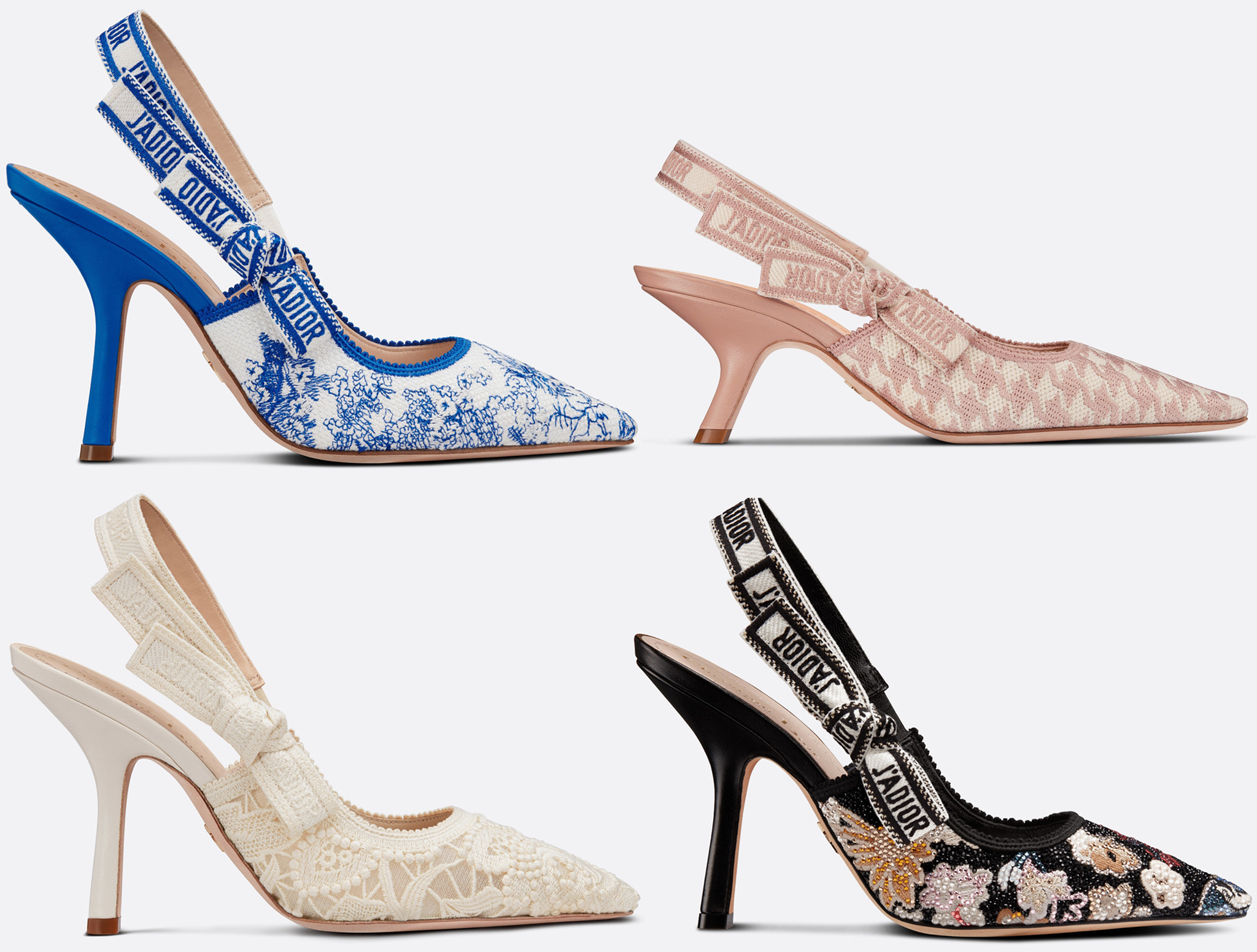 The celebrity-favorite J'Adore slingback pumps come in a variety of seasonal colors, prints, and patterns
They're now available as a flat, kitten heel, or high heel. Black and nude are the core colors that have been readily available since their 2017 release, but Dior has also released seasonal colors and prints like blue floral, pink houndstooth, and gray tartan.
Genuine pairs are made with a textured technical fabric, though the style is also available in patent leather. The ribbon should always be flat and unbendable and made of rigid cotton.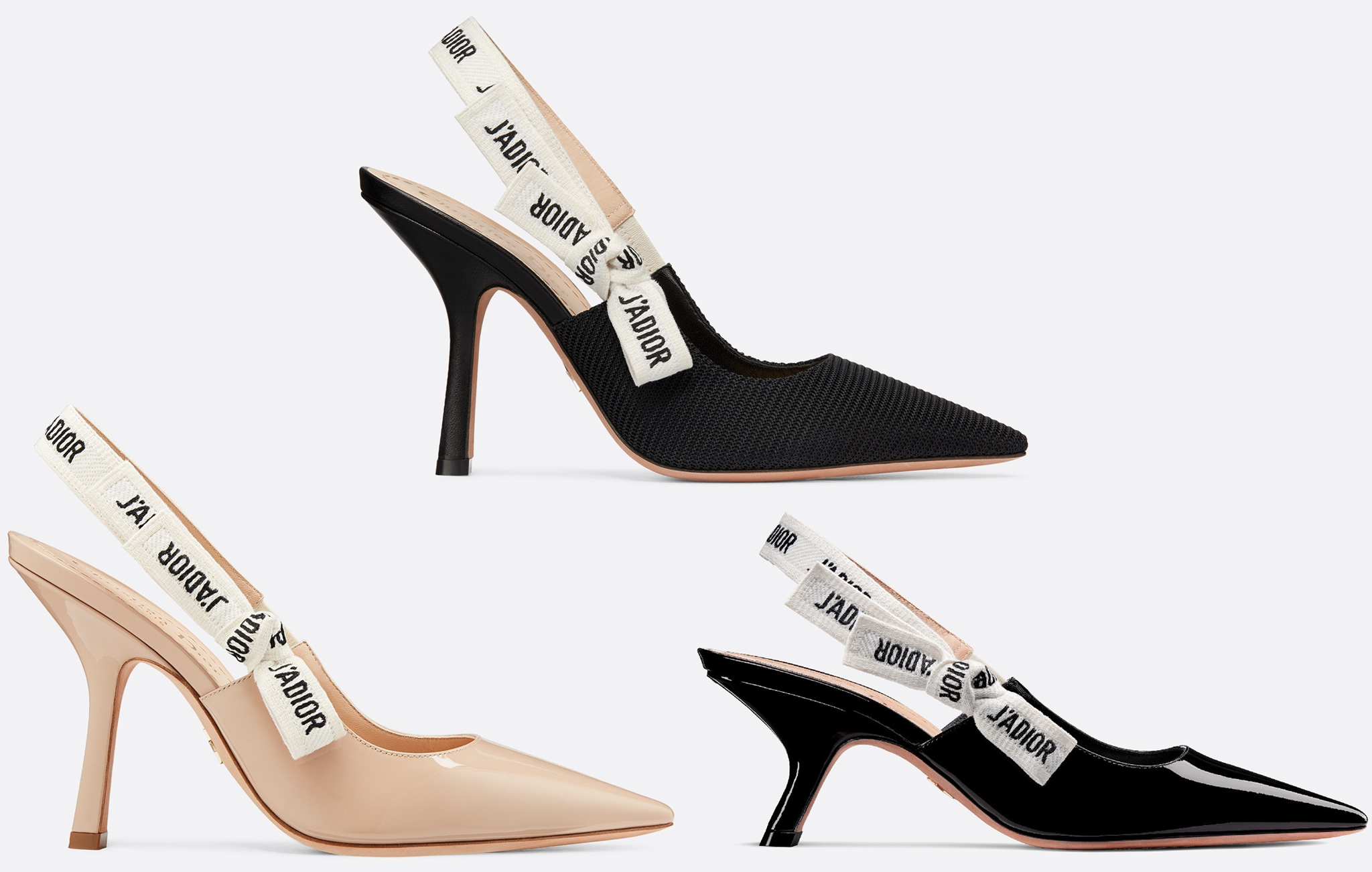 The J'Adior pumps are defined by the flat and unbendable logo-detailed ribbon
2. Walk'n Dior Sneakers
A luxurious take on the classic canvas sneaker, the "Walk'n Dior" sneakers have become a casual chic staple for influencers and celebrities. The style is available as a high top or low top.
Timeless and classic, the Walk'n Dior cotton canvas sneakers are embellished with tonal calfskin inserts, antique gold-finish metal detailing, and Christian Dior J'Adior signatures on the rubber soles and laces
The most popular version features an all-over monochromatic Dior logo, but the style is also available in more subtle solid versions. Dior has also released the sneaker in playful prints and textures, such as florals, zodiac signs, and macrame lace.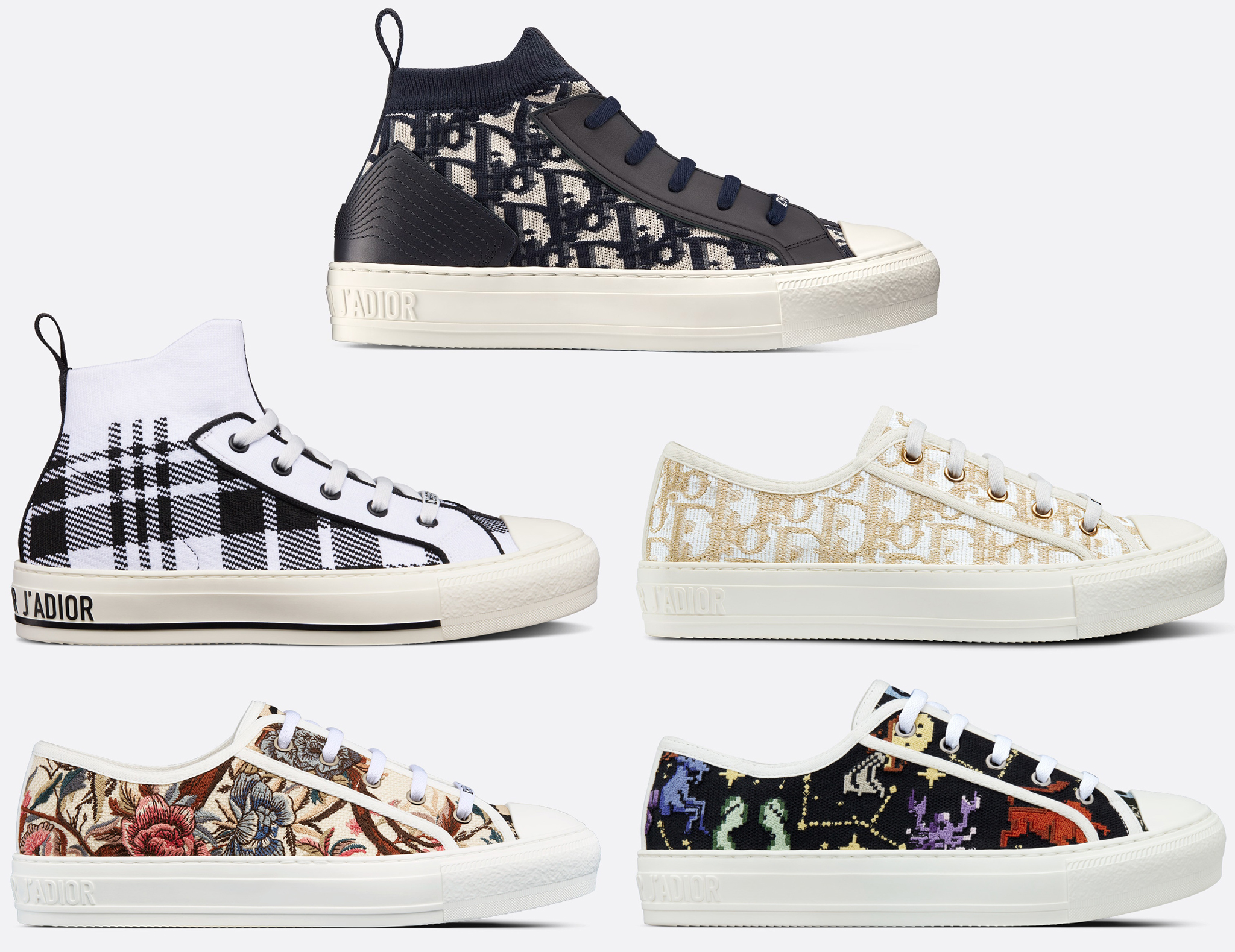 Aside from the classic black and white, Dior also offers the Walk'n Dior in playful prints and textures
3. Vibe Sneakers
Those that prefer a chunky sneaker will love the sporty Dior Vibe. A blend of mesh and technical fabric, the Vibe sneakers have become a street style favorite.
They're available in multiple colorways, from neutral white to metallic accents and all-over logo prints.

Dior's Vibe sneaker offers a modern play on contrast with its combination of technical fabric, mesh, rubber inserts, and 3D-effect details
4. Dior 30 Montaigne Slide
This elegant leather slide has been spotted on many off-duty celebrities. Its thin sole and crossover leather upper, adorned with the Dior logo, look amazing when paired with casual denim looks or minimalist maxi dresses.
The 30 Montaigne slide boasts a gold-finish metal CD signature that highlights the silhouette and contrasts with the leather
Dior's Most Popular Shoe Collaborations
Dior's recent shoe collaborations have created quite the buzz. The prestigious French brand excels at bringing luxury to everything they do!
1. Dior x Nike Air Jordan 1, $10,730 at Farfetch
2020's Dior x Nike partnership was one of the most-hyped collaborations of the year.
Kim Jones, the Men's Artistic Director for Dior, reinvented the iconic Air Jordan 1 high-top sneaker in a cool gray colorway with the Dior logo embellishing the Nike swoosh. Some sneakerheads have called it the most luxurious sneaker to ever be created.

Sneaker giant Nike and French luxury fashion house Dior joined forces to create the luxurious wolf gray/sail white Air Jordan 1s
2. Dior by Birkenstock
This year's Dior by Birkenstock collaboration has officially cemented the comfort sandals as a luxury good. The brand's signature slides and mules were recreated with sleeker silhouettes and subtle Dior logos on the buckles.
This luxurious collaboration between Dior and Birkenstock has cemented the ugly sandal as a luxury good